Blog

4 min
Top 10 Pre-Rolled Joints In Amsterdam
4 min
Pre-rolled joints are a fast and convenient way to get baked. These 10 coffeeshops are the best in the city when it comes to sourcing these beauties. The soothing vibes and interesting locations of each establishment add to the utter relaxation offered by premium pre-rolls.
Amsterdam is the cannabis mecca of Europe. Hundreds of coffeeshops flank the city streets. One of the most common ways to enjoy marijuana in these establishments is with a pre-rolled joint.
If you don't know how to roll, or lose your ability when high, don't worry! We've got you covered. Below are the 10 best coffeeshops to buy pre-rolled joints, according to the Amsterdam Coffeeshop Awards.
AMSTERDAM COFFEESHOP AWARDS — BEST PRE-ROLLED JOINTS
A small handful of elite smokers didn't choose the best places to smoke pre-rolled joints; instead, over 54,000 votes were tallied from 50 countries around the world to determine the winners of the Amsterdam Coffeeshop Awards 2019–2020. The awards featured numerous categories, including the best locations for pre-rolled joints.
ADVANTAGES OF PRE-ROLLED JOINTS
Pre-rolled joints make smoking weed much more accessible. You don't have to go out of your way to buy rolling papers and spend several minutes grinding down weed and rolling it up. Plus, for those that can't roll, there's no better option.
Pre-rolled joints are large batons that can take a while to burn down. They're great to share with friends while you go deep into conversation, or for puffing on solo to fully savour the experience.
Of course, if you're too baked to roll, you could always use a joint roller or load up some pre-rolled cones with your own flower. This is easier than rolling from scratch, but still requires a reasonable amount of effort. During this situation, the best option is to purchase a well-packed and expertly crafted pre-roll.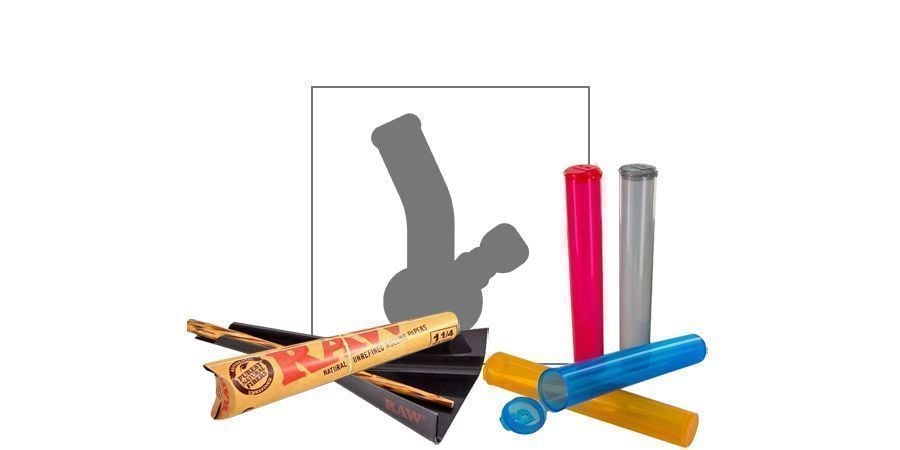 TOP 10 COFFEESHOPS FOR PRE-ROLLED JOINTS
Behold the top 10 coffeeshops to source your roll-ups. All of the coffeeshops listed offer multiple strains in their pre-rolls, meaning there's something for everyone.
GREEN HOUSE COFFEESHOP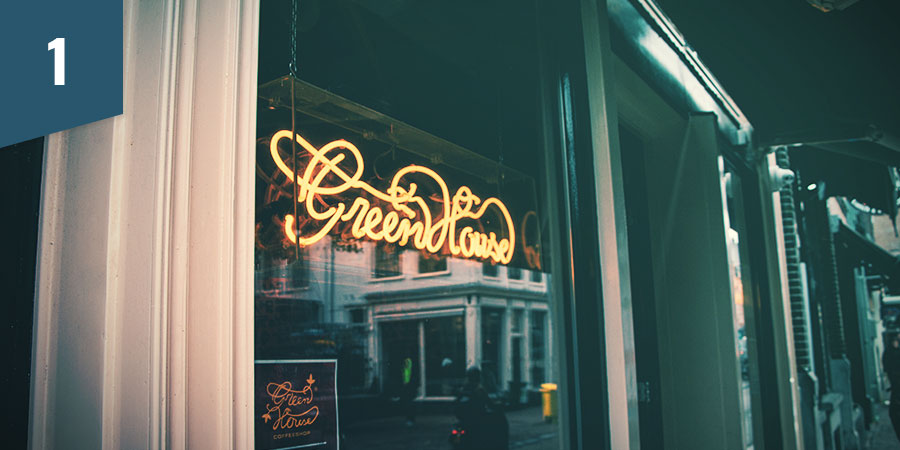 The legendary Green House Seed Co. gave rise to the Green House Coffeeshop. Arjan Roskam of "Strain Hunters" fame founded the business. Green House Coffeeshop offers a mellow, moody ambiance and high-grade flowers. The low lighting adds a relaxing touch, and exciting photographs line the walls. There's also an outdoor seating area to bask in the sun during the summer.
When it comes to pre-rolls, there's plenty to choose from: an Indica Mix, Amnesia Hash, Blonde Polm, Cheese, Super Lemon Haze, and Indica Pure.
COFFEESHOP AMSTERDAM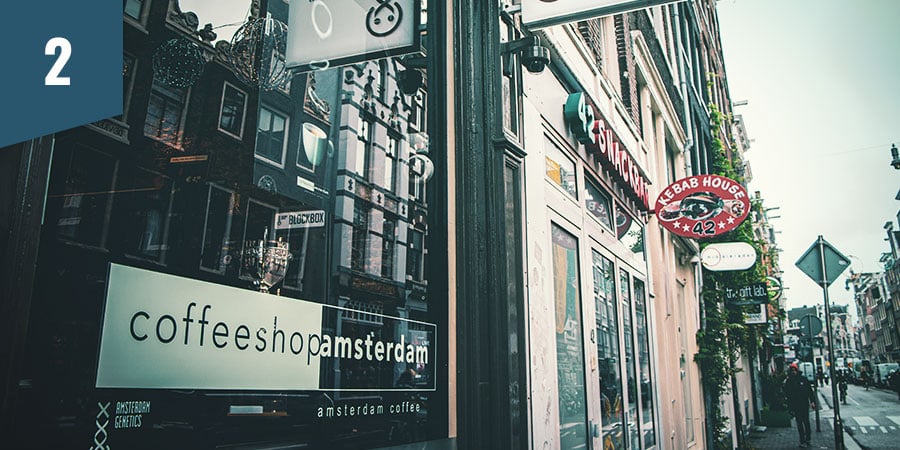 Coffeeshop Amsterdam is a classy and sophisticated establishment. It feels like entering a genuine boutique coffeeshop, except they sell killer weed. The beams in the ceiling, dangling old-fashioned light bulbs, and wooden furniture offer a refined vibe. It's leagues away from other dark and gloomy venues. There's plenty of places to sit, and plenty of herb to choose from.
Enjoy one of their celebrated live events with a fat pre-rolled cone. Choose from a selection of strains like Super Silver Haze, Strawberry Gorilla, and Jack Herer. If you're in the mood for hash, they have Waterworks, Tbizla, and Marco.
BOEREJONGENS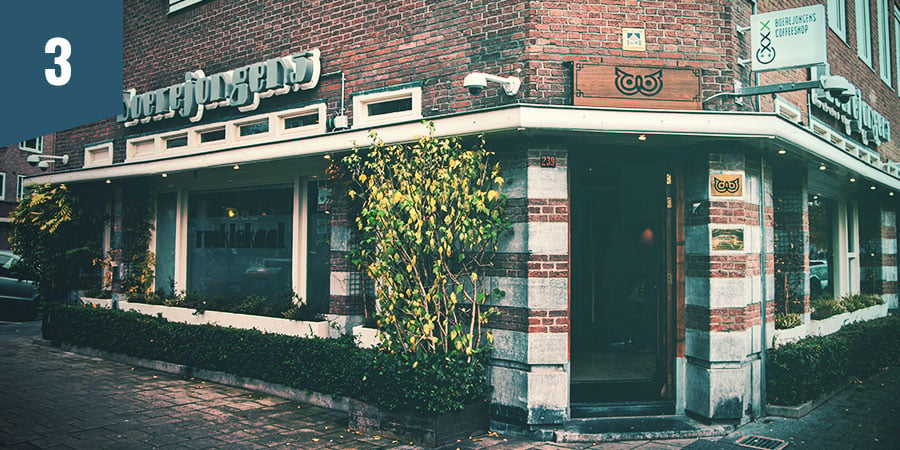 Boerejongens has been pioneering quality cannabis in Amsterdam since 2007. They train every member of their staff to become fully fledged cannabis connoisseurs. If you have questions about cannabinoid profiles, terpenes, and overall effects, ask away! The company is associated with Amsterdam Genetics, a renowned seedbank that has given rise to strains like Banana Kush and Green Magic CBD.
Boerejongens Center—one of their four coffeeshops—is located in the heart of the city. The modern design boasts large windows, gold fixtures, and marble floors. Check out their menu and try out pre-rolled joints of Big Buddha Cheese, Milkshake Kush, Amnesia, and Green Magic.
TWEEDE KAMER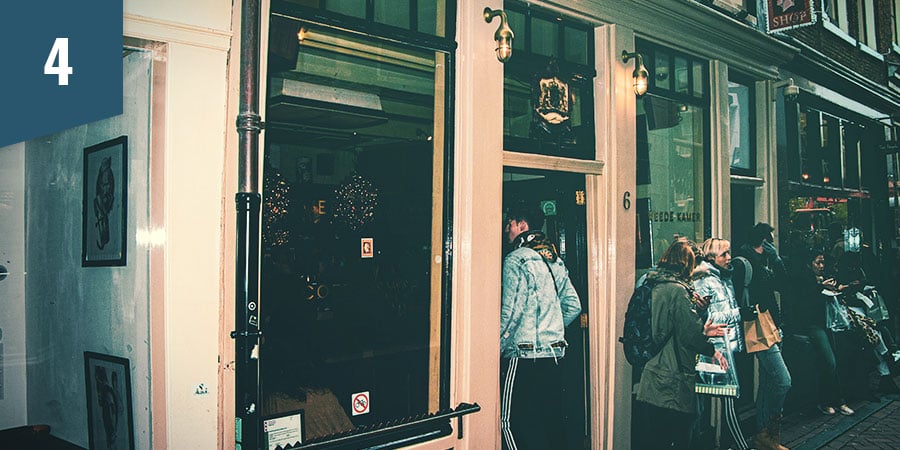 Tweede Kamer is another coffeeshop that displays pure class. The wooden fixtures, rustic lights, and low-set tables create a pleasant vibe. Large amounts of natural light keep the mind active and prevent it from slipping into a deep indica sleep. The bar features built-in menus and serves fresh coffee and delicious edibles.
Head over to Tweede Kamer to try out their potent pre-rolls. The establishment is also associated with Amsterdam Genetics, so you know the product is going to be top-quality. Choose from strains such as Strawberry Gorilla and Super Silver Haze, and hash including Waterworks and Maroc.
COFFEESHOP DNA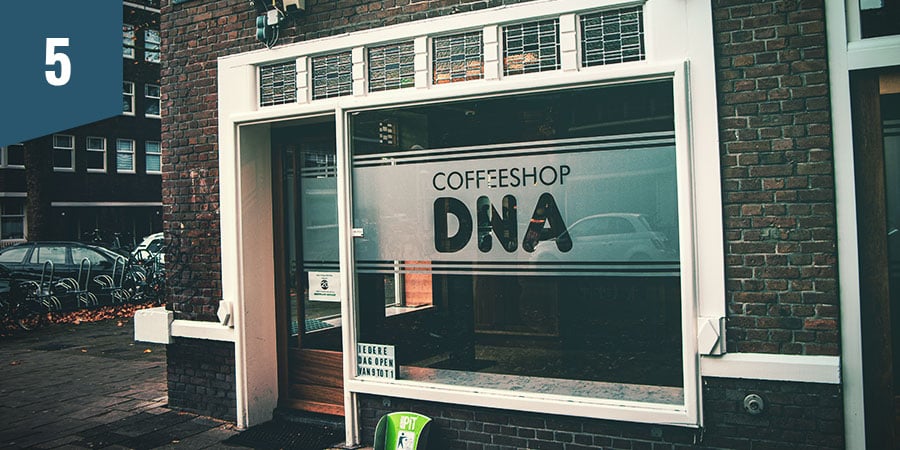 Coffeeshop DNA resides in the south of the city. The menu changes frequently, with weekly updates to their indica, sativa, hash, and space cake selections.
Coffeeshop DNA is open until 1am, so gear up for some late-night blazing. They boast a massive selection of pre-rolled joints. Treat your cannabinoid receptors to Amnesia, Maroc, White Widow, Marocain Gold, Amnesia Haze, and White Choco.
420 CAFE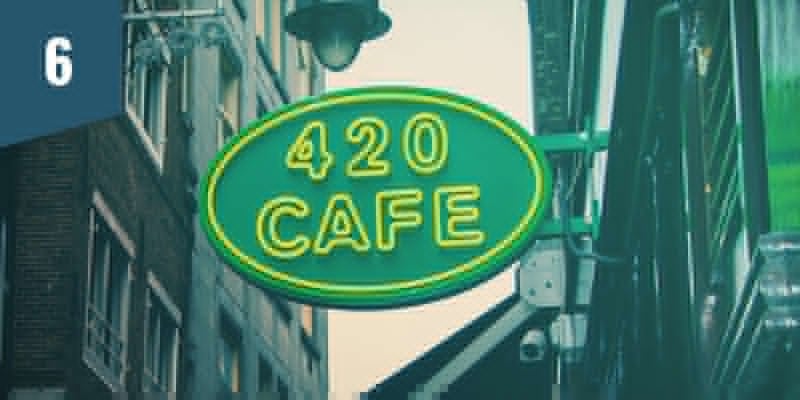 420 Cafe is a moody venue that features soft, low lighting, lots of artwork, and a long wooden bar. The small space has a nice view of the bustling street outdoors and TV screens that display relaxing ocean scenes. While most coffeeshops receive praise exclusively for their cannabis, the coffee here is simply stellar. You need to try it!
While you're sipping your beverage, toke on one of their large pre-rolls; they offer unnamed mixes of hash with tobacco, cannabis with tobacco, or pure cannabis. Take your pick.
ABRAXAS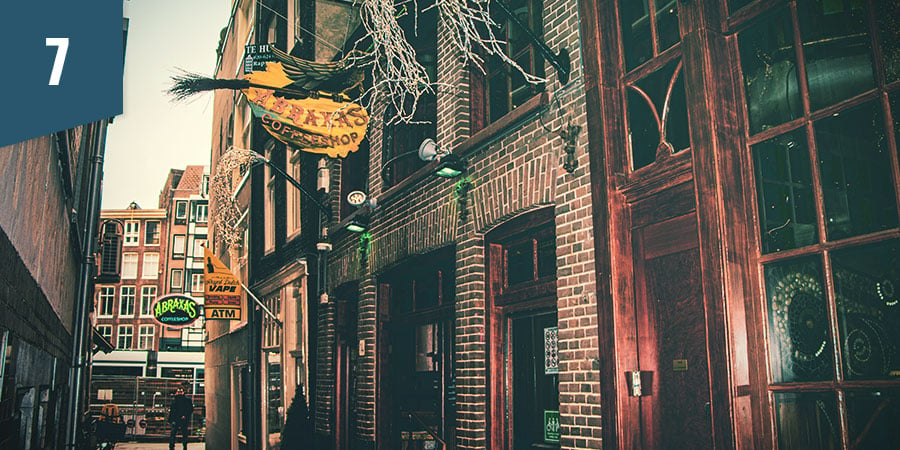 Abraxas emanates a hippy vibe. The name is steeped in occultism, and their website even tracks the cycle of the moon. The interior is a sight to behold. Builders crafted the walls out of natural materials including wood, stone, glass, and hemp. The head artist also contributed work to line them. The venue is a fusion of art, music, and inspiration. Pull out a drawing pad or notebook, smoke a joint, and let your creative juices flow. Abraxas is an eco-friendly establishment currently taking steps to boost recycling and reduce their footprint.
The menu features pre-rolls with tobacco and strains like Hawaiian Haze, Haze, Cheese, Purple Haze, and White Widow. If you're looking for pure weed, try their Pure Haze and Pure White Widow joints. For the hash lovers, they serve Super Pollum and Ketama.
BARNEY'S COFFEESHOP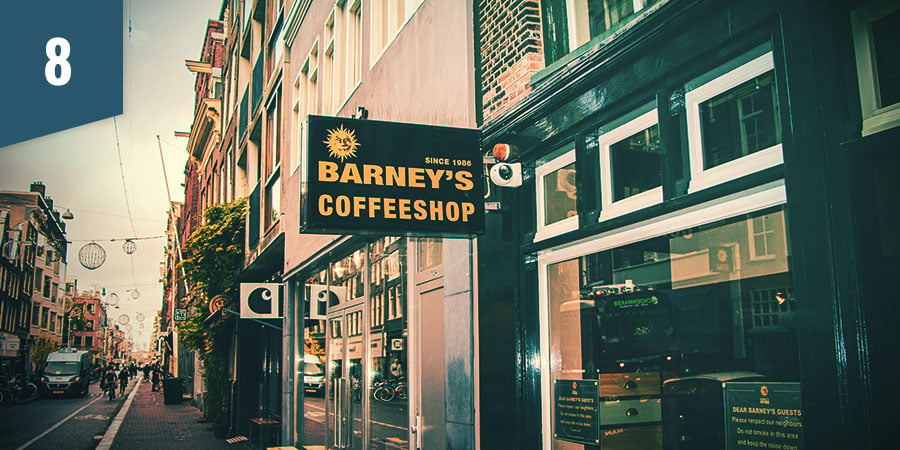 The seedbank Barney's Farm created Barney's Coffeeshop to provide a comfortable venue for smokers to enjoy their superb genetics. It's a unique space that resides in a 500-year-old landmark building. Every visit is a taste of the city's history. The vibe and product are so good that the establishment has won multiple High Times Cups.
Enjoy some of Barney's pure joints in strains like Blue Cheese, Liberty Haze, and Tangerine Dream. The coffeeshop also offers the same cultivars in joints mixed with tobacco.
AMNESIA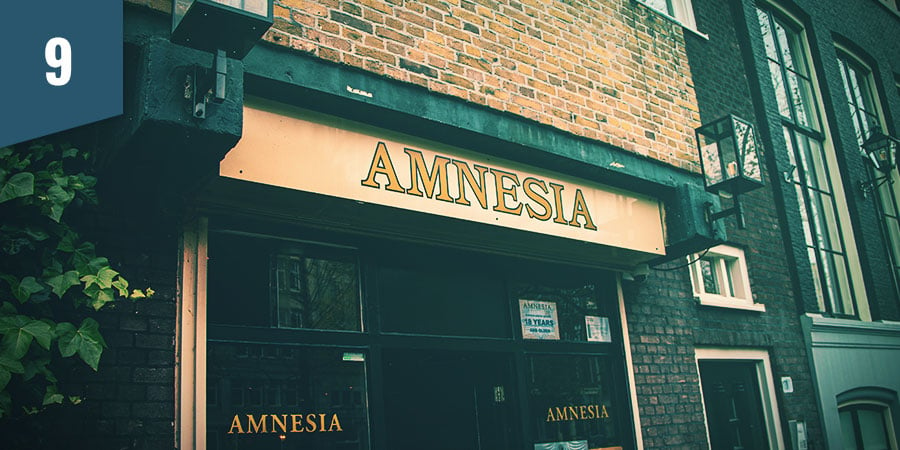 Amnesia boasts a sleek, bar-like vibe. The powerful LED lighting and contrasting black furniture make it look like part of a nightclub. The bar is complete with purple furnishings and large mirrors that open up the space. If you're lucky enough to be in Amsterdam during the summer months, take your pre-roll to the benches outside.
Feast your eyes on their impressive menu and check out their pre-rolls. These include pure and mixed versions of Amnesia, Liberty, and Strawberry Zkittlez.
HET BALLONNETJE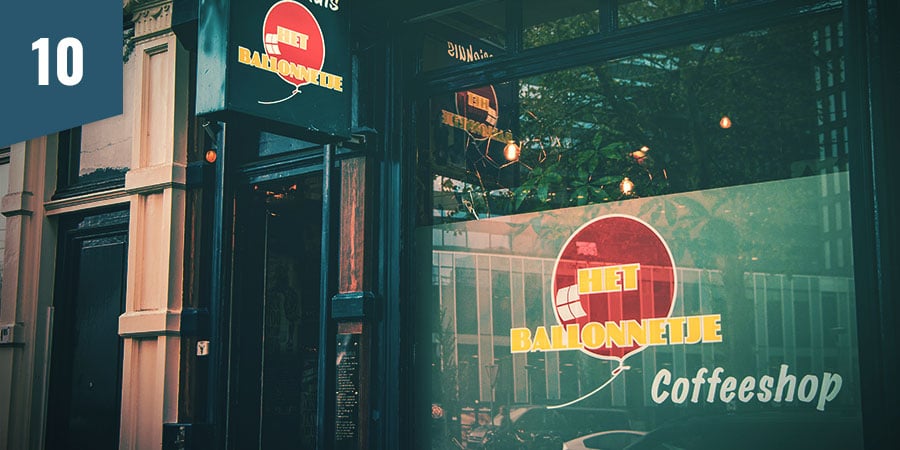 Het Ballonnetje makes a great addition to a tour of Amsterdam. It opened in 1978, making it one of the oldest coffeeshops in the city. The venue also sits in front of the University of Amsterdam. The coffeeshop is revered by locals, which is a good sign of excellent service and quality flower. After a smoke, cure your dry-mouth with one of their fine teas.
Het Ballonnetje has a long list of pre-rolled joints on the menu. Choose between Thai, Hash Champagne, Hash Blonde Maroc, G13, Shoreline, Gucci, and Super Orange Glue.