Blog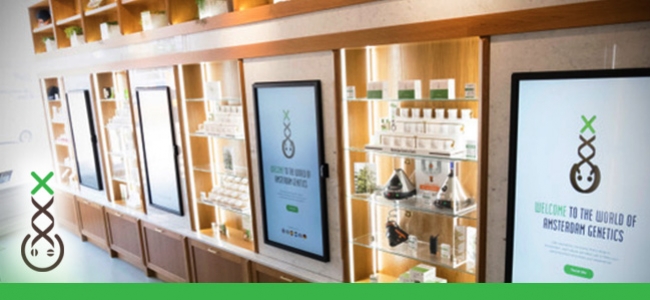 2 min
Coffeeshop Info Centre
2 min
Boerejongens brings a touch of class to their high-end coffeeshops. Trusted by locals and tourists alike, they are now opening a fourth branch, as well as the Coffeeshop Info Centre. Now, they'll be advising tourists on Amsterdam cannabis culture, making for a safer and more rewarding experience.
Visiting Amsterdam for its cannabis coffeeshops? Try to see as many as possible! From the rustic to the rowdy, the cozy to the spacious, you'll see all kinds of establishments catering to all sorts of tastes, vibes, and aesthetics. Amsterdam's coffeeshops were never formally legalized; they are merely ignored by police within certain guidelines.
The number of coffeeshops has shrunk in recent years, but there remains a range of competitive coffeeshops throughout the city. Finding one to suit your taste may or may not require a classier touch. The cannabis industry is starting to act grown-up all around the globe. Many Dutch seed providers are now applying high standards not just to their seeds, but to the coffeeshops they are sold in.
BOEREJONGENS
Boerejongens is the high-end coffeeshop. Its Centre location is just a short walk from the touristy red-light district. Its layout is like a pharmacy-slash-perfume-store where the budtenders are more akin to sommeliers than servers. These individuals are packed with knowledge of cannabis' medical applications, and can communicate in various languages.
Boerejongens is proud of its reputation among international visitors as a must-see for any coffeeshop-loving tourist. But it is also popular with Amsterdam locals across its three locations; so popular, in fact, that they are soon opening a fourth store at a yet-to-be-revealed location. Follow Boerejongens' social media for updates on that project. Have a look at their store in Amsterdam West.
Video: Boerejongens Coffeeshop West
FREE ADVICE FOR GREAT SMOKING EXPERIENCES
There is another exciting project that Boerejongens has launched. In the heart of Amsterdam, they have opened a new information centre on coffeeshops. This could be your new first stop in the city. Its location at 10 Prins Hendrikkade is right across from Amsterdam Central Station. Here, friendly staff will talk you through Amsterdam's cannabis laws and the best coffeeshops for the experience you want. There are even directions to the city's coffeeshops on interactive touch-screens.
VIDEO: Boerejongens Coffeeshop Info Centre
"GET SMART BEFORE YOU GET HIGH"
The ethos that inspired this project was Boerejongens' advice to "get smart before you get high". Visitors could gain much guidance from a dedicated information centre with the goal of educating visitors. Now, after only one visit, you will be able to avoid the usual pitfalls associated with smoking Amsterdam's weed and hash, or eating those famous space cakes.
You can be advised based on your marijuana experience, tastes, and venue preferences. This solid advice is offered for free by veterans of the city's coffeeshop industry. If this is your first stop, you can get the lowdown on responsible smoking before venturing into the city. Pace yourself and have a fun time. You'll be thankful you paid the new Coffeeshop Info Centre a visit first. For the latest news on the Amsterdam Coffeeshop Info Centre, follow their Instagram and Facebook accounts.