White Widow: Cannabis Strain Review & Information
2 min
White Widow is easily one of the most popular cannabis strains in the world. Read on to get all the facts and information about this legendary weed at a glance.
White Widow, the mother of the legendary "White" family, is easily one of the most famous cannabis strains. The multi-award-winning plant, which is renowned for its potency and excellent resin production, is easy to manage and suitable for growers of all experience levels.
CHARACTERISTICS OF WHITE WIDOW

White Widow is a balanced indica-leaning hybrid first bred in the early-to-mid 1990s in the Netherlands. It's become an Amsterdam coffeeshop favourite thanks to its uniquely euphoric high.
| | |
| --- | --- |
| Genetics | 60% Indica / 40% Sativa |
| Parents | Brazilian Sativa, South-Indian Indica |
| THC | 20% |
| CBD | Medium |
| Flavours | Fruity, Sweet, Sugary, Citrus |
| Effects | Relaxing, Euphoric |

White Widow was released in 1994 by Shantibaba, the former co-owner of Green House Seeds. There is still some debate about the exact origin of the mother plant used to create the strain, but it was likely the old-school Brazilian landrace Sativa Manga Rosa.
White Widow contains a moderate amount of THC. Although these days surpassed in potency by some uber-powerful strains, it's still a very potent cannabis variety. Users like the strain for its distinct effect that combines indica relaxation with a cerebral sativa rush.
One of the most striking features of White Widow is its appearance, which is a result of its very high resin production. During flowering, the plant becomes covered in a layer of white trichomes, which earned the strain its name.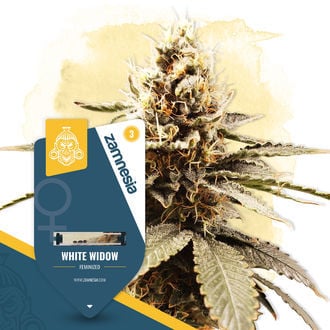 View
HOW TO GROW WHITE WIDOW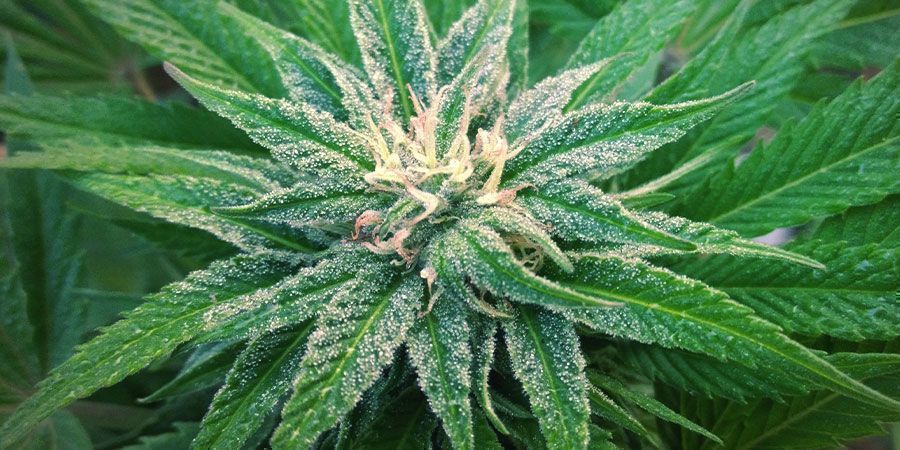 Despite boasting many great qualities, White Widow is not difficult to grow, displaying exceptional hybrid vigour in the grow room. And like we said; when it comes time for harvest, these buds will be absolutely dripping in resin.
| | |
| --- | --- |
| Grow Difficulty | Beginner |
| Best suitable to grow | Indoor / Outdoor |
| Climate | Temperate, Continental |
| Variety | Feminized |
| Height Indoor | 60–100cm |
| Height Outdoor | 150–200cm |
| Flowering Time | 8–10 Weeks |
| Harvest period (outdoor) | End of September, Early October |
| Yield Indoor | 400g/m² |
| Yield Outdoor | 800–900g/plant |

White Widow can be grown indoors or out. What makes cultivating the strain relatively effortless is that it has good natural resistance to mould and pests. It can also be grown in colder climates. Indoors, the plant requires about 8–10 weeks of flowering. Outdoor growers can start to harvest around the end of September to early October. With an indoor height of 100cm at most, the plant can be grown even in smaller-sized tents. Grown outdoors, the plant may reach 150–200cm.
The strain adapts well to all kinds of growing environments and produces particularly good results in a ScrOG or hydroponic setup. Average indoor yields for the strain are around 400g/m², although experienced growers have reported significantly more. Grown outdoors in excellent conditions, harvests can hit 800–900g/plant.
WHITE WIDOW: FLAVOUR AND EFFECTS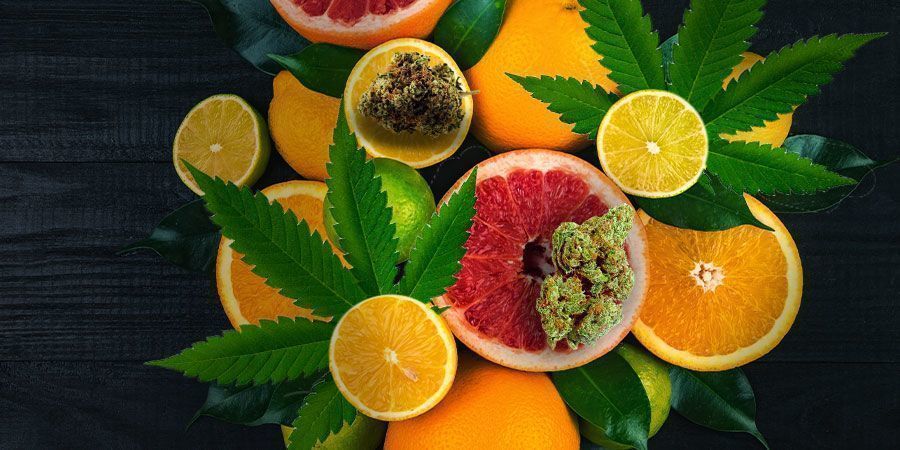 The aroma of White Widow is mainly sweet and fruity, with pronounced notes of kiwi and passion fruit underlaid by Skunk. This blend makes for a fruity and smooth smoke with a distinct citrusy aftertaste.
Containing 20% THC on average, White Widow is moderately potent. Users who consume the strain often report an initial sense of happy euphoria followed by a strong feeling of bodily relaxation. Lots of users enjoy the strain's soothing but mentally uplifting effect. White Widow is generally recommended for evening use, although it's not out of place when enjoyed during the daytime.
FINAL VERDICT: YOU KNOW THE NAME, SO GROW THE STRAIN!
White Widow combines many highly sought-after qualities. It's a delicious smoke with a well-rounded effect, and it couldn't be less of a diva in the grow room. Grow the girl to see for yourself why this strain has become so legendary!