Blue Widow: Cannabis Strain Review & Information
2 min
Some of the most beloved cannabis genetics come together in Blue Widow. Find out more about this hybrid below, and grow it for yourself to see what all the fuss is about.
Blue Widow is a cannabis strain forged from two very popular, and very different, genetics. The strain offers rich, fruity aromas and good potency, making for a super-sweet and enjoyable high. With good resistance and adaptability, the strain is simple and straightforward to grow, with excellent yields to boot.
CHARACTERISTICS OF BLUE WIDOW
Blue Widow is a cross between Blueberry and White Widow. Leaning toward the indica side, this strain features all the fruity flavour and relaxing vibes of Blueberry alongside the euphoria and incredible productivity of White Widow.
| | |
| --- | --- |
| Genetics | Indica-dominant |
| Parents | Blueberry x White Widow |
| THC | 12–17% |
| CBD | Low |
| Flavours | Sweet, Fruity, Sour, Citrus, Pine |
| Effects | Relaxing, Happy |
Originally bred by the savants at Dinafem, Blue Widow takes the best from the Blue and White families and wraps it all up into one fierce (yet friendly) and productive strain. The indica-dominant hybrid has a medium-high THC level ranging from 12–17%, making for a potent yet manageable high that goes down like candy. Indeed, her blissful effect is accented by a rich, fruity-sweet flavour notes with a hint of pine and citrus zing.
HOW TO GROW BLUE WIDOW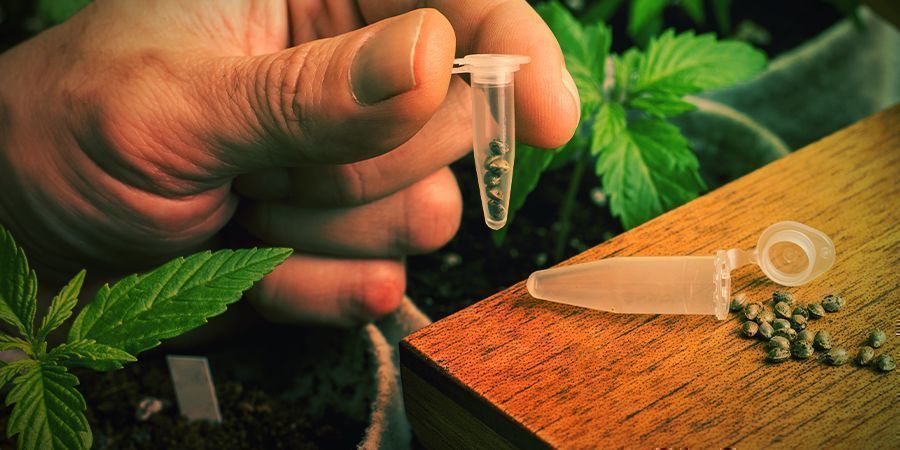 Blue Widow is fairly easy to grow and extremely productive under the right circumstances. Better yet, she delivers her yields without succumbing to diseases or pests. Adapting well to all sorts of environments, she's suitable for beginner and expert growers alike.
| | |
| --- | --- |
| Grow Difficulty | Easy |
| Best suitable to grow | Indoor / Outdoor |
| Climate | Temperate, Warm |
| Variety | Feminized |
| Height Indoor | 120cm |
| Height Outdoor | 200cm+ |
| | |
| --- | --- |
| Flowering Time | 8 Weeks |
| Harvest period (outdoor) | Early October |
| | |
| --- | --- |
| Yield Indoor | 450g/m² |
| Yield Outdoor | 800–1200g/plant |
Blue Widow is a remarkably uncomplicated strain that performs well even in less than optimal conditions. Despite cold temperatures, rain, and pests, Blue Widow thrives in the face of adversity, and looks great doing it. While you should always be wary of mould during the late flowering phase, this strain is not one to easily succumb to fungus.
Blue Widow develops sizable green buds with a light purple tinge when grown in colder conditions, giving the strain quite some bag appeal. Adding to this gorgeous appearance is Blue Widow's insane resin production (gifted to her from White Widow), which can be seen in the late flowering phase when the plant becomes absolutely encrusted with trichomes.
Grown indoors, Blue Widow rarely exceeds a convenient height of 120cm, which equates to a respectable yield of 450g/m² after 8 weeks of bloom. With some pruning, indoor cultivators can push yields even further.
Outdoors, the plant can grow to her full potential. Reaching heights of 200cm or taller, growers have reported yields in excess of 1000g/plant. A relatively early harvest at the start of October means cultivators can grow the strain in moderately warm regions with great success.
BLUE WIDOW: FLAVOUR & EFFECTS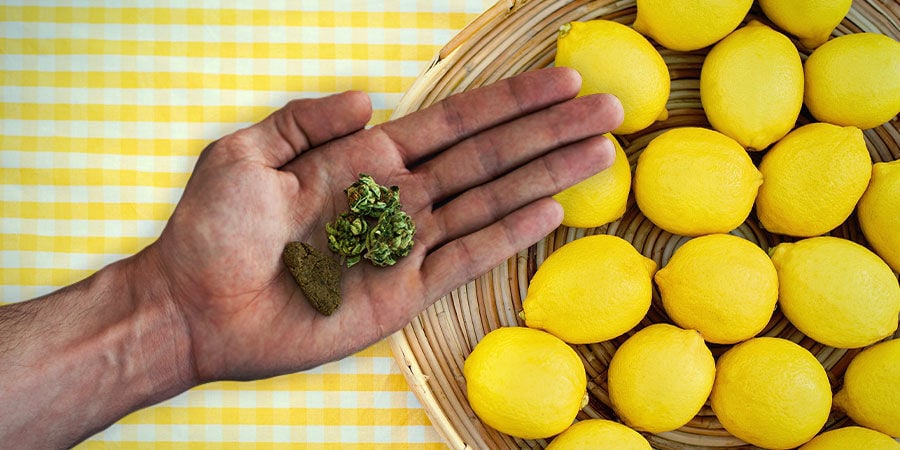 With terpene production in full force during bloom, Blue Widow emanates strong scents of citrus blended with wood and pine. When you get around to enjoying the strain, the sweet and fruity notes from Blueberry come to the fore for a rich and pleasant experience on the palate.
Despite being slightly indica-dominant, Blue Widow has a marked cerebral effect that is happy, euphoric, and energising, which she pairs with a deeply relaxing physical effect powered by Blueberry genetics. She is a good social strain that's fun to share with others. Yet, her carefree effect is also great for some chill solo time at night. Given her medium potency (up to 17% THC), Blue Widow can be enjoyed throughout the day, in moderation, to inspire creativity and positive vibes, without getting lost in the couch.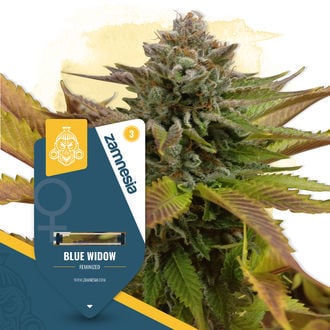 View
FINAL VERDICT
Honestly, you'd need to look long and hard to find a fault with Blue Widow. This strain has it all, delivering mouth-watering flavour and an excellent high. Perhaps indoor yields could be a tad larger, but even that issue can be solved with some training or by planting the specimen outside. For lovers of robust hybrids, and for growers in fickle climates, you can't do much better than Blue Widow.