Purple Punch: Flavour, Potency, And Beauty—All In One
3 min
Flavour, potency, and beauty. Purple Punch has it all for indica lovers looking to cultivate something a little different. Come harvest, you'll be rewarded with extremely potent and slightly purple flowers loaded with delicious tastes.
Purple Punch was bred to quench the thirst of indica lovers. The breeders behind this strain aimed to infuse the indica purity of parent strain Granddaddy Purple with the more stimulating sativa genetics of hybrid Larry OG. This crossing was an immense success, culminating in an indica-dominant strain loaded with THC and a tasty array of aromatic terpenes.
PURPLE PUNCH GROWING TRAITS
This indica-dominant genetic profile influences Purple Punch to maintain a relatively small and stocky size throughout the grow cycle. This makes her suitable for indoor and outdoor growing, where she can perform extremely well in limited space. This size also makes her appeal to cultivators looking for plants that don't surge to great, attention-grabbing heights. She's a great variety when looking to keep your operation low-key.
Purple Punch is a truly beautiful specimen to observe during the flowering stage of the grow cycle. Her leaves are broad, feature thick fingers, and grow heavy with the weight of a sparkling layer of trichomes. The flowers themselves are small and compact, but pack some serious heat. Purple Punch buds are covered in a large volume of sticky, THC-rich resin, and are decorated by orange pistils. Depending on the particular phenotype, flowers of this strain can range in appearance from light green to deep purple.
Purple Punch is a forgiving and hardy strain that offers significant room for error. She has good disease resistance and puts up a good fight against certain pests and pathogens.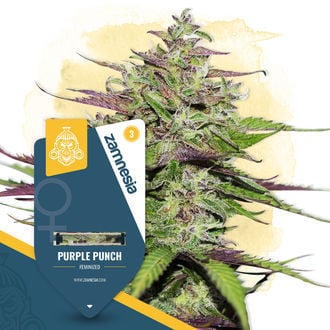 View
Purple Punch (Zamnesia Seeds) feminized
Parents: Granddaddy Purple x Larry OG
Genetics: 90% Indica / 10% Sativa
Flowering Time: 8-9 weeks from seed to harvest
THC: 21%
CBD: 0-1%
Flowering Type: Photoperiod
EFFECTS AND CANNABINOID LEVELS OF PURPLE PUNCH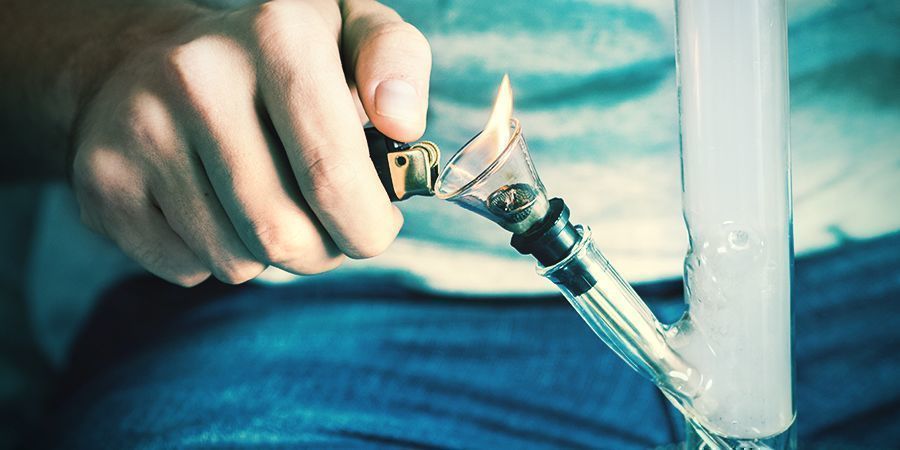 As well as being bred for her indica-dominant properties, another huge focus when working on Purple Punch was to encourage the highest levels of THC achievable. After some vigorous breeding and laboratory analysis, these dense nuggets have been found to possess THC levels clocking it at around 25%. Such an astronomical level of the psychotropic molecule contributes to a high that sets in instantly and lingers for hours.
Seconds after inhaling from the end of a joint or blunt, users will feel a heavy yet pleasant sensation sweep across the body. This effect makes the muscles relax, melting away any tension that might be causing aches and pains. This sensation also migrates up toward the head where it diffuses tension in the jaw and makes the eyelids feel heavy.
The indica aspects of this strain make Purple Punch an enjoyable and sedating smoke. Hitting a bong bowl loaded with these flowers immediately before bed will slow down erratic thoughts, dissolve stress and worry, and make for a deeply relaxing and rejuvenating sleep.
But Purple Punch doesn't only produce indica effects. Her genetic makeup consists of 40% sativa genetics, which adds a touch of stimulation to the high. This turns what would otherwise be an overwhelmingly sedative high into one accented by a motivating and euphoric effect. This makes Purple Punch possible to smoke during the day, or even as a wake-and-bake candidate for seasoned smokers that can handle high levels of THC in the morning.
| | |
| --- | --- |
| Brand | Zamnesia Seeds |
| Genetics | 90% Indica/10% Sativa |
| Parents | Granddaddy Purple x Larry OG |
| Flowering Time | 7-9 weeks |
| THC | 21% |
| CBD | Low |
| Yield (Indoor) | 550 - 650 gr/m² |
| Yield (Outdoor) | 700 - 800 gr/plant |
| Height (Indoor) | 100 cm |
| Height (Outdoor) | 150 cm |
| Harvest Time (Outdoor) | September |
| Available as | Feminized seeds |
The sativa elements of the high provide an inspiring and creative state of mind. Blazing up Purple Punch before sitting down to write or paint will oil the cogs of the mind and gift you with laser focus.
The combination of sativa and indica elements makes for a well-rounded and multifaceted experience. Such a massive THC level makes the strain more suited to experienced users; those looking to push the limits even further should consider making edibles and oils.
PURPLE PUNCH: POPULARITY AND FUN FACTS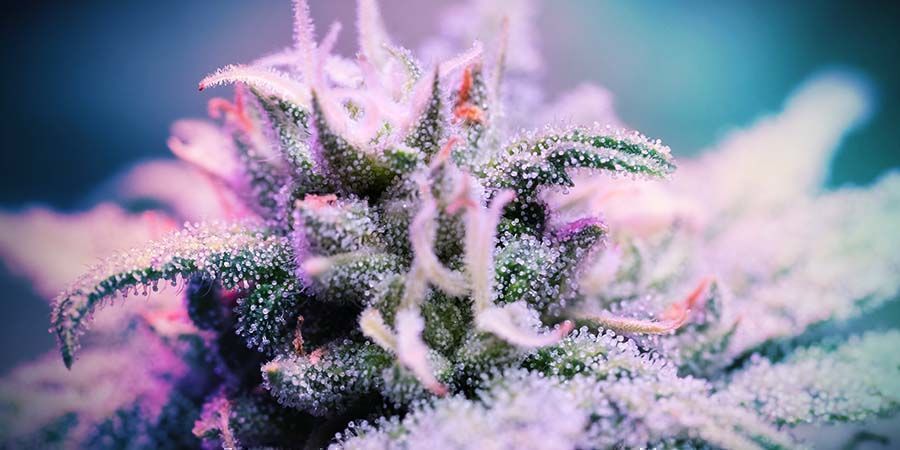 Purple Punch is a particularly popular strain among indica lovers. Many smokers are drawn to this cannabis strain type because of the calming, relaxing, and often sedating effects. The indica genetics within this strain stem from a legendary lineage including parent strain Granddaddy Purple and more distant ancestors Purple Urkle and Big Bud. As well as passing down some seriously stoning genes, this side of the family also passed down some of the amazing tastes and smells that define Purple Punch.
The flowers of this strain create a complex array of terpenes that trigger the taste buds immediately upon inhalation. This concoction of chemicals includes contrasting yet complementary flavours of grapes, candy, blueberries, skittles, tartness, sweetness, and tropical fruit.
WHO IS PURPLE PUNCH FOR?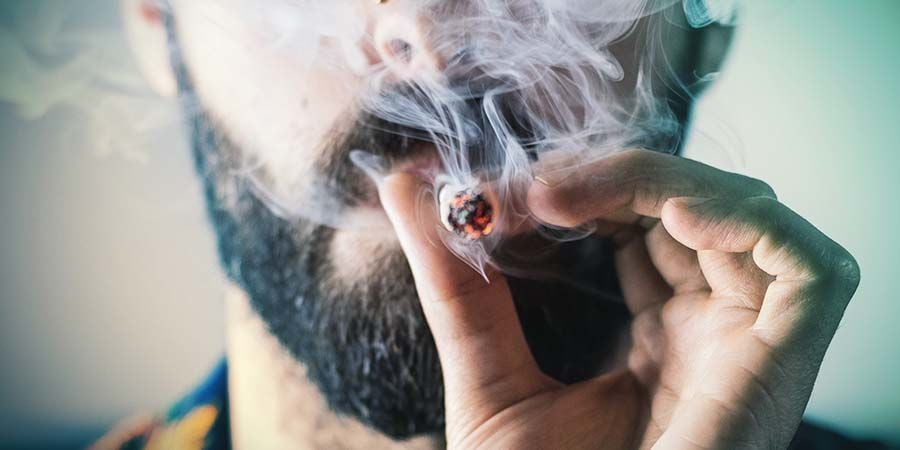 Purple Punch is ultimately a strain for everyone, but it will appeal to some types of smokers much more than others. She's certainly a superb recreational variety for those who favour more sleepy and relaxing effects. However, these are complemented and buffered by euphoric and uplifting sensations.
A THC level of 25% definitely places Purple Punch on the more potent end of the spectrum. Novice smokers may have a hard time consuming this strain and could easily get overwhelmed. Purple Punch is better suited to more experienced smokers with an established tolerance.
Purple Punch is also a great medicinal strain. Her sedating, soothing, and calming high is great for stress, pain, low mood, sleeping issues, and aches and pains.
She's also a quintessential connoisseur strain. Many cannabis users view psychoactivity as only a portion of the herbal experience. Flavour and aroma play a massive part for these people, and sampling a few buds of this strain is like swigging on a fine wine, only with much more flavour!