Blog

3 min
Psy-Fi Music And Arts Festival 2017

3 min
Psy-Fi music and art festival is celebrating its 5 Year anniversary with the "Book of Changes." This year's event is set to be one of the biggest and most anticipated psychedelic events of the year! Get your tickets now to see some of the biggest names in psytrance, along with vendors and activities for all attendees to enjoy.
If there is only one event you can attend this year, make it the 5 year anniversary of Psy-Fi psychedelic music and art festival, "Book of Changes." This year's theme is derived from the classic Chinese divinatory text, which has been studied by individuals from many different nationalities as a compelling philosophical text.
In the spirit of these ancient teachings, Psy-Fi festival 2017 will feature an incredible lineup of performers and events to encourage an uplifting, psychedelic experience. Psy-Fi festival questions the nature of reality in a supportive setting that welcomes people of diverse backgrounds to explore altered states of consciousness.
WHEN? WHERE? WHY PSY-FI?
"Book of Changes" takes place the 16-20th of August, 2017 at "De Groene Ster" Groningerstraatweg, Leeuwarden, Netherlands. Psy-Fi is an outdoor festival that highlights the natural surrounding beauty of lakes, forests, beaches and more with music, art and community-centered spaces. This event is designed with higher consciousness in mind - to apply the themes of cooperative psychedelic subcultures throughout daily life.
Psy-Fi 2017 boasts a range of renowned speakers and shaman from countries from across the globe. These enlightened minds will give lectures on topics ranging from psychedelics and metaphysics to sociology. In addition to being a great festival for listening to live music and dancing, we encourage visitors to experience everything this monumental festival has to offer.
Let's not forget some of the festival's other perks. International vendors will line the street in this year's Bazaar, selling high-quality jewellery and apparel, as well as psychedelics, smoking utensils and much more! There is also a relaxing, psychedelic cinema area and an organic food market with options for visitors of all palates.
HISTORY OF PSY-FI
For Psy-Fi 2017, organisers have pulled out all the stops to continue their dedication to raising community consciousness. Psy-Fi's mission to "create a space where visitors can enjoy art, culture, music, personal growth and nature" is evident with a reputation for assembling some of the most revered performers and compassionate attendees.
Every visitor to the festival is encouraged to be their free, authentic self. Despite the different walks of life each attendee comes from, Psy-fi believes in coming together for peace and learning from each others' unique life stories.
LINEUP
Calling all music lovers - Psy-Fi 2017 will host some of the world's most prominent psytrance musicians, as well as artists from other genres like reggae and psychedelic techno! This year's beachside fest features such genre-innovating musicians as Astrix, Soundaholix and Raja Ram. To see a full list of the virtuosic lineup, visit Psy-Fi's website.
The festival includes a Main Stage, as well as an Alternative Stage which features variations of the psytrance subgenre. These include Darkpsy, Hitech and other forms in order to feature as many acts and satisfy as many visitors as possible.
In addition to the two stages, Psy-Fi will also return the highly regarded "Chill-Out" zone, where listeners can explore the gorgeous festival grounds or simply zone out to the downtempo beats of calming music. There will also be the Global Theatre, which will feature artists outside the psytrance genre.
SPECIAL VENUES: ART, SACRED ISLAND, ARTISTRY PLAZA
In keeping with the breathtaking geographical diversity of the festival's location, the event will include a number of venues in different regions of the site to simultaneously highlight beautiful performances, ceremonies, speeches and art.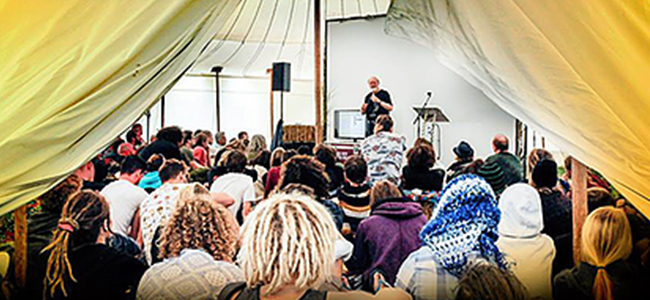 ART
Psy-Fi's impressive collection of visionary art grows with each passing year. With two galleries brimming with artists, the festival will showcase the talents of many different modes and mediums of creation. The first gallery includes an indoor space with over 700m² of art with an additional 260m² outside. Here, you'll be able to view live projections and check out psychedelic sculptures, just to name a couple examples.
The second gallery includes visual and performing arts of all sorts, in addition to the many other art pieces and installations taking place all around the festival grounds.
SACRED ISLAND
Between going to see performances by amazing music artists, visit Sacred Island to indulge in all the healing and learning programs Psy-Fi. It is here that you can visit the Cinema, attend elucidating lectures and participate in spiritual ceremonies.
ARTISTRY PLAZA
In support of the visionary artist community, the artistry plaza is an area dedicated to the work of upcoming and innovative voices. Psy-Fi has selected and invited some of the most promising new talents to the festival and even expanded the plaza to fit more artists.
SPECIAL PARTNER ZAMNESIA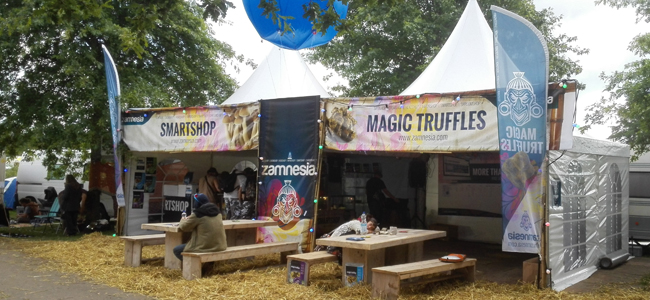 This year, Zamnesia will appear as a special partner in the Psy-Fi festival. Offering the highest quality magic truffles, CBD oils and paraphernalia on the European market, Zamnesia will be the go-to vendor to purchase legal, consciousness-expanding products. Although the festival does not allow hard-drug use - psychedelic truffles, cannabis and hash are openly encouraged.
TICKETS
The Psy-Fi Festival is a non-profit organisation, which is why it has been able to preserve low ticket prices. All proceeds simply go to next year's festival fund. While the first and second phases of tickets have sold out, the third phase can still be purchased for 120 Euros. Visitors who plan to attend via caravan or campervan must purchase an additional ticket.
There are also shuttle bus tickets available to purchase which will deliver attendees to the festival site. Check out the tickets section of the website to find out more about ticketing and transportation. The festival does not recommend purchasing tickets from other online sellers and suggests exercising extreme caution when purchasing from others directly. 
Now that you have a rundown of what makes this year's Psy-Fi "Book of Changes" worth the wait, head over to psy-fi.nl to find out how to prepare for this year's life changing event!
VIDEO
 
 
 
 
 
 
 

Written by: Guest Writer
Occasionally we have guest writers contribute to our blog here at Zamnesia. They come from a wide range of backgrounds and experiences, making their knowledge invaluable.

 

 
 
 
 
Find out about our writers
 
---