Blog

1 min
Lee Scratch Perry Lights Up Zamnesia Strain During U.K. Tour

1 min
Today, we have a special small anecdote supplied by a couple of members of our community. They had the pleasure of handing the famous Lee Scratch Perry a joint of some of the finest Sour Diesel available - Zamnesia's very own, of course!
Lee Scratch Perry is, without any doubt, a living legend. Born in 1936 in Kendal, Jamaica, he worked with notable artists like Bob Marley and the Wailers, Junior Byles, Junior Murvin, The Heptones, The Congos, and Max Romeo. During a recent interview he stated, "I gave Bob Marley reggae as a present."
Video: Lee Scratch Perry Interview
We went to one of his live gigs in the UK, in a small town in the South West, to experience the magic of his music firsthand. We weren't sure about the situation in the club, so we prepared a couple of joints to bring with us, just in case we had the opportunity to share them with Lee Scratch Perry. We made a pure joint of Zamnesia's Sour Diesel, with no tobacco, aged around 8 months. It was beautifully crispy with almost no chlorophyll left, and had a very strong smell of diesel.
When we got to the club, the concert had already started—it turns out finding a parking space for Lee Scratch Perry gigs is not easy! Lee was doing his thing on the stage and the crowd was already enthralled by his reggae/dub sounds. Unfortunately, smoking was not permitted and people were only drinking. During the song "Disco Devil"—Perry's version of "Chase The Devil", which he co-produced with Max Romeo—he asked the crowd for a drink and a joint.
Video: Disco Devil (Lee Scratch Perry)
It seems no one else had come prepared, as no one was passing a joint forward. So I did what seemed destined: I jumped and shouted to get his attention with a joint in my hand! A lady tried to grab it from me—I was worried for a second, as the aggression with which she reached for it made me think she could be an undercover cop. But in the end, she was just a fan who wanted to steal the joint from me and attempt to give it to him, passing it off as her own.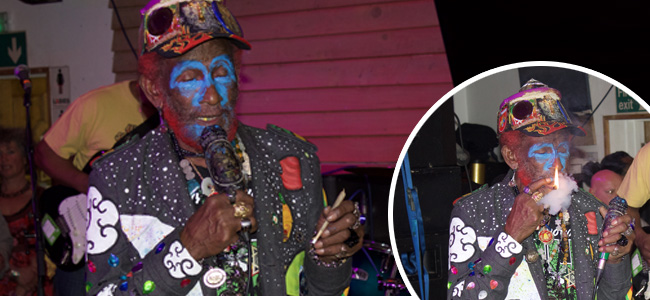 Fortunately, Lee Scratch Perry saw me and took the joint, savagely lighting it in a club that forbids smoking in any form. The crowd went mad. For a few minutes, he delighted us with the beautiful smell of the Sour Diesel. It was a short-lived glory, though. He smoked the joint until the owner came on the stage and took it from him. It may have been a bit premature, but all in all, we hope it helped make Lee Scratch Perry's night.
Editor's note: This story was submitted to us by a couple of long-time Zamnesia fans, who wish to remain anonymous. We would like to thank them for their cool little story!
Written by: Zamnesia
Zamnesia has spent years honing its products, ranges, and knowledge of all things psychedelic. Driven by the spirit of Zammi, Zamnesia strives to bring you accurate, factual, and informative content.

Find out about our writers
---