Blog

7 min
Best Amsterdam Coffee Shops Of 2017

7 min
In this post, we take a look at the best coffee shops in Amsterdam - detailing what makes them so great and why you should visit them.
Amsterdam's coffee shop culture is renowned across the world and draws thousands of tourists to the heart of the Netherlands every year.
Introduced in the 1970s, the coffee shop system was designed as part of a movement to differentiate between "hard" and "soft" drugs. Under the nation's drug policy, cannabis can be sold by licensed coffee shops given certain condition and isn't punishable by law.
Today, it is rumoured that roughly 105 of the 443 municipalities in the Netherlands have at least one coffee shop. In this post, we take a look at our top 10 favourite coffee shops in Amsterdam.
10. MR. K AND CO.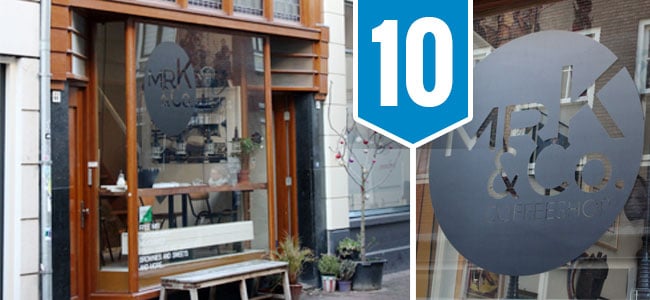 | | |
| --- | --- |
| Address | 2e Laurierdwarsstraat 44 |
| Hours | 10 am to 10 pm daily |
| Phone | +31623704862 |
Mr. K and Co. is a large coffee shop located in Amsterdam's Jordaan district. Founded in 1987 as Coffeeshop Sanementereng, the store underwent renovations in 2013 and began operating under a new name.
The store is known for stocking some of the best weed and hash available from a variety of trusted labs, especially Devil's Harvest, a renowned local seed bank.
All the staff are super friendly and knowledgeable, and do their best to create a relaxed atmosphere for their customers.
The inside of Mr. K and Co. resembles a living room; guests can lounge around on the comfortable furniture, play board games, and indulge in a wide variety of goodies from the extensive menu containing a variety of food and drink options.
The store aims to provide great service to both seasoned smokers and beginners. The menu contains a wide variety of strains, including OG Reek, OG Kush, and many more.
To find out more about Mr. K and Co., visit them on Facebook or check out their website.
9. HET BALLONNETJE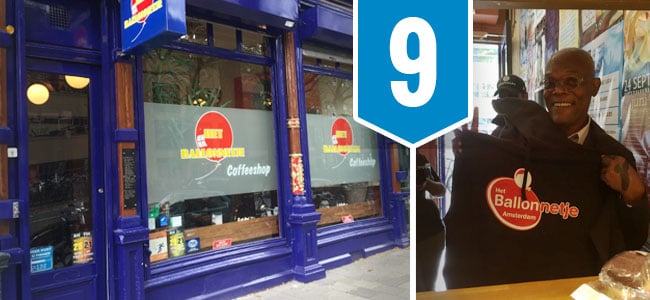 Address

Roetersstraat 12

Hours

9 am to 12 am daily
Founded in 1978, Het Ballonnetje is a beautiful, cosy coffee shop located right in front of Amsterdam University.
The store features subtle wooden decorations, a variety of plants, and a very relaxed atmosphere. Guests can browse the menu via touchscreen devices containing videos, links, and Instagram posts about the variety of products.
The menu contains a wide selection of some of the best cannabis flower and hash in Amsterdam, including a top-shelf Amnesia, that's highly sought-after in the city.
The store also offers a variety of drinks, including great coffee, hot chocolate, and a wide variety of teas. The menu also contains space cake and other goodies.
The staff at Het Ballonnetje are extremely friendly and knowledgeable about all products. The store features two levels; the downstairs area looks onto the street, while the upstairs features a charming glass-paneled smokers area.
Het Ballonnetje is known to attract a wide variety of guests, including tourists, artists, musicians, students, and even some celebrities like Samuel L. Jackson. From hippies to hipsters, you'll find them all here.
For more information, check out Het Ballonnetje on Facebook.
8. VOYAGERS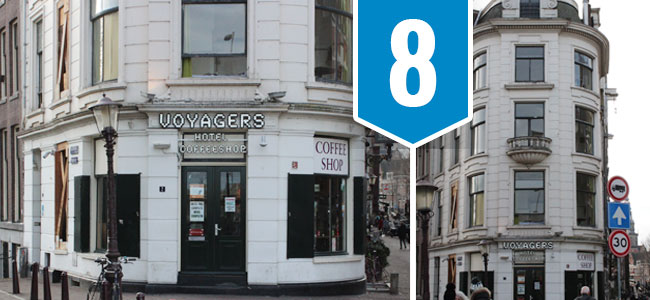 | | |
| --- | --- |
| Address | 2 Geldersekade |
| Hours | 10 am to 11 pm daily |
Voyagers is an international coffee shop located in the heart of Amsterdam. Only a short walk from central station and featuring a hotel with great rates, the shop attracts a big international crowd of cannabis tourists.
The store first opened in 1998 and is set inside a unique, charming building. The shop is small and cosy and offers a fine selection of the best genetics from a variety of seed banks, including Phenofinders, DNA Genetics, Hortillabs, Karma Genetics, Devil's Harvest, and many more.
The store is also home to a variety of highly sought-after strains, including Lemon Bubble, Grapefruit Diesel, Fromage Blue, Dank of England OG, and Notorious.
Voyagers attracts a large international crowd, but also includes some locals. However, the store promises to provide an authentic experience, and the hotel also offers great accommodation in a limited number of rooms tailored to the cannabis tourist.
For more info, check out Voyagers on Facebook.
7. THE STUD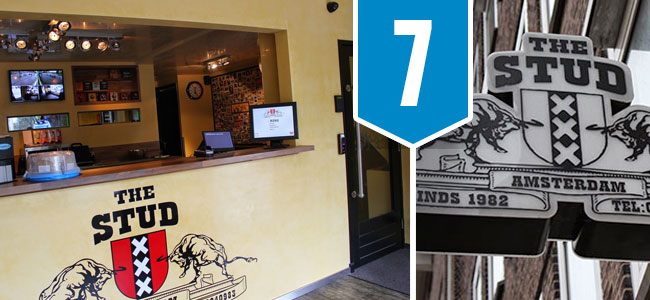 | | |
| --- | --- |
| Address | Molukkenstraat 581 |
| Hours | 7 am to 1 am daily |
| Phone | +31626940983 |
The Stud was founded in 1982 in Amsterdam East, one of the trendiest neighbourhoods in the city, that combines many of the best bars, restaurants, shops, and hotels in town.
The area attracts a lot of tourists, many of which can't resist dropping into The Stud for a coffee break. Nonetheless, the store provides a relaxed vibe and stocks only high-quality products.
In 2015, The Stud was voted the best coffee shop in Amsterdam and it's not hard to see why. From a comprehensive menu and friendly, knowledgeable staff to a great ambience, the store has everything you need for an authentic and fun experience.
The store stocks a wide variety of hash and weed, including a variety of exclusive strains like Kosher Kush, Shoreline, and more. There's also a variety of food and drinks, including juices and sandwiches, as well as a bunch of cool merchandise.
The store is small and cosy and features a simple, modern design and decorations. The Stud is known to draw a crowd, so be sure to come early to ensure you get a spot inside.
For more information, check out the The Stud's website.
6. coffeeshopamsterdam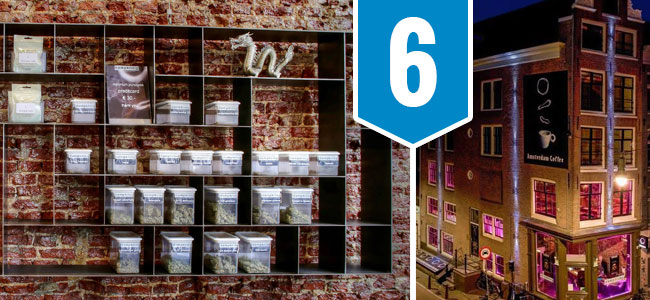 | | |
| --- | --- |
| Address | Haarlemmerstraat 44 |
| Hours | 8 am to 1 am daily |
| Phone | +31 (0) 204276739 |
The coffeeshopamsterdam is a popular coffee shop in Amsterdam, conveniently within walking distance from central station.
The first coffeeshopamsterdam store opened its doors in 1993 and the opening of the second store on Haarlemmerstraat followed in 2007. The original location near Amsterdam's Spui square has since been sold, but the Haarlemmerstraat store remains a staple in Dutch coffeeshop culture.
The shop on Haarlemmerstraat boasts a large menu of products, including great weed and outstanding hash. The shop also serves up a very special space cake treasured by both locals and tourists.
The front of the store is a traditional building dating back to the 18th century, while the inside has been renovated with modern furnishings and details.
The seating is spread across three separate floors and consists of elegant chairs and simple, yet stylish wooden tables. Plants are spread across all floors, and the store's big windows make for an open, luminous, and relaxing space.
The coffeeshopamsterdam boasts a great food and drink menu and a friendly, welcoming atmosphere, making it a perfect place to kick back with friends and unwind.
For more information about coffeeshopamsterdam Haarlemmerstraat visit their Facebook page or check them out online.
5. SENSEMILLIA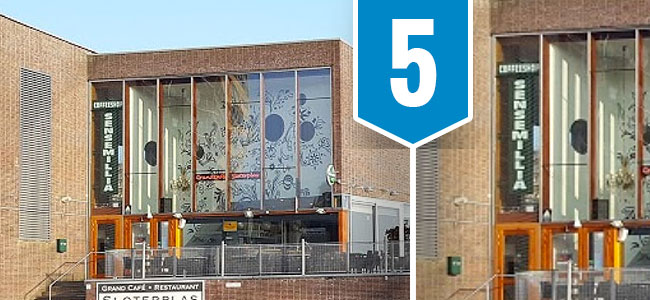 | | |
| --- | --- |
| Address  | Meer en Vaart 177 |
| Hours | 10 am to 12 am daily |
| Phone | +3126198846 |
First opening its doors in 1981, Sensemillia is also among the oldest coffee shops in Amsterdam. Known for its wide range of weed and hash and expertly trained staff, the store attracts a local crowd as well as some tourists.
The store is located roughly 15 minutes from the city centre in Osdorp, an old post-war district characterised by modern architecture and beautiful greenery.
The area combines everything from high-rises through terraced houses to detached canal-side properties and makes for a beautiful escape from the centre of Amsterdam.
It is located in the Sloterpark and provides beautiful views of the Sloterplas lake, one of the biggest in the city. Being located outside of the city centre, Sensemillia also boasts lower prices on most of their products.
The store is located in a new, modern building with a beautiful terrace that doubles as the smoking area. If you're looking for an authentic coffeeshop outside of the city centre, this is the place to be.
Sensemillia also has a branch in the Gilles Ledenberchstraat 135, in the Westerpark district. 5 minutes from the centre.
4. TWEEDE KAMER COFFEESHOP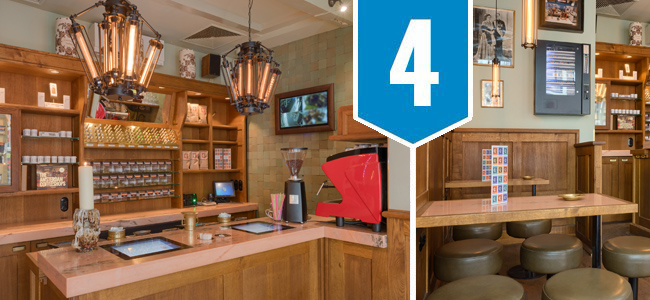 | | |
| --- | --- |
| Address | Heisteeg 6 |
| Hours | 10 am to 1 am, daily |
| Phone | +31 (0) 20 4222236 |
Tweede Kamer Coffeeshop is an iconic coffee shop, which first opened its doors in 1985, making it one of the oldest stores in the city.
The store is still run by its original owners, and some of the staff members have been working there for over 20 years, making for an extremely experienced team with expert product knowledge and a passion for excellent service.
The interior of the store was completely renovated at the beginning of the year, boasting a fresh, modern design, and new furnishings and decorations.
Tweede Kamer Coffeeshop is known for attracting a fun, friendly, and open local crowd, making for an authentic coffee shop experience. It also has an extensive menu containing up to 40 types of hashish and top-shelf marijuana.
If you're after a laid-back, local coffee shop experience without the tourist gags and traps, this is definitely the place to visit. For more info, check out Tweede Kamer Coffeeshop's Facebook page or their website.
3. KATSU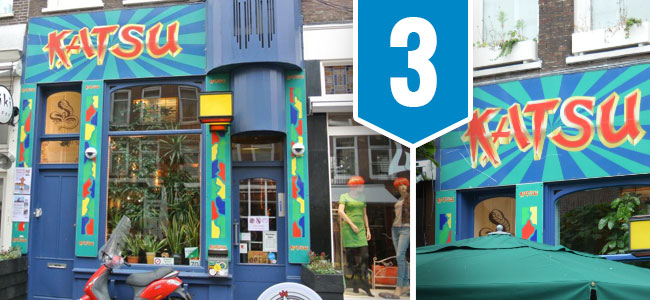 Address

Eerste van der Helststraat 70

Hours

 10 am to 12 am, Monday to Thursday
 10 am to 1 am, Friday and Saturday
 11 am to 12 am, Sunday
Katsu was founded in the mid-80s in The Pijp area of the city. It quickly became the go-to coffee place in the neighbourhood. Over the years it has become more international but is still considered a real Amsterdam secret, with most people hearing about it via word-of-mouth.
The store is located close to the famous Albert Cuyp Market, Heineken Brewery, and Sarphati Park, and is surrounded by shops and restaurants. It has a friendly, relaxed, and open atmosphere, which attracts a great mix of locals and tourists alike.
The store also contains a gallery, that serves as a platform for local aspiring artists to demonstrate their work to an open-minded and interested audience.
Katsu features a great menu, complete with connoisseur-quality cannabis and hash, as well as a delicious selection of edibles. The store also serves great coffee and a variety of food and other drinks.
Designed by smokers for smokers, Katsu is built on the principle of providing smokers with pure and outstanding products. However, the store also attracts a number of non-smokers who still enjoy the food, drinks, and warm atmosphere.
The store and its staff also go out of their way to educate guests and the general public about responsible cannabis use, as well the plant's many medicinal, industrial, and recreational purposes.
For more information about Katsu, click here.
2. PARADOX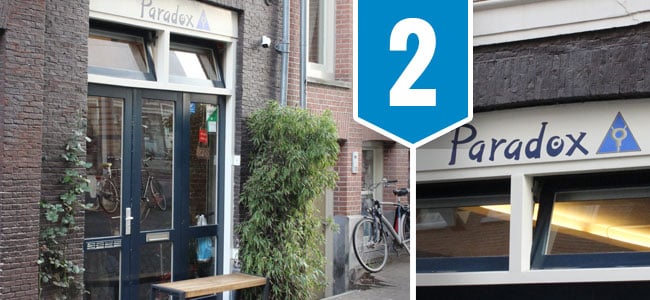 | | |
| --- | --- |
| Address | Eerste Bloemdwarsstraat 2R |
| Hours | 10 am to 8 pm daily |
| Phone | +31206235639 |
Paradox is a small, but cosy coffeeshop located in Amsterdam's infamous Jordaan neighbourhood. It is within walking distance from the centre and has a great menu combining great coffee, delicious juices and food, and, of course, excellent weed.
The store attracts a relaxed local crowd as well as the occasional tourist. Nonetheless, it offers a very authentic experience.
Paradox' menu consists of a wide variety of flower and hash, including a unique signature Alaska Ice Hash. The store also stocks a nice selection of cakes, cookies, and other edibles.
Paradox also pride themselves in serving up delicious coffee, fresh fruit juices, tea, milkshakes, hot chocolate, and a variety of other beverages.
Located inside an old horse stable, which formed part of a 19th-century firearms station, the store boasts a rich history and some traditional architecture from the era. It's also a friendly, open environment, that attracts people from all places and walks of life.
For more information about this coffee shop, visit their website or check them out on Facebook.
1. BOEREJONGENS (CENTER AND WEST)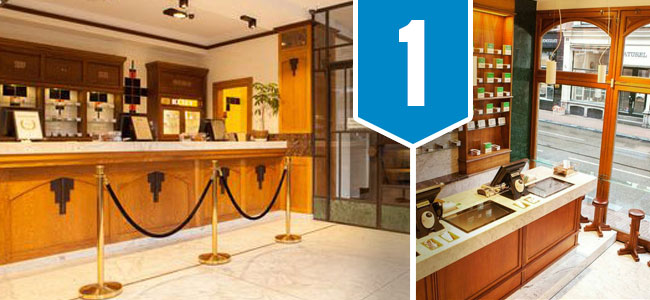 BOEREJONGENS CENTER
Address

Utrechtsestraat 21

Hours

7 am to 1 am, Monday to Friday
9 am to 1 am, Saturday and Sunday
BOEREJONGENS WEST
| | |
| --- | --- |
| Address | Baarsjesweg 239 |
| Hours | 7 am to 1 am daily |
COFFEESHOP BIJ
| | |
| --- | --- |
| Address | Bonairestraat 78 |
| Hours | 10 am to 11 pm daily |
The Boerejongens coffee stores are without a doubt the best in the city. Stocking only the best quality hash and flower, this store attracts a large clientele with a passion for cannabis.
Owned by the founder of Amsterdam Genetics, one of the rising star seed banks in the Netherlands, the store is built with quality in mind and sets out to challenge some of the norms of Amsterdam's coffee shop culture.
Both stores resemble upscale wine boutiques, complete with marble counters, solid hardwood floors, and beautiful carved wooden cabinets with glass shelves.
The staff offers expert knowledge about their products and are expected to take development courses throughout the year to remain up-to-speed about the cannabis industry.
Both Boerejongens stores exclusively stock Amsterdam Genetics' finest products, including Kosher Tangie Kush, AK-47, and the highly sought-after White Choco Hash, made in Morocco using traditional dry sieve methods.
The first Boerejongens opened in 2007. Owned by Mariska, the mastermind behind Amsterdam Genetics, the store quickly caught the attention of the public and business skyrocketed. Today, there are 3 Boerejongens stores spread across the city.
While each store is unique, they all offer expert service and the highest quality products. They also come with a friendly and accepting atmosphere, making for an extremely comfortable environment for both novice smokers and seasoned cannabis connoisseurs.
So, if you're looking for a classy, yet relaxed coffee shop experience, that challenges the norms of some of the other stores in Amsterdam, head on over to one of the Boerejongens today. For more information about the individual stores and their products, visit www.boerejongens.com.
 
 
 
 
 
 
 

Written by: Steven Voser
Steven Voser is an Emmy Award Nominated freelance journalist with a lot of experience under his belt. Thanks to a passion for all things cannabis, he now dedicates a lot of his times exploring the world of weed.

 

 
 
 
 
Find out about our writers
 
---