Blog

3 min
Zamnesia x Ripper Seeds: Amnesia Punch (Limited Edition)
3 min
Sometimes a strain comes around that's almost too good to share. One such strain is our exclusive collaboration between Zamnesia and Ripper Seeds. The result is a sativa-dominant feminized powerhouse that will not only perform in the grow room but will also showcase great flavours and effects that you won't forget in a hurry. Check her out now.
At Zamnesia, we're certainly no strangers to innovative genetic combinations, resulting in some of the finest cultivars you're likely to see (if we say so ourselves). Our reliable and productive strains have done nothing but bolster our reputation as one of the most popular seedbanks in Europe. That said, we'd be remiss if we didn't open ourselves up to exciting, unique and special collaborations with other seed companies. Take our amazing team up with Bomb Seeds, for example.
Well, this time, we've got something else up our sleeves. In a true collaborative effort with Ripper Seeds, we've put our heads together to come up with something extraordinary that you won't forget; Amnesia Punch. And with only 500 packs available, those that want to get a piece of the action best move fast to avoid any potential disappointment.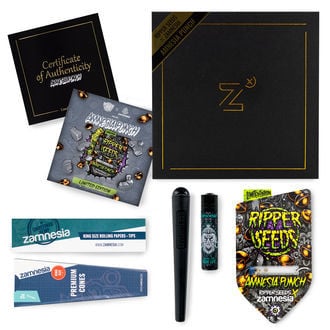 View
Zamnesia and Ripper Seeds: A Collaboration Of Cultivar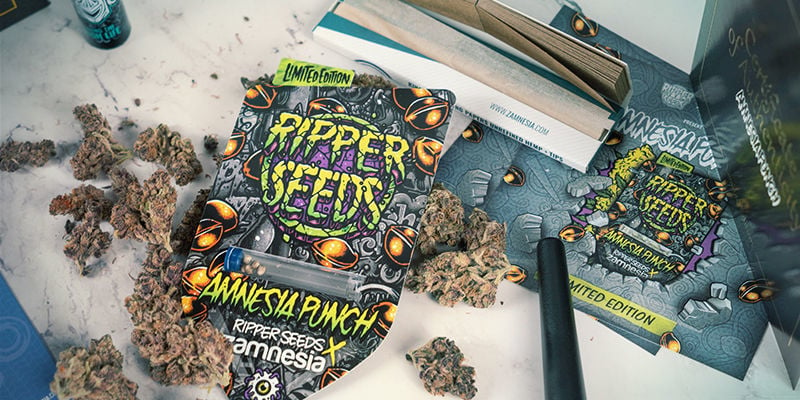 Hailing from Barcelona, Ripper Seeds established themselves as a seedbank in 2011, after many years of dabbling with genetics and cannabis cultivation. With a less is more attitude, Ripper Seeds has around 40 varieties of cannabis. However, each one has been meticulously fine-tuned to ensure great growing capabilities as well as maximum potency and flavours. Meaning that when cultivated in the right circumstances, growers are hugely rewarded no matter which strain they picked.
As kindred spirits of the cannabis cultivation community, it should come as little surprise as to why an imminent collaboration was on the cards between Zamnesia and Ripper Seeds. The limited-edition Amnesia Punch is the perfect result of this hugely successful collaborative effort. So without further ado, let's take a look and see what this super sativa-dominant strain is capable of.
What's Included In The Amnesia Punch Pack?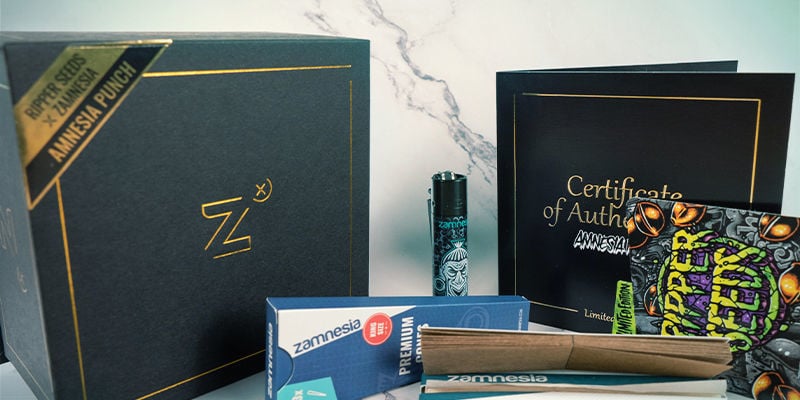 Much like our other collaborations, we like to put something special for the true cannabis fans; this is, of course, our limited edition collector's pack. An exclusive premium package that not only contains 5 Amnesia Punch seeds but a whole host of accessories to see you on your way as soon as you've harvested your beautiful buds. Each one comes with a certificate of authenticity to let you know you've genuinely got the real deal, as well as our seal of quality.
The pack is chock full of Zamnesia smoking accessories, containing everything from premium cones to a clipper lighter and even a saverette. Everything is included in this pack to ensure you can get straight to smoking once your buds are ready. Why wait any longer than necessary?
Pack Contents:
Premium Box for Ultimate Protection
5 Amnesia Punch feminized cannabis seeds
Certificate of authenticity, each with its own unique number
Zamnesia Saverette
Zamnesia Clipper Lighter
Zamnesia Rolling Papers with Tips
Zamnesia Premium Cones (3-Pack)
Getting To Know Amnesia Punch
Amnesia Punch is a sativa-dominant feminized strain with some hugely impressive genetics. Derived from a cross between Purple Punch and Amnesia Haze, she takes the finer points of her heritage to provide a unique cannabis experience. This combination is no happy accident; this is a strain that boasts rich flavours, aromas and effects—making her a winning strain.
Growing Amnesia Punch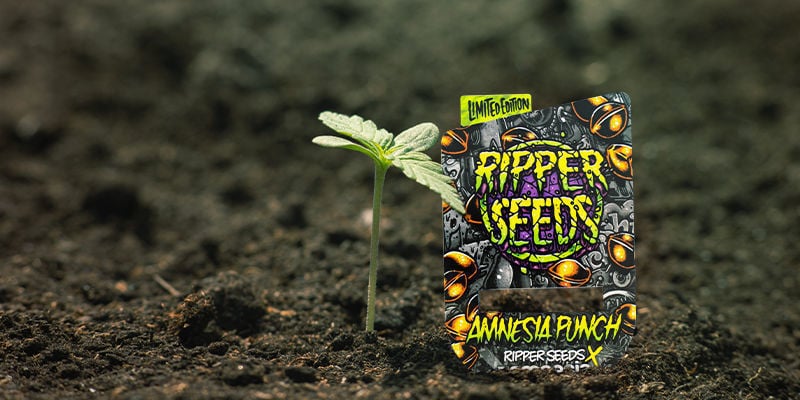 But how does she perform when it comes to cultivating? Well, regardless of experience, growers will be pleased to know that she's an easy to manage strain that can flourish in the proper conditions.
Amnesia Punch inherits the flavours and effects of her parent strains and the resilience and reliability. She's ideal for both inside and outdoor cultivation, giving the grower unprecedented and fairly vast options when it comes to choosing where to place her.
She's not an overly big plant to grow and will reach modest, medium heights of around 100-150cm. However, she's extremely adaptable and is incredibly receptive to LST and other training methods, should growers want to impose them. Otherwise, all that's needed is a little maintenance and TLC. Those with patience will be rewarded with a beautiful looking plant with some sizeable yields.
Amnesia Punch is certainly no slouch—with a relatively short flowering period of around 60-70 days, she will be ready before you know it. Plants that have been cultivated outdoors will be ready in mid-October. When grown in the best possible conditions, overall, she offers an easy-going growing experience that will suit many cannabis enthusiasts. But even if this is your first project, you'll find a responsive and robust plant suited to most settings and environments.
The Effects of Amnesia Punch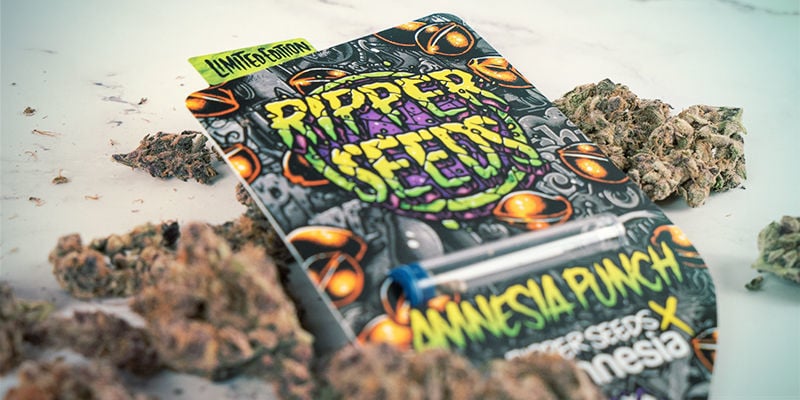 While growing Amnesia Punch is a worthwhile and rewarding endeavour, it's her buds that will win her the most fans. She can almost certainly pack a punch right where it counts. Whether you're looking to smoke or vaporize her buds, you'll be met with a strong, potent and energetic high that has the hallmarks of a classic sativa. However, she doesn't tail off at this point but instead provides some uplifting and euphoric moments that are sure to bring out the creative side in many users.
Amnesia Punch combines sweetness and fruitiness with just a pinch of spice and earthiness to flesh out her flavour profile. She's enjoyable from start to finish and is sure to blow all those that try her away.
Amnesia Punch: Available Now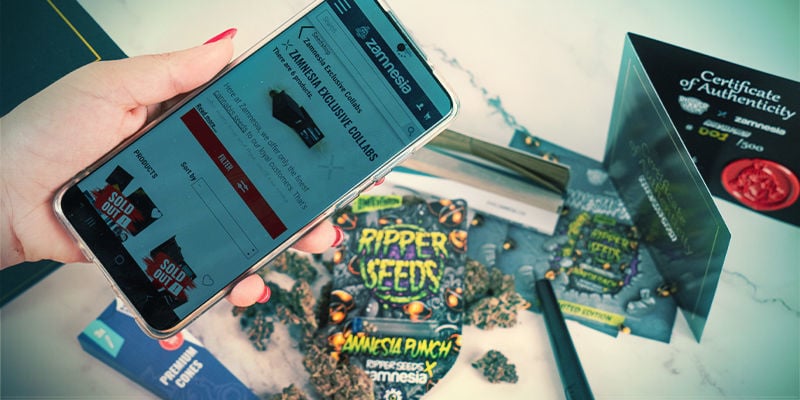 Amnesia Punch is a strain we are extremely proud of and are sure you are going to love it. But you've got to be quick. With a limited supply of around 500 packs, once they've sold out there's no chance of a repeat. Can you really afford to miss out on the opportunity of adding Amnesia Punch to your collection? Act fast, as this is one strain you won't forget in a hurry as soon as you get your hands on it.