Blog

3 min
Top 5 Indestructible Travel Pipes
3 min
If you find that smoking weed on your travels results in more headaches than it's worth, you're not alone. From broken pipes to dead vaporizers and wet rolling papers, you don't need to suffer anymore. Here are the top 5 indestructible pipes to take on your travels for reliable, discreet hits every time.
Enjoying a smoke on your travels can often be hard to juggle. Sometimes that prized portable vaporizer just won't cut it, and you can easily grow weary of constantly rolling joints when you're away. Not to mention, these options are often not the most discreet way to get a taste of your favourite herb while you're on the move.
While discretion is one of the main factors travelling stoners consider, many also search for a pipe that is portable, functional, and basically indestructible. With that in mind, we've put together a list of our top 5 travel pipes that offer all these features and more.
5. Metal Pipe Hologram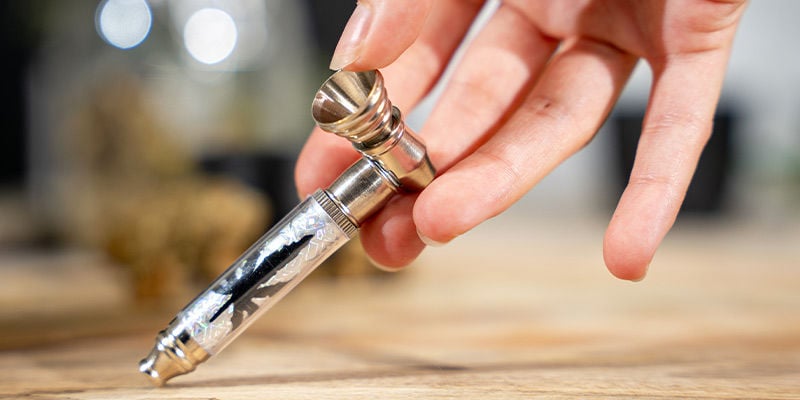 Cost-effective and, of course, indestructible, the Metal Pipe Hologram is bound to appeal to all users. From the casual cannabis smoker to the die-hard stoner, this device can be used as a main pipe or as a backup; the result is the same—a perfect pull time and time again.
Constructed from sturdy and resilient metal, the pipe measures 8cm long and is ideal for taking on the move or storing at home. Located at the end is an amply sized bowl that's primed for the finest milled herb, so don't be shy about filling it to the max. Once filled, it's just a case of lighting and taking a generous pull through the mouthpiece.
While ease of use and functionality are hugely important factors, looks also play a role in choosing the perfect pipe companion. The Metal Pipe Hologram features coloured hologram graphics along the stem of the device, giving it an eye-catching appearance that's suitable for all.
4. Smart Smoking Pipe With Carbon Filter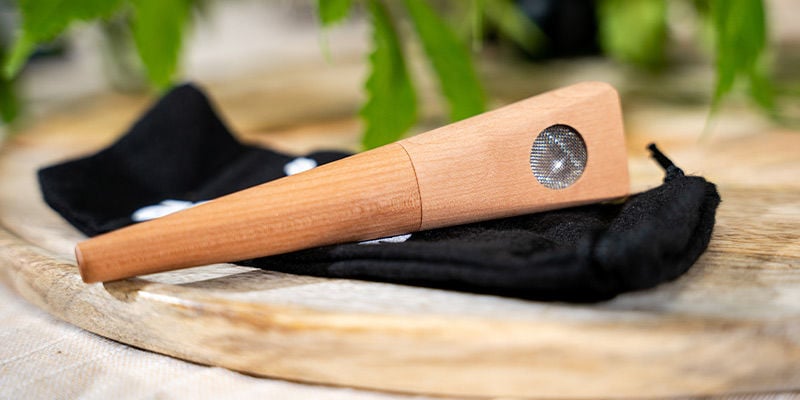 Constructed from solid and robust pear wood, this pipe already ticks the durability box. However, it also offers a flawless smoking experience that will appeal to all types of stoners. Suitable for use with replaceable carbon filters, you've got a pipe that's ready to use immediately and will help to keep certain contaminants and debris out of your mouth and lungs.
Simply twist the pipe in the middle to remove the bowl section, and you've got a space to slide a filter in place. Once ready, put the bowl section back into position, and you're good to go. Fill the bowl with your chosen strain, light, and enjoy filtered hits that are more potent and much cleaner.
This low-profile device can easily slot into your bag or pocket with zero fuss. Perfect for those on the move. As mentioned, the pear wood body is resilient and bound to serve you well for many sessions to come, and the pipe can easily be taken apart and cleaned when needed.
3. PieceMaker Karma Silicone Pipe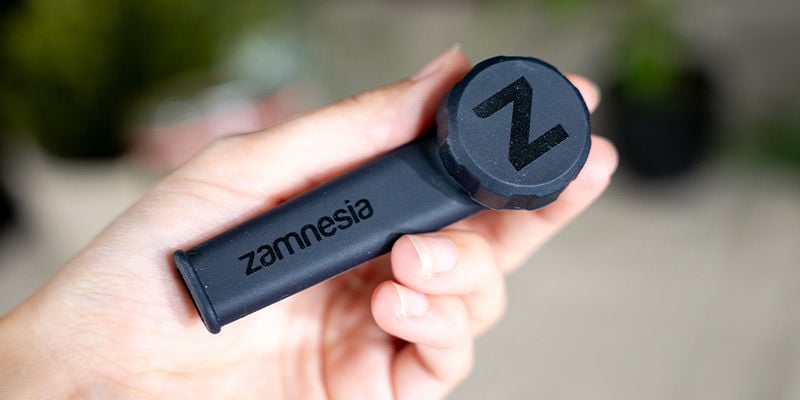 From the team at PieceMaker comes a portable silicone pipe that is ideal for taking on the move. Featuring FDA-approved food-grade silicone, the pipe won't taint the flavour of your smoke, is resistant to high temperatures, and basically indestructible.
No matter how much you bend the pipe, it will return to its original form. This sleek pipe has a simple yet appealing design that offers full functionality. Available in two different colours—black for those who want subtlety, or "glow green" for those that like to stand out in a crowd—all types of smokers can enjoy this portable pipe.
Although the pipe is constructed from silicone, the bowl features a built-in stainless steel screen that promotes a flavourful hit each time. Load in your strain, and it's good to go. If you're looking to smoke a little later on in the day, the Karma Silicone Pipe comes with a spill-proof lid that means the pipe is ready to smoke when you are.
2. Bud Bomb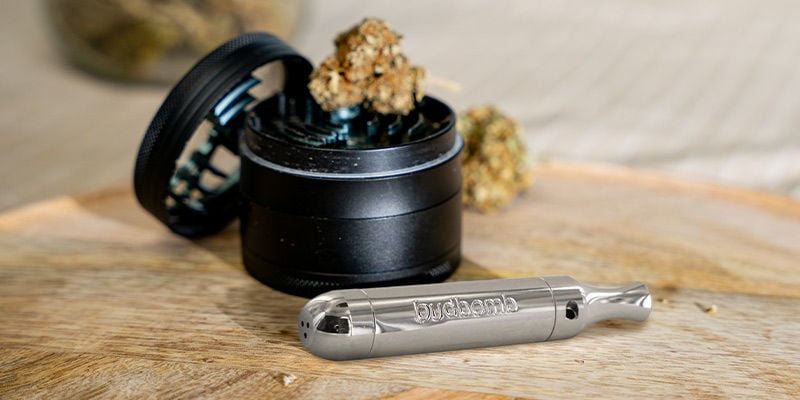 This is truly a masterpiece of engineering; the Bud Bomb is a handy little device that takes everything you love about portable pipes and adds to it some amazing features. While this pipe isn't one you'll be putting on your keychain, the Bud Bomb offers 100% portability and will easily slide into your bag or pocket with its 10.3cm frame.
Made from robust metal, the pipe is composed of four interlocking pieces. The bowl is located at the end as you'd expect, so it's just a case of unscrewing and filling before use. But the most interesting part is its air path that showcases a helix design; this allows the smoke to cool before it reaches the mouthpiece—all making for a smooth and flavourful smoke.
The four-piece design makes for easy cleaning. With the use of a cotton bud and some rubbing alcohol, your Bud Bomb will be ready to go again in no time. Enjoy a premium-quality smoking experience on the move, time and time again.
1. Metal Pipe Amazed Red-Eye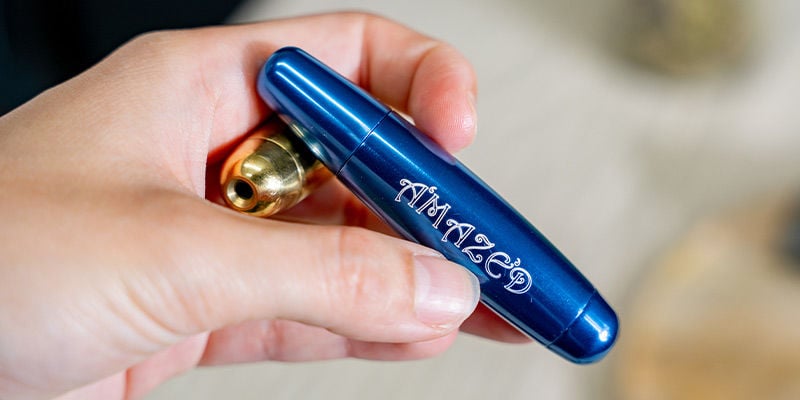 The Amazed Pipe by the team at Red-Eye offers up a great way to smoke when travelling. At first glance, this 8.2cm pipe looks like a fountain pen that wouldn't seem out of place in a shirt pocket or jacket. Available in a range of metallic colours, you're bound to find one that suits your style.
But there's so much more than looks to this pipe. It provides an easy and low-key smoking experience par excellence. Unscrew, fill with your best blend, and screw back together before heating and enjoying. The 32cm-long maze that runs through the body cools the smoke before it reaches the end, making for a rewarding, flavourful, and smooth smoke no matter where you are. Its tight metal frame is super sturdy and robust, withstanding the knocks that come with travel.
Top 5 Indestructible Travel Pipes: Which Ones Will You Pick?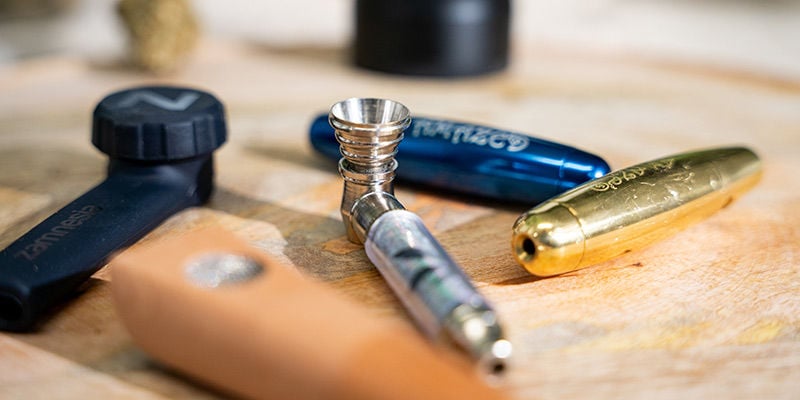 Much like anything else related to smoking cannabis, choosing the right travel pipes all comes down to personal preference and circumstances. If you're in the market for a pipe that offers durability and functionality, the aforementioned pipes will see you right. Regardless of your budget, you can enjoy smooth and flavourful hits from discreet, high-quality pieces on the go.