Blog

6 min
15 Cool And Unique Weed Pipes To Enhance Your Smoking Experience
6 min
Is it time to change up your smoking routine? Sometimes this can be as easy as switching out the device you've been using. Cannabis pipes come in many different shapes, sizes, and designs, and we've assembled 15 that are unique and sure to add the spark back into your smoking experience. Take a look at our choices, and try one for yourself.
Sometimes, our weed smoking ritual can become a little stale. Rectifying this can be as simple as changing how you smoke. Sure, your old reliable pipe may have seen you through many years of good times, but switching up your device could give your smoking sessions the shake-up they desperately need. With that in mind, we've put together a list of 15 pipes that are sure to bring some new energy to your smoke.
What to look for in a weed pipe
So many weed pipes, so little time! Just how do you go about picking out a pipe that's perfect for you? From the expensive and ornate to the cheap and cheerful, there's genuinely a pipe for all out there. Some factors to consider are the material the pipe is made out of, the size, features, as well as your budget. By considering these attributes, you can pick out a pipe that will cater to your preferences and bring out the best in your weed. But half the fun is experimentation, so don't be afraid to check out unusual designs and materials; you might be surprised just how much they enhance your cannabis experience.
Top 15 cool and unique-looking weed pipes
From beautiful hand-blown borosilicate glass to carved stone devices, below are 15 cool and unique-looking weed pipes that will not only blow your mind visually, but will take your smoking sessions to the next level. Whether you're a social smoker or prefer some alone time with your herb, we've got you covered.
1. Hybrid Glass/Wood Pipe Breeze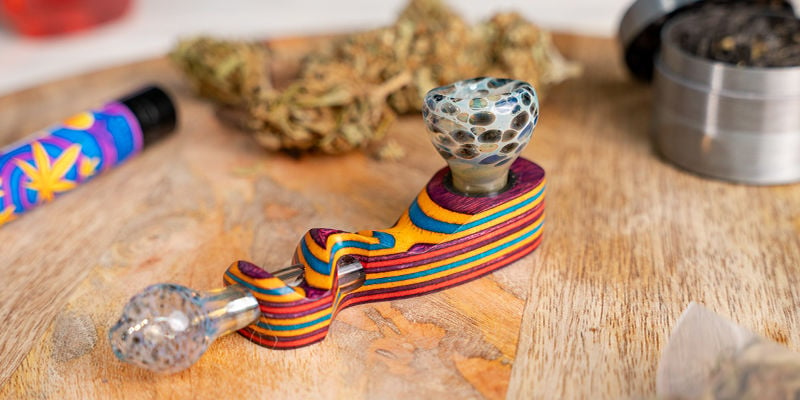 Undecided about the kind of material you want for your pipe? Why not have the best of both worlds with this hybrid device? This pipe combines a multi-layered striped wooden outer casing with high-quality borosilicate glass components. This really is as easy as it gets when it comes to portable weed pipes. With an ample bowl, there's plenty of room to fill with your finest milled herb. Rounded off with a borosilicate glass mouthpiece that offers up smooth hits, you've got a smoking experience that's truly a Breeze.
2. Mushrooms Dry Pipe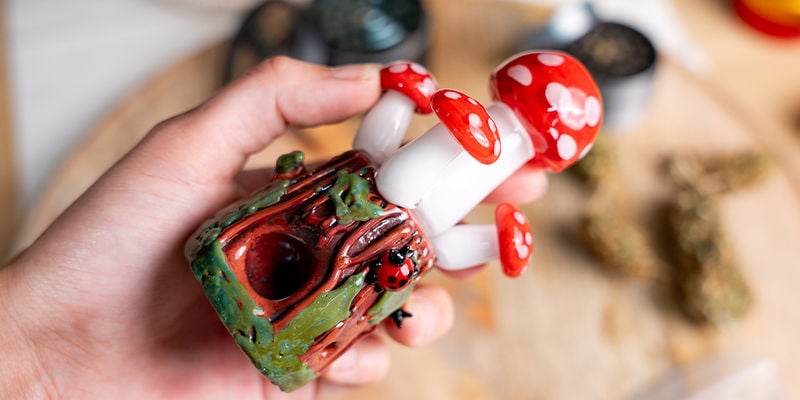 No stranger to premium-quality, eye-catching pieces, Empire Glassworks offers the Mushrooms Dry Pipe. Handmade from borosilicate glass, this complex design showcases an appearance reminiscent of a moss-covered tree trunk with four bright red mushrooms sprouting out of the top. Not only offering up a great smoke, this pipe wouldn't look out of place in a display cabinet or on top of your mantle alongside other trinkets and antiques. The Mushrooms Dry Pipe is effortless to load up and even easier to enjoy. Complete with a carb hole, the pipe gives users complete control over their smoking session.
3. Eggplant Hand Pipe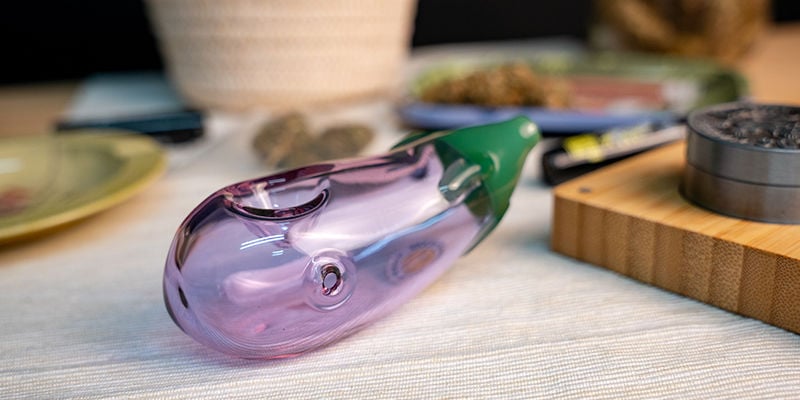 Whether you know this vegetable as aubergine or eggplant, there's no mistaking that the shape is perfect for a pipe. Thanks to the good folks at Goody Glass, this is exactly what you get with the Eggplant Hand Pipe! This sturdy, compact pipe is made from borosilicate glass and measures just under 12cm in length, making it small enough to take on your travels. With the tip of the eggplant acting as the mouthpiece and a scoop taken out of the body making for the perfect bowl, this device is sure to add plenty of fun to your smoking sessions, no matter where you are!
4. Freezable Sherlock Pipe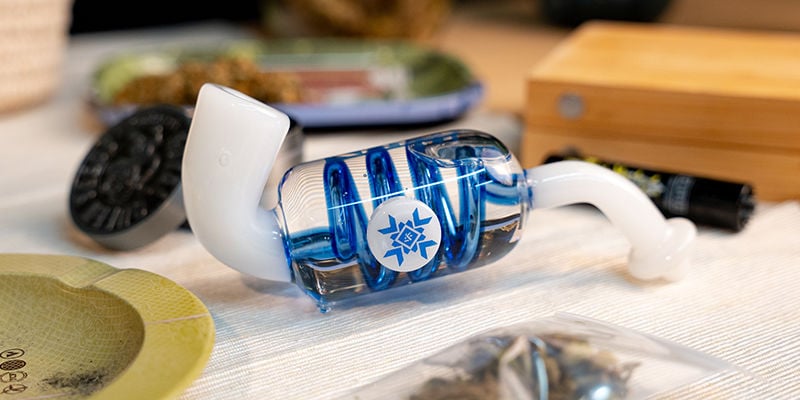 From the team at KRYO comes the Freezable Sherlock Pipe. This unique-looking device is bound to catch your attention instantly. The spiralled chamber is packed full of KRYOGEL, and this is where the magic truly happens. All you need to do is place this pipe in the freezer for a few hours before use, and the gel will freeze, meaning that any smoke produced when inhaling will be instantly chilled. Measuring 15cm long, this portable powerhouse is easy to slip into your pocket or bag; just be sure there's a freezer nearby when you reach your destination. Overall, this pipe might not help you solve any mysteries, but it is sure to deliver an ice-cold smoking experience.
5. No-Face - Kaonashi Silicone Bong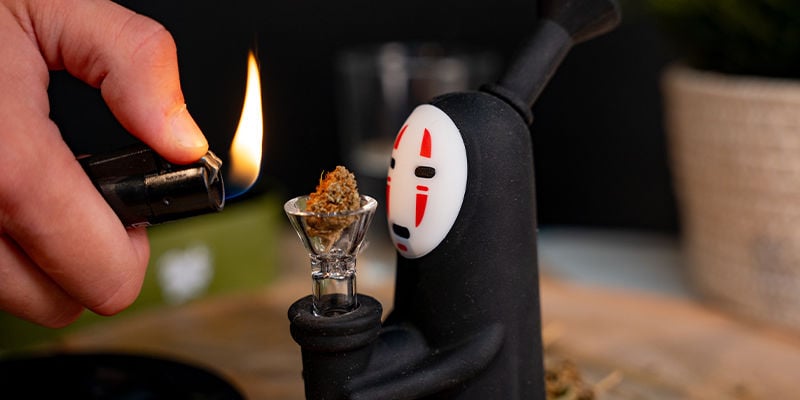 This one is sure to appeal to Studio Ghibli fans, but also those in search of a premium-quality pipe. Made from food-grade silicone, the No-Face pipe is a lightweight yet robust device, complete with a glass bowl that's calling to be packed out with the finest bud in your possession. So prepare to get "spirited away" when you take a hit from this device. The No-Face pipe is easy to clean and maintain, and is sure to give you many hours of fun and smooth hits for a long time to come.
6. Glass Pipe Donut Bite Me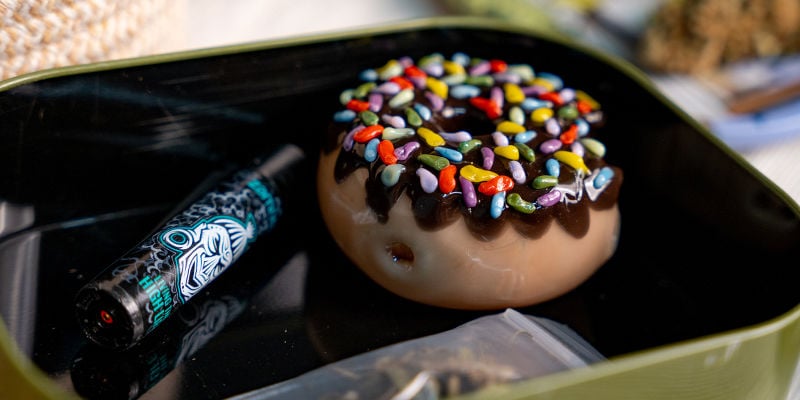 Another showstopper from the team at Empire Glassworks, this is a sweet treat one-hit borosilicate glass device that'll have your mouth watering in no time. Shaped to look like a glazed ring donut, this pipe is ideal for stoners with a sweet tooth. Although it looks good enough to eat, we certainly wouldn't recommend it! Instead, turn the donut upside down to reveal a bowl that's primed for packing. With a carb hole on the side, this pipe has everything you need for a flavourful smoke, all in a device that's just under 8cm. Just be sure not to leave this donut on the kitchen counter!
7. Soapstone Pipe Rectangle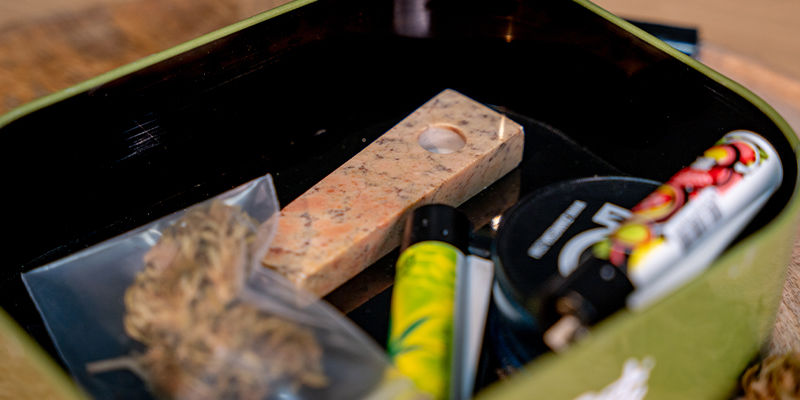 This one-piece pipe might look a little archaic, but the Soapstone Pipe Rectangle is a near-indestructible, perfectly portable device that can effortlessly slip into your pocket. Carved from a single piece of soapstone, this low-profile pipe cools the smoke that passes through it and, when paired with a brass screen, provides a smooth smoking experience that's suitable for all. Compared to other pipes, this one might seem basic, but when it comes to smoking cannabis, sometimes less is more—and the Soapstone Pipe Rectangle encapsulates this ethos flawlessly.
8. Shrimp Nigiri Dry Pipe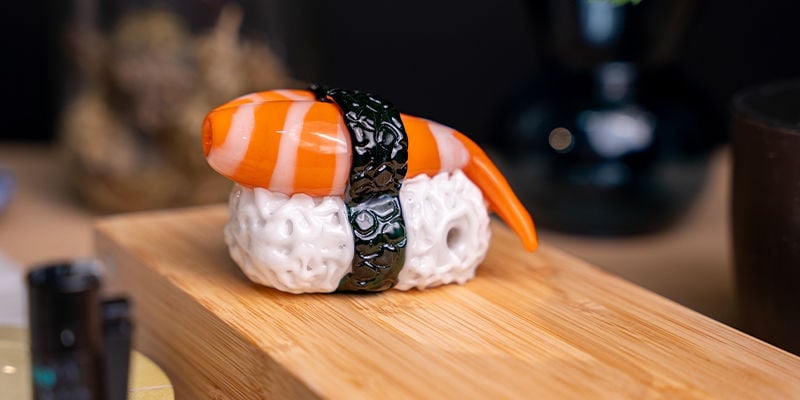 Shaped like a shrimp nigiri, this pipe from the minds at Empire Glassworks is truly a masterpiece; whether you like seafood or not, this smoking device looks good enough to eat! All you need to do is turn this sushi upside down to reveal the bowl underneath. Pack it out with some bud, light, and take a hit; it doesn't get easier than this. Moreover, the Shrimp Nigiri Dry Pipe is only 11.5cm long and can easily be tucked away between uses.
9. Twisty Glass Blunt Super Big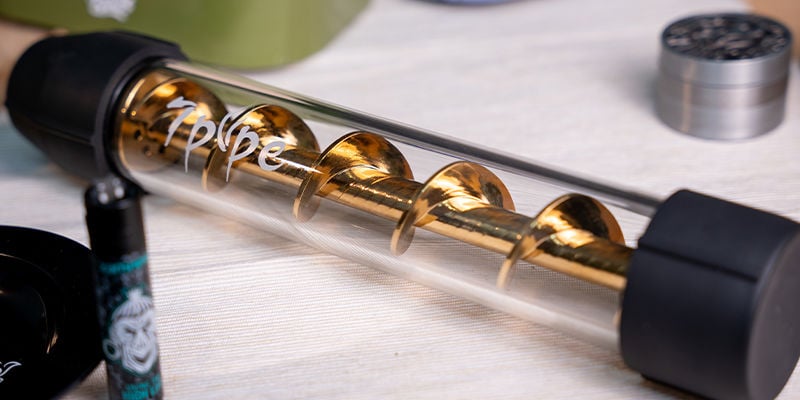 Up to this point, the pipes we've focused on have been on the smaller side, but sometimes you really need to make a statement with your choice of smoking device. Nothing delivers more impact than the Twisty Glass Blunt Super Big, otherwise known as the "BudZooka". When you need to break out the "big guns", this is the mother of all glass pipes and is sure to wow everyone. Able to hold a ridiculous 56g of bud, the pipe houses a screw-like centre that acts to swirl and cool the smoke generated so that when it hits the mouthpiece, you can enjoy massive, smooth pulls every time. The Twisty Glass Blunt Super Big is anything but understated and is ideal for social smokes where it can be passed between many guests.
10. Bomber Spoon Pipe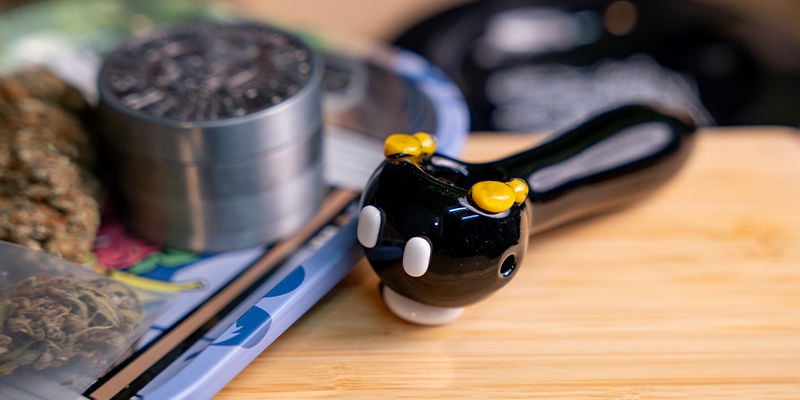 A must for both die-hard and novice gaming enthusiasts, the Bomber Spoon Pipe is a nod to Mario's enemy and provides an explosive hit of herb. Handcrafted by Empire Glassworks, this piece is constructed from borosilicate glass and features an unmistakable design that looks just as good on a shelf as it does in your hands. Measuring a little over 10cm long, the Bomber Spoon Pipe fits comfortably in your palm and is perfect for when you're on the go, or sitting in front of your TV playing some of your favourite video games.
11. Glass Puk Pipe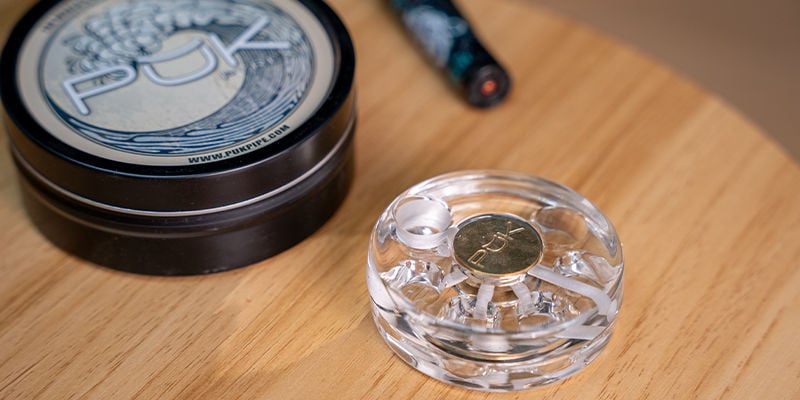 When we think of a portable glass cannabis pipe, one design usually comes to mind. However, the Glass Puk Pipe is here to shatter all expectations. This flat disc of a device is made from borosilicate glass and uses a revolver-like chamber system; so you load up six bowls and use the spinning lid to uncover your chosen bowl. You can even pack each bowl with a different strain of cannabis and play a kind of Russian roulette with this pipe. Simply heat, then take a hit.
12. Køl 2.0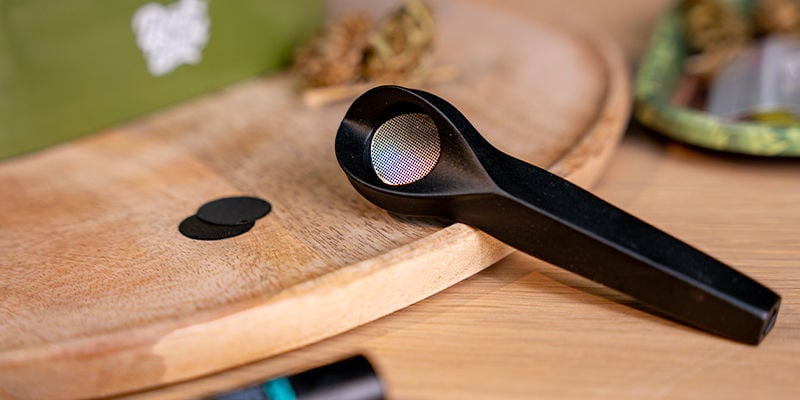 Striking the perfect balance between unique looks and superb functionality comes the Køl 2.0. Quite literally translating to "cool", the Køl 2.0 doesn't just have a clever name; it delivers on the promise of chilled and smooth hits, thanks to a unique protrusion microchannel system. Constructed from high-grade recycled aluminium with a non-stick coating, the Køl 2.0 is a robust pipe that can handle the knocks of everyday life, and look great while doing it. The design is eye-catching and shapely, ideal for use on the go or at home!
13. Amazed Red Eye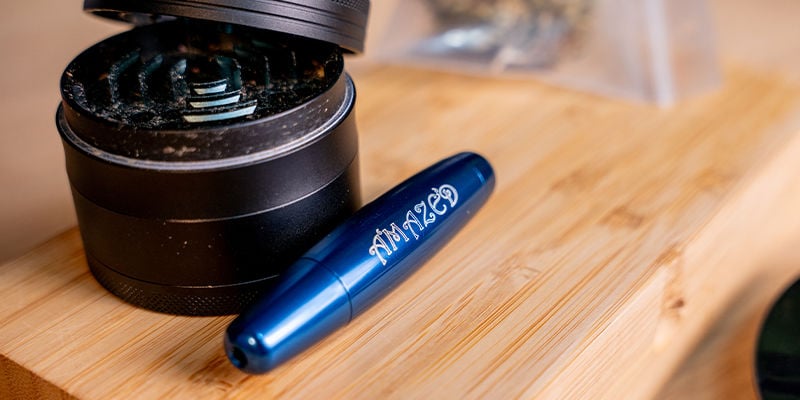 Prepare to be amazed by this pipe. From the team at Red Eye, the Amazed pipe is made out of metal and available in a wide range of colours bound to suit your style. However, the magic is truly on the inside of this 8.2cm-long pipe, as it contains a 32cm winding maze that cools the smoke as it travels to the mouthpiece. The result is an easy-to-use pipe that culminates in a chilled pull ideal for portable use.
14. Screenless Pipe
Without the need for a screen, this pipe offers up arguably the easiest way to enjoy your favourite strains. The Screenless Pipe has customisable airflow and a body that can be unscrewed for easy cleaning and maintenance. The convex bowl houses both concentrates and herbs, so you truly get the best of both worlds with this pipe. In terms of looks, the Screenless Pipe features an ergonomic bright green design that's eye-catching and sleek.
15. Faro Concrete Pipe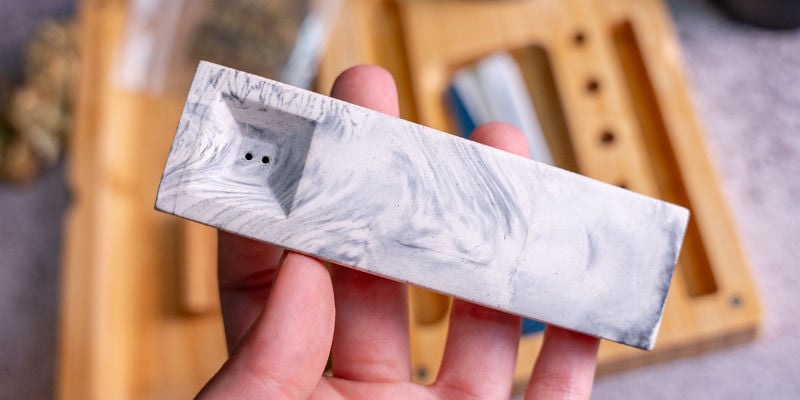 At first glance, you'd be forgiven for thinking that the Faro Concrete Pipe belongs in a modern art museum. With a minimal design that's both contemporary and functional, the team at BRNT Designs created this pipe from concrete. This one-piece device is well-suited to both beginners and the experienced alike. The smooth design measures 11cm in length and is comfortable to hold whether at home or outdoors. The end of the pipe houses a large bowl perfect for holding your finely milled herb. All that's left to do is heat and enjoy. Perfection.
Get your pick of the finest pipes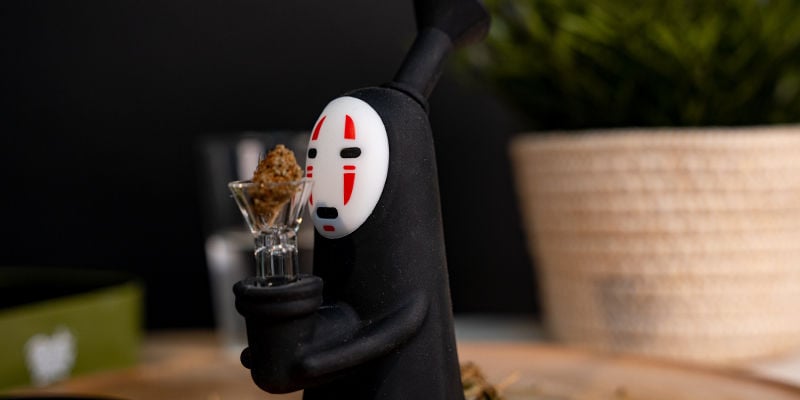 As you can see, there are plenty of unique-looking pipes available that not only showcase great designs, but also high functionality. Gone are the days of compromising your style for a smoke, so pick up a pipe that will cater to all of your requirements. Getting paired with a high-quality smoking device has truly never been easier; simply head over to the Zamnesia store and have your pick of pipes today.