Blog

5 min
Top 10 RAW Smoking Accessories
5 min
Carving a name for themselves in the cannabis community, it's not uncommon to see RAW when browsing online or in your local headshop or dispensary. Initially known for their impeccable rolling papers and filters, they have branched out to offer all sorts of premium accessories to make your smoking sessions the very best they can be.
As a major player in the smoking accessories arena, RAW represents connoisseur-level quality and constant innovation. Founded in 1995 by Josh Kesselman, RAW has consistently pushed the envelope on what a smoking accessories company should be, garnering massive popularity in the cannabis community for their innovative yet functional (and sometimes crazy) products. With that in mind, we've picked out 10 of our all-time favourites that you're sure to love.
Top 10 RAW Smoking Products
From RAW rolling papers to trays and joint holders, the company covers all the bases when it comes to enjoying a smooth and satisfying smoke. Catering for all needs and preferences, there's an accessory to complement any setup or smoking routine. Without further ado, let's take a look at our top 10 picks.
1. RAW Bamboo Backflip Tray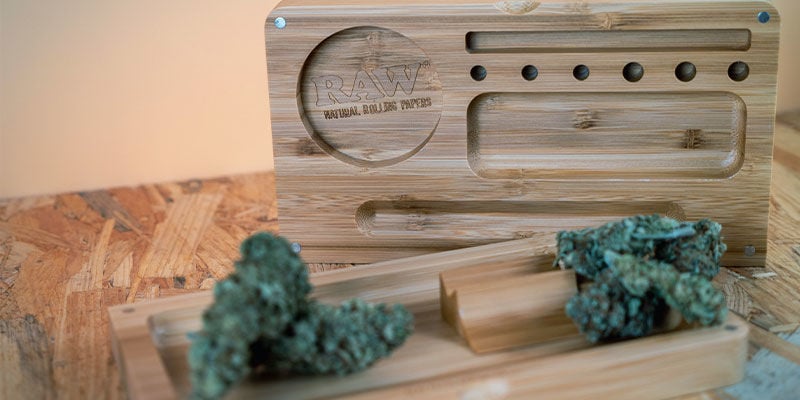 While at first glance it may look like a portable board game, the unassuming case of the RAW Bamboo Backflip Tray certainly works in its favour. However, it's what's inside that counts with this one. The tray features holes and indentations of various shapes and sizes to keep your rolling papers, herb, grinder, and lighter safe and in one place for when you need them next. Constructed from premium bamboo, it's a classy piece of kit that's perfect for taking on the move or adding a bit of elegance to your smoking area. The tray easily snaps shut, securely fastens, and thanks to the eight strong magnets, it won't pop open at any inopportune moments.
2. RAW Connoisseur Rolling Papers King Size + Tips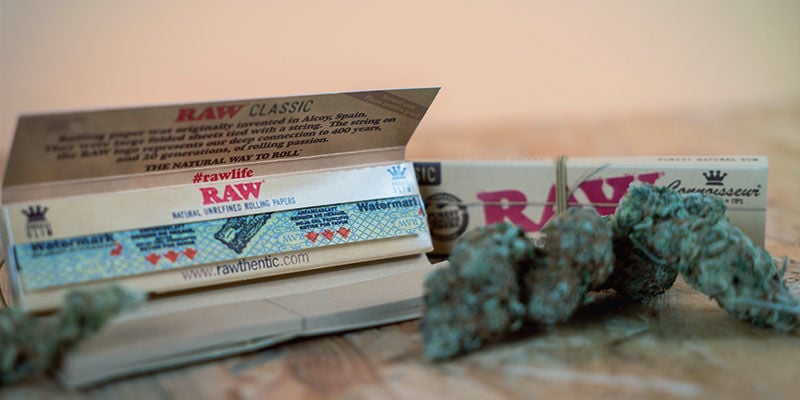 Those who enjoy the finer things in life should most definitely check out the Connoisseur Rolling Papers pack from RAW. Containing everything you need for a great smoke (except for your chosen herb, of course!), inside you'll find the famous king size rolling papers that RAW is known for. Unbleached and without any unwelcome additives or chemicals, you can expect the best from your chosen herb—full flavours and a smooth smoke with every session! But what about filters? Don't worry; you're covered, thanks to the included tips. With this pack, you'll be a true cannabis connoisseur before you know it.
3. RAW Double Barrel Joint Holder 2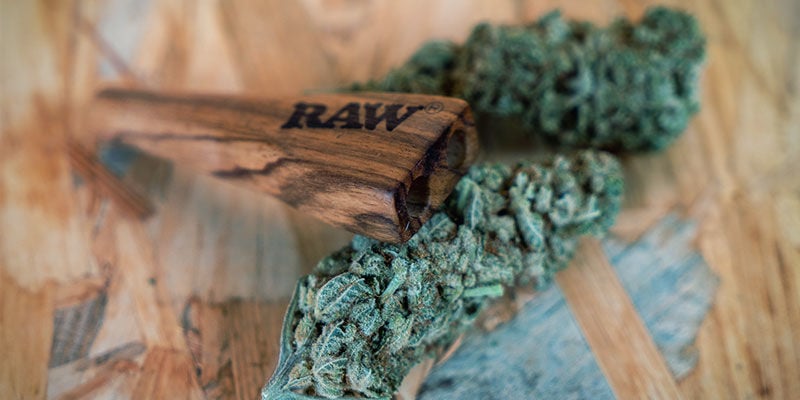 We all know the adage of "less is more", and while there is a place for that, it's not relevant here. The RAW Double Barrel Joint Holder 2 is for those who aren't afraid to indulge from time to time. This handy carved wood device is equipped to hold two joints and converges into a singular mouthpiece that will give you a double hit as you take a pull. Perfect for parties, gatherings with good friends, or if you just want to "go big"—hey, who are we to judge? Though it might seem a little fantastical, as soon as you try it out, you'll wonder how you managed without it all this time. Adding a touch of class, this joint holder comes with a soft, silky velvet carrying case, allowing you to take it everywhere you go.
4. RAW Smoking Ring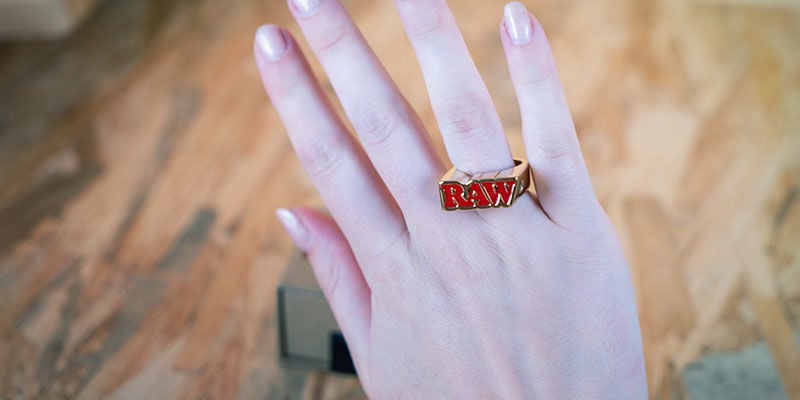 This product is a real double feature. While some people wear their heart on their sleeve, why not show your love for RAW on your finger? This show-stopping and stylish accessory has got the looks, but it also comes with some handy features for smokers. Located on the side is a hole designed to hold your joint, perfect for when you need your hands free (just make sure it's not lit at the time). With a luxurious gold finish, the red RAW logo is undoubtedly the standout feature of this fine piece of jewellery, and bound to turn heads. Definitely a product for those with an unabashed love of all things cannabis.
5. RAW Cone Cutter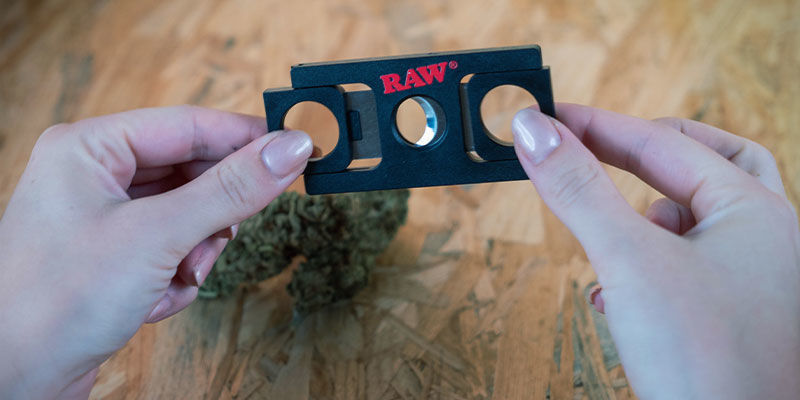 How many times have you gone to cut the ash off your cone, cigar, or better yet, your cannagar, only to find that you don't have the right tool at your disposal? This always leads to someone trying to bite the end "like they've seen in a film", making your cone all uneven and, worse still, soggy. Okay, it might sound a little far-fetched, but make this problem a thing of the past by picking up the RAW Cone Cutter. This device is perfect for all of the aforementioned roll-ups; simply place the end between the blades and clip your cones with this portable powerhouse. But don't worry about losing any fresh contents; there's even an included poker to help you pack down your herb.
6. RAW Wooden Pipe
Form a closer connection to Mother Nature with the RAW Wooden Pipe. Whether you're packing it out with tobacco or your favourite herb, this pipe's got you covered from the first smoke to the last. With a generously sized bowl, you won't have to keep repacking during your session. Made from all-natural eco-wood, when lit, nothing gets between you and the flavour of your blend. The icing on this pipe cake is the laser-etched RAW logo, which really gives it a premium look. Those looking to filter out errant ash or herb when inhaling can opt to use screens for a more pleasant experience.
7. RAW Six Shooter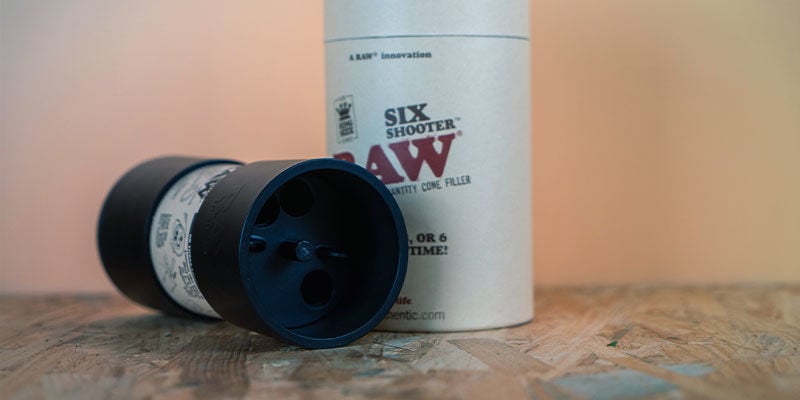 You'll feel like a cowboy from the Wild West with this accessory in your arsenal. The RAW Six Shooter is the best way to make some king size cones. One try of this device, and you'll struggle to go back to the old style of rolling. Simply place a pre-rolled cone (or 6) into the hole(s) provided, and here it will sit while you pack it with your favourite strain. Once loaded to a level of your desire, place the cap back on the device and tap the bottom of the chamber on a hard surface around 8–10 times to ensure your herb is tightly packed into each cone. Once ready, remove the cap, and turn it upside down to release your joint into the world. It's as simple as that. Regardless of your rolling ability (or if you're high), you can effortlessly craft perfect joints for you and your friends in no time.
8. RAW Cone Snuffer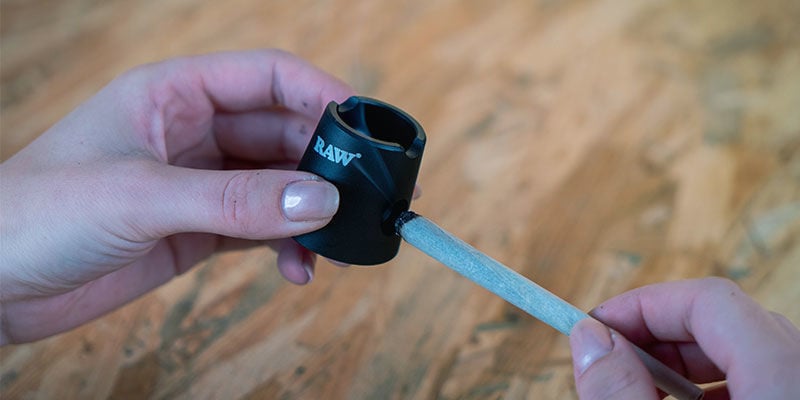 We've all been there. You're enjoying a joint, and for whatever reason, you've got to call time on it. Instead of rushing or throwing it away, pick up the RAW Cone Snuffer. This handy little device helps you to gently extinguish your joint so you can save the rest for another time. No stubbing out and damaging your perfectly rolled joints; the RAW Cone Snuffer will keep everything intact for you. There's even a convenient magnet located on the bottom of the device so you can attach it to any metal ashtray or rolling tray—so it's right there, ready for you when you need it.
9. RAW Rolling Machine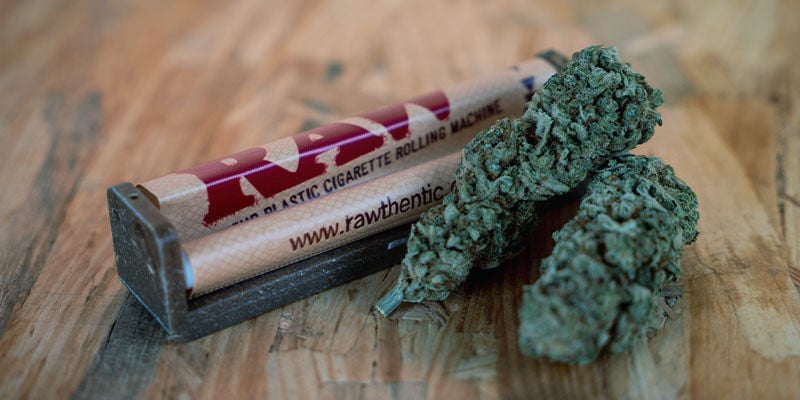 Another product that will no doubt appeal to those seeking an easier way to roll, regardless of your experience, the RAW Rolling Machine is suitable for all. This pocket-sized device effortlessly produces such fine, tightly packed joints that your friends will wonder if they were store-bought! All you need to do is place a rolling paper inside the machine, add your favourite strain into the middle, and spread evenly. Place a filter in one end, and then it's time to let the machine do its thing. By following the arrows, simply roll towards you, and you'll have a tightly packed joint ready to use in seconds. Perfect for preparing several joints, and easy enough to use if you're feeling baked.
10. RAW Donuts Rolling Tray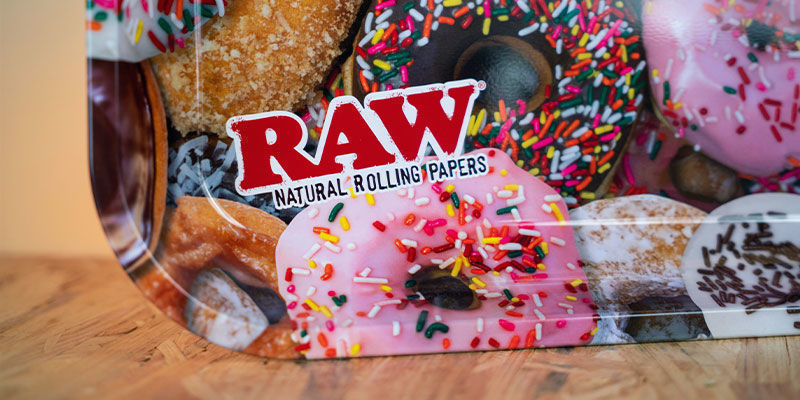 Keep things sweet during your smoking session with the RAW Donuts Rolling Tray. We get that rolling trays can be a little uninspired at times; of course, they're there to serve a purpose. But why not have a little fun with your rolling accessories? This tray has a large surface area, measuring 14 × 11 × 1.25 inches (35.6 × 27.9 × 3.2cm), that's perfect for rolling and grinding. But it's the design that's definitely going to give you the munchies. The tray is emblazoned with some sugary sweet glazed donuts that look good enough to eat. And if you're high enough, you just might try to! However, we always recommend getting the real thing to enjoy during your sessions.
P-RAW-Ducts for Everyone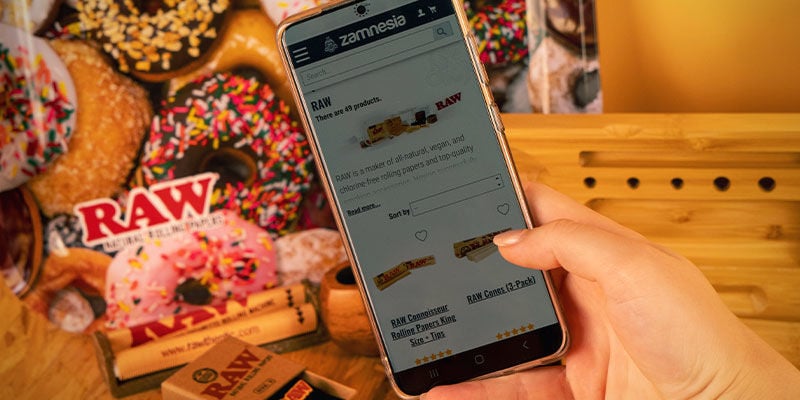 As you can probably tell by now, you name it, RAW has it. Not only content with producing excellent rolling papers and filters, they continue to outdo themselves with an ever-increasing range of top-quality products. Based on our list alone, you may have identified several products you're interested in. But how can you get your hands on them? Well, that part is easy. Head over to the Zamnesia Headshop and check out our full range of RAW products right now.