Blog


2 min
Strain Review: Sensi Skunk

2 min
For over 25 years, Sensi Skunk by Sensi Seeds has been a go-to strain for growers of all experience levels looking for a reliable plant that consistently produces fat, sticky buds and plenty of power. Let's see if the stories are true.
If you're looking for a solid performer, Sensi Skunk by Sensi Seeds might be your next go-to strain. Since her initial release in 1991, she's satisfied countless growers with dependable results time and time again. Genetically, she hasn't changed a bit since then. In fact, in a day and age when regular seeds are quickly becoming a rarity, Sensi Skunk is still available in an all-natural, non-feminized form. That's a nice bonus if you plan to try your hand at breeding. Let's take a closer look so you can decide if Sensi Skunk deserves a place in your garden.
GROWING TRAITS
Quick to start and fast to finish, Sensi Skunk is an indoor grower's dream. This strain germinates quickly, and young seedlings take off like a bullet as soon as the root system is established, with new, dark-green leaves unfolding almost every day. Once our young plants had four to five sets of leaves, we topped each one to increase the number of bud sites, and the recovery time was noticeably shorter than the average strain.
Pistils began to show at about 10 days into bloom. Since we grew from regular seeds, this was a good time to weed out the males that weren't spotted earlier. Our Sensi Skunk plants stretched a reasonable amount during the early part of the flowering stage and ended up being about 70 cm tall with a fairly even canopy, and by the fourth week of 12/12, the buds were visibly plump and fattening by the day.
Around the end of the seventh week, we saw a noticeable fade, with fan leaves starting to yellow and calyxes plumping up to swallow the pistils. Even without a scope, it was clear the time to cut was rapidly approaching. Once dried, Sensi Skunk yielded nearly 60 grams of light green buds per plant, but a different training method might have pushed that number even higher. The resin wasn't as thick as we would have liked, but that only seemed to affect the looks; potency was more than acceptable.
Greenhouse growers will see similar results, with outdoor grows not recommended for northern regions. Sensi Skunk is a reliable strain that forgives all kinds of mistakes, but she craves light and warmth. Unless you live below the 42nd parallel, even a successful outdoor grow will only get you small amounts of fluffy buds.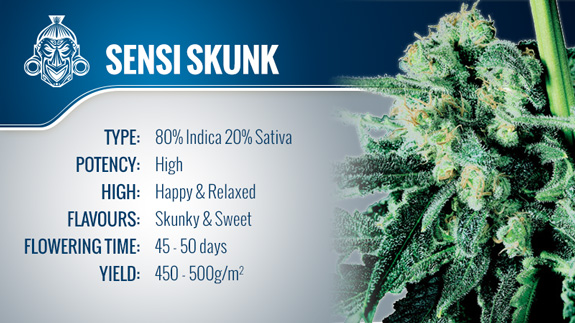 FLAVOR AND AROMA
You'll have a hard time telling Sensi Skunk from Skunk #1, until it comes to the flavour. To give Skunk lovers a fresh take on this ever-popular breed, Sensi Seeds selectively crossed and backcrossed Sensi Skunk's parents until they practically bred out the pungency, allowing this new strain to take on a sweeter, citrusy character. The smooth smoke still clings heavily to the palate, leaving a silky coating in your mouth long after you've put down your pipe, but the more refined quality makes the overall experience much more pleasant and well-rounded.
Well before they're ready to cut, Sensi Skunk starts to emit an intense, permeating aroma that matches the flavour with a sweet, citrusy bouquet. Filters are highly recommended from the third or fourth week of bloom until the dried flowers are safely tucked away in their curing jars. When smoked, the aroma has more depth and sophistication than most other Skunks, but it's still very strong. You won't be able to pass it off as anything other than herb of the finest quality - perfume to a smokers nose, but highly suspicious to all others.
THE EFFECTS
This strain is an 80% Indica, 20% Sativa blend, but the high is much more balanced that you would think looking at the numbers alone. You'll feel the smoke hit your brain first, lifting your spirits and leaving you with a pleasantly happy high, before the effects move onto your body. The physical sensations start off as a mild tingle then strengthen to a slightly numb, relaxed feeling that takes over completely, leaving you decidedly chill but not incapacitated. Don't underestimate Sensi Skunk's power because she's an older strain; the potency is remarkable.
CONCLUSION
Sensi Skunk is one of the fastest and most reliable strains on the market today. If you're looking for a classic Skunk with a sweet, less pungent flavour that still delivers consistently large yields of high-quality flowers without constant attention, this is a great choice. In our opinion, it's one of the best varieties of old-school cannabis seeds available.
 
 
 
 
 
 
 

Written by: Laura
Featuring as a regular guest writer, Laura lives in the wild heart of the American East Coast. Based at her family farm, she has developed a deep respect for cannabis, continuing to master and hone its cultivation.

 

 
 
 
 
Find out about our writers
 
---