Blog


2 min
Strain Review: Blue Dream

2 min
The Blue Dream strain of cannabis seeds has a lot going for it. So it only seemed right to give this renowned strain the time it deserves and put together a strain review.
Hailing from the infamous Humboldt region of California, and bred by the illustrious Humboldt Seeds, Blue Dream has quickly spread throughout the legal market as must have strain. She is the combination of Blueberry x Haze, mixing connoisseur level flavour with a classic sativa dominant high. However, while potent, her power is not such that she instantly overwhelms the user, being much more accessible to novice smokers. It is partly the reason she is so popular in places where weed has been legalised.
GROWING TRAITS
We found Blue Dream to be a highly responsive plant, growing with vigour and hardiness. She gets pretty tall, and pretty wide, reaching up to around 1.5m, but easily able to reach beyond 2m if left to her own devices. Her thick branches really flesh out as she grows, making a lot of room for potential bud growth. For us, she fully flowered in just under nine weeks, producing roughly 550g/m², although, with a bit more love and care, she has the potential for more. While we grew her indoors, she can be grown outdoors, in theory. However, she will need a warm climate to do so, much warmer than the sporadic weather of the Netherlands. It may be possible to get results outdoors in the cooler areas of the EU, but it is not going to be anywhere near as good as indoors.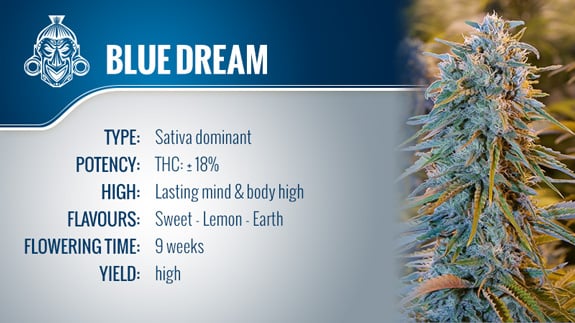 FLAVOUR
Having Blueberry in the mix makes Blue Dream an extremely sweet strain. The aroma she produces combines an earthy pine/sandalwood tone with sweet, fruity notes. It is a flavour that follows through into the smoke, making for a very pleasant and smooth experience (if dried and cured correctly).
THE HIGH
Being Sativa-dominant, the initial high induced by Blue Dream is very cerebral focused. We found her to have a very happy and euphoric effect, leaving us feeling buzzed. However, as the cerebral aspects fade, the slighter indica nature of her genetics come through. Thinking retrospectively, these were always there but overpowered by the potent nature of the sativa side of things. As this eases off, you begin to notice that the mind and body are much more relaxed, with tension and aches having melted away. It makes for a good end of day strain, when you are relaxing with friends or your partner – giving you an initial sociable boost, followed by a relaxing chill on the sofa that can easily dip into a restful sleep.
CONCLUSION
On the whole, it is easy to see why Blue Dream is so popular. She offers users an easy grow, followed by a potent, flavorful, yet not overly strong high. She does have a THC content of roughly 18%, making it easy to go overboard. But for those who use in moderation – which is the majority of people – they will find she gives a very manageable, yet connoisseur level experience. Humboldt Seeds have done well with Blue Dream; she has something for everyone.
 
 
 
 
 
 
 

Written by: Josh
Writer, psychonaut and cannabis aficionado, Josh is Zamnesia's in-house expert. He spends his days nestled out in the countryside, delving into the hidden depths of all things psychoactive in nature.

 

 
 
 
 
Find out about our writers
 
---