Strain Review: Blue Dream
3 min
The Blue Dream strain of cannabis seeds has a lot going for it. So it only seemed right to give this renowned strain the time it deserves and put together a strain review.
Blue Dream has been an immensely popular strain since its inception on the American West Coast. A sativa-dominant hybrid of Blueberry x Haze, she boasts a relaxing, cerebral high and fruity aroma that just won't quit. Blue Dream is ticketed as a great option for both recreational and medicinal users; we decided to do a deep dive into her frosty buds to confirm. Read on to see if this popular strain truly left us California dreamin'.
BLUE DREAM - A CELEBRITY STRAIN
Blue Dream first appeared on the medical cannabis market in sunny California. Ever popular, this strain remains synonymous with that chill, West Coast vibe. Blue Dream has made guest appearances on everything from rap albums (Juicy J's 2011 Blue Dream and Lean) to TV shows (HBO's 2017 season of Crashing).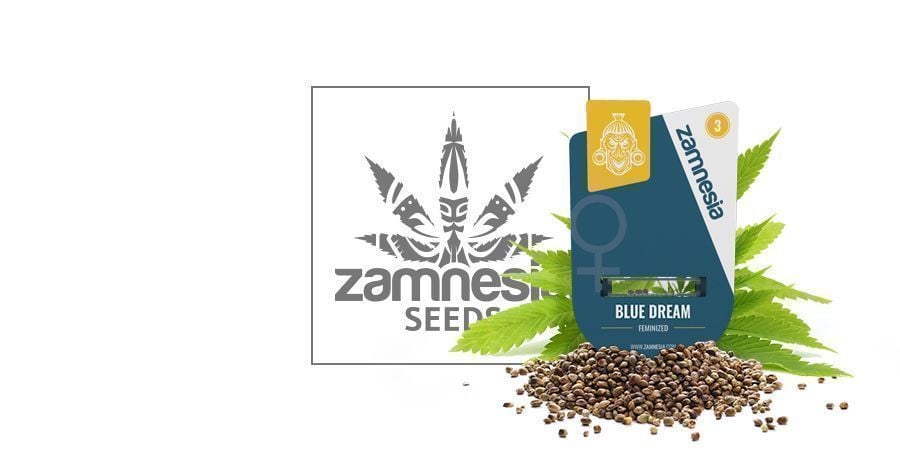 View Product
The hype is real, people. Blue Dream has hit #1 on multiple lists of the top cannabis strains. You'll find a stock in pretty much any dispensary you walk into. So, what makes this strain so popular?
Blue Dream is known for producing a balanced high that's both energizing and relaxed. Many users report feeling creative and motivated, with fewer unwelcome side-effects than some other strains of cannabis. Blue dream is also a favourite of women, sending menstrual cramps packing like a deadbeat ex-boyfriend. This strain has a solid THC content and is abundant in several terpenes; medicinal users report relief from pain, anxiety and depression.
So, does Blue Dream deserve to be your celebrity crush? Let's find out….
FLAVOUR AND AROMA OF BLUE DREAM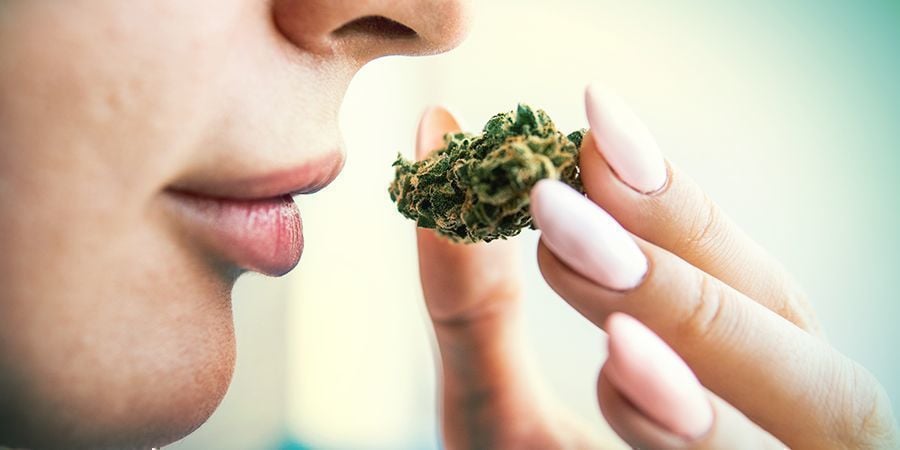 Blue Dream is an incredibly sweet and flavourful strain, thanks in large part to her Blueberry genetics. There's nothing bland or generic about her fragrant, powerful aromas. Smell is one of the most powerful triggers for memory, and we found ourselves transported to the classic summer days of childhood. Blue Dream enveloped us in a sweet aroma, reminiscent of picking berries in the warm sun.
She produces strong notes of berries and citrus, with a sugary, vanilla flavour. The most prominent terpene in Blue Dream is myrcene, lending occasional hints of mango. These fruity undertones are balanced by earthy pine and sandalwood. Like your grandmother's home-baked pie, Blue Dream is truly a treat to consume.
Cannabis connoisseurs will enjoy teasing out the complexities of her flavours and aromas. We found they carried through into a smooth, satisfying smoke. Just be sure to dry and cure your buds properly. And, be aware: her potent fragrance could easily become your personal eau de parfum.
GROWING TRAITS OF BLUE DREAM
Thanks to the indica side of her genetics, Blue Dream has a shortened flowering period of around 9 weeks. That's very quick compared to other Haze strains. Ah, they grow up so fast! And grow she will, into a statuesque 1.5m-tall plant covered in icy buds. Once she hit the flowering stage, we noticed she shot up almost overnight. Blue Dream's impressive height comes from her sativa side, while her indica heritage has blessed her with thick, heavy buds. Because of this combo, we recommend installing solid trellis support.
Ah, they grow up so fast! And grow she will, into a statuesque 1.5m-tall plant covered in icy buds.
| | |
| --- | --- |
| Brand | Zamnesia Seeds |
| Genetics | Sativa-dominant |
| Parents | Blueberry x Haze |
| Flowering Time | 9-10 weeks |
| THC | High |
| Yield (Indoor) | 350g/m2 |
| Yield (Outdoor) | Medium |
| Height (Indoor) | Medium |
| Height (Outdoor) | Medium |
| Harvest Time (Outdoor) | End of October |
| Available as | Feminized seeds |
We did find Blue Dream to be on the delicate side. While she did well for us indoors, any outdoor enthusiasts should take heed that she needs a warmer, Mediterranean climate to flourish. If you're in the right spot, some growers have suggested an outdoor environment to accommodate her tall stature and large leaves. Blue Dream will need plenty of fertilizer throughout her grow cycle, particularly during the flowering stage. As usual, she'll do best with high-quality soil and with a hydroponic set-up indoors.
We recommend the love and care of an experienced grower, since this strain can be susceptible to mould and overfeeding. That said, if you treat her right, she won't disappoint. We were able to yield a solid 350g/m² of high-quality bud.
EFFECTS OF BLUE DREAM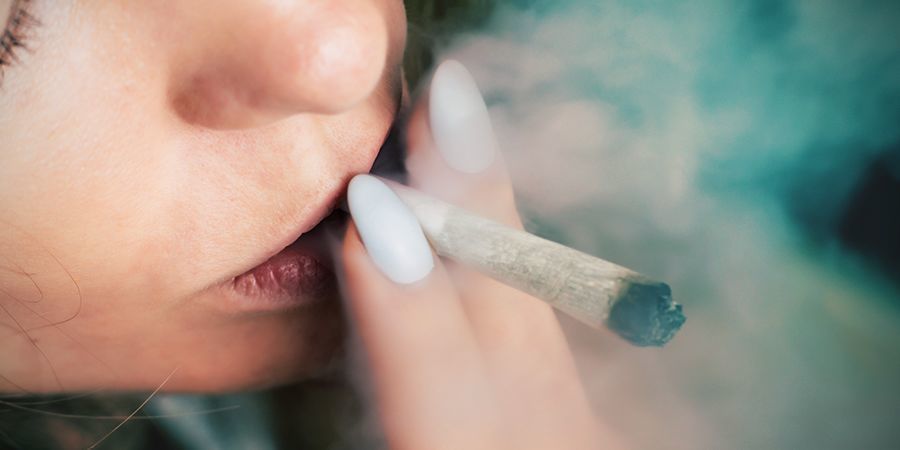 Blue Dream produces a potent, holistic high for both body and mind. Being sativa-dominant, she leans towards an uplifting, cerebral experience. However, as these initial effects start to fade, her indica heritage peeks through. Things start off with a strong hit of euphoria, before slowly settling into a relaxing body stone.
At 18% THC, the strength of her smoke is considerable: perfect for heavy-hitters, yet still tempered enough for novice consumers to enjoy. Still, we recommend starting with a lighter dose if you're a ganja greenhorn. It's clear why Blue Dream is beloved by recreational and medicinal users alike. Euphoric high notes with an undertone of muscle-melt kept us relaxed without feeling too heavy. Her effects could prove soothing for sufferers of anxiety, depression, pain and even insomnia (on the tail end of the high). She definitely kept us in that low-stress sweet spot between inspiration and relaxation.
Blue Dream also gave our appetite a boost, without the overwhelming frenzy of full-on munchies. For us, it was just enough to make this strain a perfect pre-dinner aperitif. We recommend giving her a try before a chill meal with friends. That way, you get the most out of her social, sativa-heavy first act. By the time you're ready to call it a night, her indica-driven dénouement will be in full swing. Let Blue Dream finish the night by serenading you into a floaty slumber.
BLUE DREAM: OUR VERDICT
While some connoisseurs may be over the hype, there's a reason this strain is such an enduring favourite. Blue Dream has something for everyone. She's potent enough for medical users, but won't overwhelm a cannabis-curious soccer mom. Her West Coast origins come through in the sunny, surfer's high she sets off: strong yet mellow.
While she takes a little extra care to grow, the results are worth it. Handled correctly, she'll sprout high and wide, producing a solid yield of top-notch bud. We recommend this strain to anyone with the skill to treat her right. Her complex, holistic high will put you in the perfect summer haze. Time to wander through the sticky, juicy blueberry fields of your dreams.