Blog

2 min
Spannabis 2018: Zamnesia Reports!

2 min
Spannabis is Europe's premier cannabis Expo. The Zamnesia Crew put boots on the ground right in the hot zone at Fira de Cornellá, Barcelona, Spain. We came, we saw, we got baked and put together this awesome Spannabis 2018 report.
WALKING THROUGH WEED COUNTRY AT SPANNABIS 2018
It was midday Friday, somewhere in the maze of dazzling displays, surrounded on all sides by stands of the elite of international canna-businesses, and throngs of awestruck ordinary decent stoners, when the Gorilla Glue began to take hold of the Zamnesia crew.
We were just finding our feet when we found ourselves enjoying dabs and vaping an array of exquisite weed, hash and concentrates of all kinds. But they had one thing in common. Well, apart from all being incredibly potent, the finest samples of sinsemilla were US genetics. And it wasn't just us toking the American Dream.
The distinct reek of California's dankest exports Girl Scout Cookies and Banana was in the air. Rays of sunlight shone through clouds of Kush above the Fira De Cornellá, on an otherwise clear blue-skied sunny day in Barcelona. We were walking on sunshine and we were happy. And a bit high. Check out or point of view for the weekend, in the video below!
VIDEO: SPANNABIS 2018 AFTERMOVIE BY ZAMNESIA
CANNABIS COMPAÑEROS
Our cannabis compañeros Royal Queen Seeds stand was periodically swarmed by crowds of stoners competing in marijuana games to win RQS prizes. Dinafem and Kannabia made a stunning impact with impressive stands covered in frosty bud pics. And with top-tier genetics oozing from the catalogue they grabbed eyeballs with hardcore bud porn.
Plagron started a brand new tradition by incorporating a ball pit for grownups into their stand. FastBuds made the most of limited space to create a captivating autoflowering cannabis seeds emporium. Of course, Advanced Nutrients made a splash with mascots in tow. Other crowdpleasers and big draws were the legendary breeders Barney's Farm, Sensi Seeds and Dutch Passion.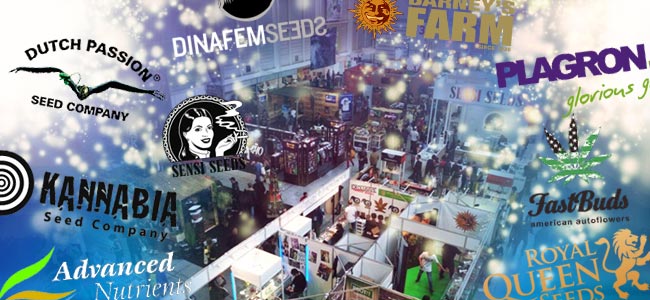 CURIOSITIES: CBD, LESS THAN 1% THC, TERPENES, AND MYSTERIOUS COOKIES
Some of the more peculiar attractions at Spannabis were terpenes and high CBD buds with less than 1% THC. Virtually all the top breeders in attendance were showcasing all new medical cannabis varieties. Dinafem highlighted two all-new CBD-rich strains Dinamed CBD and Dinamed CBD Autoflowering. The selection of new medical cannabis strains featuring in all the top-tier breeder's catalogues proves breeding practices have diversified. Only at Spannabis is next-gen medicinal cannabis as celebrated as 30%+ THC recreational rare dankness.
The rising trend of adding some tasty terps to dabs to enhance flavour spread like wildfire over the long weekend at Spannabis. European dabbers got a double shot of flavoursome brain fog, many for the very first time. Some novices had some early jitters but most finished the weekend veteran dabbers.
Late Saturday just as the night's musical entertainment was winding down. The concert crowds were dispersing and the last spliffs were readied for the road to the hotel. Suddenly, we heard an interesting rumour.
A whisper of a new exotic autoflowering hybrid found its way to the ear of a member of the Zamnesia Crew who happened to be in the right place at the right time. All we can say for sure is something very tasty is in the oven in FastBuds cannabis kitchen. The working title for this dank delicacy is Cookies Cream. Stay tuned for more updates.
Update: The Delicious Cookies Dream by FastBuds has since been released to the public, so go ahead and check it out!
We also found some time to do a little strain hunting, Zamnesia style. Spannabis really is a great place to meet like-minded folks. We were lucky enough to hook up with Geneseeds and in the very near future, you'll be able to find their gourmet genetics in our seed store. Plus we'll soon be stocking magic beans from seedbanks G13 Labs, Pheno Finder and Garden of Green.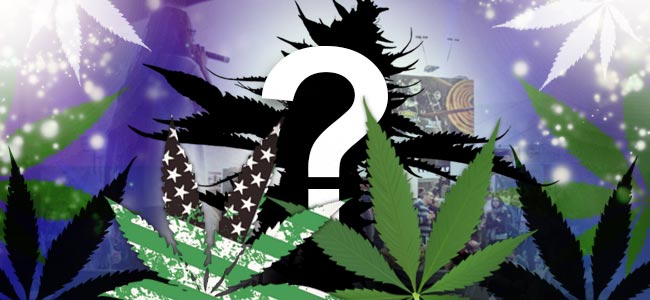 Written by: Zamnesia
Zamnesia has spent years honing its products, ranges, and knowledge of all things psychedelic. Driven by the spirit of Zammi, Zamnesia strives to bring you accurate, factual, and informative content.

Find out about our writers
---