Our Top 5 Weed Grinders

Last edited :
Published :
Categories : Blog • Cannabis • Smoking & Consuming Cannabis • Top lists
From well built, simple grinders, to the cutting edge of grinder tech, a good grinder can make all the difference toy your preparation process, so here are our five favourite.
When it comes to breaking up your bud, there are few things better at it than the grinder. It is a staple piece of kit for any regular smoker, saving tremendous amounts of time. For the more casual user, a cheap plastic grinder can help you get by, eventually breaking up your weed into a useable size, but they are far from perfect. A decent grinder will get the job done a lot faster and to a greater standard, breaking up the bud into smaller pieces, and being much easier to clean. There are even some grinders out there that contain a filter screen, sieving all of the loose trichomes, resulting in kief!
So if you are looking to step up your game, add a bit of quality to the experience, and just make the whole preparation process a lot smoother, here are five grinders worth your time.
5. THE WOODEN GRINDER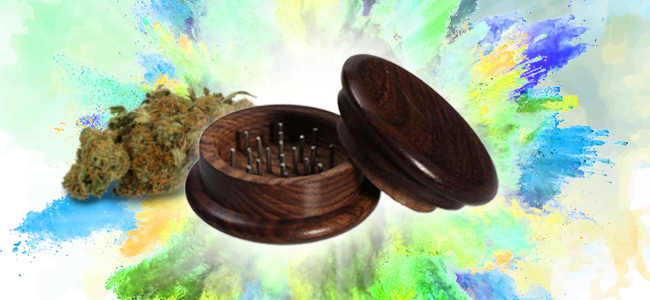 The wooden grinder is a hardwood weed mill that offers a more solid, high quality and reliable build than a standard cheap plastic grinder. It has brass pin teeth that are highly adept at breaking up bud quickly and efficiently, and is small and lightweight enough to be easily stored away, while still feeling solid in the hand. It offers a simple, no-fuss quality that any regular user will appreciate – and a €3,95 a pop, they hardly break the bank either!
4. THE METAL GRINDER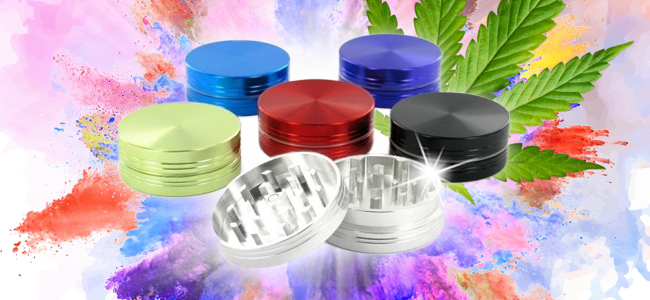 Like the wood grinder, the metal grinder offers a quality build and a straight forward, simple solution to breaking up your marijuana. Where the metal grinder differs from the wood grinder is overall efficiency and cleanliness. A metal grinder is more durable, easier to clean, and easier to collect kief from. The long, solid metal teeth are also more efficient at ripping up bud, often making metal grinders preferable to their plastic or wood counterparts. It is the next step up, and take the price up a notch, usually costing around €9,50 - €10.
3. THE ZAMNESIA METAL GRINDER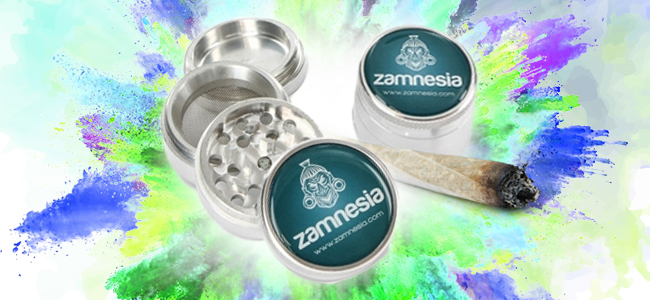 We couldn't make a list and not include our own grinder now, could we? Our specially designed grinder takes the standard metal design and improves upon it – combining affordability with functionality and quality. The Zamnesia metal grinder is a four-piece grinder, incorporating a thin screen underneath the grinding chamber to capture the small piece of bud while allowing any stray resin to pass through into the bottom chamber – resulting in easy to collect kief. You can pick up a Zamnesia grinder for €8,50.
2. THE SHARPSTONE TURBOWHEEL GRINDER
We are entering the big leagues now. A turbowheel grinder is a four-piece grinder made up of a see-through lid, grinding chamber, kief screen and kief chamber – all solid metal, and all of exceptional craftsmanship and quality. What a turbowheel grinder adds to this formula is a crank handle, allowing for rapid grinding like you have never seen before! Understandably, with high functionality, quality and build, comes a larger price tag; we are now getting into the region of €35 here.
1. THE THORINDER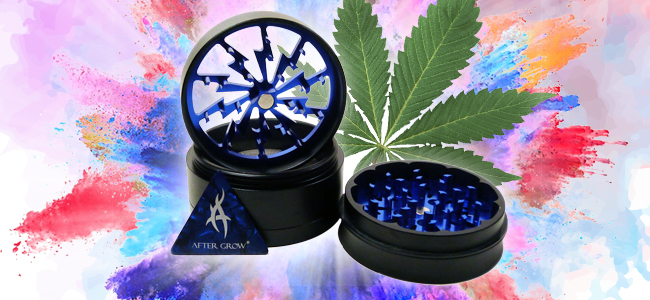 The Thorinder sits at the pinnacle of the grinder market. It is a designer level grinder built with ultimate quality and convenience in mind. It is a show-stopper, well suited to the most dedicated stoners who want their equipment to be the best it can be. Made from precision milled stainless steel, and finished in a cool matt black, the Thorinder is built to last a lifetime, and will be the only grinder you ever need. It features a clear magnetised lid, a patented cutting system with super-sharp curved metal teeth, a screen kief collection system, a cleaning tool, and even a durable storage box. While a little on the pricey side, if you want the best of the best, and a grinder for life, the Thorinder will do you proud.
Comes in two sizes: medium and large.
As you can see from the list, there are functional and high-quality grinders for everyone out there, no matter the budget. Whether you are looking for a high quality and elegant status symbol that offers the best a grinder can be, or a simple, no-fuss workhorse to get the job done, there are plenty of options available.
Written by: Guest Writer
Occasionally we have guest writers contribute to our blog here at Zamnesia. They come from a wide range of backgrounds and experiences, making their knowledge invaluable.

Find out about our writers
Related Products