Blog

3 min
Cookies: The Cannabis Company Set On Getting You Baked
3 min
Starting life in a San Francisco garage in 2001, Cookies has gone from strength to strength over the last 20 years. From their highly sought-after strains to accessories, clothing, and exclusive collaborations, take a look at what makes this cannabis company so special. With no signs of slowing, the future is looking very bright for Cookies.
Founded in 2001, Cookies began life as the vision of rapper Berner and cannabis expert Jai Chang. They embarked on an ambitious adventure of creating a company that is truly limitless in scope. From operating out of a San Francisco garage to attaining global recognition and popularity, this has been no happy accident. Both Berner and Jai have fully dedicated themselves to not only providing great strains, but also accessories, fashion, and exclusive collaborations with other influential cannabis companies, and even icons such as Snoop Dogg.
The Cookies Empire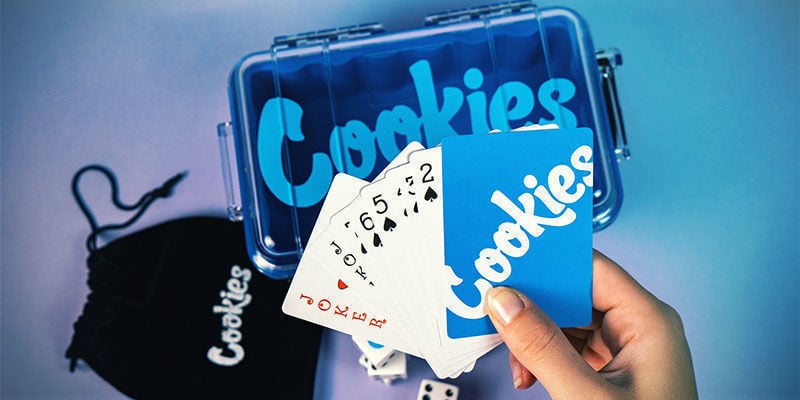 Now 20 years since its inception, Cookies still strives to deliver its promise of authenticity coupled with innovative genetics and products. Berner and Jai are still very much at the helm, and maintain oversight of the entire operation. While there are some companies that will take your money and run, so to speak, Cookies takes enormous pride in their work from seed to sale.
They are always pushing the envelope on what a cannabis company should be. With over 30 stores located worldwide (even reaching countries such as Israel), Berner and Jai have built a global cannabis empire that is worth an estimated half a billion dollars. Not bad for a company with such humble beginnings.
Being such a prominent company in the cannabis industry, Cookies has also branched out into promoting social awareness and positively impacting communities. Through their Social Impact initiative, Cookies has partnered with local organisations to fund education and reinvest in communities that have been negatively impacted by the War on Drugs.
Cookies — Authentic, Innovative, and Unique Products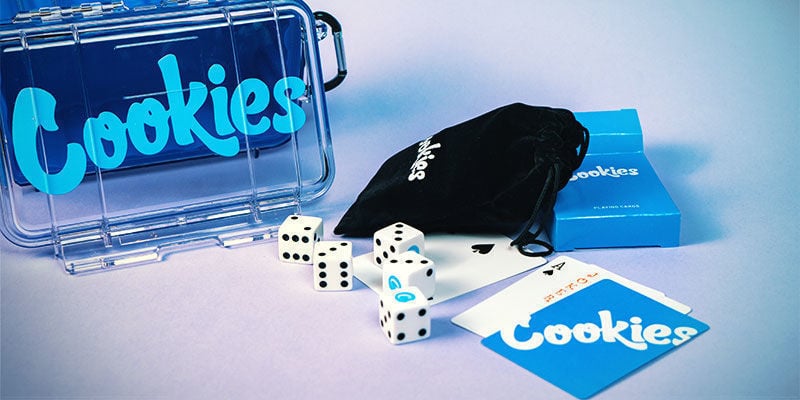 With their world-famous Girl Scout Cookies strain still being one of the most sought after to this day, Cookies has branched out into other cannabis-related products. These vary from smell-proof bags to dog bowls and even a skateboard deck. So there's certainly a product for all needs and wants! With that in mind, we've selected a few standout items that are sure to show you exactly what Cookies is all about.
Cookies Glow Tray — Another Way To "Light Up"
Dubbed the "world's first illuminating LED rolling tray", the Cookies Glow Tray showcases ample style and functionality in one travel-sized product.
Measuring at 28.2 × 21.1 × 3.3cm, this tray provides plenty of space for grinding and rolling, but also showcases 6 multicoloured LED lights controlled by the simple press of a button. The lights are powered by a rechargeable 1800mAh battery that can easily last 6 hours before needing to be charged. Perfect for those social smoking sessions with friends, and with a "party mode" light setting, the fun doesn't stop while you're rolling. Guaranteed to put a smile on your fellow smokers' faces.
Cookies Dice & Playing Cards — Spice Up Ganja Game Night
Of course, there are plenty of accessories to help you get a buzz on, but it's when you're high that the options can be a bit limited. If you're looking to branch out and try something a little different from watching movies, you can always look to the classics. With this in mind, Cookies has added their trademark style to a couple of items to make sure the fun doesn't stop.
One such product is Cookies Dice. This 5-pack of dice is available to purchase in a drawstring bag to keep all the dice together. So whether you're looking to see who's the best at stoned Snakes and Ladders or want to add a cannabis influence to Yahtzee, these dice will see you right.
If cards are more your thing, Cookies has got you covered with their take on the classic 52 French-suited standard. With each card emblazoned with the company's logo and sky-blue colour scheme, it's effortless to show your love for Cookies while playing some of your favourite card games. Your friends will struggle to hide their poker faces when they see these cards. Effortlessly cool and bound to impress.
Cookies x G Pen Dash — Perfect Portable Partner
Cookies has recently collaborated with renowned vaporizer company G Pen to create an exclusive, limited-edition model of the G Pen Dash. This pocket-sized vaporizer is easy to use and looks great. Complete with Cookies' trademark blue colouring, the device is bright and inviting. With just a few simple clicks of a button, you can enjoy everything the Dash has to offer. Divided into three pre-set temperature controls (190°C, 205°C, and 220°C), it's never been easier to vape at your convenience. Simply remove the mouthpiece to gain access to the herb chamber. Pack in your bud, click the mouthpiece back into place, and you're good to go. This is a great-looking vaporizer that is sure to make you the envy of your friends. Don't miss out on this exclusive collaboration.
Cookies x G Pen Roam — Relax on the Move
Another hallmark device from the good folks at G Pen, the Roam has also been given an awesome makeover by Cookies. Now you can pick up the limited-edition version of this great vaporizer. The Roam boasts a water filtration system housed in aluminium casing, providing everything you need for a smooth and flavourful pull. Complete with easy temperature controls to dial in your preferred setting, we're only missing one important detail—the Cookies colouring. Not only is the device an eye-catching blue, but it also comes with a zip-up protective case that also features the Cookies colour. Perfect for use on the move and at home.
Exceptional Offerings From Cookies — Available Now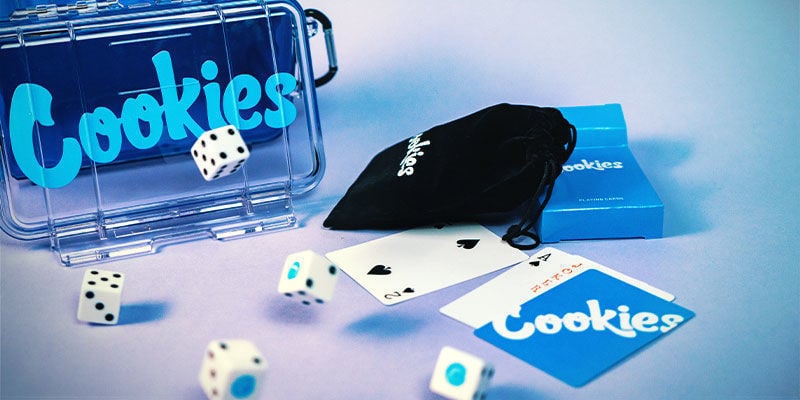 With unique, standout products that are certainly not "cookie cutter", cannabis fans are bound to find a Cookies product to suit their personal style, needs, and preferences. With new products being released frequently, there's never been a better time to check them out. Fortunately, you don't have to look far, as they are ready to purchase from the Zamnesia store.