Blog

4 min
What Is Caryophyllene In Cannabis?
4 min
Caryophyllene is a cannabis terpene with a spicy aroma reminiscent of black pepper. But how does caryophyllene support the aromas and effects of cannabis? Scroll down to find out more about this prominent cannabis constituent.
Notice a unique spicy or peppery kick in the aroma seeping from your curing jars? Chances are you're picking up on the unique scent of caryophyllene, a cannabis terpene renowned for its warmth and spice. Read on for a closer look at caryophyllene, one of the most common terpenes in modern cannabis strains.
What is caryophyllene?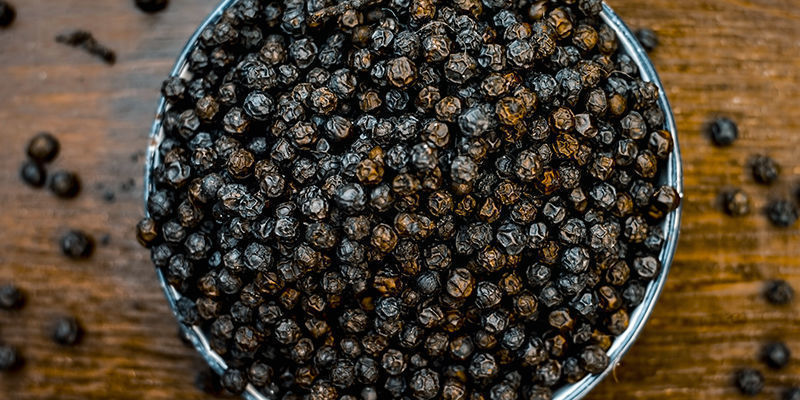 Caryophyllene (or beta-caryophyllene) is a bicyclic sesquiterpene present in cannabis and many other natural substances, such as plants and spices. In cannabis, it is one of the most prominent terpenes, making up between 3.8–37.5% of the essential oil of cannabis flowers (Mediavilla & Steinemann, 1997). Besides contributing strongly to cannabis' unique aroma, caryophyllene is also the only terpene known to bind directly to cannabinoid receptors, and may thereby play an important role in cannabis' effects on the body.
Interestingly, caryophyllene is also thought to affect the sensory receptors of certain insect pests, diminishing their ability to successfully devour plant matter on living cannabis plants.
Smell and aroma of caryophyllene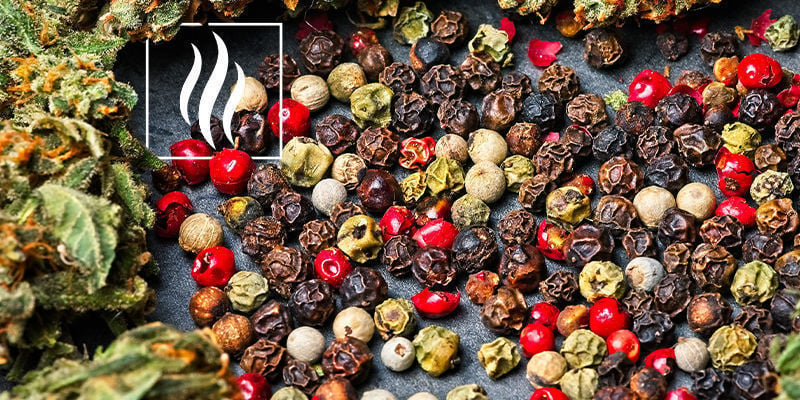 Caryophyllene has a spicy aroma, and is in fact one of the main contributors to the smell of black pepper. It is also present in herbs and aromatic spices (listed below), where it imparts a warm, spicy, peppery kick. Think of the subtle hint of spice you might detect in the smell of certain hoppy beers, in freshly picked basil or rosemary, or crushed black pepper, caraway, or cloves.
Where can you find caryophyllene?
Caryophyllene is present in many plants and their essential oils. Some common natural sources of caryophyllene include:
Cannabis
Oregano
Black pepper
Cloves
Caraway
Cinnamon and malabathrum
Ylang ylang
Copaiba oil
Caryophyllene is also commonly used to prepare perfumes, aromatic and essential oils used in aromatherapy, and spice blends made using the herbs and spices listed above. It is also a common ingredient in cosmetics and processed foods.
What is the chemical structure of caryophyllene?
Caryophyllene has a complex chemical structure. It is a large molecule, with a much larger molecular mass than other common cannabis terpenes. Caryophyllene also has a cyclobutane ring, which is very unusual in terpenes and natural compounds in general, as well as two double bonds.
Besides its high molecular mass and unique structure, caryophyllene also has the peculiarity of having a high affinity for cannabinoid receptor 2 (CB2). In fact, caryophyllene has a much higher affinity for CB2 than cannabinoids such as THC and CBN. By binding to CB2 receptors, research suggests that caryophyllene may have clinical potential (see below) without producing the high associated with THC.
Potential benefits of caryophyllene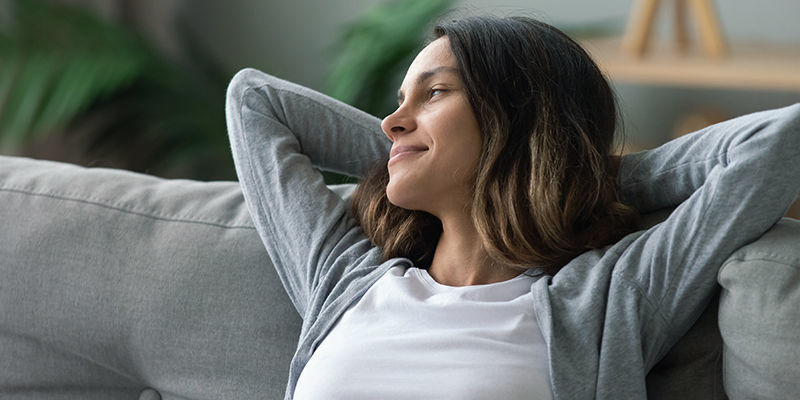 Caryophyllene is one of the more heavily researched cannabis terpenes, and research suggests it may impact:
5 Cannabis strains that contain caryophyllene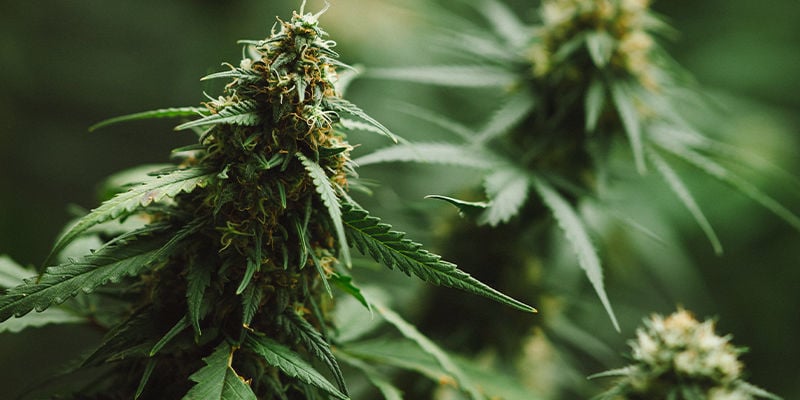 Looking for cannabis strains with high concentrations of caryophyllene? Well, you're in luck. Caryophyllene is one of the most common terpenes in cannabis, making up over ⅓ of the plant's essential oils in many cases. Below are some strains with strong, peppery hints, indicative of a high concentration of caryophyllene.
1. Sour Diesel
Sour Diesel is one of the hottest strains to come out of the US. It boasts an unmistakable tart fuel aroma with notable hints of peppery spice and Skunk, and its high concentrations of THC and terpenes give Sour Diesel an uplifting, euphoric, and energetic cerebral high. Enjoy Sour Diesel at any time of the day, especially when you want to enjoy a productive, creative, or social kick.
2. White Widow
White Widow is a classic among classics. This Dutch favourite is renowned for the density and stickiness of its flowers, as well as its strong hash aroma with underlying hints of earth and pine. With 18–20% THC, White Widow might seem average in strength, but don't be fooled; a few hits is all it takes for this strain to put you in a relaxed daze with a cerebral buzz.
3. Girl Scout Cookies
If Sour Diesel is the queen of East Coast weed, Girl Scout Cookies (GSC) holds the throne on the West Coast. With dense nuggets and an intricate aroma that combines fresh hints of pine and citrus with the sweetness and spice of freshly baked goods, GSC makes for a delicious smoke. Plus, her effects perfectly balance cerebral euphoria and physical relaxation, meaning you can enjoy it in the morning, during the day, or at night.
4. Chemdog
Chemdog's bright green, orange-tinged buds are a delight to harvest, while her delicious aroma makes for a mouth-watering smoke. Combining the bright, spicy Kush aromas of OG Kush with the tart fuel notes of Sour Diesel, Chemdog boasts a vibrant bouquet of terpenes. Plus, with up to 21% THC, users can expect a strong initial cerebral buzz that quickly melts into a relaxing, yet not sedating, body stone.
5. Gelato
Gelato is another US great taking the world by storm with its dank aromas, dense and highly resinous flowers, and massive potency. Gelato packs up to 26% THC alongside a ton of terpenes that give it a sweet and fruity scent. Upon your first inhale, expect a mind-boggling cerebral rush and an instant burst of energy. Once these effects wear off, you'll enjoy a warm, tingling body sensation that'll leave you in a relaxed daze for hours.
Gelato (Zamnesia Seeds) feminized
Parents: Wedding Cake x Gelato x Gelato 33
Genetics: 60% Indica / 40% Sativa
Flowering Time: 8-9 weeks
THC: 26%
CBD: 0-1%
Flowering Type: Photoperiod
Caryophyllene: Summary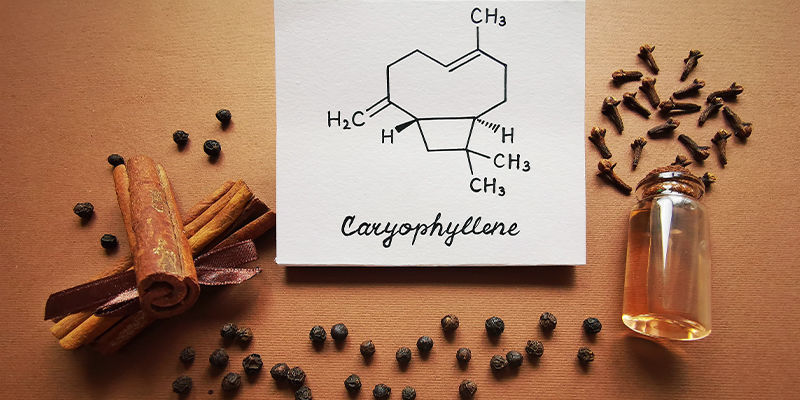 Caryophyllene is a terpene present in many spices and herbs, including cannabis. It makes up over 30% of the essential oil of some cannabis flowers, and can be found in many popular strains—both new-school and classic. With a high affinity for CB2 receptors (higher than most other cannabinoids and terpenes), caryophyllene is showing a lot of promise in scientific research.