Blog

7 min
Best Outdoor Cannabis Strains To Grow In Spain
7 min
Which cannabis strains grow best in Spain? Well, it all depends on the climate in question. The large European country features different climates, and thus different strains are better suited to each of them. Find out which strains thrive up North, which do better down South, and which feel at home on the Meseta Central.
Growing cannabis in Spain offers a lot of advantages: plenty of sun, mostly dry summers, and relatively tolerant decriminalisation. However, the large country features significantly different climate zones.
When growing outdoors, cultivators will obtain the best results by selecting cannabis seeds that are most compatible with their region. Keep reading to discover the best cannabis strains to grow in each area.
GROWING CANNABIS IN THE SPANISH CLIMATE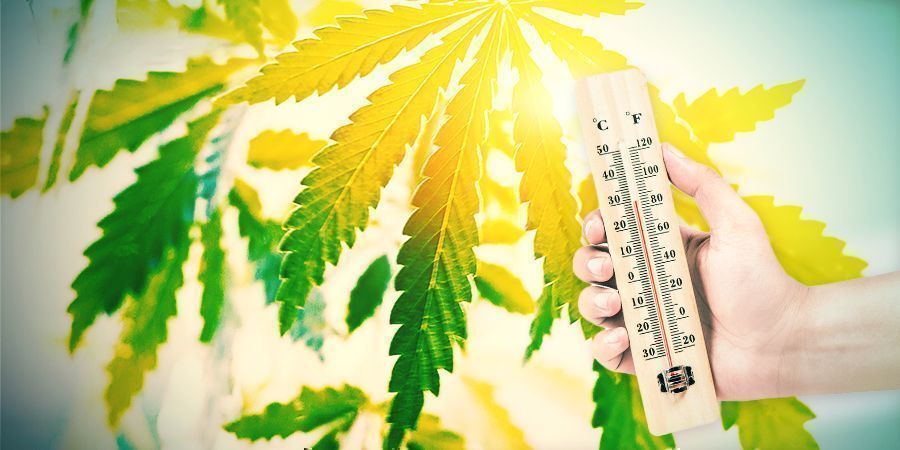 As the second-largest country in Western Europe, Spain features three distinct climate zones. By learning about the specific climate of each region, growers can make strategic choices when it comes to strain selection.
Northern Spain features an oceanic climate characterised by extensive rainfall and a luscious green landscape—particularly in the Northwest. The region features mild temperatures peaking at around 20°C.
Mediterranean Spain features scarce rainfall throughout the growing season, with summer temperatures peaking at around 30°C. However, the rain usually arrives all at once, often causing seasonal floods. This region includes the Mediterranean shore, which spans the entire eastern edge of the nation, and large swathes of the southern region of Andalucia.
The Balearic Islands of Mallorca, Ibiza, Menorca, and Formentera also share this climate. Average maximum temperatures in the summer range from ~23–31°C across the islands. The atmosphere gets fairly humid during the end of the growing season, with typical readings of 70% in September.
Central Spain experiences a continental climate. Temperatures are often extreme, reaching up to 45°C during the summer. Irregular and scarce, rainfall mainly occurs in spring and autumn.
WHEN TO GERMINATE YOUR CANNABIS IN SPAIN
Germinating your seeds early in the season will allow your plants to gain good size throughout the vegetative phase, and be ready to flower and harvest before the cold temperatures arrive. However, germinating your seeds too early can leave your seedlings exposed to the shorter daylight hours and colder temperatures of early spring, which can compromise growth.
In the cooler temperatures of Spain's northern regions, start germinating seeds in late April and May. You'll avoid the last of the harsh weather, and your plants will be ready to move outside as the growing season enters full swing. Growers in the sunnier south can afford to begin germination in early April, thanks to the longer grower season and more welcoming temperatures.
HOW TO CHOOSE THE RIGHT CANNABIS STRAINS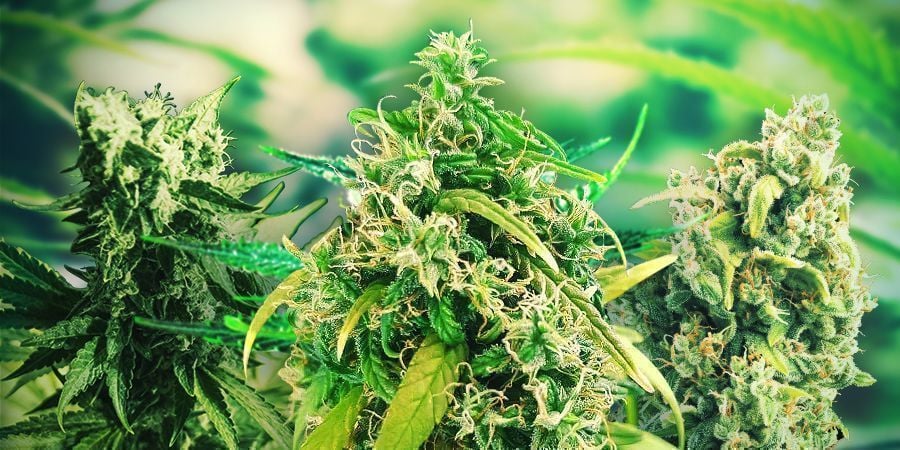 Spanish growers are fortunate in that they have a larger assortment of strains to choose from than most. As one of Europe's southernmost nations, cultivators experience warm temperatures, long growing seasons, and a generous share of sun.
If you're growing in Spain, you can pretty much cultivate whatever weed you want. However, we advise selecting a variety compatible with your specific location. Opting for a cultivar capable of dealing with excess humidity, periods of drought, or cold snaps, for example, will optimise your harvest.
BEST CANNABIS STRAINS TO GROW IN SPAIN
To save you the time of scrolling through large genetic libraries in search of suitable strains, we did the hard work for you. Below, we document the best varieties to grow in four distinct regions.
BEST CANNABIS SEEDS FOR THE NORTH OF SPAIN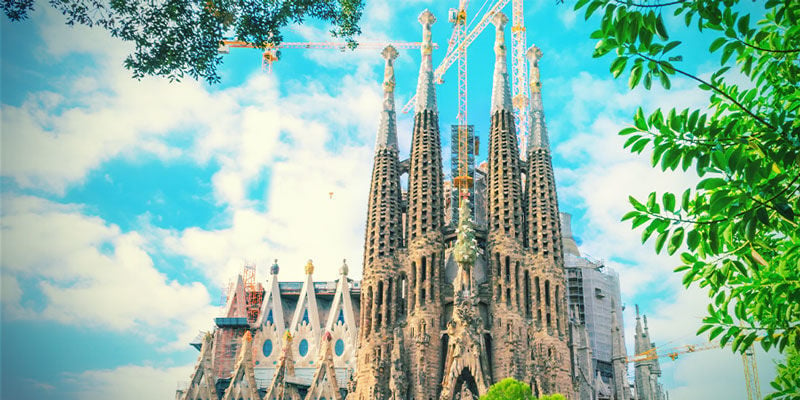 Northern Spain features diverse geography. The western portion meets the Atlantic Ocean in an oceanic climate defined by cool, damp, and windy conditions. The area also receives adequate rainfall, with certain parts receiving over 1,000mm per year. Temperatures hover around 21°C in the summer, with a humidity of around 72%.
Let's take a look at the three best strains to grow in this climate.
BLUEBERRY AUTOMATIC
As a hardy and hasty auto, Blueberry Automatic will grow comfortably in the humid and wet climate of Spain's North. The strain descends from a combination of Blueberry—a legendary US cultivar—and a ruderalis specimen. Blueberry passed down its fruity and sweet terpene profile, whereas the ruderalis genetics gifted Blueberry Automatic with the ability to defy mould, pests, and low temperatures. These purple-green buds will handle the high humidity with ease. Expect to harvest these flowers after a brief growing cycle of 8–9 weeks.
SHERBET QUEEN
Sherbet Queen features 85% indica-dominant genetics and a respectable THC content of 24%. The strain delivers a fast-acting body high that releases tension and vanquishes stress. Its frosty flowers emanate attractive aromas and moreish tastes. Sherbet Queen's dense colas are highly resistant to mould, making it a fine candidate for oceanic regions of the North. Expect a rewarding harvest of around 525g/plant after a flowering period of 7–9 weeks.
KANNABIA COOKIES HAZE
Not everyone appreciates high-THC buds. But if you happen to be one of those that does, you'll likely get a kick out of Kannabia's Cookies Haze. In case you were wondering, this bad boy boasts around 23% THC. At the very least, you can expect a hard-hitting kick.
Kannabia Cookies Haze is a sativa-dominant plant, and that theoretically means you can expect it to be a perfect daytime companion. Indeed, most users appreciate it for the uplifting and euphoric feeling it inspires.
As a grower, you'll also appreciate this one. With only a 9-week flowering time, you'll get up to 600g/m² indoors. Outdoor cultivation, on the other hand, will yield up to 800g/plant.
BEST CANNABIS SEEDS FOR CENTRAL & MEDITERRANEAN SPAIN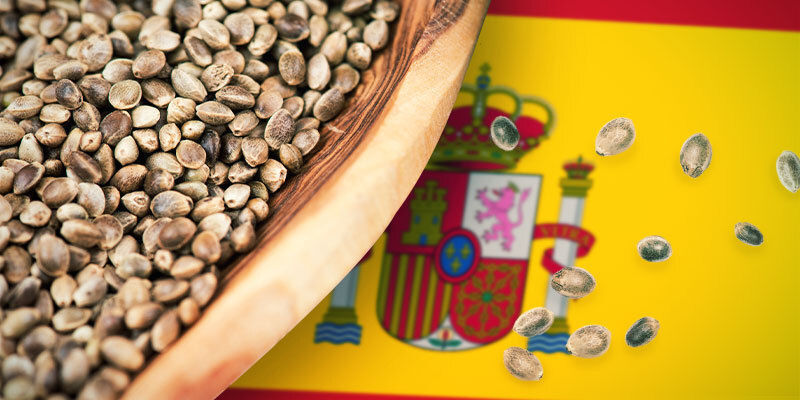 Central Spain features a large plateau, or meseta, that endures hot and dry summers. Temperatures peak at around 45°C in some places. Most of the rainfall—around 455mm in Madrid—arrives in the winter months. The Mediterranean climate produces an average temperature of 28°C during the summer, with little rain.
Clearly, hardy and heat-resistant cultivars make the best pick for these regions. Check out the three best varieties to grow below.
SOUR DIESEL
Sour Diesel—a product of premium US genetics—stems from classic parent varieties Diesel and Northern Lights. The two converged to pass down high productivity, therapeutic effects, and citrusy terpenes. Possessing the best traits of both strains, Sour Diesel features compact colas with an abundance of resin, a substance that gives rise to a cerebral sativa state. Outdoors, plants will weather heat waves and dry spells, producing a rewarding harvest.
BLUE DREAM
Blue Dream leaves the mind feeling crystal clear and lucid. A few hits from this sativa-dominant cultivar jolts the nervous system into action, leaving the smoker craving something to engage in. Use this energising high to harness your creativity. Wield a pen or paintbrush and let your imagination run wild. Its thick and tall flowers produce a THC content of 19%, enough to take the edge off pain and elevate the mood. Blue Dream will produce a medium harvest outdoors after a flowering time of 9–10 weeks.
WHITE DOMINA
White Domina features a 100% pure indica genetic profile. The progeny of Black Domina, it is a torchbearer of these pedigree genetics. High levels of THC and the sedating terpene myrcene synergise to produce a deeply relaxing and meditative state. White Domina produces a bountiful yield of 700g/plant when grown outdoors. Plants peak at a height of 200cm and are ready to harvest after 55 days of flowering.
BEST CANNABIS STRAINS FOR THE SOUTH OF SPAIN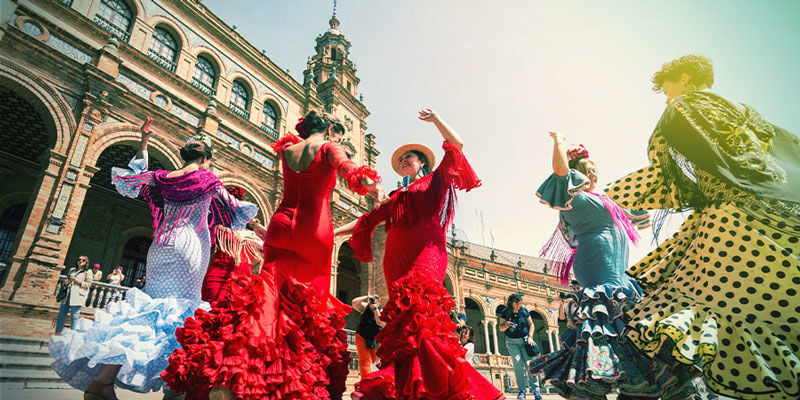 Southern Spain—largely comprised of the autonomous community Andalucia—maintains the title of one of the hottest regions in Europe. It features a Mediterranean climate with warm and dry summers, and scant rainfall. The maximum average temperature fluctuates around 33–36°C, with records peaking at 45°C.
Again, growers need to rely on hardy and heat-resistant plants in this region. The three strains detailed below are perfect for these hot conditions.
SUPER SILVER HAZE
Super Silver Haze belongs to a lineage of greats: Haze, Skunk, and Northern Lights. Its vastly sativa-dominant genetics catalyse a cognitive, social, and giggly high. Flavours of herbs, pepper, and citrus dominate its bulbous buds. The award-winning strain left its mark on the cannabis world with consecutive High Times Cannabis Cup wins during the late 90s. This heat-resistant sativa flourishes under beating rays. Prepare for a medium yield after a flowering period of 9–10 weeks.
GELATO
Now, if you want a strain with a high that will resonate throughout your whole body, this one is a top choice. Gelato is a favourite among herb lovers for its multifaceted high that is equal parts uplifting and physically relaxing. If you happen to be dealing with some tension, consider it soothed within minutes. With a mighty THC content of 26%, this strain is strong, so tread lightly.
As for growing, Gelato delivers consistently good yields and will thrive under the Spanish sun. Outdoors, Gelato can reach up to 2 metres in height and yield up to 400g/plant. Indoors, it reaches around 100cm and yields up to 500g/m². With a flowering time of around 9 weeks, you won't be waiting long before sampling your harvest.
KALASHNIKOV
Despite being named after a Soviet weapon, Kalashnikov contributes nothing but peaceful moments of stoned unification. Its balanced genetics culminate in a stimulating head high grounded by anxiety-shattering physical effects. Kalashnikov's therapeutic high comes paired with moreish flavours of lemon, mango, and honey. Outdoors, Kalashnikov surges to a height of 180cm and produces a maximum yield of 650g/plant.
BEST CANNABIS SEEDS FOR THE BALEARIC ISLANDS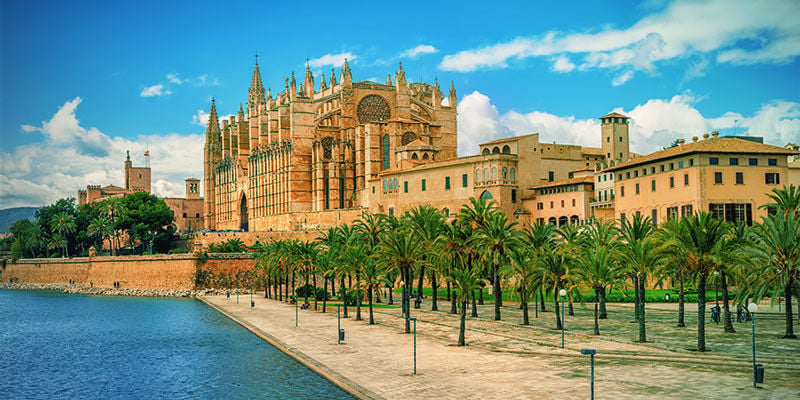 The Balearic Islands form an archipelago off the eastern coast of Spain. Mallorca—the largest island—has gained international renown for its natural beauty and party scene. The group of islands experiences a Mediterranean climate. Summer temperatures climb to 30°C, slightly cooler than the nearby mainland. Rain remains a valuable yet rare resource throughout the entire growing season. There's an average of 26 rainy days all the way from April to the end of October.
Check out the best cannabis strains to cultivate on the Balearic Islands.
FRISIAN DEW
Frisian Dew churns out gorgeous flowers. Its jewel-like buds boast a dark green exterior contrasted by a dark purple core. These buds aren't just pretty; they can withstand high summer temperatures without so much as wilting. Frisian Dew features a perfect split between indica and sativa genetics. The strain makes an ideal smoke when you can't decide between a stoning body high and a cognitive lift. This superb specimen won 1st place at the Highlife Cup in 2008 for its pleasant effects and high levels of both THC and CBD. Frisian Dew produces an impressive yield after a brief 7–8-week flowering period.
ACID DOUGH
Yet another award-winning and heat-tolerant strain, Acid Dough claimed a noble 2nd place in the sativa category at the Spannabis 2017 Champions Cup. It swayed the judges with its stimulating sativa prowess and unique flowers; its buds are exceptionally wide at the bottom and taper into a point. Moreover, they feature patches that almost appear black to the eye. This sativa specimen will send energy coursing through your veins. Smoke it in the morning with a side of espresso to catapult yourself consciousness-first into a new day. Expect a large outdoor yield of these unique buds after 70 days of blooming.
WILD THAILAND RYDER
A wild child, Wild Thailand Ryder descends directly from feral landrace ancestors. Its lineage evolved in the Southeast Asian country after which it was named. Genetically equipped to handle hot temperatures, the strain can easily deal with the outdoor growing season of Southern Spain. Breeders crossed this naturally robust strain with a ruderalis variety to speed up its flowering time and make it easier to grow. Wild Thailand Ryder provides a euphoric high, ascends to a height of 150cm, and puts out a rewarding return.
TIPS FOR GROWING CANNABIS IN SPAIN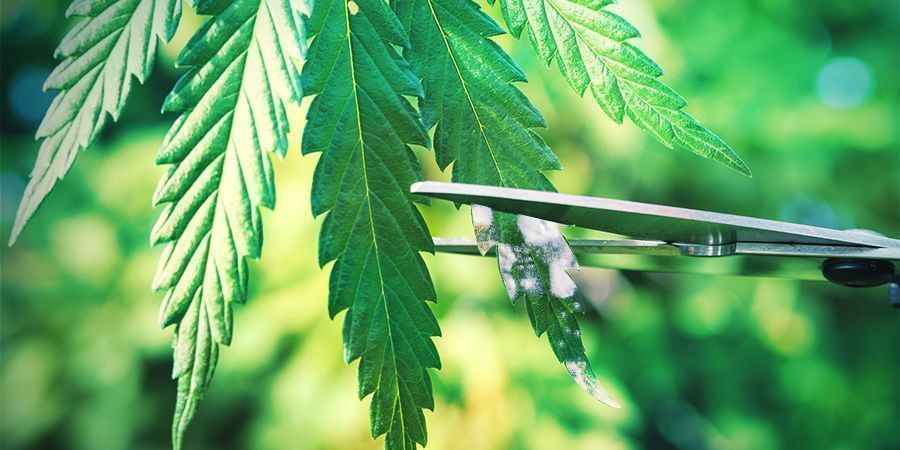 Although cannabis generally prefers mildly warm temperatures, your plants will love the Spanish sun, soaking up its abundant rays to produce vital sugars. However, searing hot days can do damage to your botanical beauties. For this reason, growing outside in containers provides an important advantage. Too hot? Simply move them to a shaded area. Protecting plants in beds requires a bit more work. Consider making a temporary structure using a tarp or shade cloth during heat waves.
Growers in the oceanic north might face a slightly different problem: mould. Although the strains we recommend are mostly resistant to fungal pathogens, there are other steps you can take to protect your flowers. In the event of persistent high humidity or constant lashing rain, mould can still take hold.
Pruning is one way to stave off fungal infections. These techniques open up the canopy and prevent warm pockets of air from forming. Likewise, providing your plants with the right ratios of everything they need nutrition-wise will help them overall. Compost tea and other organic, nutrient-rich formulas can be a boon to your crop.