Blog

3 min
Top 10 Best Cannabis Edibles In Amsterdam
3 min
Almost every coffeeshop in Amsterdam serves edibles, but they're not all equal. These 10 coffeeshops offer the tastiest and most potent edibles in the city.
Amsterdam is the cannabis capital of Europe. Smoking the weed there is enough to blitz even veteran smokers. If you want to take your experience to the next level, sink your teeth into some edibles. The majority of coffeeshops feature edibles on their menus—everything from cakes and brownies to muffins and the like.
Pay a visit to any of the coffeeshops listed below to access the best edibles in Amsterdam.
AMSTERDAM COFFEESHOP AWARDS — BEST EDIBLES
Amsterdam houses over 200 coffeeshops. It's hard to identify the best among them, especially when it comes to edibles. Luckily, the Amsterdam Coffeeshop Awards 2019–2020 had the help of over 54,000 votes cast from over 50 countries. Voters helped to decide the best coffeeshops in multiple categories, including best edible cannabis.
DIFFERENT TYPES OF EDIBLES
Edible cannabis users are spoilt for choice when it comes to munching on cannabis-infused treats. Most recipes use cannabutter, an extract that infuses butter or coconut oil with cannabinoids. Cannabutter can infuse almost any recipe imaginable—sweet or savoury.
Popular edibles found in coffeeshops throughout Amsterdam include space cakes, brownies, and gummies.
MAKE YOUR OWN CANNABIS EDIBLES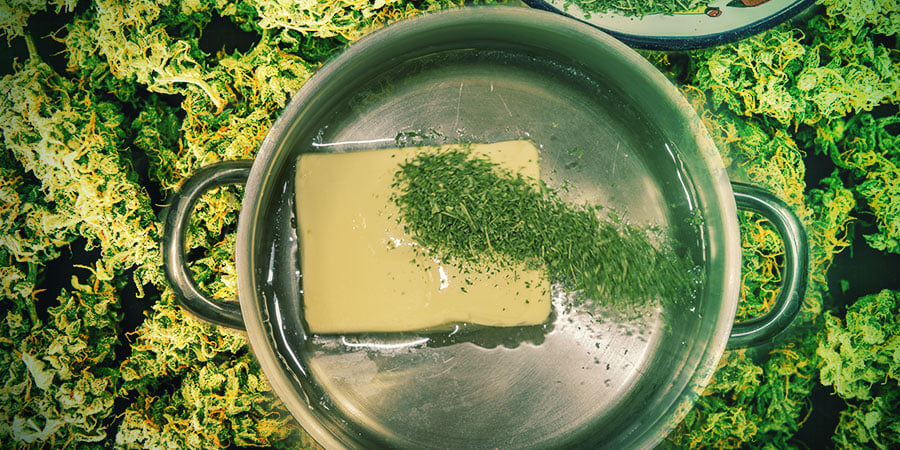 Making edibles is a fun process in the kitchen at home. It's an excellent way to use leftover trim from your harvest as well. Your imagination is the only limit. First, you'll need to decarboxylate your flowers, a process that converts THCA into THC. Once you've done this, try your hand at making some infused mac n' cheese, peanut butter coconut cookies, chocolate, and apple pie. If you want to impress your friends, cook them an entire cannabis-infused three-course meal.
TOP 10 AMSTERDAM COFFEESHOPS FOR EDIBLES
Without further ado, here are the top 10 establishments to source potent edibles par excellence in Amsterdam.
1. COFFEESHOP DNA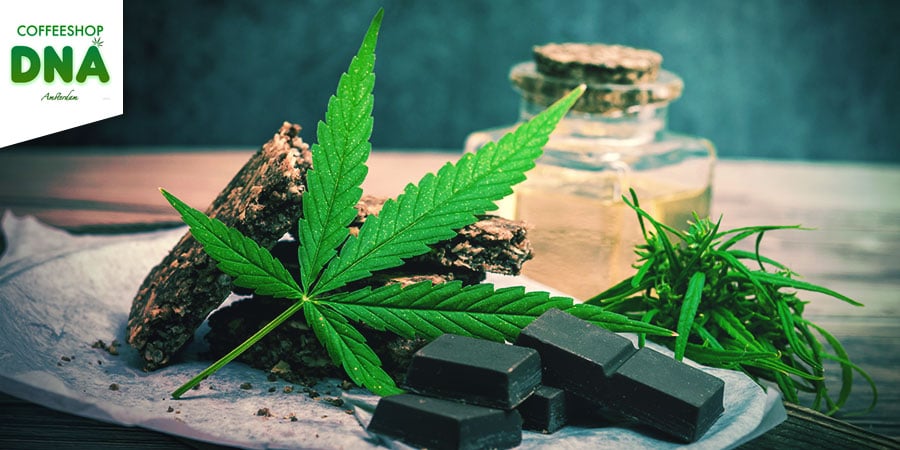 Coffeeshop DNA emerged in Amsterdam in 2016 and has since become a household name in the city. Their futuristic bar features built-in menus, wooden and glass shelving, and six cashiers to diffuse the busiest of queues. It's located in the south of the city, and is a five-minute walk from the Olympic Stadium. You'll be impressed with the knowledge held by their staff. Every one of them possesses a "Cannabis basic training and good hospitality diploma".
Scan their menu and locate the edibles section. Here, you'll find the best cannabis infused chocolate bars and the famous Red Velvet Space Cake.
2. ABRAXAS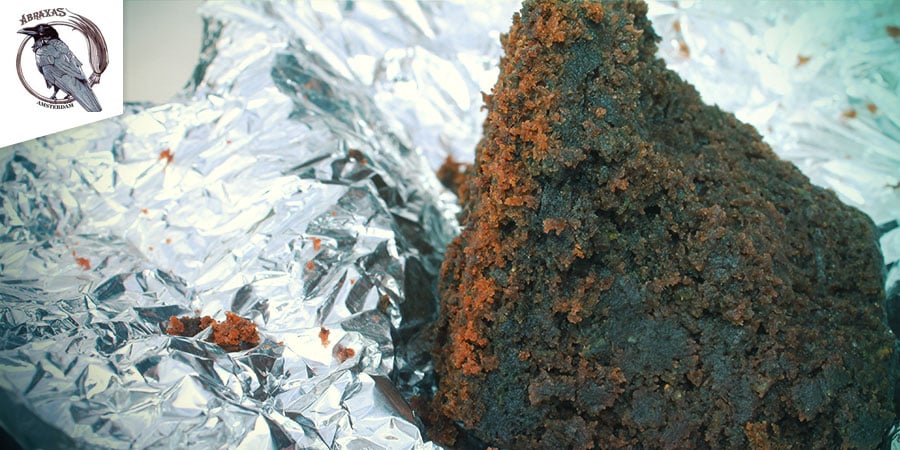 If you're looking for a hippy vibe, you'll find it at Abraxas. The interior features natural materials including wood, hemp, and glass. Plus, the company is striving toward becoming as eco-friendly as possible. The coffeeshop has been open since 1992 and continues to serve customers from all over the world.
Take a seat on the natural wooden furniture and treat yourself to a delicious Blueberry Space Muffin.
3. THE BULLDOG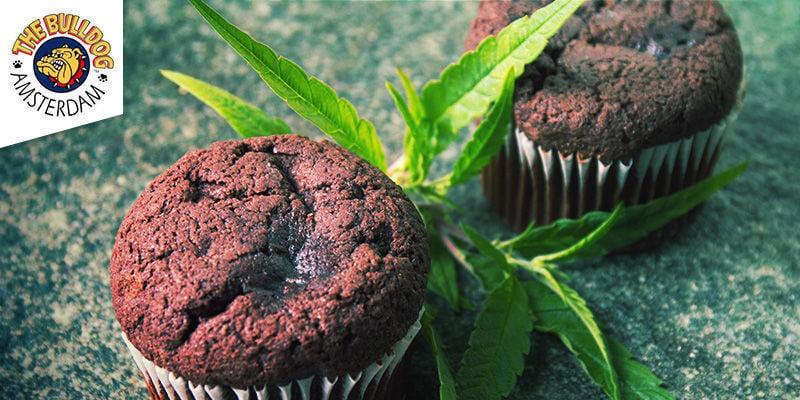 The Bulldog is a company that owns several coffeeshops in Amsterdam. It's one of the most famous establishments in the city—even Snoop Dogg and Rihanna have paid a visit. The Bulldog The First is the original venue, and still emits a pleasantly grungy, social vibe. The interior is mostly wood, and the ceiling displays currency from all over the world.
Visit this coffeeshop if you're seeking out-of-this-world edibles. The muffins will blow your mind!
4. AMNESIA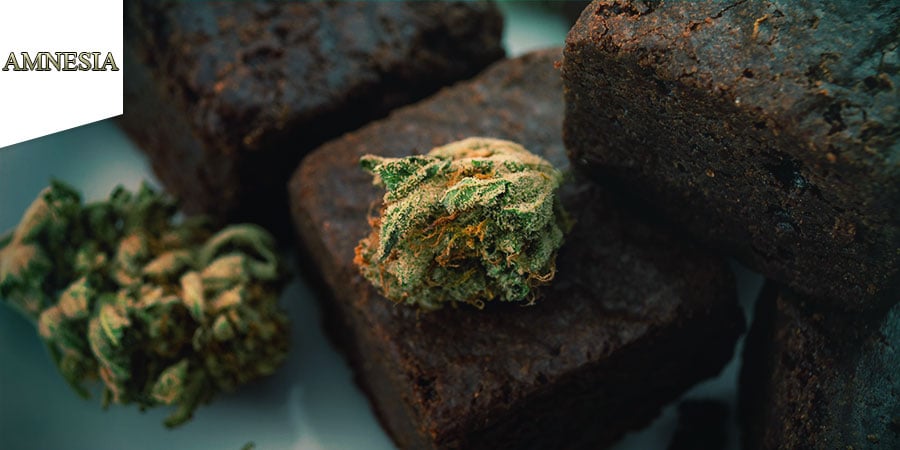 Amnesia coffeeshop features an upscale bar vibe. The black furniture, large couches, and purple and black bar give it a unique feel. The low and soft lighting is easy on the eyes after several hours of blazing. There's plenty of seats in the venue, and the large bar serves all manner of food and drinks.
After sampling some of their large selection of hash and weed, take things a step further with Amnesia's amazing chocolate dessert.
5. BOEREJONGENS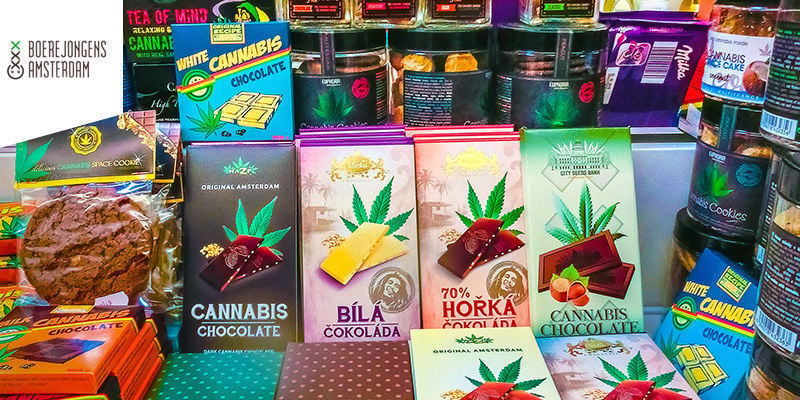 Boerejongens is one of the cleanest and most sophisticated coffeeshops in Amsterdam. The large front windows flood the space with natural light, and the glass and wood furnishing and massive bar give the coffeeshop a professional feel. The menus form part of the bar, and the friendly staff will help you pick out what you're looking for should you need assistance. Boerejongens' cannabis is supplied by Amsterdam Genetics, a seedbank that has developed numerous well-known cultivars.
Customers have described Boerejongens as edibles heaven. Their edible products range from Red Velvet Cake to chocolate bars. There will be something amazing to fit everyone's taste.
6. COFFEESHOP AMSTERDAM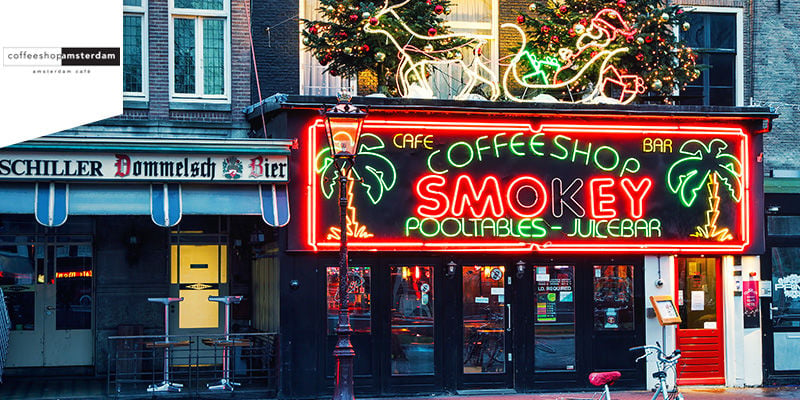 Coffeeshop Amsterdam is another venue that oozes class. The interior resembles that of a high-end cafe, and is composed of wooden flooring, minimalist furniture, old-fashioned lighting, and beams in the ceiling. It's a pleasant place to sit for long periods while gazing out onto the streets. Coffeeshop Amsterdam offers great music and friendly staff. They also hold regular events such as vape nights and smoke sessions.
You're not going to want to miss a taste of their freshly made edibles.
7. BABYLON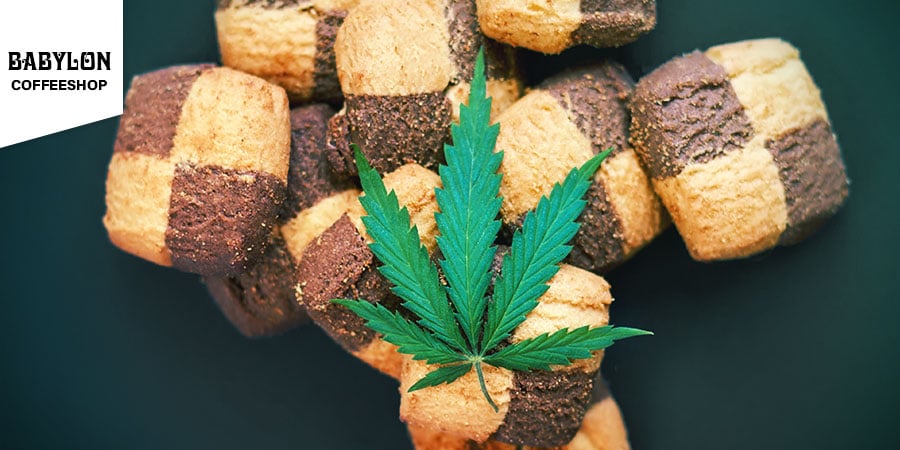 Babylon is where chill vibes and good times exist. This reggae-themed coffeeshop is simple, small, and traditional. The leather sofas and low wooden tables lend to the relaxing atmosphere. But, the real magic is on the menu. Over a backdrop of Bob Marley's face sits a list of high-quality cannabis flowers and hash.
There is only one type of edible on the menu, but it was voted to be one of the best space cakes out there.
8. 420 CAFE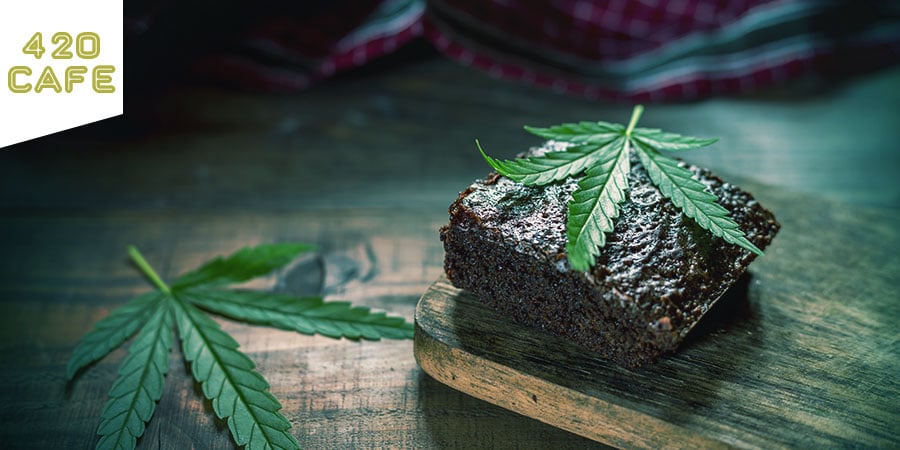 420 Cafe resides in the centre of Amsterdam—a short walk from Central Station. It's a great first port of call after arriving in the city via train. The dark wooden interior and TV screens that often play muted nature documentaries set a relaxing tone. However, pictures of rock artists and speakers that cycle through the genres contrast the look. Overall, 420 Cafe has a "pub" feel to it. It's a great venue for socialising in the evenings.
The menu offers two delicious flavours of space cakes: chocolate and lemon.
9. LA TERTULIA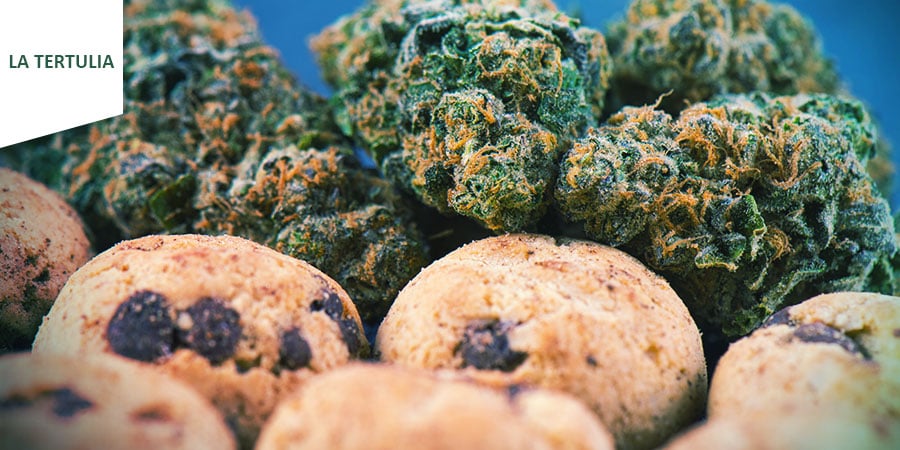 La Tertulia coffeeshop has been serving pristine buds since 1983. The interior is full of exotic plants and crystals that add a trippy and comforting feel. La Tertulia allows customers to use their de Verdamper vaporiser/water pipe, and they also sell an assortment of bongs and rolling papers.
Their famous edibles will send your mind on an internal voyage. Hold on tight.
10. 1E HULP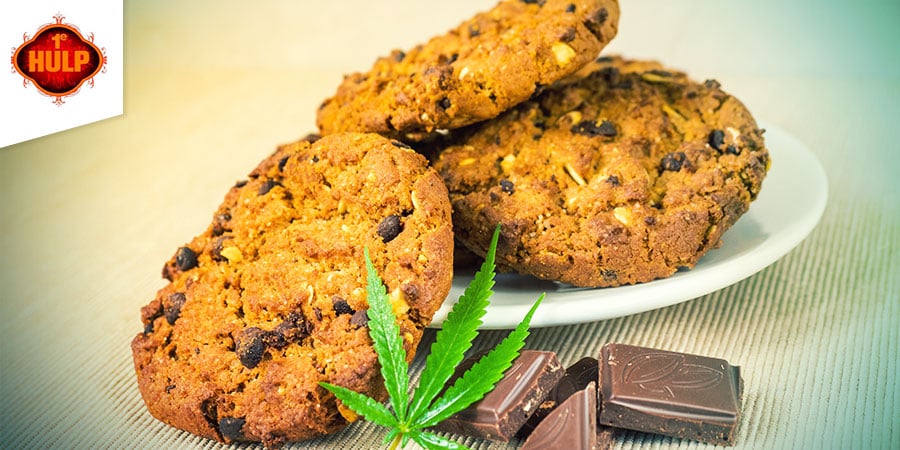 1e Hulp is a highly rated coffeeshop; it's not only top 10 for edibles. Helpful staff will guide you toward a purchase that's right for you. The spacious seating area provides enough room to relax without feeling squashed in. The primarily wooden interior and comforting cat all add to the relaxing atmosphere.
Are you looking for edibles? Buckle up and choose from their space cakes, brownies, and muffins.