Blog

3 min
The ICBC Brings International Canna Business To Berlin

3 min
The ICBC has just held its first cannabis business conference in Berlin. The event attracted top people internationally for the event which was held on the dawn of a legalizing industry in Germany.
The International Cannabis Business Conference held its first conference in Germany April 10-12 in Berlin. Top companies and people from the international industry, as well as Germans, were in attendance. The well-attended conference was a whirlwind of meetings, schmoozing and information sessions for two entire days.
Attendees stayed in number until the very end. Most people left the event better informed about the next stages of reform here. They also left with a pocketful of business cards from new acquaintances.
WHAT IS THE ICBC?
Like other conferences geared at this industry, the ICBC is designed to be part informative presentations and part vendor expo. It did not disappoint on either front. Because the conference is also held in the U.S. and Canada, conference organisers also had the breadth, range and rolodex to bring in people from all over the industry.
However what was most impressive about the conference is that organisers were well aware that this market will be much different from other national endeavours. For starters, Germany, and in fact, most of Europe will follow a medically focused path first. For that reason, there were many doctors and other health officials in attendance.
The ICBC in other words, is trying to differentiate itself from other conferences in this space, particularly those held in the past. Legalisation is now a very different animal. It is real.
The best way to forward that reform is to respect it.
Conference organizers, not to mention attendees showed by action word and deed that they did.
It set a very high bar. It was also much appreciated.
SPEAKERS
The speakers at the conference represented some of the most interesting people in the industry just about anywhere. That also, by definition, included locals.
Speakers included Pierre Debs, the American stem-cell biologist who became the first import license holder for medical cannabis from Canada last year. Also of note was the speeches by Dr. Eva Milz and Dr. Franjo Grotenherman, Germany's best known "Canna Doc."
Panel discussions were also interesting. In particular, the panels on German regulations as well as new businesses and business models were particularly compelling.
Celebrities at the conference were few, but both of them had a long history in the movement. Perhaps the most unlikely speaker to Germans at least was Republican House of Representatives member Dana Rohrabacher. The strong states-rights proponent has also led U.S. efforts to end the drug war for many years. In Berlin, he wanted to talk about Reagan. Nobody got distracted by cold war politics. In the end, Rohrabacher's speech was well-received and applauded.
Tommy Chong, the American comedian and legendary stoner was also there. His session, hosted by Steve Bloom, included many funny trips down memory lane. His best advice to those who want to enter the industry? "Be like the plant," he advised. "The way is not instant but takes time. If you nurture your business, you will succeed."
VENDORS
The vendors at the ICBC were also interesting. It is clear that the exhibition space at the conference will only continue to grow. However even this year it was impressive. Vendors overwhelmingly also presented a heavily medical focus, even if they are based in areas which are moving towards full reform. There were a lot of CBD samples on tables. Vendors who showed up with grow essentials also put on an impressive if not expensive display.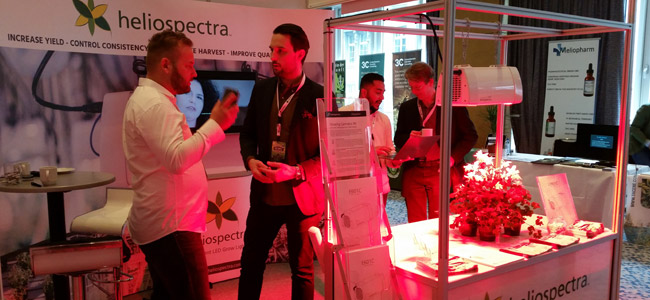 On the cannabis front itself, the conference was the model of responsibility and regulation. Nobody "imported" any cannabis with THC for the conference. In this sense, the environment was far more professional not to mention respectful of local laws. The last High Times Cup conference in Amsterdam in 2014, for example, was the complete opposite. Organisers and vendors were in constant conflict with authorities and the police. This year, in Berlin, by contrast, and handled by a different team of people, the ICBC seems destined to take up the slack.
The front of the hotel frequently smelled like burning ganja, in other words, but nobody was bringing in garbage bags of green. There were no police. In fact, the conference looked just like any other professional conference.
WHY SHOULD I GO?
Businesses in this space are keen to promote their products. If you are looking to get into the business as a distributor, the ICBC will continue to provide great vendors. However, beyond that, as an educator, doctor, or even patient, the conference is well worth going to. There are few places anywhere, certainly in Germany where you have the chance to really meet the international industry.
The conference presentations were also highly informative from a medical, legal, and regulatory perspective. Bottom line? If you want to know more about cannabinoids in any way, plan to attend the ICBC next year.
Written by: Marguerite Arnold
With years of writing experience under her belt, Marguerite dedicates her time to exploring the cannabis industry and the developments of the legalisation movement.

Find out about our writers
---