Blog

2 min
Zamnesia At The Spannabis 2017

2 min
This year's Spannabis, held in Barcelona in early March, featured fun and entertainment for everyone. With conference speakers on every topic under the sun, 200 exhibitors in attendance, music and food, it is becoming a not-to-be-missed canna celebration.
Spannabis has quickly become one of Europe's leading cannafests. This year it was held March 10-12. Held in Barcelona, the fest continues to grow.
That is for a very good reason; reform is coming here. Spain is still very much part of Europe and there is legislation proposed if not passed. Right now this means a lot of grey area. Everyday Spaniards are helping to craft the norms of a new society. Here, social clubs broach a strange hybrid space between recreational and medical. Of-age domiciled local residents can join their local fave. One does not need a doctor's prescription.
Healthcare coverage of costs is further away here. That said, Spaniards seem to like the current hybrid as is.
Regardless, it is clear that the "industry" such as it is, is getting a lift from the rest of Europe.
Specifically Germany. The value of the total overall "legitimate" market might be smaller right now. That said, there are no Spaniards in line for 28 grammes a month for 10 euros.
WHAT THIS YEAR WAS LIKE
As of this year's Spannabis, there are more than 200 cannabis social clubs in Spain. The laws here are also changing to better regulate them and many American visitors commented on a feeling of deja vu. This year seemed like a couple early legalising states right before official legalisation. Including "residence requirements" for being able to join a club.
Publicly at least, nobody in Spain is advocating cannabis or even medical tourism ... yet.
This being Spain however, there is always a loophole. Spannabis is designed to maximise tourism by taking advantage of the same.
What does this mean? Foreign Spannabis attendees have easy access to legal supplies. Unlike conferences in both the U.S. and Netherlands, "wares" can be freely distributed via exhibitors.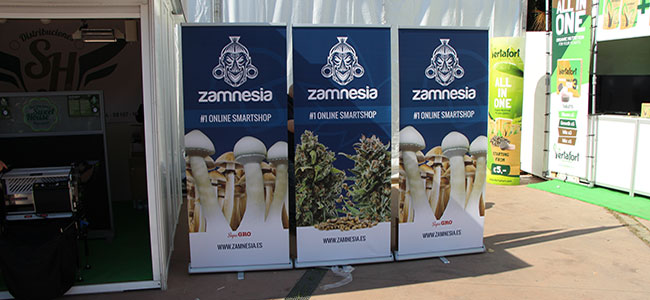 A TRUE CANNABIS EVENT
The conference saw an estimated 30,000 visitors this year. There were also 200 exhibitor stands. A diverse range of speakers spoke on topics covering business to esoterica. Topics ranged from legal updates on the status of cannabis in Spain to how the drug alters human consciousness. All were well attended. Overall there was conference seating for 800 in the Fira de Cornella.
In the exhibition space, there was always a lot going on; music and gadgets competed with high-tech cannaware. That started of course with the latest tech ways to get high and went from there.
There were also more sombre and serious events of course. On Friday night there was a tribute to the late, great strain hunter Franco Loja.
And then, of course, there was the food. A serious step above normal conference or event, Spannabis has always featured tasty selections to feed every palate. Add the infused cannabis stalls on top of that, and the event becomes a rare opportunity in today's reformed world still. The chance to step inside a canna-bubble where the rules for normal social consumption elsewhere are suspended.
With billing and canna-entertainment like that, it is no surprise that not only was this year's Spannabis was a major hit. It is sure to become an even more highly attended regular event – and not just in Europe but much further away.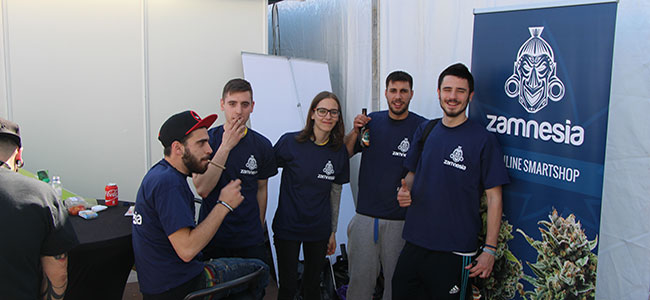 AND THE WINNER IS …
Of course, no Spannabis would be complete without the results of the Champions Cups competition. Winning strains include perennial Zamnesia faves.
Dinafem's OG Kush is a lime and diesel flavoured potent strain. It was also a Cup winner in the best CBD category.
The indica category also saw two winners: Sweet Seed's Crystal Candy took the top spot for best indica. The strain gets its name from its sweet, candy aroma.
However BomBon, the result of a collaboration between Madre Naturaleza Growshop and Medical Marijuana Genetics also took home a prize. Medical Marijuana Genetics has a long history with cup wins.
Award-winning cup products also included the DaVinci IQ Vaporizer. This vape is small, light and easy to operate. It was also popular with the judges.
Written by: Marguerite Arnold
With years of writing experience under her belt, Marguerite dedicates her time to exploring the cannabis industry and the developments of the legalisation movement.

Find out about our writers
---