Blog
3 min
Spannabis 2016: The Products That Impressed Us
3 min
There is a lot going on at Spannabis, but one of the main things is companies displaying the latest and greatest tech of the cannabis world. We took a look at some of what was on offer.
There is nothing quite like visiting Spannabis in Barcelona; the combination of sun, cannabis and friendly people makes for a superb weekend of revelry and work. One the more interesting aspects of prowling through the exhibition is discovering some of the products on offer – both old and new. So, without further ado, here are my favourites from my time at Spannabis 2016.
THE GRASSHOPPER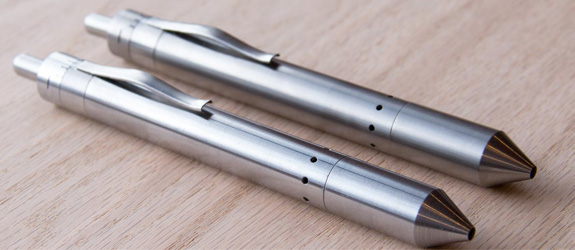 It has been a long time since I have seen a pen vaporizer that truly impressed me. Seeing the Grasshopper up close and personal has changed that. It is, quite frankly, an insane bit of tech. It has been designed specifically for vaping dry herb, and it does it exquisitely. It features precise temperature control, high battery capacity, convection vaporizing, and a powerful heating element with a 5 second heat up time (!). Not only this, but it has been designed with a level of finesse style fitting of the people of at Apple. It is a truly a remarkable bit of kit. I was so impressed without, that I have written a dedicated preview.
SPACE VAC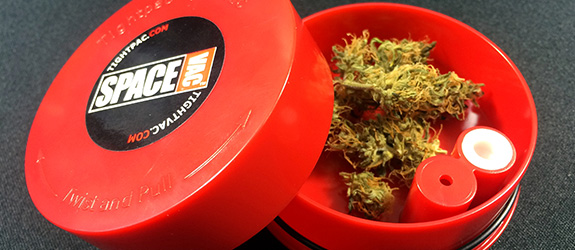 From high tech to low tech, next we have the new storage container from Tight Vac, known as the Space Vac. Tight Vac technology is nothing new, yet I found this new miniature model to have impressive potential. At its core, a tight vac container is a stash box that expels excess air to create a vacuum, keeping you bud fresh – fairly simple, yet highly effective.
With its small size and flat design, this new model can hold no more than a little baggy, yet it is this new slim construction that makes it so wonderful. It allows it to slip easily into your pocket, even in tight jeans, keeping you bud safe and secure in its hard shell. The vacuum created helps keep your bud fresh, as well as helping prevent odour leaks. Definitely an essential for those who like to carry a little weed in their pocket at all times.
Available here at Zamnesia now!
ENDOCA CBD CHEWING GUM AND SUPPOSITORIES
Endoca is well known for producing high-quality CBD products, so I made sure to stop by their stand. Of their new and upcoming products, it was their chewing gum and their suppositories that stood out. Their new CBD-rich chewing gum allows for extremely discreet dosing of CBD over a prolonged period – much subtler than busting out a vial of strange liquid and dosing yourself in the middle of the office! It should offer those concerned about discretion, or simply those who don't like CBD oil, a much more viable alternative.
When it comes to the suppositories, the idea of sticking some CBD up your butt may make you giggle. However, administering CBD rectally is one of the most efficient and fastest ways to absorb CBD into the body… unfortunately. So for anyone serious about their CBD, it is a real option that should be genuinely considered. All joking aside, the guys at Endoca have received extremely positive feedback on their suppositories, and are a worthwhile product. You don't see too many suppositories on the market, so it is nice to see Endoca leading the way. However, suffice to say, I did not test them.
FUTUROLA KING SIZE ROLLER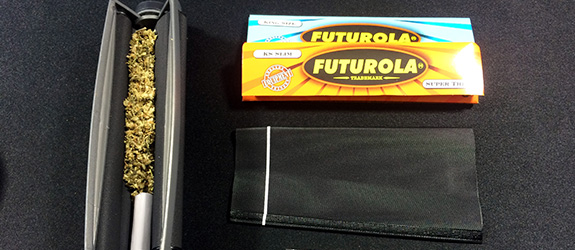 The king size joint roller from Futurola is certainly nothing new, but it has been making jaws drop for its entire 20-year reign as one of the best joint rollers about. I stopped by the stand to have a chat with the masterminds behind the roller, as well as watch the rolling competition that was underway. The look of delight on amazement on the faces of those who used the roller, even after all these years, is a testament to this bit of kit's power. Having been handed one of their newer models, it was nice to see that they have updated the roll sleeve to have a clear white marking on it - to show where to line up the filter for optimal functionality. It is a massive benefit for novices who are not too confident with their rolling skills.
BIG BUDDHA SEEDS' NEW PACKAGING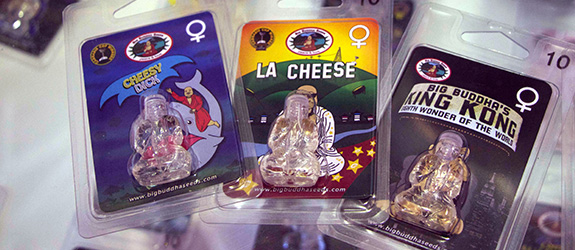 You wouldn't think that cannabis seed packaging was a particularly interesting subject, yet somehow, I managed to spend a good 30 minutes hanging out at the Big Buddha Seeds stand talking to the guy behind all their R&D. The new Big Buddha packaging – which encases the seed in a miniature Buddha – not only looks great, but also has some real practical implications.
Made and packed using a custom machine five years in the making, this new design keeps seeds completely safe – from both humidity fluctuations and impact. To stress the point, the mastermind behind the design took one of the seed casing – with seed inside - and stamped on it. We are not talking a small man here, but one stacked to the rafters. The seed casing was completely undamaged, not a scratch. This combined with its humidity resistance ensures that the cannabis seeds arrive with the customer the same quality it left Big Buddha.
Each of the new packages also contains a playing card. I was told, that the plan is for customers to collect them, and when they complete the full set they can send them to Big Buddha for a prize – although what this will be is still in the works. They are even contemplating running promotions where they hide golden seeds in opaque Buddhas, in a Charlie and the Chocolate Factory-esque golden ticket competition – with the winner getting something real special. So, if you are a fan of Big Buddha Seeds, keep your eye out and start collecting those cards!
These are but a few of the great products I found during my travels through Spannabis this year. There are many, many more to come; 2016 looks to be quite an exciting year for the cannabis world!