Blog

3 min
Save The Gorillas With BSF Seeds
3 min
BSF Seeds are known among the cannabis community for their impeccable strains, even becoming known as the "gorilla bank". With that in mind, they've teamed up with the Pole Pole Foundation to help save the World's remaining 1063 Grauer's gorillas. But how can you get involved? Simple. With this exclusive collaboration, everyone wins.
Renowned for their Gorilla strains, the team behind BSF Seeds pride themselves on being a company that's "Bigger, Stronger, Faster" in all areas. This couldn't be truer when it comes to their commitment to charity and environmental causes.
That's why BSF Seeds is teaming up with the Pole Pole Foundation (POPOF) for a truly worthwhile reason. With just 1063 Grauer's gorillas alive in the world, they face complete extinction unless something can be done. As they're known as the "Gorilla bank," it seems fitting that BSF Seeds jump in to help out these primate pals. But how will they do it? And more importantly, how can you get involved? Trust us; once you see what's on offer, you'll want to get stuck in!
BSF Seeds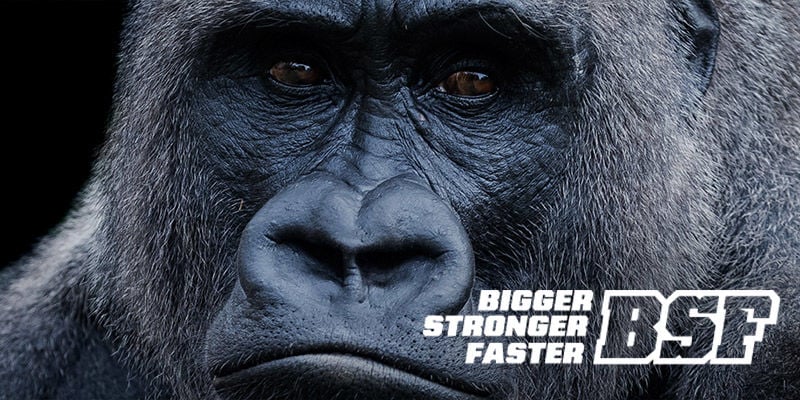 Harnessing a wide variety of showstopping genetics, BSF Seeds has been a longstanding player in the cannabis cultivation game since its emergence in Spain back in the early 2000s. Since this point, they've been known for breeding seeds that result in bigger plants that boast stronger genetics and develop faster than a wide variety of their competitors. BSF Seeds are also renowned for gorilla strains, making them the perfect choice to partner up with POPOF.
The Pole Pole Foundation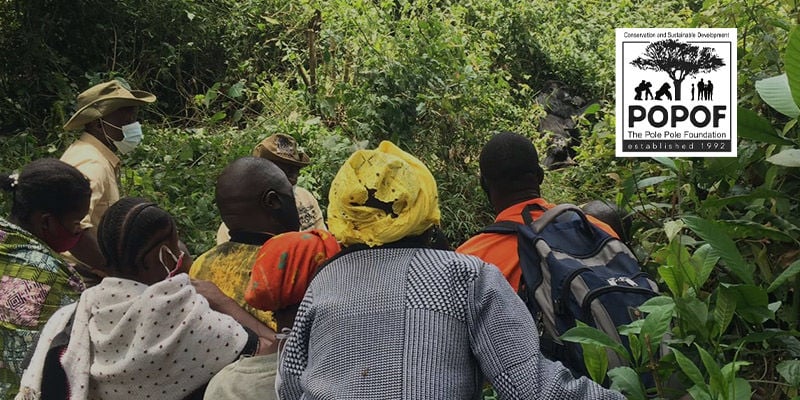 Otherwise known as POPOF, the Pole Pole Foundation is a grassroots NGO that's acting to protect the endangered Grauer's gorillas. This species of gorilla lives in the Kahuzi-Beiga national park in the Democratic Republic of Congo. However, the Grauer's gorillas (commonly referred to as Lowland gorillas), are still very much subject to being hunted as well as suffering the effects of habitat loss due to human factors such as mining, deforestation and logging operations.
All of these factors are devastatingly impacting the dwindling population of Grauer's gorillas. The POPOF has been working hard since its inception back in 1992 to help protect the remaining 1063 Grauer's gorillas in this area. But they can't do it alone. This is where BSF Seeds—and you—come in.
Zamnesia, a true supporter of mother nature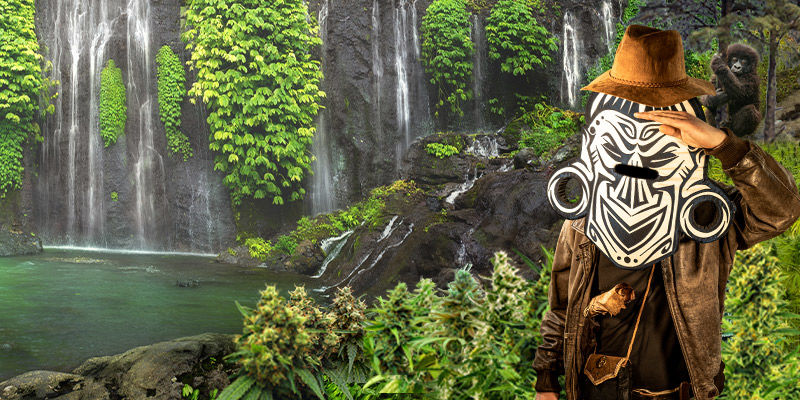 Not only showcasing "the best that mother nature has to offer", but Zamnesia is also a firm believer in the care, protection and preservation of both nature and the environment. So it should come as no surprise that we offer our full support to the BSF Seeds and POPOL collaboration. What better way to tap into both the cannabis and nature communities with one awesome package?
BSF x POPOF – Save the Gorillas Limited Edition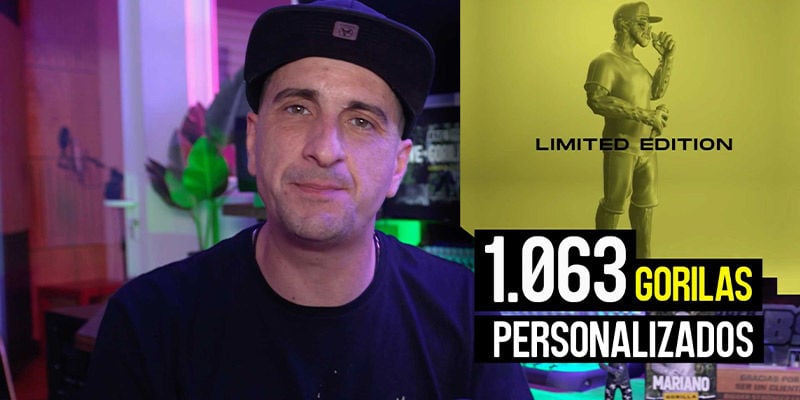 The gorilla bank BSF Seeds has really stepped up to the mark when it comes to this collaboration. While some companies will just provide "lip service" and half-hearted donations, BSF Seeds is doing so much more. Alongside POPOF, they have created a truly limited edition pack that cannabis connoisseurs and fans of collectibles won't want to miss out on.
Limited to the poignantly-number of 1063 sets, BSF and POPOF have enlisted the help of world-renowned figurine creator Moro and figure company Renegade Collection, for something extraordinary and one-of-a-kind. Have you ever dreamed of having your very own personalised figure? Well, now you can. All you need to do is upload an image of yourself when you make your purchase, and Renegade Collection will create a gorilla-like figure that represents your true style and personality.
This is no cheap ape NFT graphic; this is a fully-fledged figurine produced from sustainable materials. So whether you're a keen collector and want to keep your figure in pristine condition in its box or want to flaunt your creation by placing it on a shelf, it's entirely up to you!
Not only will customers get their hands on a unique figure, but BSF has also supplied 2 seeds of GG #4 to go with the package. This massively potent strain will already be on the radar of many an avid stoner, but if you're new to the party, let us break it down for you.
What is GG #4?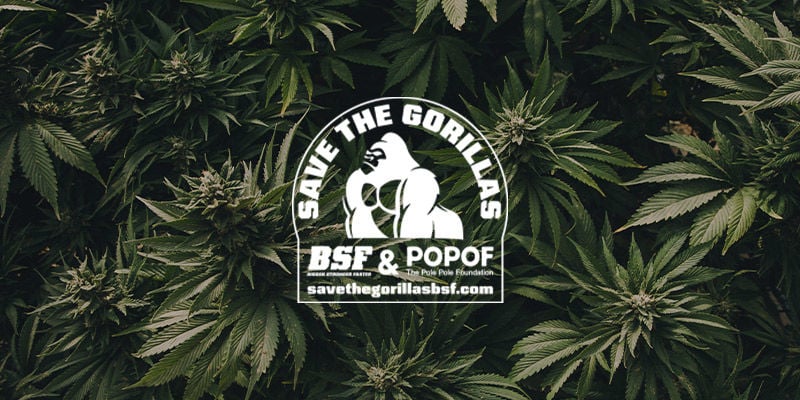 GG #4 comes from a rich lineage: Chem Sister x Sour Dubb x Chocolate Diesel. This is a strain that truly takes the finest points of her genetics and presents something jaw-dropping.
This is a fast flowering and high-performing cultivar that's well suited to indoor and outdoor settings and is bound to appeal to newcomers and experienced growers/users alike. When grown in the best possible conditions, growers can expect returns in the region of 550-600g/m inside and well over 1000g/plant outdoors. With 27% THC on average and rich chocolate and earthy flavours, you can't go wrong here. If you've never tried GG #4 before, prepare to meet one of your new favourite strains.
What's more, is that both figure and seeds are presented in collector's packaging, and 100% of the proceeds from the sales of this exclusive collaboration go directly to the Pole Pole Foundation. So not only do you get a unique figure, and some excellent weed, but you also get to do something significant and help save the Grauer's gorillas. What could be better than that? Everybody wins.
View
GG#4 (BSF Seeds) Feminized
Parents: Chem Sister x Sour Dubb x Chocolate Diesel
Genetics: 30% Indica / 70% Sativa
Flowering Time: 9-10 weeks
THC: 27%
CBD: Low
Flowering Type: Photoperiod
Don't delay and help save the Grauer's Gorillas today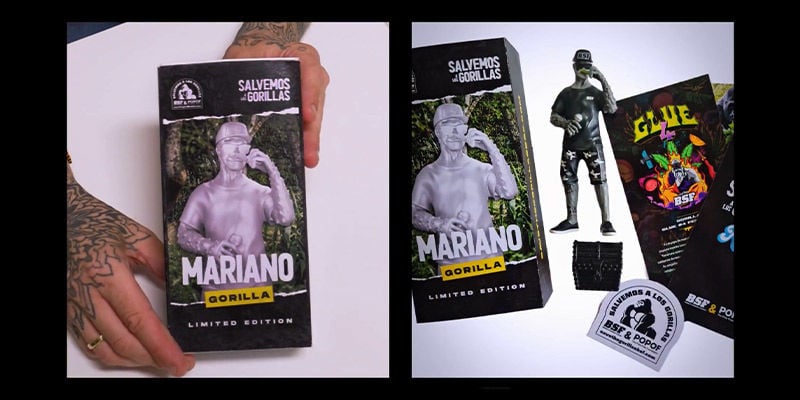 Act fast to get your hands on both your limited edition figurine and seeds, as much like the Grauer's gorilla, they won't be around for long unless you do something. So clear that space on your shelf, take your finest photo and prepare your home growing op area, and get your hands on the BSF x POPOF collaboration that truly makes a difference.