Blog
1 min
Massroots - The Social Network For Cannabis
1 min
Posting about cannabis on Facebook can be problematic, especially when friends, colleagues and family are in your friends list. Fortunately, there is a solution: Massroots.
Massroots is an app-based social network that's all about cannabis and connecting users. Unlike other social networks, Massroots does not ask for an email address or other private information, allowing everyone to maintain a degree of anonymity.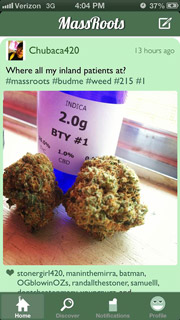 That makes it much easier to open up about all things cannabis - how wonderfully high that pipe just got you, thoughts on a new strain, or sharing pics from your grow. The platform makes it easy to explore new topics and quickly find new friends to follow.
Since its launch in July 2013, Massroots has grown a substantial user base, which now sits in the region of 25,000. With the legalisation of recreational cannabis in Colorado, Massroots is looking to take advantage of the influx of new users. Just recently, Massroots secured a $150,000 fund to further expand the platform.
Issac Dietrich, one of the co-founders of Massroots, is convinced that the cannabis industry is on the verge of exploding. The legal cannabis industry is estimated to reach £2.34 billion this year, and the illegal cannabis market is estimated to be worth between $18 and $30 billion. With the investments he has secured, he plans to expand the features of Massroots, and to become an integral part of the cannabis community.