Blog

3 min
Empire Glassworks: A Masterclass In Functional Glass Art
3 min
Since its inception in 2013, Empire Glassworks has been making waves in the world of cannabis-related glassware. The team boasts over forty years of combined experience, crafting high-quality, unique, and functional pieces across a wide range of themes. If you haven't experienced what Empire Glassworks is capable of, prepare to be wowed.
When it comes to cannabis glassware, sometimes unique, show-stopping designs come with a trade-off of suboptimal functionality. However, glassware by Empire Glassworks proves that style and function can intertwine flawlessly. If you've been on the lookout for glassware that delivers a premium smoking experience all around, allow us to introduce you to the world of Empire Glassworks.
Introducing Empire Glassworks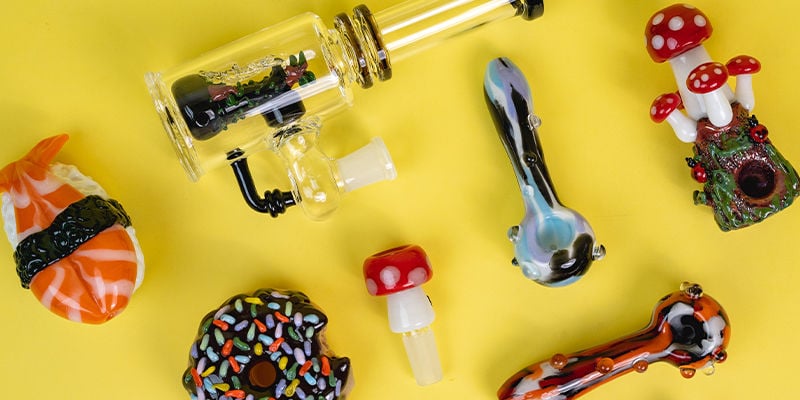 Describing their products as "eloquent, nostalgic and emotional", Empire Glassworks is a Los Angeles-based team of seasoned glass experts with over 40 years of experience. The company was formed in 2013 and harnesses intricate handcrafted glass techniques to create a series of pipes, bongs, and bubblers, as well as a variety of glass accessories such as bowls, bangers, and dabbers. However, these are no run-of-the-mill products; Empire Glassworks offers unique, eye-catching, and highly functional designs that cover a wide range of themes, and are sure to give your smoking sessions a much-needed boost!
Empire Glassworks: About the products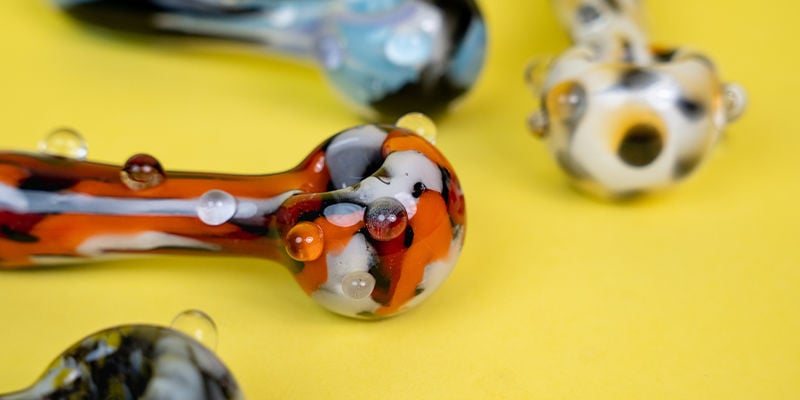 What can you expect when you pick up a product made by Empire Glassworks? As mentioned, there are a variety of themes to explore, so let's take a look at some of the pieces that make Empire Glassworks stand out from the crowd.
Good enough to eat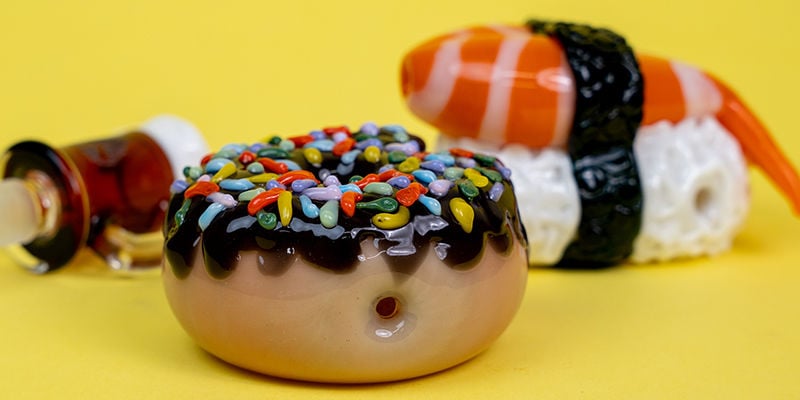 Okay, while you can't actually take a bite out of Empire Glassworks' products, that hasn't stopped them from designing glassware that looks exactly like some of your favourite food and drinks. If you've got a sweet tooth, the Donut Bite Me Dry Glass Pipe could very well be the ticket. This circle-shaped pipe is made from handcrafted borosilicate glass, measures 7.62cm, and is perfect for enjoying some finely milled herbs.
However, if you're looking for something a little more "savoury", the Shrimp Nigiri Dry Pipe takes inspiration from mouth-watering sushi; this glass pipe looks like it came straight from a sushi restaurant. The pipe has an ample bowl that provides plenty of space for bud. Measuring 11.5cm in length, it's perfect for on-the-move hits as well as enjoying at home.
But what if you're just looking to improve your current water pipe? How about the Beer Mug Bowl? This glass accessory is designed to look like a tall, frosty mug of beer that looks good enough to drink. With a 14mm male connection, this versatile bowl is easy to connect to all kinds of bongs, and comes with plenty of space to house your herb.
Sample a shroom or two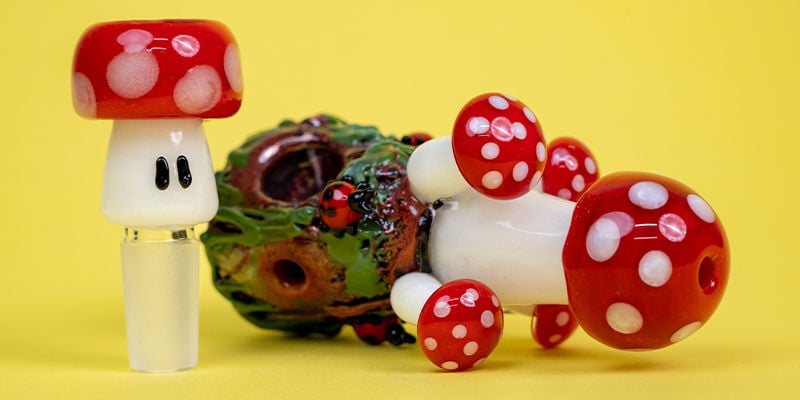 Taking inspiration from our fungi friends, Empire Glassworks designed a couple of glass pieces that even Mario would be proud of. With a staggering amount of detail, the Mushrooms Dry Pipe is crafted to look like red cap mushrooms growing out of a tree trunk adorned with moss and ladybugs. This intricate piece is ornate and ideal for the cannabis enthusiast that really wants to make a statement with their pipe. Standing at 10.7cm tall, this borosilicate glass piece will attract plenty of attention when added to your arsenal of ganja gear.
Stylised to resemble a mushroom from a certain Nintendo game, the limited-edition Red Mushroom Bowl is handcrafted from borosilicate glass and ideal for pairing with your favourite water pipe. With mind-blowing details, this bowl even glows in the dark, giving your sessions a bioluminescent edge. With a 14.5mm male connection, pairing this piece with almost any bong is easy.
Something for everyone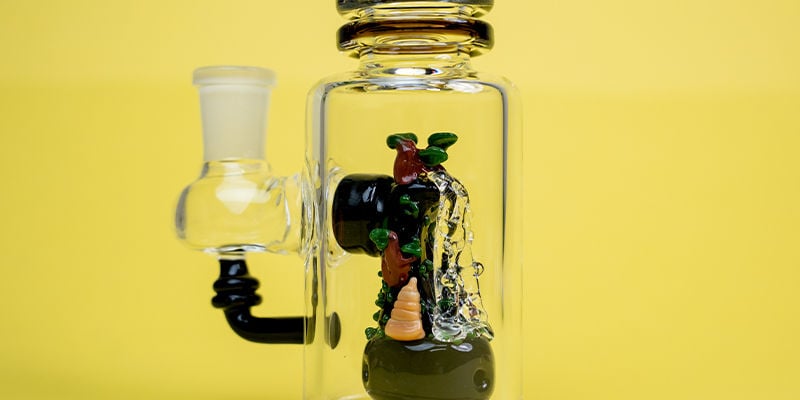 Not just fixated on creating food and shroom-related products, Empire Glassworks has applied their craft to plenty of other impressive glass pieces. Have you ever dreamt of an underwater scene unfolding in the water of your bong? Well, you can make this a reality with the Under The Sea Bong. This unique and elegant piece is made from sturdy borosilicate glass and showcases colourful coral, vibrant fish, and even an octopus wrapped around the base. The result is a bong that's a real treat for the eyes, and stands at around 18cm.
If being underwater isn't your thing, take a look at gaining some inner peace with the Zen Bonsai Mini Tube. This pint-sized water pipe is primed for flavourful pulls. True to Empire Glassworks' unique style, the piece has an intricate percolator that's shaped to look like a waterfall scene, complete with a bonsai tree. But that's not all; the device also reacts to UV light and glows in the dark, giving your smoking sessions plenty of serenity just when you need it.
For something a little more suitable for being on the move, the Spoon Pipe makes for the perfect portable smoking solution. With plenty of different eye-catching colours and designs, these devices are easy to pair with your personal style. Of course, they are not only great to look at, but also simple to use and, like all Empire Glasswork pieces, made from heat-resistant borosilicate glass.
Lastly is the Bomber Spoon Pipe. This is another piece geared toward those nostalgic Nintendo stoners. Featuring a cartoon-like bomber character as a generously sized bowl, this pipe will blow you away, in the best way possible! Measuring a little over 10cm long means the Bomber Spoon Pipe will easily slot into your pocket or bag, making it the ideal companion wherever you go.
Experience Empire Glassworks for yourself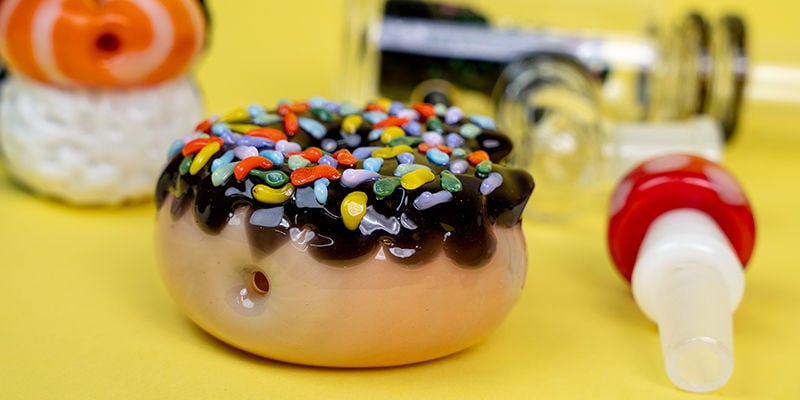 As you can tell by this point, Empire Glassworks does it differently. With an expansive imagination and incredible talent, the team harnesses glass to make unique, eye-catching, and mind-blowing pieces that really change the game of what a bong, pipe, or smoking accessory can be.
Now that you know what they're about, how can you experience everything that Empire Glassworks has to offer? Simple! Head over to the Zamnesia store and get your pick of some of the finest glassware available on the market today. But be warned; some pieces are exclusively limited edition, so act fast to avoid disappointment.