Blog

3 min
Biscotti: Cannabis Strain Review & Information
3 min
Biscotti from Zamnesia Seeds is a productive, top-performing strain that's bound to appeal to newcomers and the more seasoned alike. With buds teeming with decadent vanilla and honey flavours, sweet-toothed smokers are in for a highly satisfying experience.
Sweet and satisfying—it has to be Biscotti. Now, we're not about to share any baking tips (unless you mean getting "baked"). No, we're talking about a fantastic strain from the team at Zamnesia Seeds. It's pretty easy to throw out words like "groundbreaking", "flavourful", and "effortless" when it comes to describing cannabis cultivars. But when it comes to the Biscotti experience, these words are just scratching the surface. Let's take a deep dive into all things Biscotti.
Characteristics of Biscotti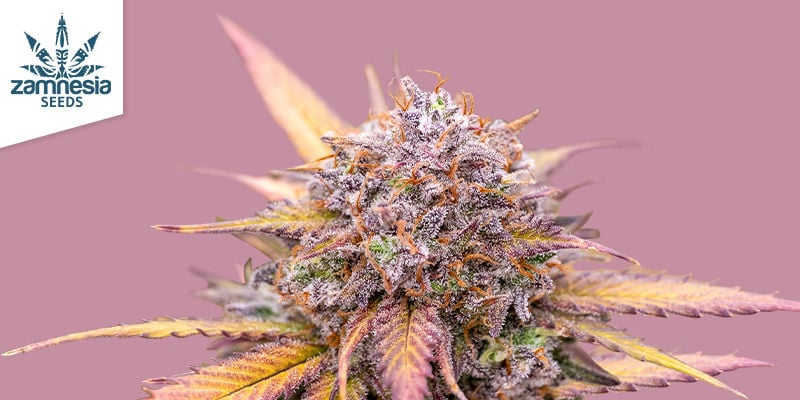 Biscotti was formed by combining two powerhouse strains—South Florida OG and Gelato #25. The resulting cultivar is indica dominant and has the potential to pump out massive yields of tasty and potent bud. She's unlikely to take over any growing space, and is easily tamed in the hands of both complete novices and seasoned experts.
| | |
| --- | --- |
| Genetics | Indica dominant (80% indica / 20% sativa) |
| Parents | South Florida OG x Gelato #25 |
| THC | 22–25% |
| CBD | Low |
| Flavours | Vanilla, Honey, Diesel |
| Effects | Relaxing, Creative, Uplifting |
Ready to impress from the get-go, Biscotti satisfies from seed to harvest and well beyond. However, before we get to the specifics of what it's like to smoke her sweet and uplifting buds, we need to know how she fares in the grow-op. We're pleased to report that she performs exceptionally well.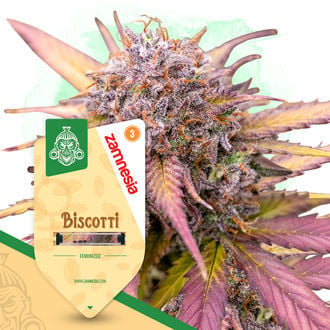 View
Biscotti (Zamnesia Seeds) feminized
Parents: South Florida OG X Gelato
Genetics: 80% Indica / 20% Sativa
Flowering Time: 8-9 weeks
THC: 25%
CBD: Low
Flowering Type: Photoperiod
How to grow Biscotti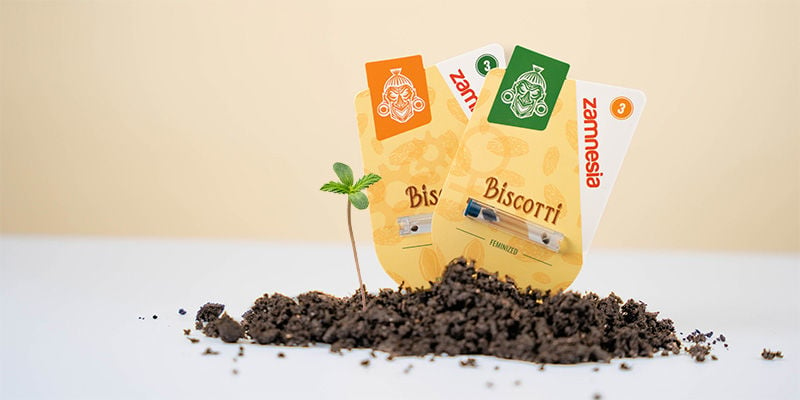 Biscotti makes for one adaptable, versatile, and, most of all, accessible strain to grow. Perfect for indoor, outdoor, and greenhouse projects, she's a resilient and receptive plant that can handle pretty much any environment you place her in.
| | |
| --- | --- |
| Grow Difficulty | Beginner/Intermediate |
| Best Suited to Grow | Indoor / Outdoor |
| Climate | Sunny, Warm |
| Variety | Feminized |
| Height Indoor | 130-150cm |
| Height Outdoor | 130-170cm |
| Flowering Time | 8-9 Weeks |
| Harvest Period (Outdoor) | October |
| Yield Indoor | 550–650g/m² |
| Yield Outdoor | 800+g/plant |
Ideal for newcomers and the experienced alike, Biscotti presents an easygoing growing process for all. With very little maintenance required, she's not going to cause any headaches. With indoor plants standing at around 130–150cm and outdoor ones reaching 170cm, Biscotti is unlikely to take over your growing space. However, those looking to control her growth can opt for low and/or high-stress training to really fine-tune their experience.
Taking just 8–9 weeks of flowering, Biscotti will be ready to yield indoors. You might be expecting some modest returns for a plant of her stature, but we're more than happy to surprise you! You can expect harvests of around 550–650g/m² indoors, whereas outdoor plants will produce yields in the region of 800g/plant or more. A considerable haul no matter where you grow this top-performing plant!
Biscotti Automatic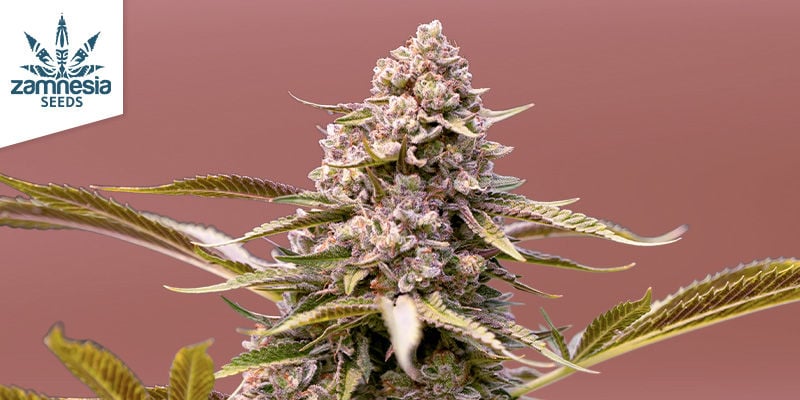 The team at Zamnesia Seeds also decided to create an autoflowering version of Biscotti to cater for all settings and skill levels. Taking only 10 weeks from seed to harvest, this is not a strain that hangs around when it comes to delivering the good stuff! Biscotti Automatic is even more accessible than its feminized counterpart, and perfect for first-timers and those seeking a completely effortless growing project.
Biscotti Automatic stands a little shorter at around 110–130cm indoors and 120–150cm outside, but she's still primed to perform. Once ready to harvest, growers will be treated to around 450–550g/m² inside and 80–120g/plant outdoors. A pretty sizeable haul for this low-fuss cultivar.
Showcasing the same sweet honey vanilla flavours with just a little diesel, Biscotti Automatic is a near copy in the flavour and aroma department. However, compared to her feminized version, the THC is a little lower with this autoflowering beauty. With around 16–17% to her name, she might not seem super potent, but users can certainly count on a powerful cerebral high.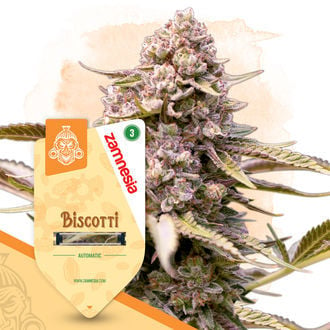 View
Biscotti: Flavour and effects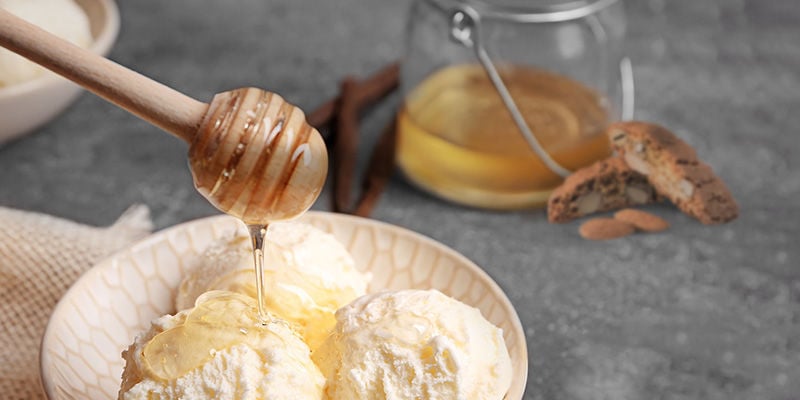 Named after the iconic Italian biscuit, you might think you know all there is about what Biscotti has to offer in the flavour department. Well, we'd be remiss if we didn't tell you exactly what this powerhouse is capable of! Rich vanilla and honey flavours are just the tip of the iceberg with Biscotti. Users are also in for hints of diesel throughout their vaping or smoking experience. However, as its name might suggest, Biscotti also lends itself well to edibles—particularly baked goods. So don't be afraid to don your chef's hat and get busy in the kitchen.
With THC levels sitting anywhere between 22–25%, Biscotti has a pleasantly potent side to her. All it takes is a couple of hits, and users will be met with a strong cerebral high that eventually settles into a deeply soothing trance. Perfect for chilling out and listening to music with friends, or as part of some solo fun.
Biscotti: Get baked today!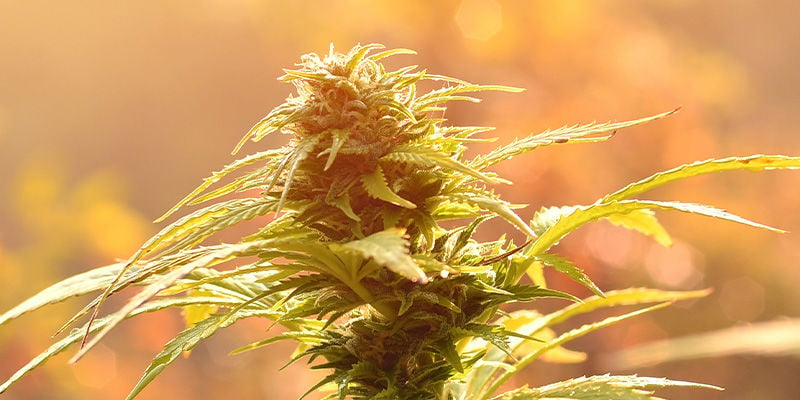 As you can probably tell by this point, we're pretty sold on Biscotti and her autoflowering counterpart. There's plenty here to suit all kinds of cannabis aficionados, from the casual to the expert. Stemming from an easygoing, productive growing experience and offering dynamic flavour and fabulous potency, Biscotti is sure to tick all of your boxes. Get her in your grow room today!