Blog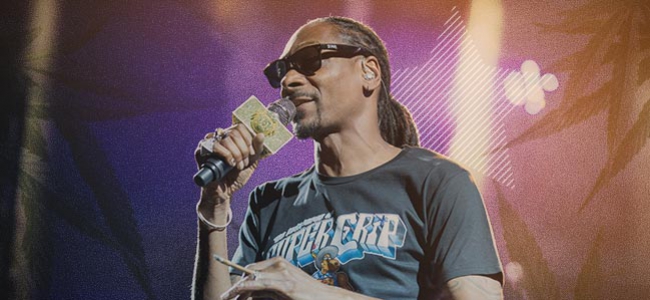 5 min
Top 10 Favourite Cannabis Strains Of The Hip-Hop Elite
5 min
Hip-hop is deeply connected with smoking fat blunts. Check out this blog, which connects the most prominent artists in hip-hop with their favourite strains.
Hip-hop and weed go hand-in-hand like Snoop Dogg and his beloved blunts. It's impossible to study hip-hop culture without coming across the influence of marijuana on its mechanics. From a historical perspective, the connection between marijuana and hip-hop is heavily influenced by Jazz musicians who used to smoke weed to create their masterpieces, as well as cope with the harsh realities of everyday life.
With the current wave of marijuana legalization, we can see many artists capitalising on the cannabis industry. This helps with driving reform, considering the sheer impact of hip-hop on mainstream culture. Enough with the history and politics. Let's go through the favourite strains of some of the most influential and legendary hip-hop artists.
1. DR. GREENTHUMB'S EM-DOG OG — B-REAL
Video: B-Real - Stix N Stones
B-Real, a member of Cypress Hill, declared "Sing my song, puff all night long, as I take hits from the bong". He's a true cannabis aficionado who loves his herb and wishes for it to be spread across the globe. His favourite varieties derive from California, his weed-abundant habitat.
OG Kush is one of his favourite varieties, which is a potent indica-dominant hybrid that expresses itself with citrusy and potent highs. He developed Dr. Greenthumb's Em-Dog, which is a sativa-dominant hybrid that derives from OGK3 and Chem4 varieties. It's a relatively tall plant that produces a substantial amount of THC, in turn producing optimal bong-toking experiences.

2. GRANDADDY PURPLE — SNOOP DOGG
Video: Snoop Dogg (Snoop Lion) - Smoke The Weed
Snoop Dogg has become somewhat of a phenomenon in terms of his connection between hip-hop and cannabis. With his mellow and distinctive voice, much of his poetry surrounds the effects of marijuana. His favourite strain is Grandaddy Purple, which is a superb indica cultivar. This variety features purple colours during its flowering cycle and develops a solid amount of resin. This plant comes in various hybridised formats such as the Grandaddy Black and Grandaddy Confidential. You can expect an soothing strain whose relaxing and mellow effects perfectly describe Snoop Dogg's cool presence.

3. GIRL SCOUT COOKIES — ALCHEMIST
Video: Alchemist - Not High Enough
The infamous Girl Scout Cookies strain is an extremely potent new American legend on the market. Established by mixing OG Kush with a special Durban Poison hybrid, this variety can easily surpass 25% in THC, inducing outlandish and psychedelic effects. The Alchemist is a rapper and music producer deeply involved in the hip-hop scene. He worked with Eminem, Jadakiss, 50 Cent, and many other legendary characters.
Girl Scout Cookies is his favourite strain, which he uses for his creative endeavours. He loves his spliffs longer than a hockey stick, filled with that superb GSC. You can check out two different versions of this strain, one made by Cali Connection and one made by us at Zamnesia.

4. KHALIFA KUSH — WIZ KHALIFA
Video: Wiz Khalifa - So High
Wiz Khalifa is probably one of the most famous rappers in today's world of hip-hop. It's quite rare to see Wiz in a music video without puffing on a joint or blunt. He uses weed to relax and as a tool to help him achieve his artistic expression. His favourite strain is his own Khalifa Kush, which feels and tastes like OG Kush.
This strain is extremely popular in the hip-hop scene, and Wiz Khalifa is happy to adopt it into his own operations. Of course, he's not reserved to his own strain. Kali Dog is an amazing hybrid involving OG Kush and the epic Sour Diesel. Wiz would surely approve of Kali Dog, since Snoop Dogg and Wiz share a special connection. It just makes sense.

5. BLUE DREAM — REDMAN
Video: Redman - Sourdeezal
Redman is a famous rapper who rose to prominence during the '90s. He's a big believer in high-quality weed, which he smokes to get his creative juices flowing. He loves sativa-dominant varieties, which deviates from the chilled-out indica-dominant strains preferred by most famous rappers. One of his favourite strains is Blue Dream. It's a hybrid between Blueberry and Haze genetics.
Depending on the seedbank, Blue Dream genetics may differ in their genetic makeup. For example, Humboldt Seeds developed a sativa-dominant Blue Dream, while FastBuds created an autoflowering hybrid version of Blue Dream'matic, which includes ruderalis genetics. Humboldt Seeds actually has a CBD-rich version of this strain, coined Blue Dream CBD.

6. OG KUSH — SCHOOLBOY Q
Video: ScHoolboy Q - Dope Dealer
ScHoolboy Q is a relatively new-school rapper that began rising to fame in 2008. His style is pretty mellow and almost demented and dreamlike in a sense—although a more upbeat style is evident in his single "Man Of The Year". There's a lot of weed smoking involved in his videos and his personal life. He's another rapper who's really into that OG Kush magic. It makes sense, considering his relaxed nature and creatively outlandish music videos.
Dinafem has a great OG Kush variety that delivers a high-quality product and bountiful yields. At Zamnesia, we also developed the legendary OG Kush, which produces a significant amount of THC and induces super mellow highs. These OG Kush specimens are something ScHoolboy Q would surely approve of.

7. KING LOUIS XIII — TY DOLLA $IGN
Video: Ty Dolla $ign - Irie
His single "Or Nah" featuring Wiz Khalifa, The Weeknd, and DJ Mustard has gained tremendous popularity in recent years. Ty Dolla $ign has a mellow, slow, and relaxed style, which goes perfectly with his weed of choice. It has been noted that his favourite strain is the royal King Louis XIII, a special variety deriving from OG Kush. Ty Dolla $ign is of course not reserved to one strain. He would very likely enjoy puffing on anything that derives from the infamous OG Kush lineage, such as Pineapple Kush, for example. This strain is super delicious and chill. Its flowering cycle lasts for only 7–8 weeks, which is super quick.

8. GRAPE KUSH — LIL' WAYNE
Video: Lil' Wayne - My Homies Still
Lil' Wayne is one of the top rappers in the game, who established his unique sound by smoking an abundance of Kush. This specimen takes on many shapes and sizes. We're sure that Lil' Wayne has enjoyed some superb and delicious Grape Kush. It's an amazing strain that tastes like a million bucks. Cali Connection developed a great version of Grape Kush by hybridising Grape Romulan and Pre-98 Bubba. This variety develops significant yields and delicious flavours and aromas of pungent, sweet grape. Lil' Wayne is another rapper who's into high-quality Kush varieties—he even wrote a song about it.

9. ALASKAN THUNDERFUCK — A LA $OLE (PRO ERA)
Video: Dillon Cooper ft. A La $ole - Dead Prez
Now, let's shed some light on an up-and-coming talent named A La $ole, a rapper from the "Pro Era" hip-hop collective, straight outta Brooklyn. He stated, without hesitation, that Alaskan Thunderfuck is his favourite cannabis strain. This variety derives from Alaska, making it quite special since most cannabis varieties in the US are associated with California, Colorado, Oregon, or New York. This variety derives from a strong and stable Afghan heritage. It exudes piney, earthy, and pungent aromas. GeneSeeds created a great version of Alaskan Thunderfuck by making it a fast-flowering variety that boasts significant potency.

10. GORILLA GLUE 4 — DEMRICK
Video: Demrick - One Day At A Time
Demrick is a very poetic and soulful hip-hop artist who enjoys toking on some Gorilla Glue to enhance his rap superpowers. Gorilla Glue is a fierce American strain that clocks in at very high levels of THC. It's quite sticky and sedative, gluing the consumer to the couch with its sweet essence. A great example of this strain is Gorilla Glue 4, created by BSB Genetics. It's an indica-dominant strain that flowers in 7–9 weeks and yields around 500g/m². Another cool variation of this strain is Gorilla Glue 4 concocted by Grower's Choice, which features slightly larger yields.

HIP-HOP CANNABIS MOGULS
Today, many hip-hop stars are getting heavily stoned and heavily involved in the cannabis industry. Snoop Dogg released his cannabis line called "Leafs By Snoop", which includes all kinds of cannabis products from edibles to dry herb.
Wiz Khalifa developed the super dank Khalifa Kush deriving from the OG Kush heritage. B-Real from Cypress Hill has his own YouTube channel called "The Smokebox", where he hotboxes in a car with the hip-hop elite, getting high and enjoying life. Berner, a hip-hop artist who enjoyed the company of B-Real on his show, is actually behind the marketing of Girl Scout Cookies, making it one of the most popular strains on the market.
THE FUTURE OF HIP-HOP AND CANNABIS
We can expect more hip-hop artists starting their own cannabis brands, and smoking heaps of blunts in their music videos. Hip-hop has never been as popular in the mainstream as it is now. Artists like those mentioned above and many others are raising awareness about the superb and inspirational potential of Mary Jane.