Blog

3 min
Vibes — Quality Smoking Equipment By Berner
3 min
Vibes rolling papers are about one thing—a quality smoke. Available in several varieties, there's something for everyone. While they specialise in papers, Vibes has many other smoking-related products, and even some exclusive clothing drops too!
There's so much smoking equipment out there, and some of it looks bafflingly complex. But sometimes simple is best. When high-quality hemp papers offer the finest smoking experience, why look for anything else? Vibes is a brand looking to fulfil every stoner's needs, without any pretension or unnecessary flourish.
What Is Vibes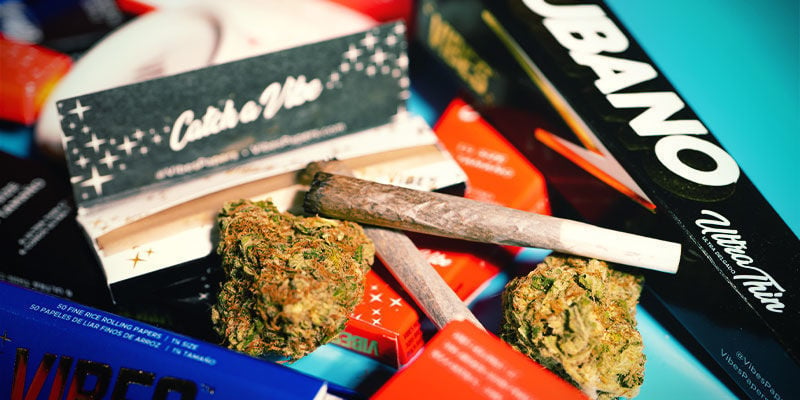 Vibes is a brand that specialises in creating the highest-quality smoking equipment—specifically rolling papers. Aimed at those who want to take smoking to the next level, it offers refined and carefully produced products that allow smokers to get the very best from their weed.
Designed in France and cut and packed in the Dominican Republic, Vibes papers have seen the world by the time you get to use them.
How do they get it so good? Vibes papers are designed by legendary smokers, most notably the US rapper Berner.
Who is Berner?
Berner is a busy man with a lot to boast about. Signed to Wiz Khalifa's Taylor Gang Entertainment, he has a whopping 16 albums under his belt. But he's not only a rapper; he's massive in the US cannabis scene, and strongly associated with the Cookies family of cannabis strains—the most famous of these being Girl Scout Cookies. In fact, he's so associated with Cookies that he even opened a clothing store called Cookies. And what does it sell? Smell-proof backpacks, apparel, and more.
His love for cannabis goes back a long way. When he was 18, he started a cannabis club that he ran until he was 25.
But none of that was enough to satiate his appetite for cannabis culture. So now he's created Vibes rolling papers to bring smokers across the world the very best in smoking products.
Vibes' Products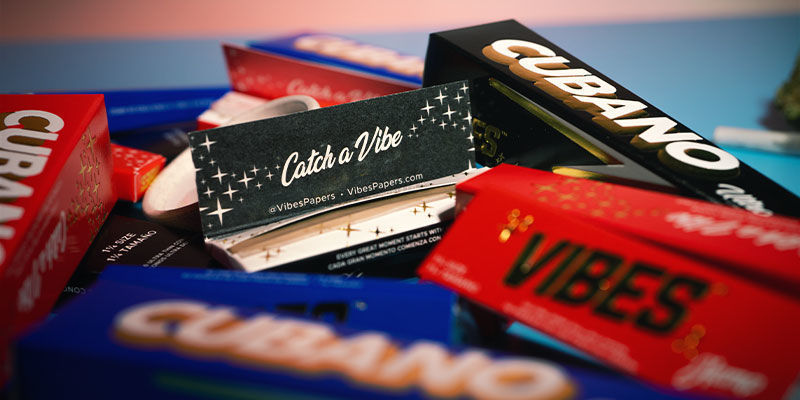 You might imagine that specialising in rolling papers would be somewhat limiting, but Vibes has enough variety to satisfy even the most demanding of smokers. Plus, we stock most of them here at Zamnesia.
Rolling Papers
A staple product for every smoker, Vibes rolling papers are simple but near-perfect. And they come in three different materials and two sizes.
Of course, there are the hemp papers. Made from only the finest hemp fibres, these papers are available in 1¼" and king-size slim. In the former case, you get 50 in your pack; in the latter, 33.
The same packs and sizes are available in both rice and ultra-thin varieties. Why all the choices? Because every smoker has different desires, and Vibes wants to cater to them. All of these products are thin and clean, meaning only minimal paper will be inhaled, giving centre stage to the bud inside it.
Swag
Alongside these staples of smoking life, there's plenty more available to kit you out. From three sizes of rolling trays to portable boxes and water bottles, your whole life can be Vibes if you want it to be. How about donning a Vibes cap and writing in a Vibes journal with a Vibes mini-marker? Perhaps a little much.
So maybe just shoot some hoops with the Vibes mini basketball hoop!
Cones
Available in the same materials as the rolling papers, these pre-rolled cones come either in 6-packs or as singles.
The singles are known as "Cubanos". They are very large and ready to pack with up to 8 grams of your finest herb. The 1¼" cones, on the other hand, are much more subtle and suitable for any smoke—not just 8-gram sessions.
Santa Cruz Shredder x Vibes Hemp Grinder
This 100% bioplastic hemp fibre grinder comes with patented teeth. Simple and effective, it consists of only two pieces, so it won't fall apart and get lost. With a tasteful design and deliciously smooth action, you'll be dying to use it constantly.
There's also a 4-part version that comes with a crystal catcher and handy storage section.
Apparel
Currently, drops 002, 003, and 004 are available, with more to come in the future. Each of these features a limited number of custom-designed clothes—mostly t-shirts, hoodies, and tracksuit bottoms.
Each drop is unique, with a discernible theme of its own. This means it's worth looking out for subsequent ones, as there's sure to be stuff in there that's new and exciting.
So while Vibes specialises in papers, there's plenty else to take a look at too if you're feeling Vibes' vibe.
Final Thoughts on Vibes' Product Range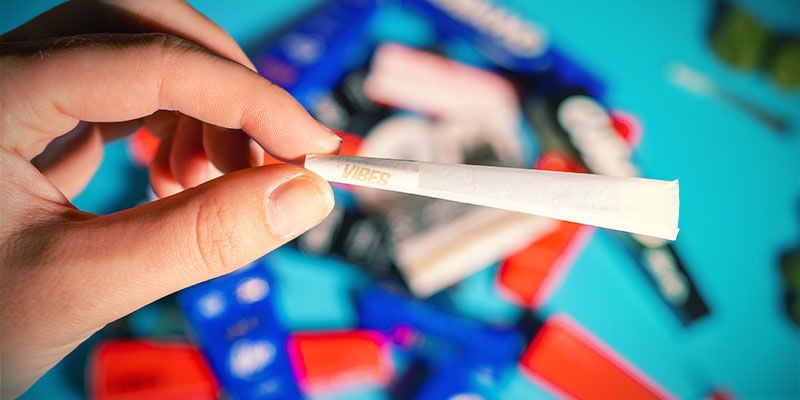 Vibes may not offer anything revolutionary, but what they aim to do is make the smoking experience as enjoyable and reliable as possible. Often, simplicity is the best way to achieve that. You don't need fancy attachments and expensive gadgets, just well-made, well-thought-out rolling papers, and maybe a basketball to play with when you're high!