Strain Review: Northern Lights

1 min
Every stoner has heard of the legendary strain known as Northern Lights, one of the most pure indicas around. It is one of the most famed marijuana strains of all time.
The original Northern Lights was bred by a man called "The Indian" on an Island near Seattle, Washington. In 1985, Northern Lights arrived in the possession of Neville Schoenmaker, the owner of "The Seed Bank." He received the strain in the form of eleven female clones that were labeled Northern Lights #1 through Northern Lights #11, with Northern Lights #5 being said to have been the best specimen in the batch.
The original Northern Lights plants were described to be pure Afghan plants with extremely distinct Indica characteristics - dark green in color and very stable, with a high flower to leaf ratio, an earthy and piney flavor and purple hues during the flowering time. They were also known to be very resinous, boasting a THC level of 15% or higher. It didn't take long before several different Northern Lights strains appeared in The Seed Bank's catalog. How exactly these new varieties were created is unclear, but seemingly Neville used the plants that he obtained from "The Indian" to breed new hybrids by further crossing them to some male Afghani plants. Possibly the best guess is that Neville created the new varieties by further inbreeding and hybridizing the plants that he acquired from "The Indian" to his old stock.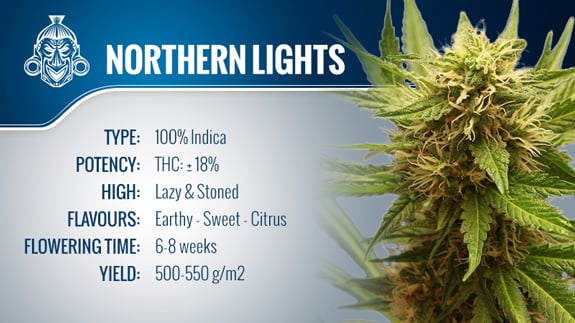 The closest-to-the-original versions of Northern Lights available today
The feminized Northern Lights by Sensi Seeds is a milestone of cannabis breeding for over three decades now and it still has a strong influence on the grower, breeder and stoner communities to date. It is a 90% Indica that has won cup after cup and set new standards. Sensi Seeds selected the healthiest and most potent specimen of the three original Northern Lights varieties and spent years crossing them back and forth until they had created a plant with the perfect Afghani genotype appearance. It is a fast-growing, stocky, compact and sturdy plant, with resin-laden buds and a delicate aroma of musk and honey, topped off with an earthy undertone and a pinch of juniper.
NL5 x Afghan by Mr. Nice is based on the famous Northern Lights #5 and an Afghan strain and was created by Neville and Shantibaba. This is a compact plant with a relatively short flowering period of 7 to 9 weeks, strong flavors and an end-product with a strong Indica punch. By using only Afghan land races, the guys at Mr. Nice came very close to the original Northern Lights - this plant exhibits a tremendous hybrid vigor, produces high yields and lots of resin, has an excellent flower to leaf ratio and boasts with a top-shelf potency. It is highly sought after by medicinal users because of its strong body-centered effects and pain-relieving power in particular.
Available from:
Written by: Zamnesia
Zamnesia has spent years honing its products, ranges, and knowledge of all things psychedelic. Driven by the spirit of Zammi, Zamnesia strives to bring you accurate, factual, and informative content.

Find out about our writers
---