Northern Lights: Cannabis Strain Review & Information
3 min
You've heard the name, but do you know the story? Read on for our review of a cannabis classic—Northern Lights!
An award-winning legend amongst stoners, Northern Lights is one of the most famous indica strains in the whole world. A go-to plant for all manner of cannabis users, the original strain was a 100% pure indica powerhouse. Since its inception, many derivatives have striven to capture the essence of the original. The newer blends are sure to impress in their own way, but nothing matches the splendor of genuine NL genetics. But what exactly is so special about this highly revered strain? Let's take a closer look at Northern Lights.
CHARACTERISTICS OF NORTHERN LIGHTS
The original Northern Lights was designed in the 1970s by a man known only as "The Indian" on an island near Seattle, Washington. This pure Afghan indica was grown into eleven plants, the strongest of which was NL #5. In the mid-80s, the strain found its way to a familiar name to those who chose to buy cannabis seeds for home cultivation. Nevil Schoenmakers was the the owner of "The Seed Bank" (later "Sensi Seeds"), and began establishing his own line of Northern Lights.
| | |
| --- | --- |
| Genetics | 10% Sativa / 90% Indica |
| Parents | Afghan |
| THC | 18% |
| CBD | Low |
| Flavours | Citrus, Earthy, Sweet |
| Effects | Relaxing, Happy, Euphoric |
The Northern Lights variants we see today feature slightly different genetics than the original. The European versions developed by Schoenmakers, etc. are suspected to contain at least 10% Thai sativa, in addition to around 90% Afghan indica. This blend has set a precedent in the field of near-pure indica plants by retaining as much of the original's 100% indica design.
Afghan strains are known to be heavy resin producers, and they induce a super stoning high sought after by many. Not only that; due to where these plants developed, they are hardy, resilient, and generally easy to grow. For a Northern Lights strain to be true to its heritage, it must contain at least a majority of Afghan genetics. That said, the sativa elements added to some variants are enjoyed by those users seeking a more well-rounded effect.
Other early Northern Lights strains were infused with a heavy serving of Kush to augment the indica effects.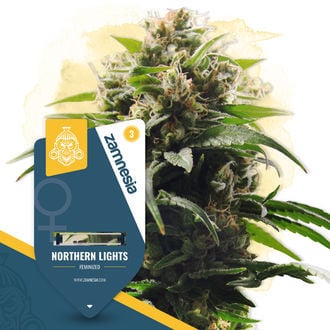 View
HOW TO GROW NORTHERN LIGHTS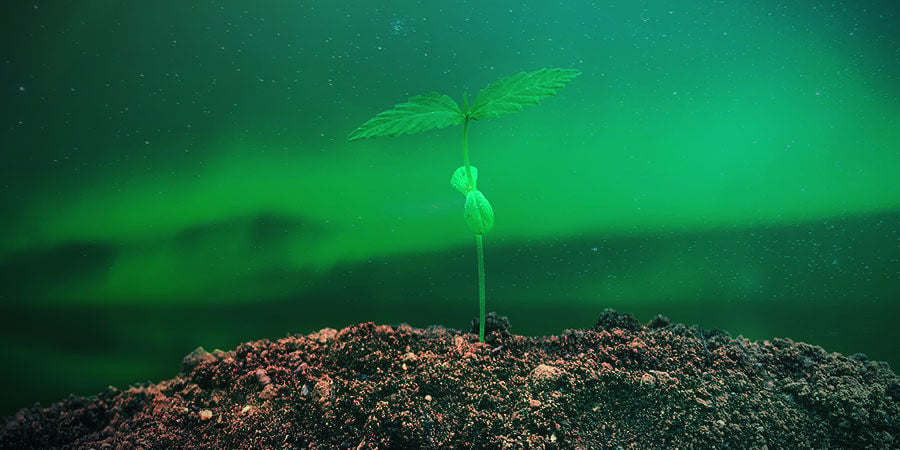 Although the history of Northern Lights is a little unclear, there is nothing uncertain about how easy it is to grow. The strain is favoured by growers of all backgrounds and experience levels for a multitude of reasons.


| | |
| --- | --- |
| Grow Difficulty | Beginner / Intermediate |
| Best suitable to grow | Indoor / Outdoor |
| Climate | Warm, Mediterranean |
| Variety | Feminized |
| Height Indoor | 80–130cm |
| Height Outdoor | 150–200cm |
| Flowering Time | 6–8 weeks |
| Harvest period (outdoor) | September/October |
| Yield Indoor | 500–550g/m² |
| Yield Outdoor | 575–625g/plant |
Northern Lights is a low maintenance plant with a lightning fast flowering time of only 6–8 weeks! Clandestine and spatially challenged growers rejoice; this plant remains short and stocky but develops an abundance of bud sites on its bushy branches. It also features great defence against insects, mould, and mildew, making it a robust plant that will not require "round-the-clock" surveillance to flourish. You can thank the plant's abundance of resin, at least in part, for its pest-deterring prowess.
Despite being so short and moving through flowering so fast, this plant is still capable of delivering a yield of around 500–550g/m² indoors.
If you're looking to grow Northern Lights outdoors, it is worth noting that the plant thrives in warmer, sunnier, Mediterranean-like climates. You will see a difference in yield with this factor alone, with larger returns on average among plants grown under the blazing sun.
Also with this strain, aroma is not a worry, as its scent is rather mild during the flowering phase. Whichever growing environment you choose, you are sure to have a simple, pleasant, and stable experience.
NORTHERN LIGHTS: FLAVOUR AND EFFECTS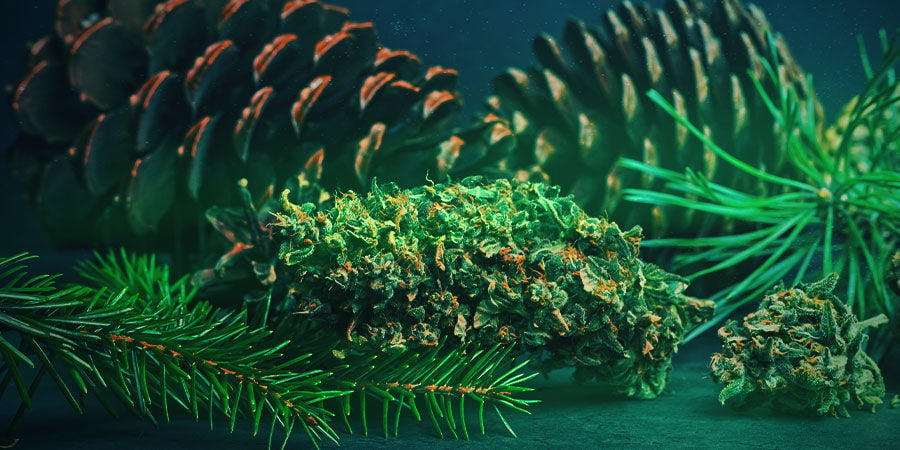 When toking on Northern Lights, you can expect to be met with a light but earthy aroma with hints of pine and wood. It provides a unique experience that, while slightly pungent, will please even the most seasoned of palates with its sweet and full-bodied flavour.
This strain boasts favourable reviews among recreational users. Featuring an average THC content of 18%, it provides soothing body-numbing qualities and immediately chills you out. Those looking to wind down at the end of the day, or fall asleep completely, should consider this narcotic strain. Still, it remains a good option for low-key social settings too.
Final verdict
Steeped in such a rich and mysterious history, Northern Lights will appeal to those looking to try out a piece of cannabis history. As a strain that has seen numerous iterations, Northern Lights continues to be built on a foundation of powerful, versatile, and easy to grow indica genetics.