Blog

3 min
Revelry Supply Gear: Smell-Proof Luggage For Every Day
3 min
Revelry Supply gear is here! The Zamnesia Headshop is happy to stock top-quality products from Revelry, one of the hottest new luggage brands from the US. Scroll down for a taste of some of the great Revelry packs available on our store today.
At Zamnesia, we pride ourselves on stocking the best gear and accessories for smokers, psychonauts, and anyone wanting to live the free life. To keep up with this mission, we're proud to announce the arrival of Revelry Supply gear at our store. While relatively new on the market, Revelry has quickly earned itself a reputation as one of the leading manufacturers of smell-proof luggage and accessories.
Learn more about this exciting brand and its products below.
Introducing Revelry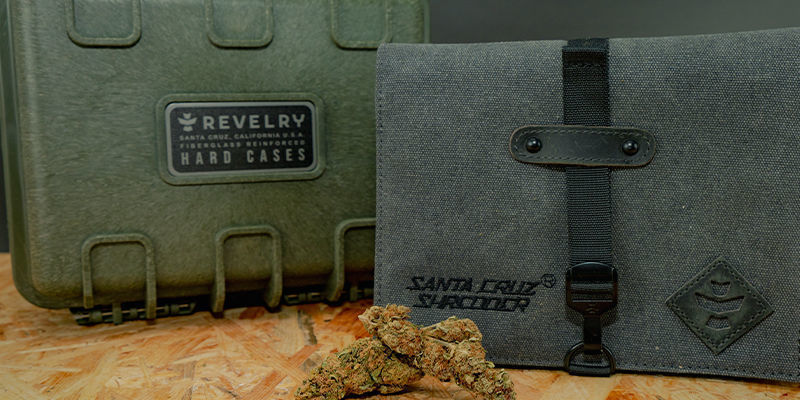 Revelry is a brand based in Santa Cruz, California, where the Pacific Ocean meets the Redwoods. It specialises in quality, smell-proof luggage and accessories for active, free-spirited individuals. Take it from the team themselves;
"Our products are inspired by a desire to create gear that seamlessly transitions through every part of your day. Whether you are outdoor adventuring, on a road trip, or simply kicking back at home, our technical yet simple designs have you covered".
And their products do just that, offering versatile and stylish luggage solutions that work just as well getting you to and from the office as they do on a weekend getaway.
Why Revelry?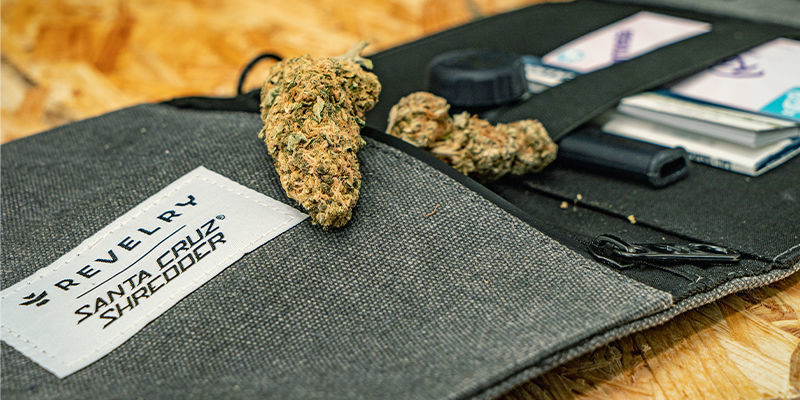 Revelry gear stands out from other smell-proof luggage with its simple yet pleasing designs that exhibit clear personality while speaking to the brand's commitment to quality. From the smallest hip pack to the larger backpacks and hard cases, every Revelry product is loaded with useful features, embellished with the brand's classy logo, and available in a variety of colours/designs.
And, as is true of all good brands, Revelry's commitment to quality really shines through in the details, such as the sturdy, waterproof zippers, solid metal hardware, genuine leather accents, and top-quality linings and fabrics used to craft every product.
And when Revelry says that its products are smell-proof, they really mean it. All Revelry bags feature the brand's unique 5-layer odour filtration system to keep your pack from attracting any unwanted attention. The outside layer of every Revelry pack is made of either nylon or cotton canvas and features a heavy-duty rubber backing that helps to keep out water and contain odours.
This is followed by Revelry's flagship 3-layer carbon-filter system, which uses a real layer of activated charcoal to trap odour, and runs through the entirety of every bag. Finally, the inside of every Revelry bag is lined with twill to protect the filter system as well as the contents of your bag.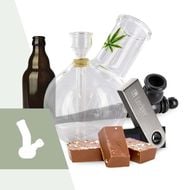 Headshop
Zamnesia's Headshop offers the best deals on all of your favourite smoking accessories, including pipes, grinders, and much more.
View category
Revelry products now available at Zamnesia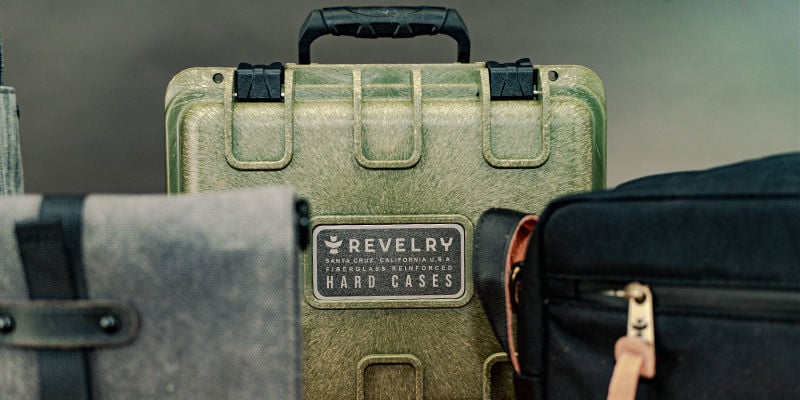 Without further ado, below are some of the leading Revelry Supply products available at Zamnesia. Each fulfils different needs, but all feature Revelry's top-quality designs and features.
The Amigo Hip Pack
The Amigo is Revelry's flagship hip pack. It boasts a sleek, modern design and Revelry's signature smell-proof technology. The Amigo makes it easy to hold all of your personal belongings close to your hip, and it even features a secret "stash pocket", wink wink.
The Escort Backpack
Sometimes, the name says it all. Whether you're heading to the office or hitting the outdoors for a day trip, Revelry's Escort is the perfect companion. With 18l capacity, it's big enough to hold your essentials and then some, while remaining comfortable enough to carry around all day. It features all of Revelry's standard design features, a laptop divider, a secret stash pocket, and, of course, the brand's unique smell-proof technology.
Revelry x Santa Cruz Shredder Rolling Kit
This rolling kit packs everything you need to roll on the go in a sleek, smell-proof pouch. The pouch/bag boasts all of Revelry's unique features and can hold a grinder, a small rolling tray, a lighter, and even has a separate sleeve to hold and protect your rolling papers. The Revelry x Santa Cruz Shredder Rolling Kit also boasts two sealed stash pockets and a foldable and lockable design. When closed, the kit fits perfectly in any day pack, so you can rest assured you always have the supplies to roll one up and blaze, no matter where you are.
The Mini Confidant Small Stash Bag
Need a reliable baggie for transporting goodies in the pocket of your jacket or pants? Then the Mini Confidant is perfect. Measuring just 15cm × 11.5cm (6" × 4.5" ), the Mini Confidant can hold a decent amount of your stash, yet is still small enough to keep on your person. It features a simple Velcro closure and Reverly's carbon-filtered design to ensure your stash always goes unnoticed.
Shop more Revelry Supply gear today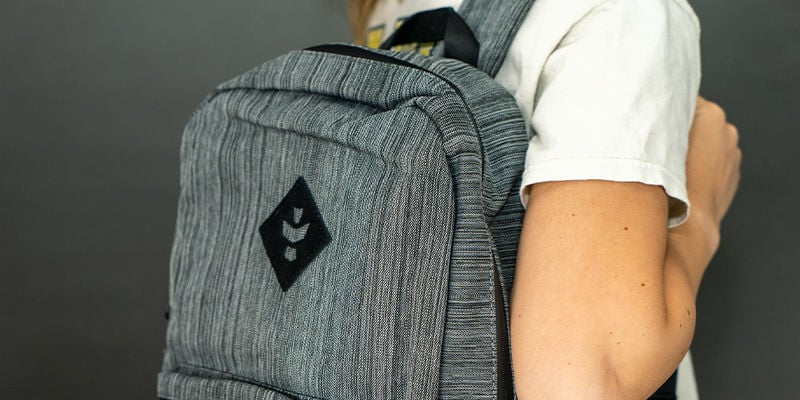 Excited to try Revelry gear for yourself? We're excited to stock the above (and more) Revelry products at the Zamnesia Headshop, so get browsing to find your perfect pack today!