Blog

3 min
Jealousy: Cannabis Strain Review & Information
3 min
Is the grass always greener on the other side? Jealousy can take many forms, but in this case, it is the green you've been waiting for! This bountiful bud-producing specimen is massively flavourful and set to impress all who try her. Coupled with a great growing experience, take a look at what Jealousy can do for you.
As a different type of green-eyed monster, Jealousy is a high-yielding and massively flavourful feminized cannabis strain. Showcasing some amazing genetics, there's no need to be envious of Jealousy, as you can now grow this fine plant in the comfort of your own home. But does she deserve that coveted spot in your grow-op? Read on to find out everything you need to know about Jealousy.
Characteristics of Jealousy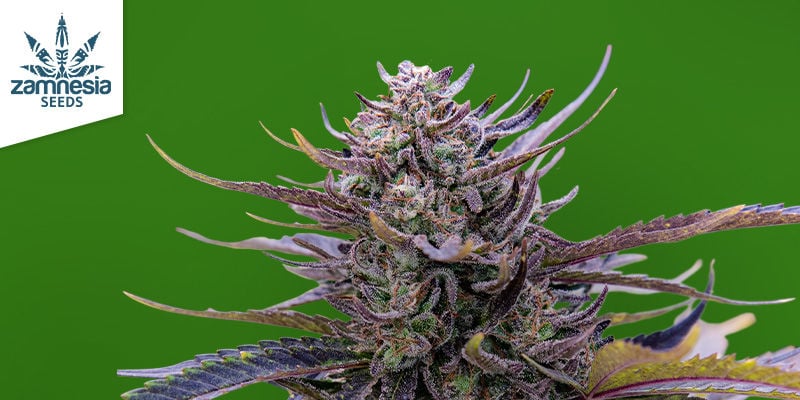 No, we're not talking about emotions here; Jealousy is a true powerhouse of an indica-dominant strain forged by the team at Zamnesia Seeds. Combining genetics from Gelato and Sunset Sherbet, Jealousy has the potential to make your cannabis-loving friends extremely jealous of her massive yields of potent buds.
| | |
| --- | --- |
| Genetics | Indica-dominant (55% Indica / 45% Sativa) |
| Parents | Gelato x Sunset Sherbet |
| THC | 18-25%+ |
| CBD | <1% |
| Flavours | Citrus, Herbs, Fuel, Pepper |
| Effects | Soothing, Uplifting, Full-Body Relaxation |
Jealousy takes the finest parts of her rich parentage to provide a unique experience for cannabis fans. From cultivation through to that first taste, and well beyond, this is a strain that's bound to appeal to all. With an easy grow cycle culminating in superb potency and dynamic flavour, Jealousy is sure to fill you with pride.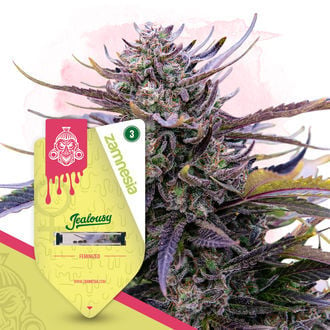 View
Jealousy (Zamnesia Seeds) feminized
Parents: Gelato x Sunset Sherbet
Genetics: 55% Indica / 45% Sativa
Flowering Time: 9-10 weeks
THC: 25%
CBD: 0-1%
Flowering Type: Photoperiod
How to grow Jealousy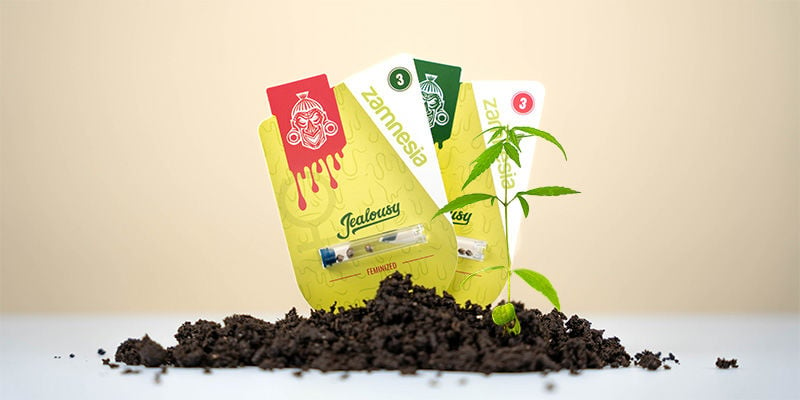 Accessibility is the name of the game when it comes to growing Jealousy. Whether a novice or a seasoned hand, the strain is receptive and cooperative. Jealousy can flourish indoors, outdoors, and in greenhouse settings—and is incredibly resilient and easygoing no matter the climate. However, she really thrives in warmer, sunny environments. All that's needed is just a little upkeep, and growers will be handsomely rewarded.
| | |
| --- | --- |
| Grow Difficulty | Beginner / Intermediate |
| Best Suited to Grow | Indoor / Outdoor |
| Climate | Sunny, Warm |
| Variety | Feminized |
| Height Indoor | 120-150cm |
| Height Outdoor | 180-200cm |
| Flowering Time | 9-10 Weeks |
| Harvest Period (Outdoor) | October |
| Yield Indoor | 500-700g/m² |
| Yield Outdoor | 600-750g/plant |
Once you've germinated and chosen the right spot for Jealousy, you'll find that the weeks fly by to that eventual harvest. She's not an overly fussy plant, requiring just the basic maintenance and upkeep. A little effort certainly goes a long way with her. With an average height of 120–150cm indoors, she stands a little tall, but is unlikely to take over the whole growing area. That said, with just a little LST, growers can control her height and keep her nearer the ground if required. Outdoors, plants can surge up to 2m when left to bask in the sun's rays.
Taking 9–10 weeks to flower, Jealousy doesn't hang around when it comes to delivering the goods. Once ready, growers will be met with 500–700g/m² indoors, and 600–750g/plant outdoors come mid-October. A huge haul, regardless of where you decide to let Jealousy flourish. Just get your stash jars ready, and she's bound to fill them!
Jealousy Automatic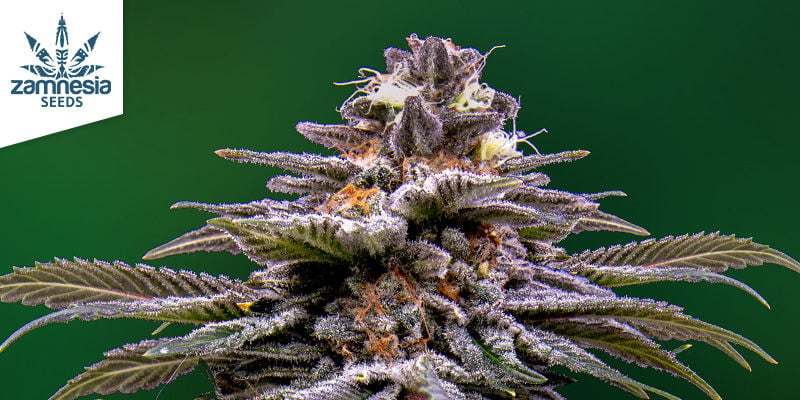 Although Jealousy already provides a pretty easygoing growing experience, users can open themselves up to an even easier ride and still reap the rewards, thanks to an autoflowering variant. Taking just 9–10 weeks from seed to harvest, Jealousy Automatic provides the original's hugely sought-after attributes in a much more accessible format.
Although standing shorter than her feminized counterpart, Jealousy Automatic still reaches heights of around 110–120cm inside and up to 120–150cm outdoors. This makes her more suitable for those looking for something a little more discreet. Once ready to harvest, growers will receive around 400–500g/m² inside and 75–120g/plant outdoors. A pretty sizeable return for minimal effort!
Keeping true to her lineage, Jealousy Automatic's flavours and effects are very much in line with the original. Whether smoked or vaped, users can expect the same great citrus flavours backed up with fuel and peppery notes. In terms of THC level, on the surface, Jealousy Automatic might not appear to be as potent, clocking in with about 15–17%; but in fact, she still offers the same incredible full-body soothing sensation as the photoperiod original.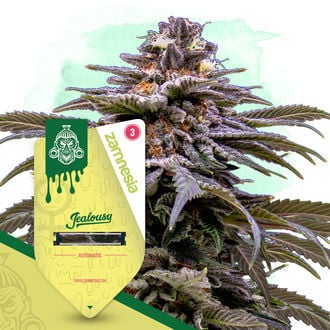 View
Jealousy: Flavour and effects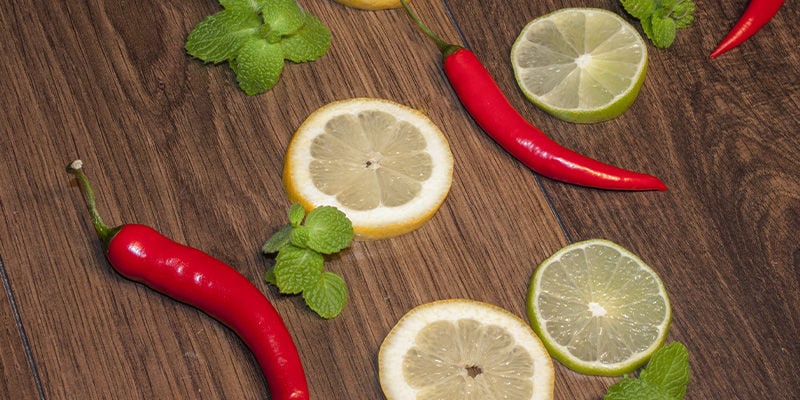 Once those carefully cultivated buds are in your possession, it's time to see what Jealousy is really made of. With a rich array of terpenes at her disposal, this strain makes for the ideal smoke or vape. Jealousy showcases rich citrus flavours that team up with some herbal and peppery tones. Coupled with a little fuel, you've got the Jealousy flavour profile down. She's also great for making hash and concentrates, allowing her flavours more time to marinate before tasting.
With THC levels typically in the region of 18–25%, Jealousy offers a decent level of potency that's bound to impress all those that try her. All it takes is just a few hits, and users will be automatically soothed. However, this is no couch-locking cultivar, but instead provides full-body relaxation while keeping the mind inspired. Perfect for a social stone, as well as for homebodies looking for the ideal way to chill out.
Jealousy: No feelings of resentment here!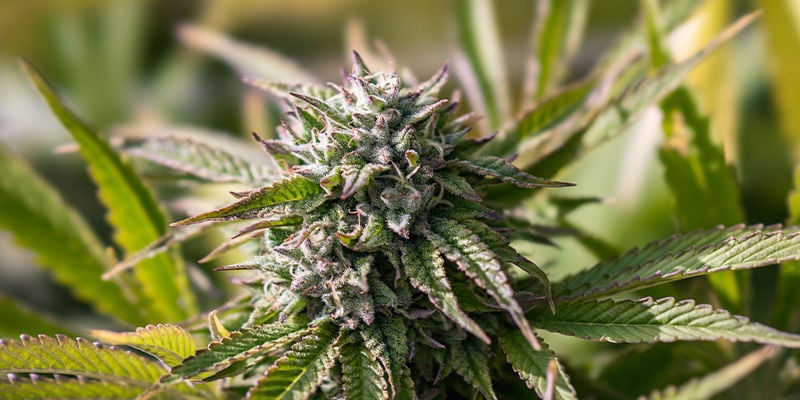 As you can tell, we're pretty sold on Jealousy. As a strain that showcases bright flavours, superb production, and undeniably soothing effects, this cultivar is bound for greatness. However, if you're looking for an even smoother ride, there's always the autoflowering version.
So if you've been waiting to be paired with a high-yielding and top-performing indica-dominant cannabis strain, this could very well be the ticket. Jealousy has a lot to make other strains feel completely envious! Check her out for yourself.