Blog
1 min
Get High Safely With The Highway Codes
1 min
Finding the right balance between pleasure and safety can be a challenge when it comes to drugs. The Global Drugs Survey has some info that can help.
When it comes to recreational drug use, we all know that the pursuit of pleasure often takes the forefront over safety. Those who are actually concerned with what they are taking, and actively look at ways to potentially reduce the risk of harm, have to find out how through word of mouth, forums and general internet research.
The Global Drug Survey has set out to change this. Using the masses of data they accumulated last year, they have published a guide - the first of its kind - which outlines various strategies for reducing potential harm, and the impact they have on perceived pleasure. They have aptly named it the High-Way Code.
Before we go into it any further, it is definitely worth mentioning that the Global Drug Survey team do not condone the illegal use of drugs (neither do we), but do promote safety and a bit of common sense.
The aim of this guide is to highlight the fact that harm reducing strategies can, and are, used by many people with little negative effect on pleasure. The data used to compile the guide summarises the strategies and views of the 80,000 people who took part in the survey in 2014, and can offer other drug users a compilation of things they can try to stay safe, and the likely effect it will have on their enjoyment.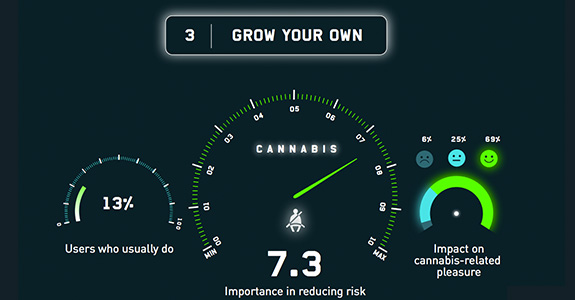 If anything, it can help dispel misconceptions about certain ways of staying safe, by showing that actually, most people still have a bloody good time! A prime example of this is eating before drinking large amounts of alcohol. Many who actively avoid eating before drinking do so because they think it would dampen the experience; when in fact, the High-Way Code shows that 93% of alcohol drinkers feel it doesn't have any negative impact on their enjoyment at all. Why is this significant? Because eating before you drink DOES help reduce potential harm, and if it isn't going to make the experience less enjoyable, then there is no reason not to do it.
Take a look at it for yourself. You may already use most of the strategies outlined, but learning a few more isn't going to hurt, and could actually make the substances you take more fun - feeling safer in the knowledge you are actively trying to minimise potential harm.
You can check out the High-Way Code here on the Global Drugs Survey's Website:
http://www.globaldrugsurvey.com/brand/the-highway-code/
We applaud this effort, and anyone who takes their advice, in their efforts to help promote responsible drug use.