Review: Coffeeshop Guide Amsterdam 2014
Published :
February 11th, 2014
Categories :
Amsterdam
•
Blog
Are you visiting Amsterdam anytime soon? Need a guide to help you discover the best coffeeshops and the hidden gems often missed? You may want to consider the Coffeeshop Guide Amsterdam 2014 – one of the best guides out there.
While performing a bit of internet research can help you gain an understanding of what to expect and where to go on your visit to Amsterdam, there is no guide more comprehensive than the recently published Coffeeshop Guide Amsterdam 2014. Even if you are no stranger to the alleys of Amsterdam, you are likely to find some useful and surprising tips.
The Coffeeshop Guide Amsterdam 2014 is not some quick commercial guide aimed at directing unknowing tourists to the same old chain stores. Every single coffeeshop (!) of Amsterdam is listed and reviewed in this extensive guide, making sure you know where to get what you're looking for. If you want to get the most out of the centre of Amsterdam, the guide delivers the not-to-miss spots. And if you're looking to move away from the busy centre, you'll be guided to the places where locals chill.
With each shop review comes a summary of menus and prices, as well as opening times and addresses. It can help you find out where to go for the best space cakes, or where to find high quality, yet inexpensive hash. The detailed descriptions can also help you find the desired kind of ambiance and setting you want to experience.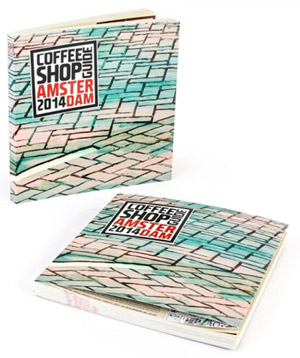 It is through this information that the guide really stands out. Whilst the shops and chains in the centre are fine, much like any place where many tourists congregate, the prices tend to be inflated and the quality of the product somewhat deflated - a classic tourist trap. The guide is a useful tool in finding the hidden Coffeeshops outside the centre of the city, the types of coffeeshops that are favoured by locals and connoisseurs - where the prices are right and the weed is high quality.
This level and depth of information continues into other areas of the book. The Coffeeshop Guide Amsterdam 2014 encompass a wealth of practical and well-rounded knowledge, such as advice for first time visitors to Amsterdam coffeeshops, where to go if you are alone, in groups, in a hurry, or just want to watch the world go by. Even if you want to visit coffeeshops that are the meeting point for people of varying sexual orientations, you'll know where to find them.
In addition to this, the guide sports 10 handy and practical maps to guide you through the streets of Amsterdam, and aid you on your tour of the Coffeeshops; or even to just guide you to that one you know and love.
Read more: Top 10 Amsterdam Coffee Shops
On the whole, we couldn't find any better Amsterdam coffeeshop guide than this one. The sheer level of detail and extensive range of topics covered makes it a useful tool in the arsenal of any cannabis enthusiast - no matter how well you think you know Amsterdam. Furthermore, this guide will not break the bank. At just 9.90 euros, this book will pay for itself as soon as you step into a coffeeshop outside the centre.
Now available at Zamnesia.