Blog
3 min
How To Make Hash Butter At Home
3 min
Since butter is the foundation of virtually any baked good, a good hash butter recipe will give you a golden key to the world of edibles. Here's how to make it.
If you've tried delving into homemade edibles before, you're likely familiar with cannabutter. Most people have a perfectly fine time with it, but we know some of you need something that hits just a bit harder. If you're one of those folk, we'd like to introduce you to hash butter. It's similar to cannabutter in many aspects, and they're meant to be applicable in the same recipes. However, the key difference lies in the use of hash rather than plain cannabis flowers.
You might've heard some uninformed folk use the terms interchangeably, but there's a clear distinction. For those unfamiliar, hash is the concentrated resin of cannabis plants. To make it, farmers will first collect the trichomes—glands that secrete resin containing THC, other cannabinoids, and terpenes—from cannabis flowers. From there, they'll purify and compress these trichomes to form the hash. As a result, hash packs a heavier punch in much smaller doses, making it perfect for a potent butter.
Hash butter is not only more potent than your run-of-the-mill cannabutter—it's also quicker and easier to make! Because hash doesn't contain much plant material (if any), it doesn't require straining through a cheesecloth at the end to separate the good stuff from the unnecessary stuff. Also, there's no grinding of buds required!
HOW TO MAKE YOUR OWN HASH BUTTER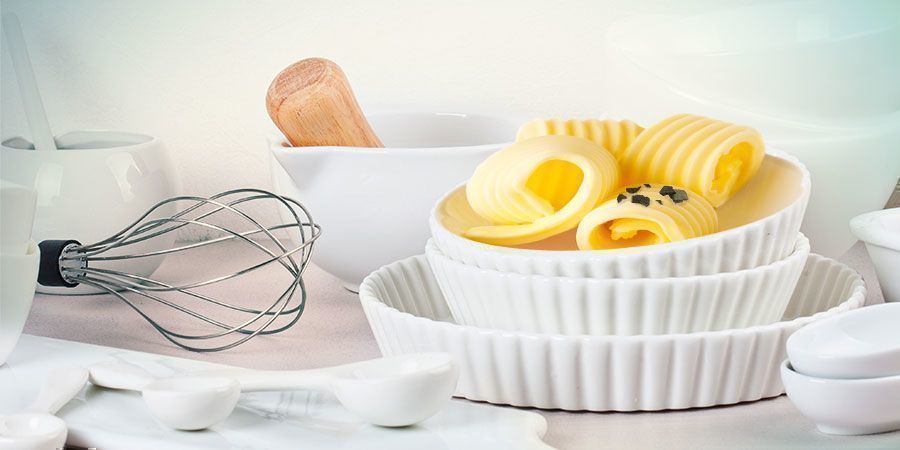 Now that we've covered the basics, it's time to get you in the kitchen. You'll only need a few simple ingredients and pieces of equipment.
Before we get into the recipe itself, let's review how to decarboxylate hash. Like cannabis flower, much of the cannabinoid content in hash is THCA, not THC. As such, you need to use gentle heating to make the hash psychoactive. All you need to do to achieve this is break up the hash into small pieces and bake at 116°C for 40 minutes. After time has elapsed, you're ready to start the recipe.
INGREDIENTS
100 grams of butter
500 ml of water
1–5 grams of dry, decarbed hash (depending on the potency of the hash and your desired potency of the butter)
HARDWARE
Measuring cup
Medium-sized pot
Wooden spoon or whisk
Paper towels
INSTRUCTIONS
You can either use a double boiler or just set your pot on the stove, pour in four cups of water, and set the stove to medium heat.

Once the water is simmering (not boiling), place the butter in the water and lower the heat to keep things from reaching a boil. Start stirring with your spoon or whisk to help the butter dissolve. It's vital to make sure the butter melts evenly and doesn't burn, so make sure to stir often. The water will help to prevent this as it makes it easier to regulate the temperature.

When the butter is fully dissolved, add in the broken-down hash. Begin stirring, ensuring everything is evenly distributed as you maintain the low heat. After 30–35 minutes or so, the mixture should begin to take on a dark brown/green colour. You could be done at this point, but you'll get the most potent product with a simmer lasting around 1–4 hours.

Once you've completed the simmer, go ahead and pour the mixture directly into your heat-proof, airtight container. Unlike cannabutter, hash butter doesn't need to be strained before storage, so you don't need to worry about that. Place the lid on the container.

Place the container in the fridge and leave it for at least a couple of hours, although we recommend overnight storage. During this process, the water and butter will separate.

Once you take it out, diligently separate the floating butter from the water. Discard the water in the sink and pat the butter (and interior of the container) with paper towels until dry. Then, put the lid back on, put the container back in the fridge, and you're done! The butter will stay fresh for up to two months from that point.
HOW TO DOSE HASH BUTTER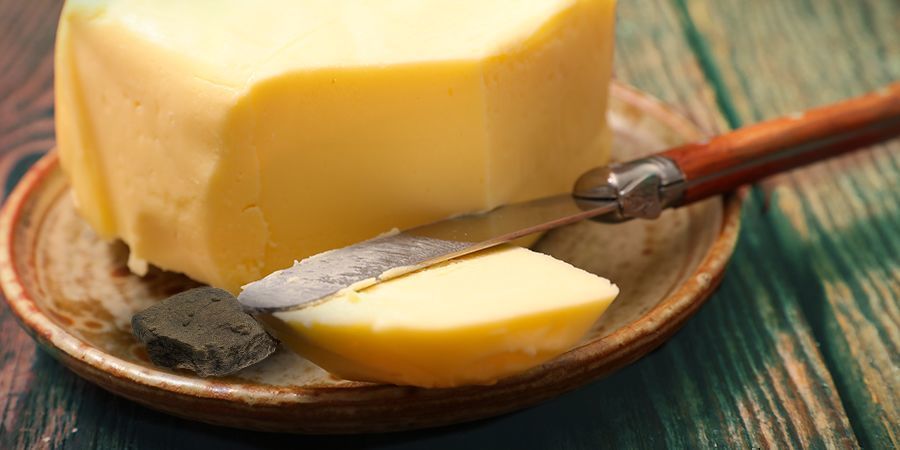 Given that it's much more potent than flower, you'll want to be very careful with how you dose this butter. In case you aren't buying hash with an indicated THC percentage, there's a generally understood potency range. While some varieties offer about 30–50% THC, a quality bubble hash can clock in at 70–80%. This means each gram of hash could contain anywhere from 300–800mg of THC. Even dispersed amongst two sticks of butter, that's still a lot, so caution is your friend here.
Start with small doses of hash butter and work your way up, as it can be very hard to accurately gauge exactly how much you're consuming—even if you've measured everything out perfectly. If you want to test the potency of your homemade hash butter, you can try 1/4 teaspoon to see the effects. If you don't feel anything right away, don't go ahead and start eating more. Wait at least an hour before adjusting your dose. Other than that, just make sure to enjoy responsibly and have fun!