How To Cook A Three Course Cannabis Meal
Published :
June 22nd, 2017
Categories :
Blog
•
Cannabis
•
Recipes
Last edited :
May 16th, 2018
A tasty three course meal complete with starter and a yummy dessert to finish is already quite awesome. But treating yourself and your friends to a complete three course cannabis meal made with perfectly matching marijuana strains sure will be a delight on a whole different level and not just for the taste buds!
How about celebrating the next special occasion with a tasty three-course dinner that comes with the added benefit of being loaded with some herbal marijuana goodness? Here is our easy recipe for a cannabis meal complete with starter, main course and a yummy dessert that will delight the taste buds and caress the body with its buzz. Should there be no special occasion to celebrate, be assured that this fine three-course cannabis meal sure will turn any average day into one!
STARTER: TOMATO SOUP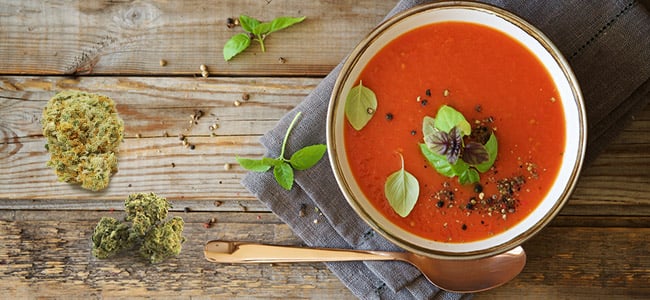 Everyone loves tomato soup. Especially if it is so creamy like this one! We garnish the soup with some scallions or fresh basil to give it a nicely complementing bright note. Tip: The tomato soup goes especially well with a grilled cheese sandwich, in case you want to make it on its own.
INGREDIENTS - TOMATO SOUP
1 Can of Crushed Tomatoes
20ml CannaOil
950ml Vegetable Or Chicken Stock
225ml Half-And-Half Creamer
Salt (Sea Salt) And Freshly Ground Black Pepper
Garnish:
8 Fresh Basil Leaves or 2 Scallions, Chopped
4 Tablespoons Shredded Mozzarella
DIRECTIONS - CANNABIS TOMATO SOUP
1. Heat the CannaOil in a medium pot over a medium heat. Add the chopped onions and sauté them for 6-7 minutes, frequently stirring until the onions have become translucent.
2. Add the tomatoes and the vegetable or chicken stock. Warm up the soup for a few minutes while you stir the soup occasionally. Add the creamer and add some salt and pepper to taste for seasoning. On low heat, have the soup simmer and stir it occasionally for about 15-20 minutes until the soup has heated through. Turn off the heat and let the soup cool off for a few minutes.
3. Pour the soup into a blender or food processor and puree it. (If you have an immersion blender you can leave the soup in the pot for pureeing)
4. After pureeing, put the soup back into the pot and re-heat it again on medium-low heat until the soup has reached serving temperature.
5. Before serving, sprinkle some shredded mozzarella on the soup and garnish it with the scallions or the basil.
RECOMMENDED STRAINS - TOMATO SOUP
For the CannaOil that you use to make the tomato soup, we recommend these two excellent strains:
Critical Mass - it has a nice old school flavour with just the right amount of spiciness.
Afghani Gold - with a fruity, sweet and earthy flavour, it goes perfectly with the tomato taste.
MAIN COURSE: CANNABIS SPAGHETTI WITH ARUGULA PESTO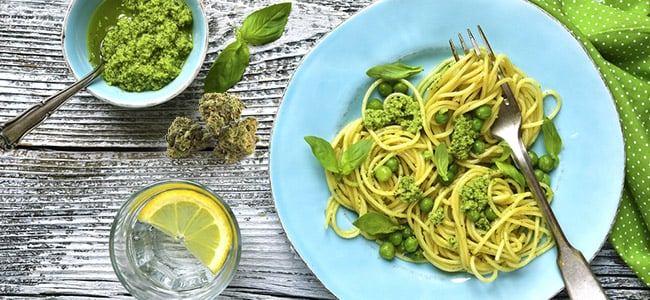 This super-yummy pasta dish makes for an excellent main course. It is very tasty and satisfying, yet is still light without being too filling. We give it a nice double treatment with fresh arugula, which we use for the pesto and then also as a garnish for the finished pasta.
INGREDIENTS - SPAGHETTI WITH ARUGULA PESTO
(4 Servings)
500g Spaghetti
120g Fresh Arugula, 1 Bunch Baby Arugula
20ml CannaOil
120ml And An Extra 2 Tablespoons Extra-Virgin Olive Oil
4 Garlic Cloves
1⁄2 Teaspoon Salt (Sea Salt or Kosher Salt)
1⁄4 Teaspoon Freshly Ground Black Pepper
60g Walnuts
25g Freshly Grated Parmesan Cheese, Plus Some For Serving
DIRECTIONS - SPAGHETTI WITH ARUGULA PESTO
1. In a large pot, bring salted water to a boil for the spaghetti.
2. Put 120g of arugula, together with garlic, walnuts, salt and pepper in a food processor and pulse until pureed. Keep the food processor running and add 1⁄2 cup of olive oil and the cannaOil through the feed tube to make the pesto. Once you have made the pesto, stir in the parmesan and then set the pesto aside.
3. Cook the spaghetti until done. This should normally take 8-10 minutes.
4. Use a strainer to drain the spaghetti and return them to the pot, but have the pot off the heat. Mix and toss the pasta with the pesto and baby arugula.
5. Put the pasta on 4 plates and use the remaining 2 tablespoons of olive oil to drizzle on top of the servings. Top everything up by with some Parmesan.
RECOMMENDED STRAINS - SPAGHETTI WITH ARUGULA PESTO
Kosher Tangie Kush: The superb fruity flavour with some Kushy undertones of the Kosher Tangie Kush goes great with this pasta dish!
OG Kush: The powerful OG Kush with its excellent taste is just the right strain for our main course.
DESSERT: MARIJUANA TIRAMISU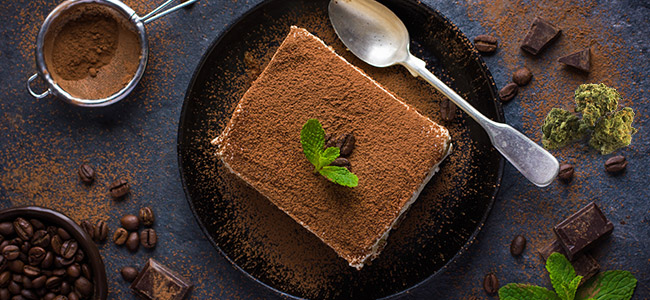 A good tiramisu is a dream of a dessert! It's like a cake but combined with smooth creaminess and topped off with a sprinkle of espresso. This Italian classic makes for the perfect conclusion to our three-course cannabis meal! Our Marijuana Tiramisu isn't just yummy, it's easy to make, as it doesn't require any baking.
INGREDIENTS - MARIJUANA TIRAMISU
(8-10 Servings)
600ml Strong Black Coffee, Room Temperature
180ml Marijuana-Heavy-Cream, Cold
6 Large Egg Yolks
135ml Dark Rum
22ml Espresso Powder
2 Tablespoons Vanilla Extract
133g Sugar
18g Table Salt
700g Mascarpone Cheese (Chilled)
400g Hard Ladyfingers Biscuits (Ca. 40-60)
25g Tablespoons Cocoa
45g Bittersweet Or Semisweet Chocolate
DIRECTIONS - MARIJUANA TIRAMISU
1. Take a wide bowl and mix-in the coffee, the espresso powder, the vanilla extract and the 75ml rum and keep stirring until the espresso dissolves. Set the bowl aside.
2. Take the egg yolks and in a big bowl, beat them together until just combined. Now add the salt and sugar and with a whisk mix everything until the mix is a pale yellow. Take the 60ml of rum, add them by beating just slightly. Finally, add the Mascarpone cheese and continue beating the mix with the whisk until the mix is smooth with no lumps.
3. Take yet another large bowl, pour the marijuana cream in it and beat it hard until the cream begins to get stiff. Take a rubber spatula and take away a third of the whipped cream and add it into the Mascarpone mix to lighten. Put the remaining whipped cream into the Mascarpone until there are no more white streaks.
4. Drop about half of the lady fingers into the coffee mixture and quickly roll them around in the mix, quickly take them out again and put the ladyfingers on a baking dish or sheet. Make sure that you don't entirely submerge the biscuits. Allow them just to take in a little of the coffee mixture so that the coffee just slightly coats the edges but doesn't entirely soak the biscuits. Arrange the ladyfingers in one single layer on the baking sheet. You can break some if needed so you can fit all of them on the sheet.
5. Take half of the Mascarpone cheese and spread it over the ladyfingers with a rubber spatula. Make sure you spread the cheese evenly and also to the corners and edges. Use 2 tablespoons of the cocoa power, put the powder into a fine mesh strainer and dust it over the Mascarpone.
6. Continue with dipping the remaining ladyfingers and putting them on the baking sheet, spreading the Mascarpone and sprinkling the cocoa power over it. When finished, take some plastic wrap, cover everything up and refrigerate for at least 6 hours before serving. You can store any leftovers in an airtight container in the refrigerator for up to 5 days.
RECOMMENDED STRAINS – MARIJUANA TIRAMISU
Choco Candy: The Choco Candy with her chocolate aroma tastes just like made for our purpose and makes an excellent strain that we can use for our marijuana tiramisu.
Peyote Cookies: Peyote Cookies is yet another superb strain that has a nice coffee aroma together with some vanilla notes, she's like a dessert on her own! Just excellent to use for our marijuana tiramisu recipe!
 
 
 
 
 
 
 

Written by: Georg
Based in Spain, Georg spends a lot of his time not only geeking out at his computer but in his garden as well. With a burning passion for growing cannabis and researching psychedelics, Georg is well versed in all things psychoactive.

 

 
 
 
 
Find out about our writers