Blog
5 min
Happy Birthday: 70 Years Bob Marley
5 min
It's Bob Marley's Birthday! In honour of such an event, we have put together a tribute, outlining why this legend is one of the most recognised and celebrated musical icons ever known.
Singer, songwriter and legend, Bob Marley would be celebrating his 70th birthday today if it had not been for the terminal illness that took him from us at such a young age. Although no longer with us, his legacy persists to this day, advocating social change, justice, and bringing joy to the lives of millions – irrespective of wealth, colour, race or creed. So let us celebrate this giant, and the ever growing list of accomplishments that he achieved with both his life and music. Happy Birthday Bob Marley!
THE EARLY YEARS
Born in St. Ann Parish, Jamaica, 1945, Bob Marley was born to his teenage black mother, and much older, white father. Little did they know at the time that the son they had just bore would spread reggae music throughout the world, and become one of the most influential artists of all time.
Marley spent most of his younger years living in a small rural village called Nine Miles. Attending his local school, Marley become very close friends with Neville "Bunny" O'Riley Livingston, another student of the school. Through their shared passion of music, Livingston quickly inspired Marley to start learning to play the guitar.
Later, Marley's mother and Livingston's father became romantically involved with each other, and moved with the two children to Trench Town in Kingston, where they lived together as a family. It is here that Marley really flourished as a musician. Trench Town was known as the poorest neighbourhood of Kingston, but one that produced a number of successful musicians, leading it to be compared to Motown, Detroit. Although they lived in indescribable poverty, Marley never lost hope, and drew from the musical influences around him, further developing his skill. This led him to Joe Higgs, who became something of a musical mentor and singing teacher. Through Joe, Marley also met a fellow musical student, Peter McIntosh, who would play a vital role in Marley's later career.
THE WAILING WAILERS
In 1963, at the age of 18, Marley, Livingston and McIntosh came together to form the band 'The Wailing Wailers', along with additional band members Beverly Kelso, Cherry Smith and Junior Braithwaite. They released their first single 'Simmer Down' in 1964, which topped the Jamaican music charts.
Although the group became increasingly popular, they struggled to make enough money to make the band financially viable, and ended up splitting apart. It wasn't until eight months later that Marley, Livingston and McIntosh regrouped to form Wailers. It was also around this time that Marley became interested in the religious and political Rastafarian movement.
HITTING THE BIG TIME
It wasn't until 1972 that the Wailers got their big break. Thanks to their growing popularity in the years running up to this event, the group secured a contract with Island Records, and recorded their first full length studio album 'Catch a Fire', which went on to be an instant critically acclaimed hit. From here the only way was up. In 1973 the Wailers went on to tour both the UK and US, supporting the likes of Bruce Springsteen and Sly & the Family Stone. In this same year they released their second album 'Burnin,' which featured the iconic song 'I Shot the Sherif'.
THE POLITICS BACK HOME
In 1975, just before releasing their next album 'Natty Dread', both Livingston and McIntosh left the Wailers to pursue their own solo careers. At the same time, political tensions were rising between the Peoples National Party and the ruling Jamaica Labour Party back home. Natty Dread was seen as an inspiration by many who opposed the government, with the song 'Revolution' being seen as a direct endorsement of the PNP.
Despite this, Marley continued to tour the globe, expanding his name as a worldwide musical icon. Now known as Bob Marley & the Wailers, the group became synonymous with reggae music and Rastafarianism, and became largely responsible for their continued spread out of Jamaica.
It was in 1976 that the political ramifications of his music caught up with him, and an assassination attempt was made against his life. Whilst rehearsing for a concert at Kingston's National Hero Park, a group of gunmen opened fire on the band and their entourage. Despite being hit in the bicep and sternum, Marley went on to play two days later, as planned, at the concert in the park.
A MOVE TO LONDON
The day after the concert, Marley fled Jamaica and moved to London, here he and the Wailers worked on their next album 'Exodus', with its songs 'Exodus', 'Waiting in Vain', and 'Jamming' remaining in the UK charts for over a year. The album is now widely considered to be one of the greatest music albums of all time.
It was around this time that Marley discovered the first hints of what would eventually be his demise. Cancerous cells were discovered in a toe that he had previously injured, and doctors recommended its immediate amputation. Unfortunately, Marley refused to have the treatment, as amputation went against his religious beliefs.
BRINGING PEOPLE TOGETHER
In 1978 Marley returned to Jamaica to perform at the One Love Peace Concert, where he famously got the leader of the PNP and leader of the JLP to shake hands on stage. It was seen as a huge triumph, and became an inspiration and testament to the power of his music, and person, the world over.
Marley also made a trip to Africa that same year, where he visited Kenya and Ethiopia, both of which held significance to him as the spiritual homeland of Rastafarianism. It is believed by many that this trip inspired his next album, 'Survival' which called for an end to oppression in Africa.
THE END OF AN ERA
It was whilst on tour to support their next album 'Uprising', that the cancerous cells previously discovered in Marley's toe became too much. In 1980, after only two concerts at Madison Square Garden, Marley became ill. It was discovered that the cancer that had once been contained to his toe had now spread throughout his entire body.
He travelled to Europe in order to pursue unconventional methods of cancer treatment, which managed to prolong his life by months. However, it soon became clear that he was fighting a losing battle, and did not have long to live. Accepting his fate, Marley decided he wanted to spend his last days on earth back in his home country of Jamaica. Unfortunately, he didn't make it back, dying in Miami Florida on May 11, 1981.
AN UNDYING LEGACY
Although no longer with us, Bob Marley's legacy still lives strong to this day. He was posthumously inducted into the Rock and Roll Hall of Fame in 1994, his album 'Exodus" was named Album of the Century by Time Magazine, and he was awarded The Grammy Lifetime Achievement Award.
But his legacy goes beyond just his music. He has become a cultural icon, an inspiration, and a global figure of peace – awarded the United Nation's Peace Medal of the Third World for his efforts and courageous work to bring justice and stability to his home country of Jamaica, as well as his campaigning for an end to violence in Africa. It is nearly impossible to find someone in the Western world who has not at least heard of him.
BOB MARLEY, RASTAFARIANISM AND CANNABIS
Today, it is not just his music and achievements that cause Bob Marley to be seen as a cultural icon. Through his work, he became the modern face of Rastafarianism, and through this, smoking cannabis, which is seen as a sacred part of Rastafarian culture. Look in any weed smoking college student's room and they are likely to have something referencing this patron of freedom, peace and rebellion.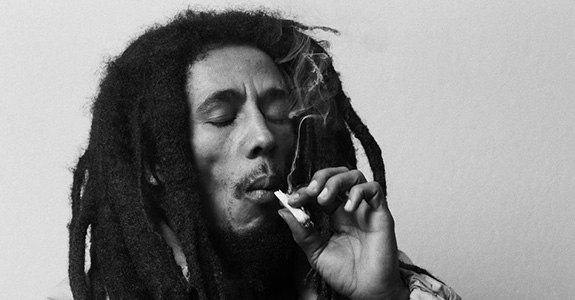 Despite this, it is important to understand that Bob Marley didn't smoke cannabis for recreational purposes. To him, it was an extremely spiritual part of his beliefs, and a cornerstone for meditation and healing. He was a fierce opponent of prohibition, and anyone who used cannabis as a political tool to cause oppression and social injustice. In his own words "Now, when you smoke, it make you cool, you know? It make you stimulate your mind, and make you sit down and meditate. Instead a get foolish, you sit down and you can meditate and be someone. Rum teach to you be a drunkard, and herb teach you to be someone."
Without a shadow of doubt, his music, life, and tireless work have made this earth a better place to live. He went too soon, but he will not be soon forgotten. Happy 70th Birthday Bob Marley!