Blog

3 min
Glow Tray: Brighten Up Your Rolling Ritual
3 min
Glow Tray is looking to shake up the ritual of rolling. With a selection of trays featuring awesome designs and exclusive collaborations, this company makes a product to suit all preferences. The result is a jaw-dropping surface on which to grind your herb, roll your joints, or load up your vaporizer. Light up the right way with Glow Tray!
Environment often plays a more prominent role than we realise when it comes to smoking or vaping. Most of us can recall a time when we've been immersed in a session with friends, only for the mood to be shattered by an intrusive bright light being turned on by someone looking to roll a joint. Nothing brings you crashing back down to Earth quicker than feeling like you're under a spotlight.
Looking to make this problem a thing of the past, Glow Tray has designed a series of rolling trays that are a cut above the rest, providing low-key lighting and a sturdy surface that's perfect for all smokers, tokers, and vape enthusiasts.
Glow Tray: Know Your Glow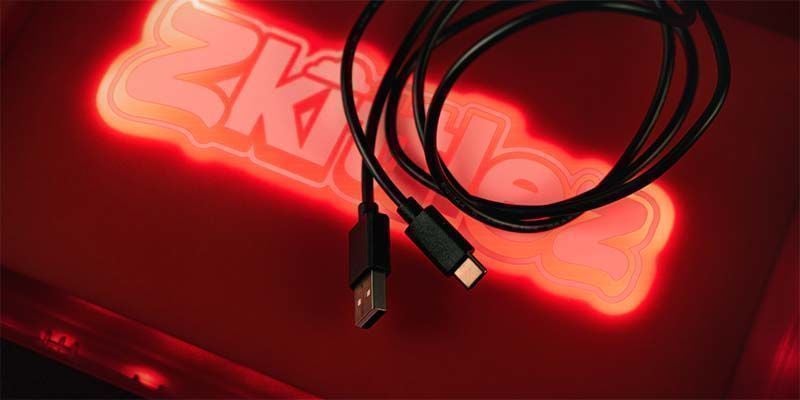 Based in America, Glow Tray produces unique rolling trays for every kind of cannabis connoisseur, from the occasional user to the daily smoker. Each tray provides ample space, and comes with a built-in LED light powered by a 1800mAh battery that can be charged via USB-C.
The result is a rolling tray that offers up superior illumination without ruining the mood in a dark party environment or when watching a movie with friends. Simply press the button, and the tray will light up to give you the perfect surface on which to grind your herb, roll your joints, or load up your vaporizer. These trays come in a wide variety of colours and configurations, giving the buyer plenty of options.
Glow Tray Products — Glow Your Roll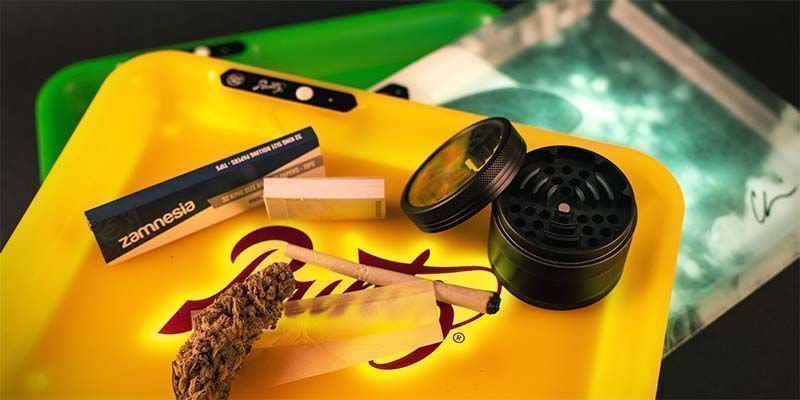 Glow Tray's reputation for providing high-quality rolling trays has led to exciting collaborations with prominent cannabis companies. They've also commissioned the artwork and photographs of some notable figures to feature on their trays. Simply put, there's a tray for all needs and wants. With that in mind, we've picked out a few of the standout Glow Trays that are available to purchase right now.
Glow Tray x Runtz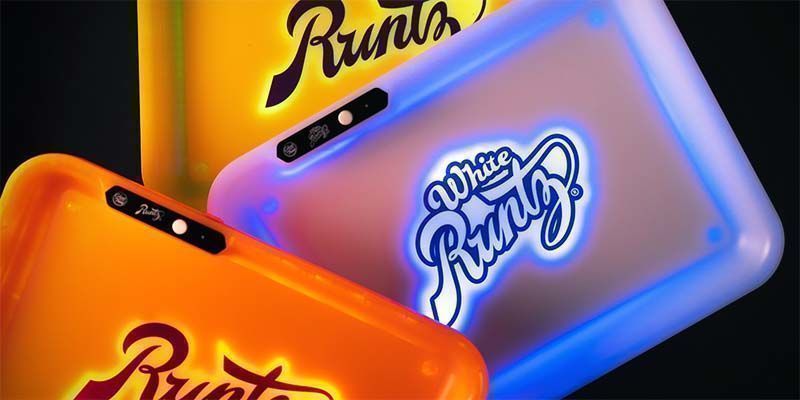 An exciting collaboration between Glow Tray and apparel company Runtz, these rolling trays are extremely eye-catching and available in a variety of colours. From gorgeous orange and yellow trays to the stylish White Runtz tray, it's never been easier to find a tray that will light up your life every time you reach for it.
With a battery life of over 6 hours, it's ideal for those long-lasting social smokes. Measuring at 28cm in length and 21.5cm in width, this is a robust rolling surface that will effortlessly sit on your lap as you prepare your next joint. What's more, due to its slim size (3cm in thickness), it's easy to slip into your backpack to take on the move, or hide away should you want to keep it out of reach or view of others.
Glow Tray x Alien Labs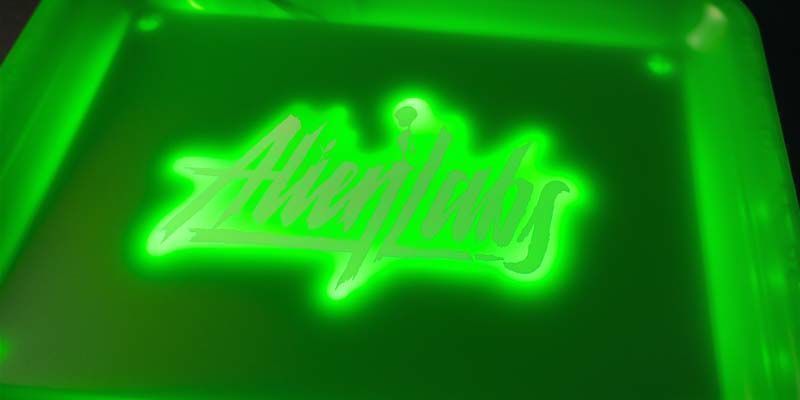 Teaming up with medical cannabis company Alien Labs, Glow Tray has added their unique spin by emblazoning the Alien Labs logo on a great-looking green tray. Creating a spooky, otherworldly green glow when you hit that button, your herb has never looked this good!
With 6 LED colour options, it's easy to cycle through to find one that you can vibe with. However, if the good times are rolling, you can turn on the included "party mode" for a mesmerising light show that will stop you in your tracks as the effects of your favourite strain wash over you. With its rounded and raised edges, you won't lose a single speck of ground herb as it sits on your lap.
Glow Tray x Chi Modu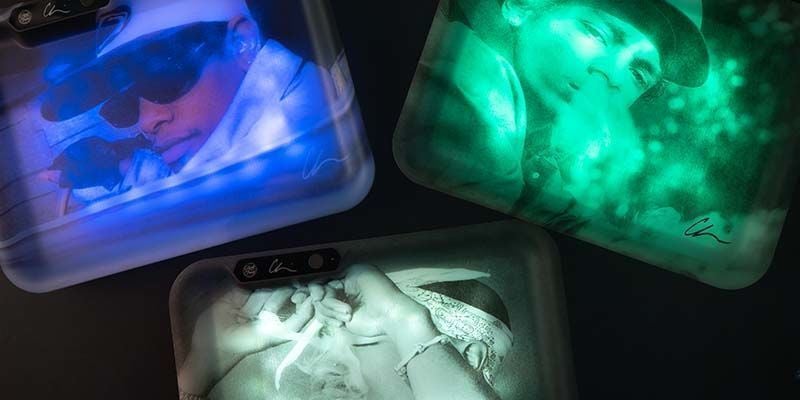 These are a selection of rolling trays that call out to the old-school hip-hop aficionados. As part of a collaboration between Glow Tray and the late photographer Chi Modu, the result is a trio of trays featuring iconic photos of some hip-hop heavyweights. Celebrating West Coast rap, you have the choice of Tupac, Eazy-E, and Snoop Dogg as your Glow Tray companion.
Perfect for when you want to kick back, put on some of your favourite 90s rap, and enjoy some of your favourite strains, a click of the button is all it takes to illuminate the face of your chosen rap legend. Whether purchased as a collector's item or an accessory to use every day, these are some highly sought-after rolling trays, and for great reason.
Get Your Glow On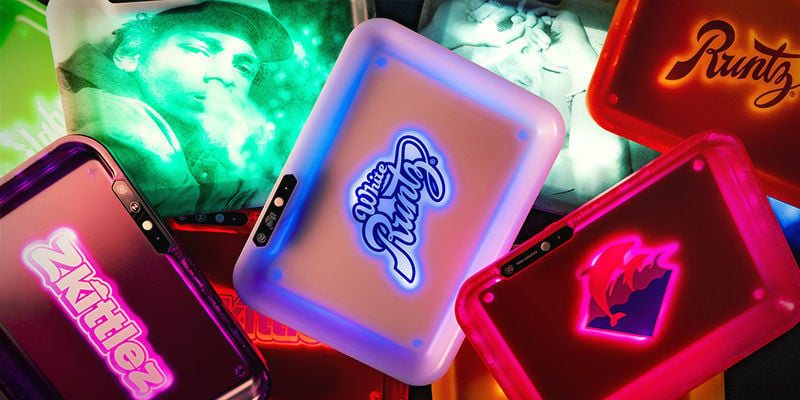 Changing the game of what a rolling tray can be, Glow Tray really is "lighting" the path of smoking accessories. With new and exciting trays released regularly, it's never been easier to get your hands on a rolling tray that complements your lifestyle and personality. And isn't that what cannabis culture is all about? Well, fortunately, when it comes to purchasing, you don't have to travel far; simply head over to the Zamnesia Headshop and take your pick of outstanding Glow Trays now.