Frisian Duck: A New And Revolutionary Strain From Dutch Passion
2 min
The masterminds over at Dutch Passion have just released a new and unusual strain of cannabis, and it's sure to get you excited!
One of the main concerns of any cannabis grower is stealth. Even the most ignorant neighbor knows what a cannabis plant looks like, and keeping your green beauties hidden is always a top priority. Well, Dutch Passion have just released a strain that could go a long way to help you achieve achieving this. It is called Frisian Duck - take a look at its leaves.
This is no joke, it is a genuine new strain! Dutch Passion have bred a variety of cannabis with uniquely webbed leaves, making it virtually unrecognizable as a cannabis plant, right up until the point it flowers – and even then people will have to look twice!
It is a revolution in cannabis breeding and genetics, and will be a powerful weapon in the hands of any grower, especially those of the guerrilla variety. It can sit comfortably in the corner of any garden, field or forest without drawing too much attention.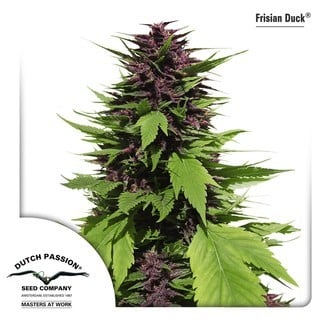 View
How have they done this you may ask? Well, it is thanks to clever breeding and a particularly unique parent. Frisian Duck is made from the combination of Frisian Dew and Ducksfoot; and it is Ducksfoot that is of most interest here, as it is the strain that produces such a unique look. You may have heard of Ducksfoot before, it has been knocking around for a few years now. However, the reason you do not see more of it in mainstream growing is because it is notoriously hard to stabilize, making it unviable for the commercial market. That is of course, until now. By crossing Frisian Dew with DucksFoot, Dutch Passion has managed to stabilize it, and breed it into their new all-star, super stealthy strain – Frisian Duck.
In addition to being stealthy, Frisian Duck is also hardy and easy to grow, making it a great choice for novices looking to learn the ropes. She comes in a feminized variety that is usually ready for harvest around October, or after 8 weeks of flowering if grown indoors. She can grow up to heights of around 2.5 meters outdoors, and 1.5 meters indoors. Even though this is fairly big, thanks to her leaves, she won't stick out like a sore thumb.
When smoked, Frisian duck produces a spicy, yet fresh and citrusy aroma and taste. The high itself is a cerebral one, imparting a heady, buzzy bliss – ideal for general rest and relaxation session, with or without friends.
We are really excited about this strain, and we hope you are too. Just image the potential this new beauty has. Now that Ducksfoot has been stabilized in the form of Frisian Duck, it could herald in a whole new wave of stealthy looking hybrids. The fact that Frisian Duck produces generous yields of some top shelf stuff is just a bonus!
Frisian Duck is now available online from the Zamnesia shop, but get 'um whilst they are hot! They are sure to sell out quickly.