Slow Cannabis Growth: Causes And How To Fix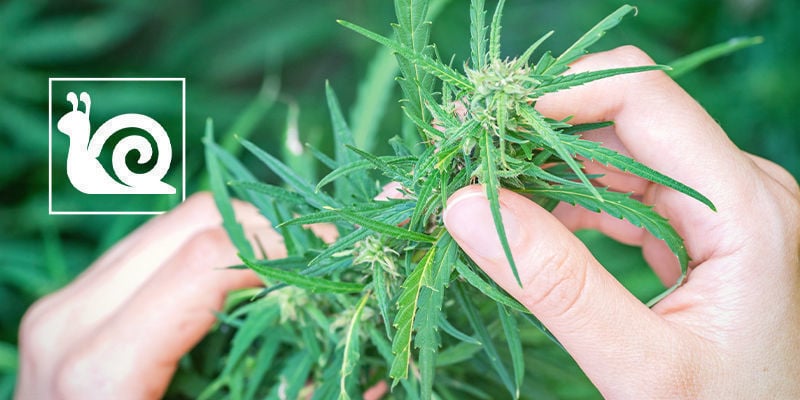 Whether you're a novice grower or a seasoned hand, one common problem cannabis cultivators face is slow plant growth. Though some plants may take a little longer to mature than others, if you notice progress stalling in what should be a healthy specimen, you'll want to get to the bottom of the issue as soon as possible. However, because there are numerous causes behind slow cannabis growth, you need to isolate the source of the issue first in order to get your plant to start growing as normal.
If you're dealing with this particular problem, or simply looking to prevent it from happening, we're here to break down all the possible causes for slow weed growth, and, most importantly, how to fix them.
Low-quality seeds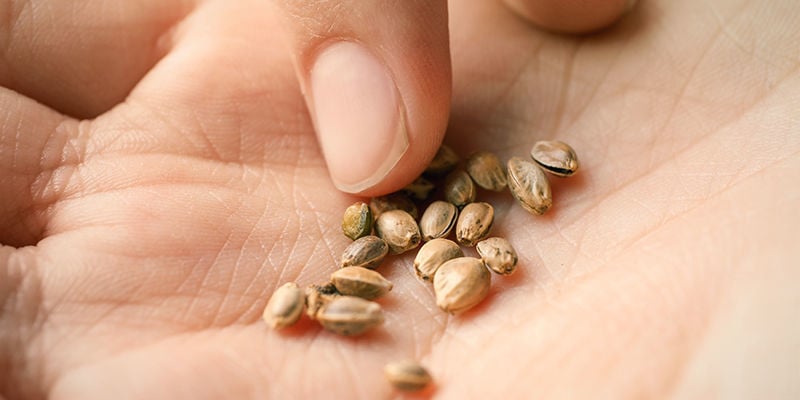 The foundation of your cannabis grow lies in the seeds themselves. Whether your seeds are old or of low quality, starting out with a bad batch is a quick route to slowed growth and meagre yields. Though cannabis seeds have a relatively long shelf-life if kept in proper conditions, they don't last forever. And if you're dealing with bagseed from a local dealer, your grow is as good as over.
How to fix
Though you can't "fix" low-quality seeds, you can prevent the issue from arising. Opting for cannabis seeds from reliable, high-quality seed banks is a surefire way to guarantee, under otherwise ideal conditions, reliable germination and vigorous, speedy growth. Furthermore, seed banks tend to offer other valuable info related to a given strain, such as the expected flowering period, which can give you a better indication of how your plants are faring. Ultimately, seeds are not a purchase you want to be too frugal with.
Now, apart from sourcing known high-quality seeds, you can check seed viability by subjecting them to what's called a float test. Start by filling a glass or jar with water, then add in your seeds. Those that sink to the bottom will likely germinate, while those that float are probably duds. For the most accurate results, wait two hours before deciding which seeds to keep and which to toss.
Clone stress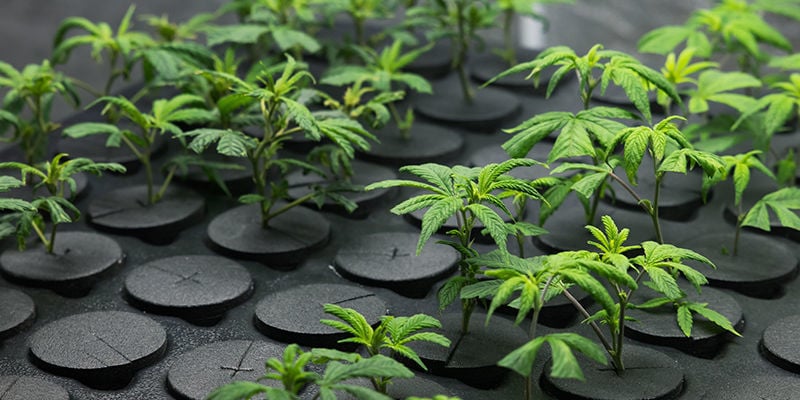 Should you grow from clones instead of seeds, too much stress—or improper practice—when taking and rooting cuttings can stall and altogether prevent the growth of your clone. In a nutshell, cloning involves taking cuttings from a vegetating "mother" plant, then growing these cuttings into exact genetic copies of the mother. If you're successful in your cloning efforts, you can retain the qualities of a high-performing plant while also shaving off some time in the veg phase. Should things take a turn for the worse, however, your cuttings may not exhibit vigorous growth, and in fact may not root at all.
How to fix
Cuttings require a sterile cloning process and specific environmental conditions in order to root and grow into true vegetating plants. Humidity is key to this process, as it is with young seedlings. As much as 70–80% RH is recommended for optimal rooting, alongside a temperature of 22°C (71°F) and a pH level of about 6.0.
Also, when actually taking the cuttings, be sure to use a sterile, sharp device, and cut on a 45° angle to increase the exposed surface area. From here, rooting hormone can be applied to the cut end to help kick-start this all-important process. Many growers working with clones use some sort of rooting solution to ensure proper growth, as cuttings are known to be fickle during the early stages.
Improper lighting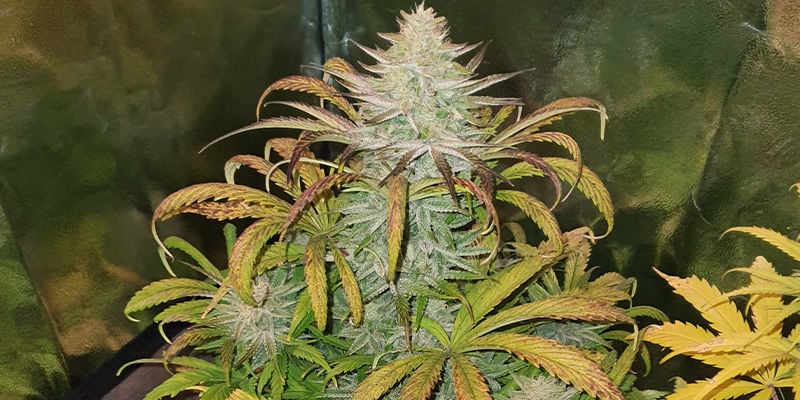 Even inexperienced growers know that cannabis needs ample light—of the right type—to survive, flourish, and develop impressive yields. Should you fail to provide what your plants require, slow growth is soon to rear its head.
Plants are not getting enough light
Insufficient light is an issue faced by both indoor and outdoor growers, and can itself arise from numerous factors. Overcrowding, cloudy days, and subpar grow lights can all keep your specimens from reaching their genetic potential. Apart from stalled growth, plants may actually stretch in a last-ditch effort to receive more light, but this is not the kind of growth you want. Stretching doesn't do anything positive for yields, and it tends to create weak or unsturdy plants.
Plants are getting too much light
On the flip side, there is such a thing as too much light. Especially if your plants are exposed to direct sunlight for too long, the heat can slow down the plant's metabolic processes and overall growth. If you're experiencing a heatwave or a particularly hot growing season, move your potted plants into the shade for part of the day, or erect shade covering if your crop is planted directly in the ground.
Indoors, light burn is a telltale sign of excessive light exposure. As the name suggests, leaves will take on a yellowish, burned look, but the veins will remain green. This signifies that your grow lights are either too close or too strong.
Incorrect light spectrum
Aside from the amount of light, cannabis also requires light in a certain spectrum to grow and flower, with its needs changing throughout its life cycle. Specifically, weed plants prefer light in the blue spectrum during veg, and light in the red spectrum for flowering.
Light stress: dark cycle interruption
Photoperiod cannabis plants require a dedicated dark period to flower. And if this dark cycle is interrupted, the same may be true for the growth of your plants. Even small light leaks in your grow tent, or bright street lamps, can stall growth, or in some cases revert flowering specimens back to the vegetative stage.
How to fix
When it comes to lightning cannabis plants, it's all about balance. Outdoors, you are subject to Mother Nature's whims; however, you also know your plants are getting just the right type of light for ideal development.
Indoors, it takes a bit more forethought. Many growers choose to use LED or HID lights to grow cannabis, with the former fast becoming the dominant option. LEDs are made to provide the right light spectrum during each phase, and also tend to emit far less heat than traditional cannabis grow lights.
In any case, it's important to ensure that plants are adequately spaced so that the lower part of each plant receives enough light. Furthermore, as your plants grow, you will need to adjust the distance between your grow lights and the canopy to ensure optimal development, without causing burning. And remember, during the dark cycle, make sure no errant light is capable of leaking in. Whether you use duct tape or some sort of covering, give your plants an uninterrupted break from the photons.
Root problems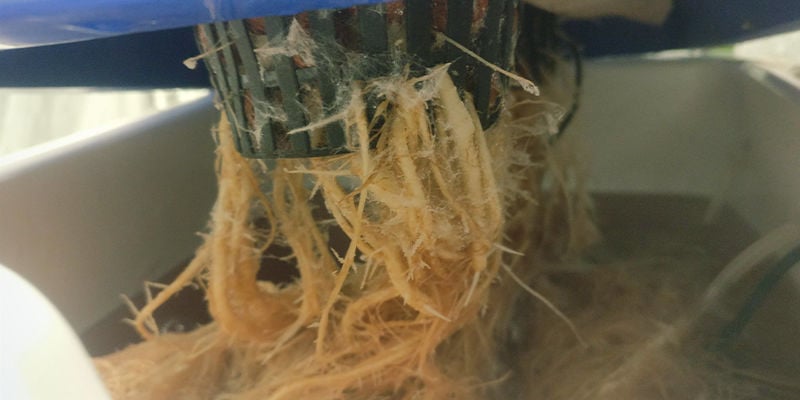 The health of the root system largely dictates the health of the plant above. So if your specimens seem unhappy, you need to go to the source. Overly wet, dry, or bound roots can all halt growth to a significant degree, and require quick action to prevent even more catastrophic problems.
Too much water
Overwatering is one of the most common, and most significant, mistakes growers make. Either they give their plants too much water at a time, at the wrong time, or they water too often. Just like with light, overwatered plants will show symptoms through their leaves, which will start to droop, and the roots will become subject to a host of potential pathogens and other health threats.
Too little water
Underwatering, on the other hand, is a less worrisome occurrence, but it can still slow plant growth. Without a sufficient supply of water, seedlings and young plants, especially, tend to grow much slower. In those early stages of growth, you'll notice insufficiently watered plants to be smaller in size compared to others, with leaves also appearing thin or crispy.
Incorrect pot size
Using pots that are too small leaves no room for a plant to spread its roots, causing it to become rootbound. As a result, it won't be able to grow any larger than the pot size allows. On the other hand, using pots that are too big and spacious can increase the likelihood of overwatering and overfeeding.
How to fix
When watering weed plants, a cautious approach is best. You're better off doing so less frequently and allowing the soil to dry out before watering again. That said, when you do water, make sure to drench the substrate sufficiently so that about 10–15% runs out the bottom of your pots. To determine if it's time to water again, you can pick up the pots to see if they feel heavy and saturated, or light and ready for another drink.
As for pot size, a general rule of thumb is to use 8l of soil per 25cm of the plant's expected final height. Depending on the average size of your cultivar, and of individual plants, you can adjust accordingly.
Environment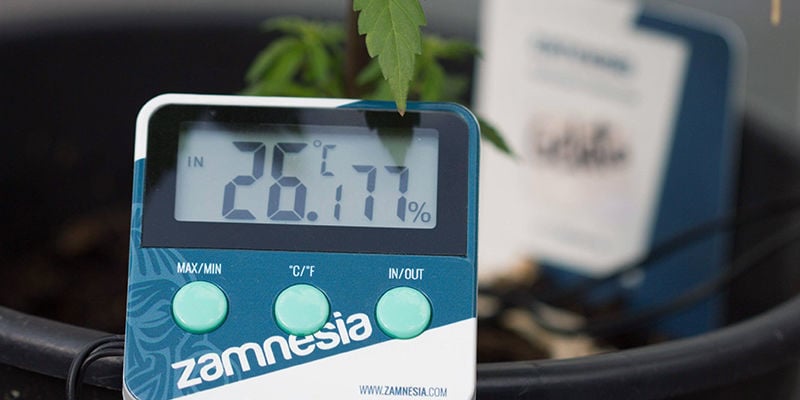 For the most part, cannabis plants thrive in warm temperatures. Should things get too hot or too cool, plant functions can slow down. Moreover, as cannabis demands different humidity ranges throughout its life cycle, it's important to ensure you change RH to suit each stage of development.
Incorrect humidity
Except in the case of seedlings and clones, humidity levels should never exceed 70% during the vegetative phase or 50% during the flowering phase. Furthermore, RH levels should never dip below 35%. Humidity has a direct effect on how water moves through the cannabis plant. As such, drooping may occur as a result of high humidity, as it becomes more difficult for water to move internally.
Incorrect temperature
Cannabis thrives most at temperatures of 20–30°C during veg and 20–26° during bloom. If temps exceed 32°C or drop below 16°C, poor health and stunted growth are more likely to occur.
Moving plants (inside to outside)
Moving cannabis plants from the indoors to the outdoors causes a stress reaction. The UV rays from the sun, for example, are much harsher compared to the artificial lights that the plant is accustomed to in the grow room. An inability to acclimate could result in stalled growth, alongside a greater vulnerability to other plant issues.
How to fix
To the best of your ability, optimise temperature and humidity according to the figures above. Remember that different stages of the life cycle necessitate different ranges. If you're indoors, growing in a controlled environment, use a thermometer/hygrometer to get an accurate reading in your room or tent, and adjust as necessary. Outdoors, you have far less control, but you can do your best to ensure adequate ventilation and overall plant health.
And if you plan to move your magic herb outdoors, do so gradually. Place your specimen in a shaded area first, for a few hours each day, to allow it to get used to the new environment. From there, you can gradually increase sun exposure until your plants are ready to be exposed to full sun.
Stress caused by accidental damage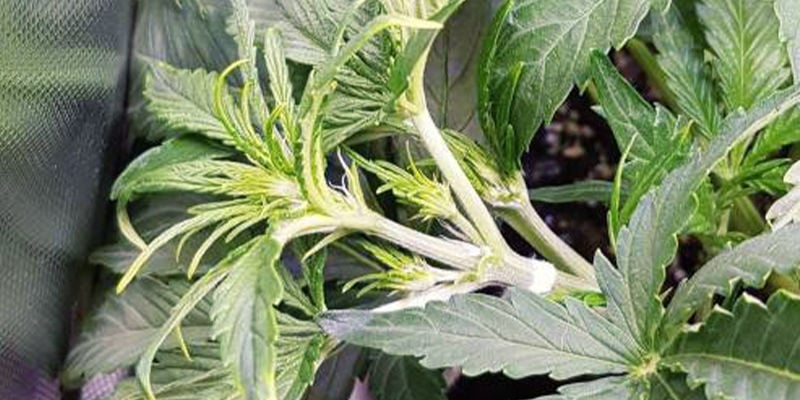 Accidents happen during the cultivation process. Whether you break a branch trying to train or your fans are set too high, this damage can compromise growth, and the entire plant will require time to recover. Indeed, you'll notice slower development in the days that follow, as the plant moves around nutrients to try to repair any damage it incurred.
How to fix
Physical damage, such as broken branches, needs to be fixed immediately. If remedied in time, using bamboo stakes and some good old duct tape, the broken pieces may fuse back together, and your grow will continue successfully.
Nutrient deficiencies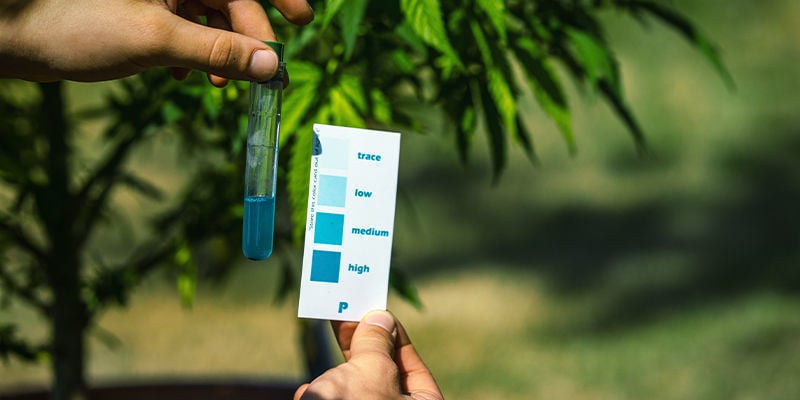 Just like humans need nutrients to grow and flourish, the same is true for plants. Specifically, cannabis needs both macro and micronutrients to survive, and the roots require a specific pH level to absorb these nutrients effectively.
Incorrect pH level
In the context of growing cannabis, pH level refers to the acidity or alkalinity of your medium/nutrient solution. Incorrect pH levels hinder plants from taking in much-needed feed, which, of course, results in slow growth and ultimately poor health.
Cannabis roots best uptake nutrients at pH levels of around 6–7 in soil and 5.5–6.5 in hydro or soilless operations.
Overfeeding
This is a common mistake new growers tend to commit. Unlike humans, plants don't simply get fat when they're overfed. Rather, they become stressed, and their growth is compromised as a result. The phenomenon of nutrient lockout occurs when plants are overfed and can't uptake the nutrients available to them, ironically resulting in symptoms of deficiency.
Nutrients for cannabis plants are usually measured in parts per million (ppm). The ideal concentration of each nutrient varies according to the stage of growth, and each fertiliser manufacturer will suggest a recommended dose. So be sure to adhere to them.
Not enough nutrients
Likewise, a lack of nutrients will also result in slow growth. If you're using a commercial fertiliser, especially one made for cannabis, you shouldn't have any issue giving your plants everything they need. The same is true when using high-quality compost or organic fertiliser. But in case you are underfeeding, ramp up the nutrients you're administering (within reason).
Incorrect EC values
Simply put, EC (electric conductivity) pertains to the salt concentration in the plant's nutrient solution. It's used as an indicator that a plant is getting the appropriate amount of nutrients. And because nutrient requirements vary from one plant to another, so does the EC value. If it's too high, it could indicate a nutrient overload, which you'll see through burned, withered leaf tips.
How to fix
Be mindful that plants are incredibly sensitive to nutrients, and that too much of a good thing is even worse than too little. Moreover, regardless of how much fertiliser you give plants, if the pH is out of range, the roots will not be able to absorb the food, resulting in signs of deficiency. So make sure to use a pH meter alongside an EC meter to not only ensure optimal pH, but also to determine the amount of fertiliser salts in the substrate, so you can dial in feeding. And as for age stress, note that older plants don't need a ton of food, especially as their life cycle comes to a close, so be sparing.
Stress caused by pests or diseases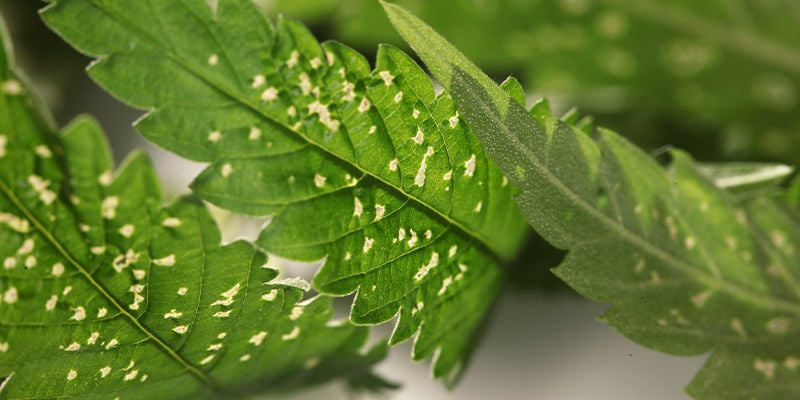 Any plant can be susceptible to pests and pathogens, but certain environmental conditions are more likely to welcome bacterial, viral, and fungal diseases, as well as cannabis pests, that can seriously slow growth or even kill your plants. Issues like mildew can quickly turn your lovely buds into mere shells of their former selves, and certain bugs can make quick work of entire specimens. That's not where you want all of your hard work to end up.
How to fix
Preventing pests and pathogens is always better than dealing with an existing issue, so make sure to prioritise sustaining optimal environmental conditions in your grow room. Outside, especially, plants are subject to many pests large and small, so consider erecting protective structures, using beneficial insects, planting companion species, and setting up slug and snail barriers. And if you do happen to be dealing with an infestation, neem oil is an effective measure to both destroy and prevent many pests and fungal diseases.
It's also important to perform regular check-ups on your plants. Many pests, for example, like to hide and lay eggs under the leaves, so it's best to not leave any stone unturned.
Stress from training techniques
Certain training techniques work well to boost yields, reduce plant height, and ensure adequate use of space and light. But high-stress training techniques, as the term denotes, involves subjecting plants to traumatic injury. And while these techniques, such as topping, pruning, and fimming, can all be beneficial, plants will require time to recover, and growth will definitely stall for days or even weeks.
The problem is that if you perform these techniques too often, or at the wrong time, your plants may not ever have the chance to fully recover, and growth and flowering will both be greatly hampered as a result.
How to fix
For the most part, it's advised to keep training to the vegetative stage, as you really don't want plants to be focusing on stress recovery instead of blooming. Taking topping as an example, consider doing it early on in the veg phase, when plants have around 3–5 nodes, and keep it to that. You can likely fit in another later on, but remember to allow your plant at least a week of "rest" before doing anything else. Note that autoflowering plants shouldn't be subjected to any high-stress training techniques, as their life cycle is predetermined and cannot be extended.
Ensure speedy growth for your cannabis plants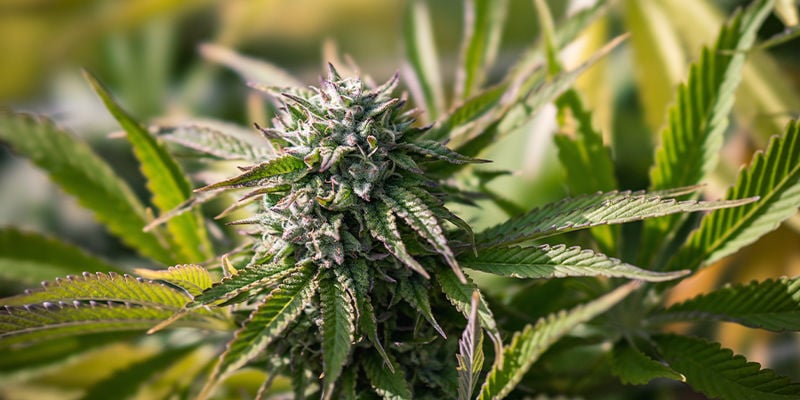 Armed with this guide, you are now equipped to prevent and fix issues related to slow cannabis growth. Whether it's environmental conditions, pests, or growing accidents, the only way to get your plants back on the road to good health is to go to the source of the issue. As a final tip, keep a grow journal to record everything you learn with each subsequent grow, so you can quickly identify any issues if and when they do occur. Slow growth will be a thing of the past!