Blog

3 min
Black Orchid: Cannabis Strain Review & Information
3 min
Orchids have long been associated with feelings of love, and Black Orchid from Zamnesia Seeds is set to continue this trend. Gear up for potent and flavourful buds unlike any you've ever tried. Whether you opt for the photoperiod feminized or autoflowering version, everyone can benefit from a garden filled with Black Orchid.
From the team at Zamnesia Seeds comes the rare and exotic Black Orchid. Offering uncommon but highly satisfying flavours alongside a mellow and laid-back high, this cultivar is perfectly suited to old-school and modern smokers alike. If you think you've seen it all in the cannabis world—think again.
Characteristics of Black Orchid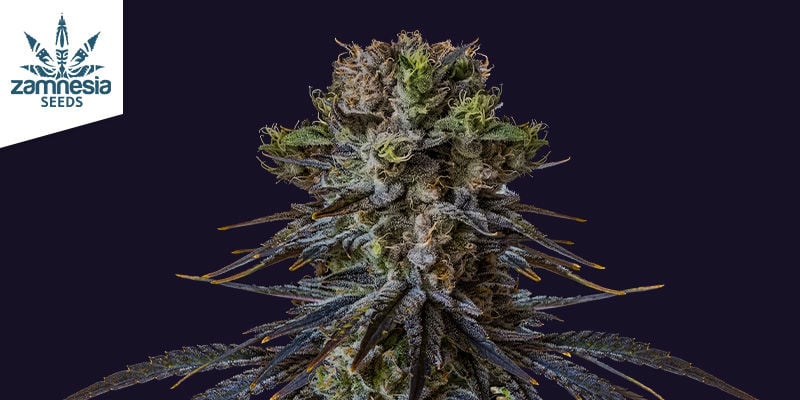 Derived from a combination of Gelato and OG Kush, Black Orchid is an indica-dominant strain that's unfussy, low-maintenance, and has the potential to deliver large yields of potent and flavourful buds.
| | |
| --- | --- |
| Genetics | Indica dominant (70% indica / 30% sativa) |
| Parents | Gelato x OG Kush |
| THC | 18–22% |
| CBD | Low |
| Flavours | Citrus, Butter, Cheese |
| Effects | Relaxing, Mellow, Uplifting |
Fusing the finest parts of her heritage, Black Orchid has plenty to offer all manner of cannabis connoisseurs. Her unique and complex flavours and aromas are sure to pique the interest of many, and that's before you experience her alluring effects. Fortunately, getting to this point is made easy, thanks to a fast and productive grow cycle.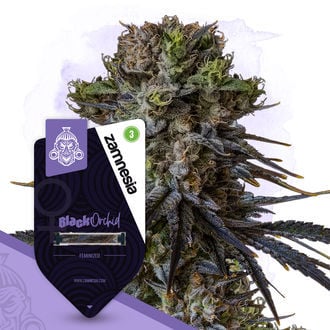 View
How to grow Black Orchid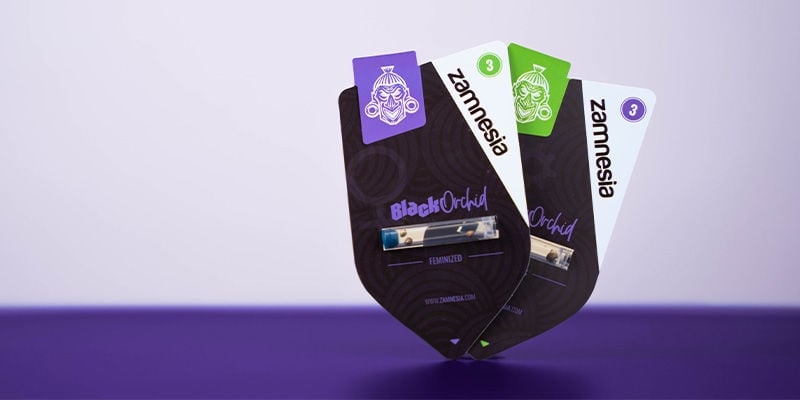 Black Orchid is an accessible cultivar geared to indoor and outdoor settings. Her medium height may necessitate some training, depending on the size of your grow room, but she's unlikely to cause any headaches throughout the growing process. Just be attentive and caring, and she'll reward you handsomely.
| | |
| --- | --- |
| Grow Difficulty | Beginner/Intermediate |
| Best Suited to Grow | Indoor / Outdoor |
| Climate | Sunny, Warm |
| Variety | Feminized |
| Height Indoor | 110–130cm |
| Height Outdoor | 150–180cm |
| Flowering Time | 9-10 Weeks |
| Harvest Period (Outdoor) | October |
| Yield Indoor | 550–650g/m² |
| Yield Outdoor | 700+g/plant |
Resilient and robust, Black Orchid is suitable for complete novices as well as the more experienced. Reaching up to 130cm indoors and 180cm under the sun, those looking to implement some stress training will find a receptive partner. However, if you want to let her flourish uninterrupted, she's more than happy to. The choice is yours!
After just 9–10 weeks of flowering, Black Orchid will be ready to yield indoors. Grown in ideal conditions, plants are capable of delivering harvests in the range of 550–650g/m²; outdoors, each plant has the potential to return up to 700 grams or more come October! If you've been hunting for a plant that's a joy to cultivate and super productive, Black Orchid could very well scratch the itch.
Black Orchid Automatic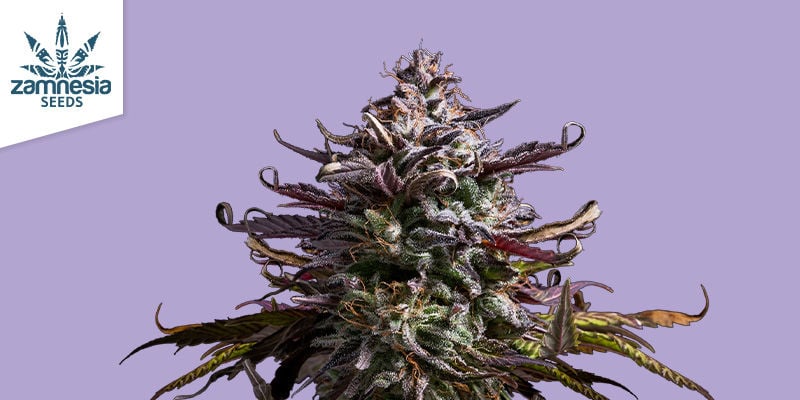 What if you want to enjoy an even more hands-off experience, without losing Black Orchid's flavour and effects? Thankfully, you have the option of growing Black Orchid Automatic. That's right, Black Orchid Auto takes all of the trademark attributes of the photo-feminized version and packages it into one easygoing autoflower. Taking just 9–10 weeks from seed to harvest, there's no need to worry about plant training or changing the light cycle.
Standing at 100–150cm, Black Orchid Automatic makes for a marginally smaller growing project. But if space is tight, the autoflowering version could be your best chance at cultivation. Once ready to yield, growers will be met with up to 450–550g/m² indoors or up to 80–100g/plant outside—a pretty sizeable return for a plant of her stature.
The complex and unique flavour profile of the original Black Orchid is expertly retained in the autoflowering version. Whether smoked or vaped, users can expect zingy citrus notes with some earthiness, butter, and cheese. In terms of effects, mellow relaxation is the order of the day with Black Orchid Automatic. Although not as potent on paper as the original Black Orchid, with an average THC content of 15–17%, she delivers a wholesome, uplifting high without breaking a sweat.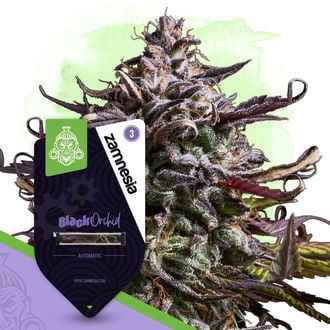 View
Black Orchid: Flavours and effects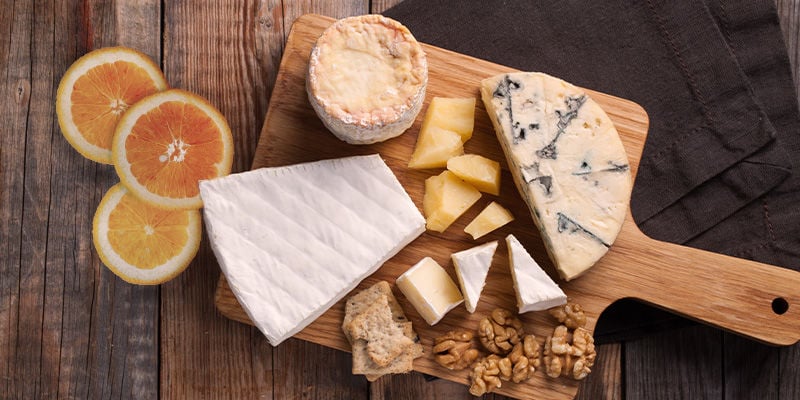 Black Orchid's flavour and aroma are bound to turn heads—in the best way possible. Thanks to a finely tuned terpene selection, users open themselves up to an initial hit of citrus followed by undertones of butter and cheese that, while complex, are complementary to one another. So whether you're vaping or want to pack out the bowl on your favourite bong, Black Orchid is primed to deliver delicious flawless flavour.
With THC levels sitting around 18–22%, Black Orchid showcases soothing and relaxing sensations alongside moments of bliss and euphoria. This is not a strain that's going to lock you to the couch or cause brain fog—at least when used in moderation.
Something for everyone — We're not orchid-ing!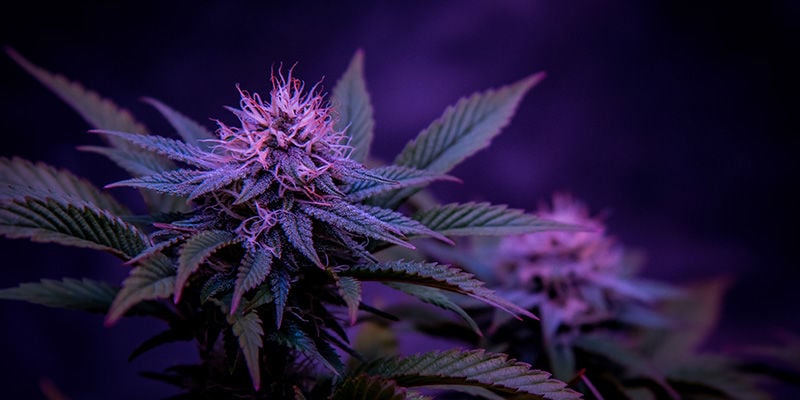 Black Orchid demonstrates how important it is for a cannabis strain to stand out amongst the crowd. Bearing a genuinely unique flavour profile and an uplifting high, she's a great choice for both solo sessions and group indulgence. And with her quick, easy grow cycle and substantial yields, there's little reason not to grow this rare Orchid. Of course, those looking for an even easier ride will get on well with the autoflowering version. There's something for everyone when it comes to Black Orchid.