Blog

3 min
Get The Most Out Of Your Plants With Plagron
3 min
Whether it's basic nutrient packages, starter guides, a custom grow schedule calendar, or you've decided to go hydro, Plagron has you covered. Keep reading to find out more about the company, and how they've become experts in the field of fertilisers, additives, and nutrients.
PLAGRON: WHO ARE THEY AND WHAT DO THEY DO?
Whether you are a highly skilled grower or just starting, understanding the importance of substrates, nutrients, and additives is crucial. Thankfully, Plagron has made their name by providing CE certified products that "can be used by every kind of grower and guarantee the best yield". Now, that may sound like a bold claim, but you only need to take a look at their comprehensive product range to see that Plagron knows a thing or two about what's required to cultivate successfully.
Plagron was built from the ground up, starting as a humble worm farm in 1992. Since then, the company has developed into a multi-national company, shipping worldwide. Best of all, Plagron serves every grower—regardless of experience. It doesn't matter if you are growing one plant or a hundred. With the right substrate mix, essential nutrients, and fertilisers, Plagron can help you achieve the "best cultivation performance".
Now that you're more familiar with the company, it's time to see what they offer.
PLAGRON'S PRODUCT RANGE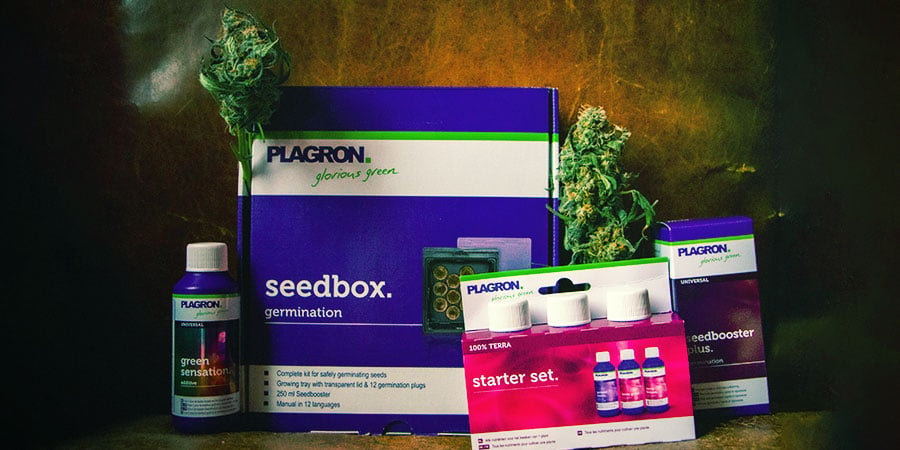 Getting started with Plagron is simple thanks to their four clearly defined product categories. Start, Basic Nutrient, Substrate, and Additive give you complete control over your next cultivation. Even if you are new to growing, Plagron has designed their catalogue of products to work together.
1. START
As the title implies, this is where most growers will start their cultivation journey. The Start category provides several starter kits, seedboxes, and substrates ideal for cuttings and seedlings. All you need to do is decide how many plants you'll be growing, and choose the Plagron product that matches your needs.
For novice growers, the expertise of Plagron doesn't end there. Select any of their Start products, and you'll be provided with a list of related products, frequently asked questions, and a customisable grow schedule calculator.
2. BASIC NUTRIENT
If you feel confident germinating your seeds without any of the Plagron Start products, you can head straight to their Basic Nutrient category. Or, if you do take advantage of their seedbox and starter sets, the Basic Nutrient products have been designed to synergise with the rest of the Plagron product range. Clearly labelled and colour-coded, every nutrient product comes with essential information, related products, and top tips from the experts at Plagron. There are also carefully developed nutrient blends for growers using coco or hydro setups.
3. SUBSTRATE
All plants rely on a balanced, healthy, and nutrient-rich substrate. Without it, poor root structure and stunted growth are just some of the problems growers will face. Plagron also understands the importance of diverse and effective substrates, which is why you'll find soil, coco, hydro/coco, and Euro Pebbles.
Plagron prides themselves on taking the time to talk with their customers to understand what would make cultivation simpler. As part of that feedback process, several of their Substrate products also come pre-fertilised, leaving you free to concentrate on other aspects of your grow.
4. ADDITIVE
Most plants will grow and flower successfully as long as you get the nutrient and substrate balance correct. However, if you want to maximise yield, boosters, enhancers, pH controllers, and substrate complements are essential. The right additive for your project will depend on several factors. Still, to help you decide, Plagron has a wealth of resources available via their "grow topics" content and detailed product descriptions.
PLAGRON PRODUCTS AT ZAMNESIA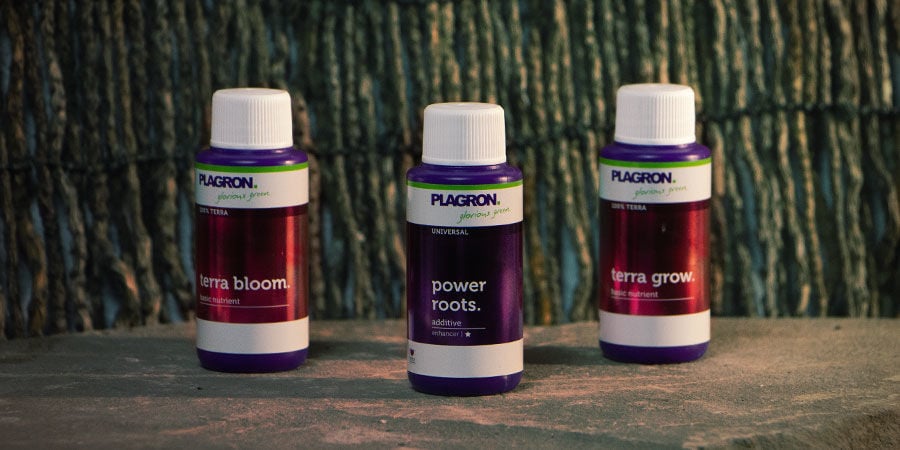 Zamnesia proudly stocks several Plagron Start products. Although these only represent a fraction of the total Plagron range, they're ideal for germination and fertilisation.
Before you can even consider the delicate balancing act of light, water, nutrients, and temperature, you first need to ensure successful germination. Although an often overlooked phase, giving your plants the best possible start is an excellent way to improve their chances of success, and their resilience should any problems occur.
The Seedbox Germination Kit includes 12 prepared coco germinating plugs, Plagron's signature Seed Booster supplement (250ml), and a transparent enclosure. Together, they ensure your infant plants get the headstart they need.
Knowing where to start with nutrients, additives, and bloom boosters is one of the most challenging aspects of plant growth. Thankfully, the Starter Set from Plagron has all three aspects covered. Both the Terra Starter Kit and Natural Starter Kit have everything you need to encourage healthy growth, flowering, or fruiting. Both kits use a tried and tested balance of nitrogen, phosphorus, and potassium suitable for both the growth and flowering phases. Ideal for first-time growers, they have everything you need to get started.
Plagron hasn't become an internationally regarded company by chance. Their expertise in substrates, fertilisers, and additives stems from their dedication to research and development. By responding directly to the questions and needs of the market, they continually fine-tune their products.
Seedbooster Plus is a prime example of Plagron's commitment to successful cultivation. Specially formulated, seven drops is all it takes to stimulate germinating seeds or encourage older seeds to develop with renewed vigour.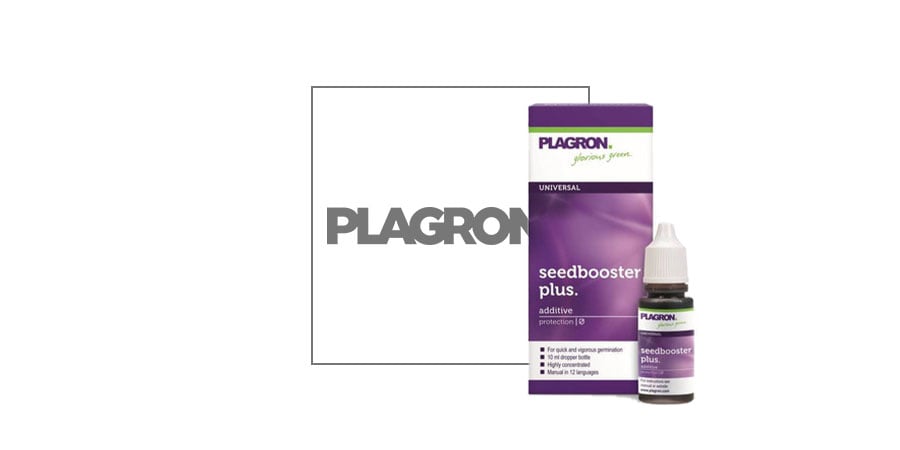 view product
GREEN SENSATION FERTILISER SOLUTION
Green Sensation is more than just your typical fertiliser. Its 4-in-1 solution provides a powerful boost to plants grown indoors or out. Plagron's strict quality control standards ensure Green Sensation is free from hormones, animal-derived residues, and GMOs, while being packed with several vital nutrients and boosters.
A PK fertiliser improves flowering and plant resistance, while a patented nutrient selection encourages blossom production and transportation of sugar. Finally, carefully selected enhancers and enzymes support soil life, yield, and enhanced flavour of fruits. Simply mix with water as described, before adding your basic nutrients for a powerful all-in-one solution.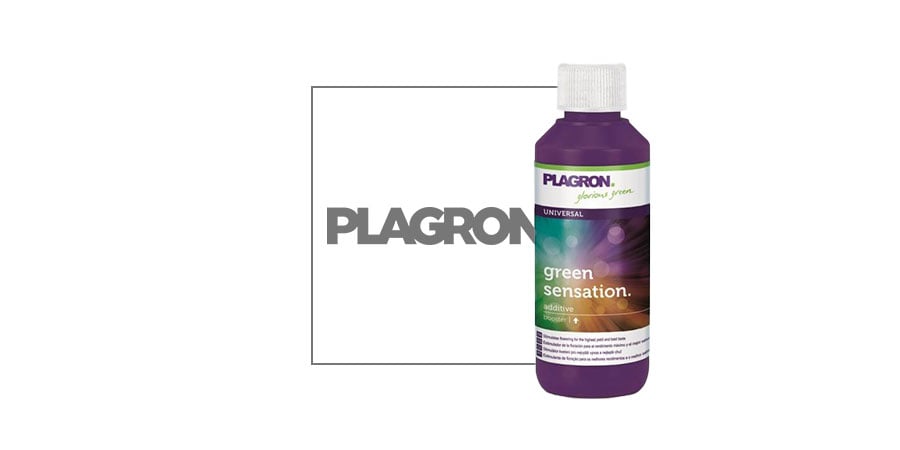 view product