Blog

4 min
Higher Standards — A New Gold Standard In Cannabis Products
4 min
Since their inception in 2016, Higher Standards has truly carved a name out for themselves in the world of cannabis products. Offering premium-quality accessories and water pipes, they've quickly risen to international prominence among cannabis users. But how did they manage it? We take a look at this, and highlight some of their best products.
Not just a clever name, Higher Standards is set on providing a premium cannabis experience through outstanding accessories, tools, and cleaning products. With products aimed at all types of users, Higher Standards offers accessibility, style, and above all, functionality to everyone from the casual smoker to the cannabis connoisseur. But what's the story behind Higher Standards and their rise to prominence?
Below, we delve into the company's development, and highlight a few of their products to show you exactly what they're capable of.
Higher Standards — Humble Beginnings, Superb Growth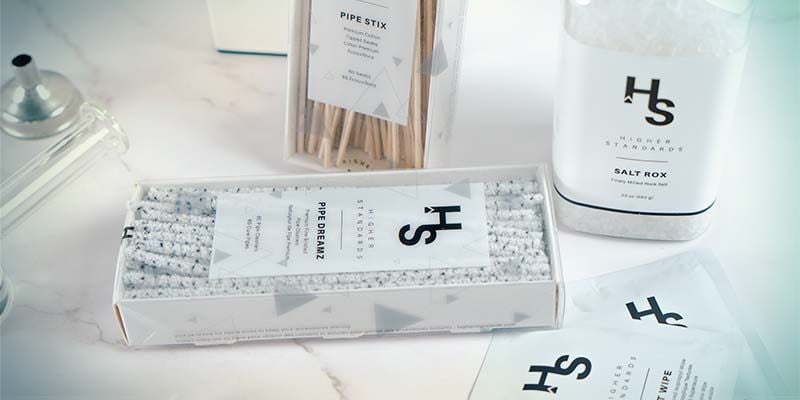 Founded in 2016 by Adam Schoenfeld and Sasha Kadey, Higher Standards was created when Kadey noticed that many cannabis users were neglecting their herb. He explains that "people are spending top dollar on really high-quality material, but then all too often going and consuming it out of a dirty piece".
People are spending top dollar on really high-quality material, but then all too often going and consuming it out of a dirty piece.
Finding a sizeable gap in the market, Kadey initially put his efforts into a luxury cleaning and maintenance product line for bongs and their respective accessories. Items such as Salt Rox, Dot Wipes, and Pipe Dreamz soon found their way into the market, and the consciousness of cannabis enthusiasts.
It was from this point that Higher Standards branched out into bigger and better things, even opening their flagship store in New York City. Providing a high-end aesthetic, it is here that fans of superior-quality cannabis products have really been able to get their fill.
They stock plenty of maintenance and cleaning accessories, as well as their own expertly designed water pipes for an "elevated lifestyle". Although New York carried restrictions on the use of cannabis at the time, the shop was opened to service medicinal cannabis users, foregoing any potential legal issues. However, Higher Standards has been nothing but transparent in offering a premium cannabis experience.
Because of their incredible reputation, Higher Standards has also managed to team up with other cannabis companies, such as Storz & Bickel and Banana Bros. This has led to some pop-up store opportunities to reach different kinds of cannabis enthusiasts, allowing them to make their mark and surge further into the mainstream.
Now, nearly 5 years since its inception, Higher Standards' rise to greatness has been well documented, as well as received. With new, innovative products being released regularly, they have kept in stride with the ever-changing demands of the cannabis consumer. There are certainly no signs of stopping for Higher Standards, as they continue to push the standard for a premium cannabis experience with each product they release.
Higher Standards — Premium-Quality Products for the Cannabis Connoisseur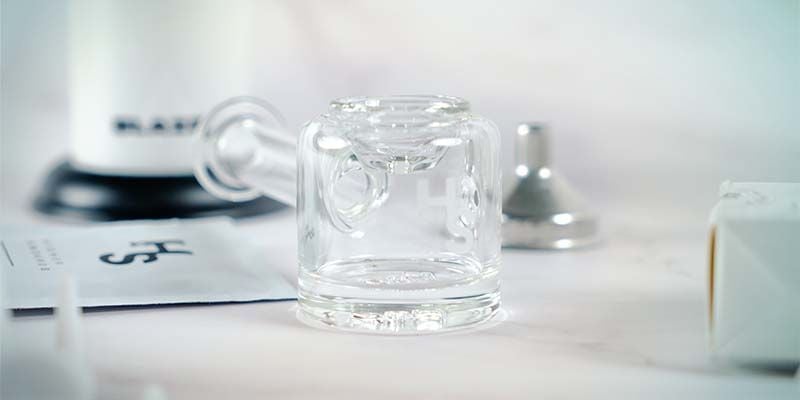 So, how do the products themselves stack up? Fortunately, each accessory offers something invaluable to users, and quality is never sacrificed to earn a quick dollar. With that in mind, we've picked a few standout items from Higher Standards you may want to get your hands on!
Heavy Duty Riggler — Premium Pulls From a High-Quality Pipe
As one of Higher Standards' first forays into the world of water pipes, the Heavy Duty Riggler is well equipped to deal with herb and concentrates of all kinds. With a low-key yet innovative and stylish design, this is the perfect way to enjoy a smooth hit whenever you need it. Produced in the United States and made from 7mm medical-grade borosilicate glass, this water pipe is robust, resilient, and up to any task.
With an interchangeable 14mm bowl and banger, it's effortless to load and even easier to smoke. With ample room in each, there's little wonder this is such a popular item among rig users. One pull from this pipe, and you'll know you've made the right decision. Thanks to the diffused downstem, you can expect cooler and smoother hits than you thought possible. All thanks to the team at Higher Standards.
Salt Rox & Salt Chute — Sparkling Water Pipes Every Time
For a truly effortless way to keep your bong squeaky clean, turn to Salt Rox by Higher Standards. At first glance, you may be thinking, "it's just salt"—and granted, it may seem like an obvious idea as a cleaning product. But it's the execution that's won over many bong users. These finely milled rock salt crystals are mildly abrasive and go to work on even the most stubborn grime. Add a little isopropyl alcohol to the salt mix and give it a shake. Once finished, your pipe will be looking brand new.
But how do you get the Salt Rox into the water pipe? With the Salt Chute, of course! Place this handy accessory over the opening of your pipe, bong, or even your vaporizer, and use it to pour in your cleaning solution—no mess, no fuss, just easygoing cleaning, as it should be.
Pipe Dreamz & Dot Wipes — For Stubborn Water Pipe Stains
When it comes to keeping your water pipe in good shape, sometimes leaving it a little too long before cleaning can make once-subtle stains much more stubborn and harder to clean. This is when you need to break out the "big guns".Cue Dot Wipes and Pipe Dreamz. These handy cleaning products are sure to make short work of any stain on your prized water pipe.
Dot Wipes are durable isopropyl wipes that are perfect for glass, metal, and silicone pipes. Simply give your pipe a surface wipe and marvel at how much grime is removed—effortless cleaning at its finest.
For those harder-to-reach places, there's Pipe Dreamz. This pack of 60 fine-bristled pipe cleaners allows you to reach into the crevices and tricky spots in your pipe. Add a little isopropyl alcohol into the mix, and you've got yourself one clean bong.
Big Shot — Stylish Precision Lighting
As part of an exclusive collaboration between Higher Standards and butane torch specialists Blazer, the Big Shot was born. If you've been looking for a reliable and easy way to light up your joints, heat your concentrates, or ignite a bowl, all will light instantly as the Big Shot provides a precise 1371°C (2500°F) torch.
With a fully customisable flame, you can stay in control of the Big Shot and provide an even flame that won't let you down—ever. The result of some expert Japanese engineering and design, you'll wonder how you managed without this product as soon as you give it a go. Whether you're a casual or seasoned smoker, the Big Shot has got you covered, and is bound to be your new go-to torch.
Accessories From Higher Standards — Available Now!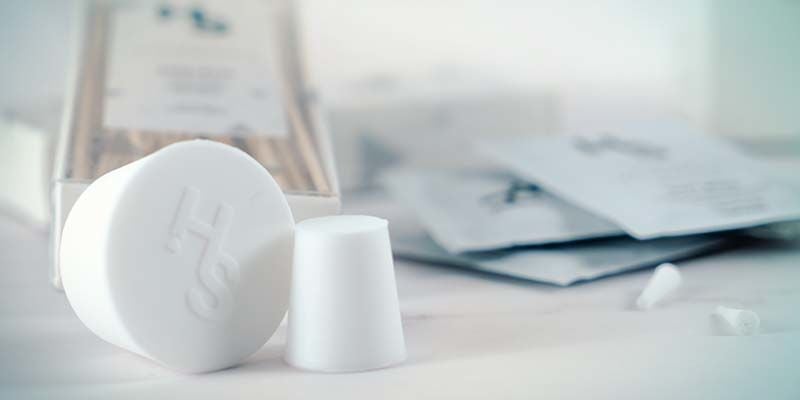 With so many products available, we couldn't possibly list them all here. Also, we wouldn't want to ruin the surprise for you either! Higher Standards accessories, tools, and water pipes are now available to purchase from the Zamnesia store. Combining style, functionality, and premium quality might be a tall order for some cannabis companies, but Higher Standards effortlessly proves time and time again that they are more than up to the task.
Consider taking a look at what they have to offer, and maybe treat yourself to an item or two to really maximise your smoking experience.