Blog

3 min
Best Cannabis Recipe and Strains For Easter

3 min
Don't miss the opportunity to make the most out of the Easter holidays. Enjoy Easter eggs, chocolates, sweets and the 5 perfect dessert strains to accompany the celebration. Plus, we've even included a sticky icky homemade cannabis-infused Easter egg recipe. Have a very 420 friendly long weekend this Easter.
EASTER, THE STONER FRIENDLY HOLIDAY
Prior to Easter some Christians observe the 46 days of Lent. During this period even non-regular churchgoers will make a sacrifice and deny themselves a favourite treat or at least cut back. Usually, it's sweets and chocolate, that gets the boot for Lent. Although for some it's alcohol, tobacco or marijuana.
Come Easter Sunday, whatever your religion or even if you have none, it's probably the best munchies weekend of the year for stoners. Cannabis and Easter make a perfect pairing. Easter has no fixed date and is kind of peculiar. It is held on the first Sunday after the full moon of the vernal equinox. So you could say it's flaky on dates.
Ash Wednesday marks the beginning of Lent and 6 and a half weeks later it's time to indulge. You can't have ash without smoke. After smoke comes munchies. So here we have another symbolic connection.
Easter Sunday is the celebration of Jesus rising from the dead, so it is kind of odd the holiday has become synonymous with the Easter Bunny and chocolate eggs. But that's how it goes and it's fun to roll with it. Easter eggs make the best munchies snack for those stoners with a sweet tooth. Plus, you can make your own cannabis-infused eggs, and of course, we've got the recipe for you later.
Check out these delicious cannabis strains this Easter. If you happen to have layed off the spliffs and/or the candy for Lent, then the following flavoursome quintet might just be a sensory overload.
EASTER CANNABIS STRAINS
CHOCO HAZE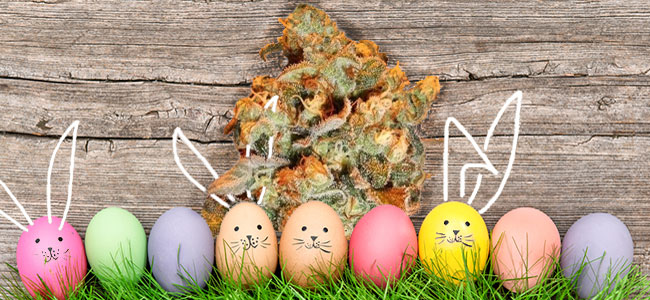 For the sativa lover, our Choco Haze is the dream Easter cannabis strain. This unique blend of Chocolate Thai and Cannalope Haze has been carefully bred and selected for flavour. If you are looking for some head stash without the usual tropical Haze taste, have some Choco Haze for dessert instead. Also pretty undemanding for a Haze variety in the grow room with most blooming in 8-10 weeks.
CANDY KUSH EXPRESS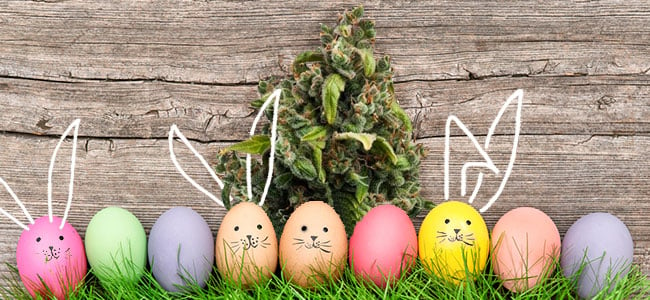 Candy Kush Express is a sativa-dominant hybrid of two of Royal Queen Seed's finest strains; the Sweet Special and Royal Kush. Sweet tasting resin-dripping buds in just 7 weeks. That's not far off the 46 days of Lent. A fun combined head and body high. Very giggly, great weed for the holidays.
SWEET TOOTH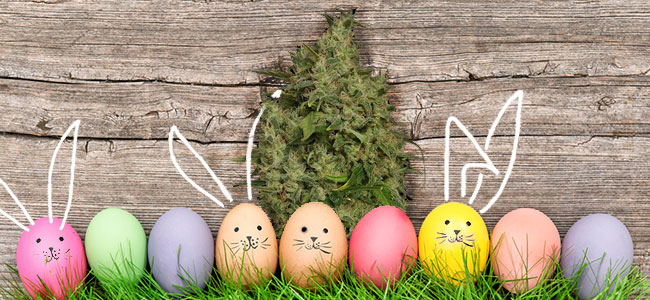 We simply cannot omit Sweet Tooth as this decadently sweet smoke is too juicy to leave out. For those, that enjoy "Fruit Pastilles" and "Starburst" chewy sweets, this is your strain. Massively potent with a diverse indica/sativa hybrid lineage and sweet like a fruit cocktail. Heavy yields of frosty colas in just 8-9 weeks and pretty easy to grow. Ideal for beginner growers looking to crop delicious Fire!
CHOCOLATE MINT OG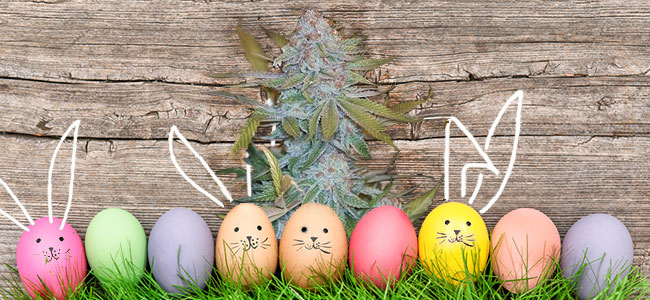 If you didn't get that "Mint Aero" Easter egg this year, don't worry, just make sure you get your hands on the Chocolate Mint OG. And if you did, get ready to smile. Same knockout OG Kush effect, but with a remarkably different aroma and flavour. Fuel odour and earthy lemon-sour flavour have been swapped for mint chocolate. Hybrid vigour will see this strain through flowering in just 8 weeks. Expect generous yields of frosty Kush buds.
ICE CREAM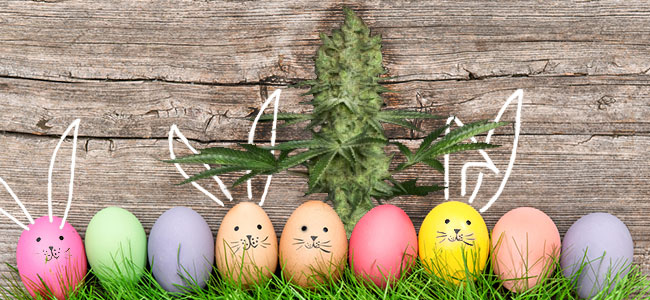 OK, so ice cream is not really associated with Easter, but it sure is one fantastically sweet cannabis strain. Ice Cream is a heavy indica-dominant hybrid with an enchanting vanilla and pine aroma and distinctly sugary taste. The buds are gooey and ready in just 60 days of bloom. Compact and undemanding. Ice Cream delivers the heaviest harvests in a SOG set up. Just like Vanilla ice cream, this weed is for everyone, from beginner growers to veteran cultivators.
EASTER CANNABIS RECIPE - THE CANNABIS-INFUSED EASTER EGG
Before you get started gathering supplies and get stuck in preparing your homemade eggs you first need to make some cannabis butter. This is the one magic ingredient, that separates our trippy Easter eggs from the average Easter egg.
INGREDIENTS
• 2-3 packs of cook and serve pudding mix, whichever flavour you prefer
• 1 cup melted cannabis butter
• 1 cup of whole milk
• 6-8 cups of sugar
• 3-4 cups of peanut butter
• 2 blocks of cooking chocolate
• Icing for decoration
HARDWARE
• Silicon baking moulds, egg-shaped (optional)
• Second saucepan
• Baking/cooking paper, the wax coated kind
• Heatproof bowl
DIRECTIONS
1. In a good size saucepan, blend the pudding mixes, milk and cannabutter. Over a medium heat, stir the contents until it comes to the boil.
2. Stir a little longer, about 2 mins, to get it nice and thick and then add the sugar and peanut butter. Stir it all together. Then let it cool slightly.
3. Pour into moulds or shape a half cup full on some non-stick baking paper into the shape of an egg with your hands.
4. Place eggs on the baking sheet and stick them in the freezer until they're set. A couple of hours and they are usually good to go.
5. Melt that cooking chocolate in a heat-proof bowl. Add some water to a saucepan and then the bowl with the chocolate. Stir occasionally as it's softening. When it's nicely melted, dip those eggs in for a coating. Carefully let the excess run off and put them pack on the paper to set. Decorate them with icing if you want.
This should be enough for a batch of a dozen eggs, so dose with that cannabis butter accordingly. Have a great Easter and if you're enjoying edibles, remember the effects may take more than an hour to kick in. So take it easy with the marijuana you smoke or vape in the interim.
VIDEO: HOMEMADE CHOCOLATE CANNABIS EASTER EGGS
The video below shows a slightly different recipe and technique for making chocolatey, cannabis Easter eggs, so have a look and decide which of the recipes to follow.
Written by: Top-Shelf Grower
Veteran cannabis cultivator originally from Dublin, Ireland and currently on the loose in southern Spain. 100% committed to Top-Shelf reporting until captured or killed.

Find out about our writers
---