Blog

5 min
Cannabis Pruning: Topping Vs Fimming
5 min
Two titans of pruning, topping and fimming have long been considered quintessential methods for maximising cannabis yields. We take a look at everything you need to know about these pruning techniques so you can determine which is best for you. Simple to carry out, get the lowdown on optimising your grow with topping and fimming.
Though cannabis can be grown with relatively little interference, it can also be extensively trained and pruned to control its growth and development to a much greater degree. These so-called stress training methods not only help to boost production, but they allow growers to optimise the size and shape of their plants for a given space—whether indoors or out. Two tried and true high-stress training (HST) methods are topping and fimming. So, what do these methods entail, and how exactly will they benefit your cannabis garden? Allow us to give you a breakdown on all you need to know.
What is topping cannabis?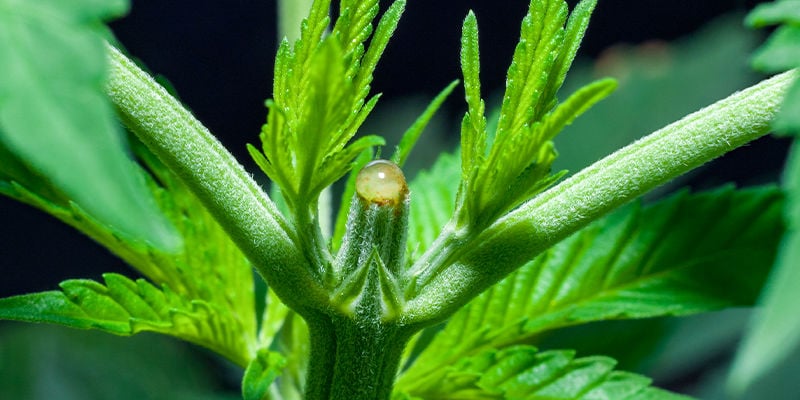 It might sound like a harsh way to treat your plants, but inflicting calculated stress can do wonders for the health and yield of your cannabis crop. Topping is a beloved method among cannabis and ornamental plant growers. By cutting off the growing tip of the main stem, it will compensate by distributing growth hormones to two new main shoots. Eventually, these shoots will become two dominant main colas, which will make up the lion's share of your total harvest weight.
By cutting the growing tip, you manage to limit the height of your plant while also increasing light exposure to all of the potential bud sites. As you can imagine, this can translate to a significant increase in buds come harvest time. Topping is often considered the go-to high-stress training technique, as it's not difficult to perform and offers reliably good results.cu
Why top cannabis?
We've alluded to it a bit, but why should you top your cannabis plants? Chiefly, cultivators use this method to increase light penetration, limit/control plant height, and boost final yield. Especially when used alongside low-stress training methods, topping can give growers significant control over their plant's growth, allowing them to make optimal use of their grow space.
When to top cannabis?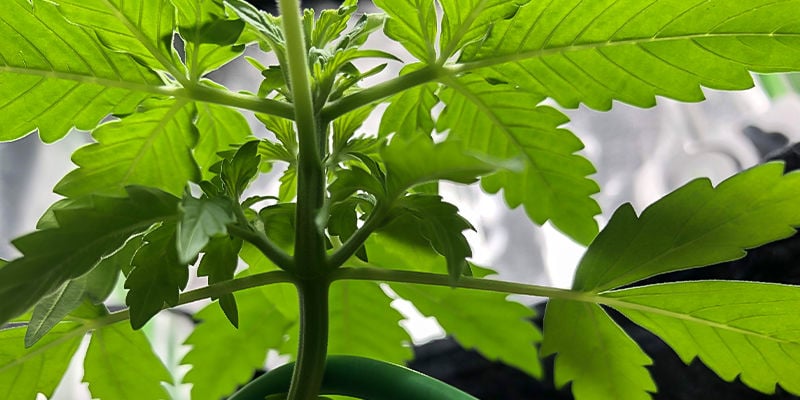 Timing is everything, and this is certainly no different when it comes to topping. Ideally, you'll want to wait until the plant has developed between 3–5 nodes. Typically, this takes around 30 days post-germination. Though you definitely don't want to wait too long, err on the side of caution and make sure your young plant looks healthy and strong before cutting off its main growing tip. Topping too early can cause major issues, and even kill your plant altogether.
That said, topping should only be performed during the vegetative stage. As this training method inflicts a high degree of stress, plants need ample time to recover (generally around a week or two). Because growers can extend the vegetative stage, they can give plants the time they need to regain full strength before entering the flowering stage. Performing topping during flowering will only work to decrease bud development, as the plant will have to focus on growing new shoots instead of maturing buds.
How to top cannabis?
Done right, topping is an effortless process. Half the battle is waiting until the right moment, and then all that's left to do is make the cut.
All you need to do is take a pair of sterilised scissors and cut the top growth of the stem just above the top node—around 5mm above. The plant will now work to form two new branches instead of one.
You can carry out topping more than once by allowing these two branches to grow, then cutting them again, resulting in four main branches. It's up to you when "enough is enough". Model and shape each plant to meet your requirements and available space. Again, note that, with each topping, plants need a week or more to recover, so allow a few weeks between each cut, if possible. If you do want to top more then once, you'll likely need to extend the veg stage far past what is usually recommended. While hands-off growers typically veg their plants for around 4 weeks, growers who train their plants will keep their ladies in veg for 6–10 weeks or more, depending on various factors.
What do you need for topping cannabis?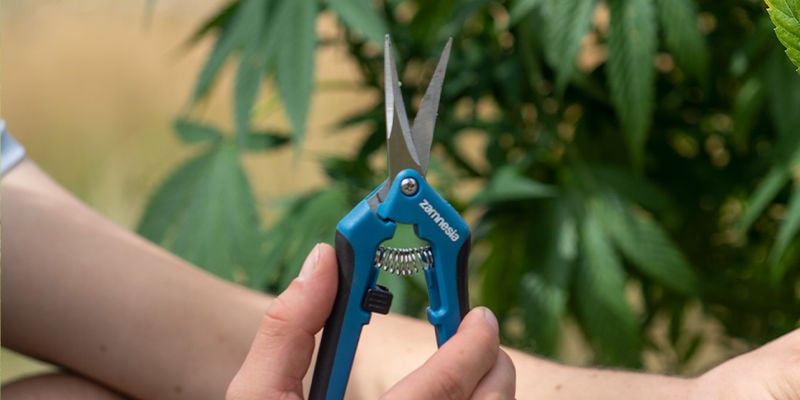 As you can probably tell by this point, not a great deal is required to top cannabis, other than a pair of sterilised garden shears. However, a pair of gloves is also advised to avoid potential cross-contamination. Though it might be tempting to use a pair of scissors from the kitchen or desk drawer, you'll be surprised at how much of a detriment they can be. Instead, pick a tool that's designed for the task at hand.
Pros and cons of topping cannabis
At a glance, let's review the pros of topping weed plants, as well as some possible cons.
Pros
Increases light penetration to bud sites
Controls plant growth and development
Helps to optimise grow space
No extensive tools or equipment needed
Increases yield potential
Easy to perform
Cons
Plants require time to recover
Non-sterile conditions can cause major issues
Not every plant responds well
Poor timing can be catastrophic
What is fimming cannabis?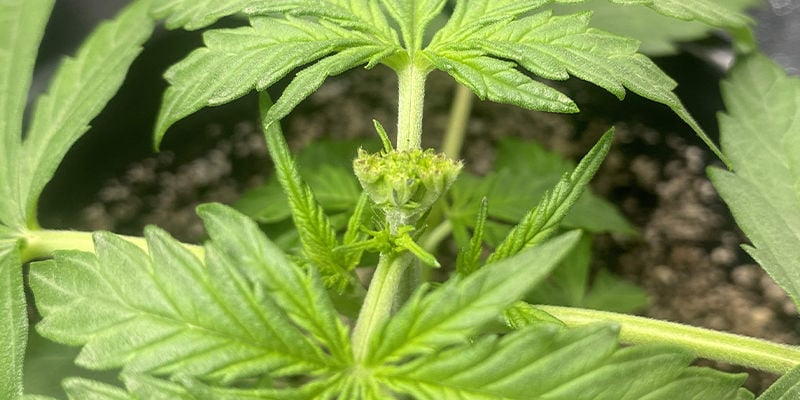 Similar to topping, the FIM method (aka, "Fuck I Missed") involves removing a portion of the main stem—except this method results in the formation of up to four new growing tips instead of two. The odd and slightly more intimidating thing about fimming, however, is that the process is a little less straightforward (more on this below). In fact, it's thought that this method was discovered by accident when a grower botched the topping process, hence the explicit acronym! Because of this, the result isn't always the neatest, but it has the potential to promote even larger yields.
Why FIM cannabis?
Of course, like topping, the main draw of fimming your plants is to maximise performance and yield. But in this case, fimming has the potential to push production even more than topping. It's worth noting that, unlike topping, fimming may not do much to reduce the height of your plant.
When to FIM cannabis?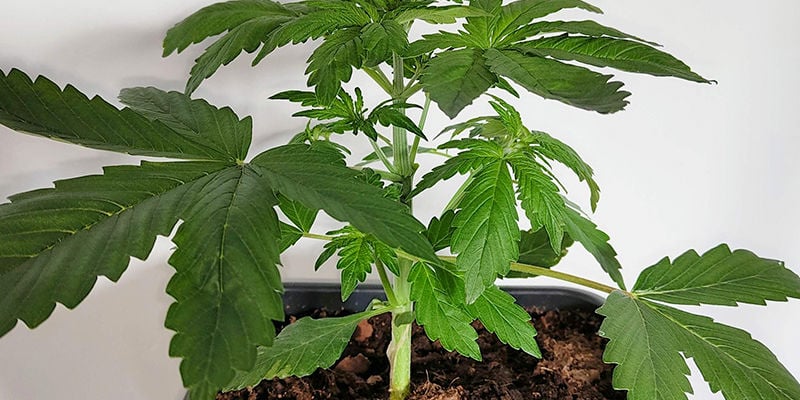 Again, like with topping, fimming must be carried out during the vegetative stage, once plants have developed 3–5 nodes (around one month into the grow cycle). Because fimming has the potential to create four new main growing tips, most home growers tend to FIM once, or twice at most, before initiating the bloom phase.
How to FIM cannabis?
This is where topping and fimming are a little different. Once again, you will be removing growth above the top node; except this time, you're only going to remove about ¾ of the growing tip. This can be effortlessly achieved by taking the tip of the plant in your (sterilised) hand and using your shears. It might look a little rough when finished, but that's very much in keeping with the "Fuck I Missed" ethos. So embrace your hack job, knowing you've done everything correctly.
What do you need for fimming cannabis?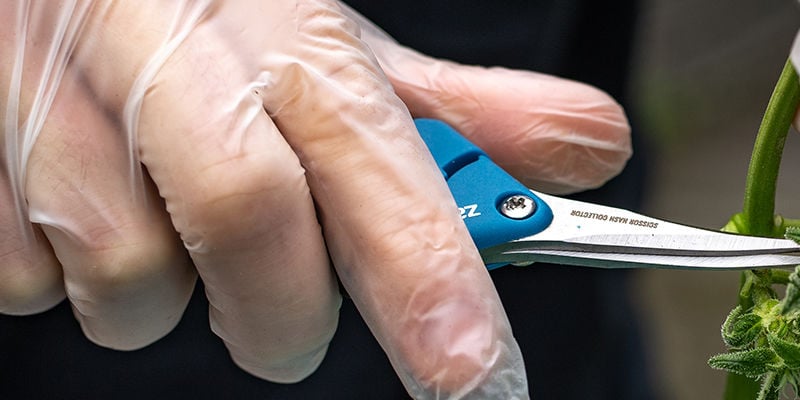 Fimming only requires sterilised shears/scissors, and potentially gloves. At the very least, make sure your hands are sterilised. Given the nature of this training method, you want to ensure your plant doesn't have to deal with any contamination while it's growing up to four new shoots.
Pros and cons of fimming cannabis
Fimming comes with its own positives and negatives. Here we break down the most important pros and cons.
Pros
Results in even more new branches/colas than topping, for even larger yields
Helps to increase light penetration to bud sites
It's a great way to push the production of a single plant
No extensive tools or equipment needed
Pretty easy process to carry out
Cons
Fimming typically doesn't reduce the height of plants
Plants can grow quite messily after fimming
New branches might be too weak to support
Slightly more complex process than topping
Topping vs fimming: Which one should you choose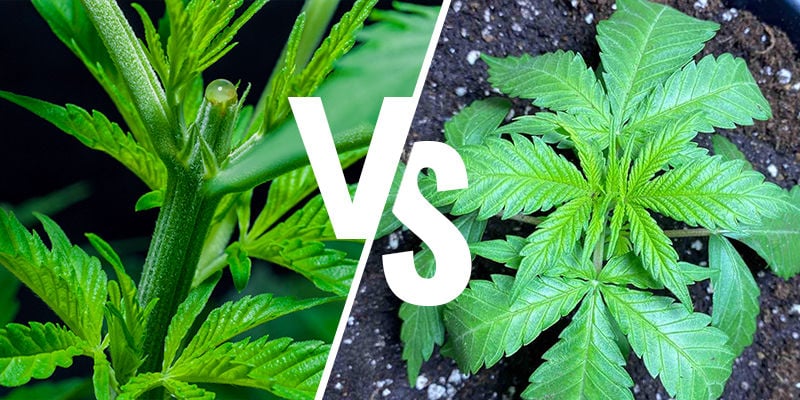 So, which one is better; or, more importantly, which is the right pruning method for you? When stacked up against one another, the differences and similarities between topping and fimming become clear. But ultimately, the method you choose comes down to personal preference, your experience, your grow space, and your chosen cultivar.
Topping
Potential to increase yields through 2 main branches/colas
Removes entire growing tip
Easy to perform
Limits plant height
Fimming
Potential to increase yields through up to 4 main branches/colas
Removes around 75% of growing tip
Easy to perform, though slightly less so than topping
Does not limit plant height
May require more branch support than topped plants
The limitations of topping and fimming cannabis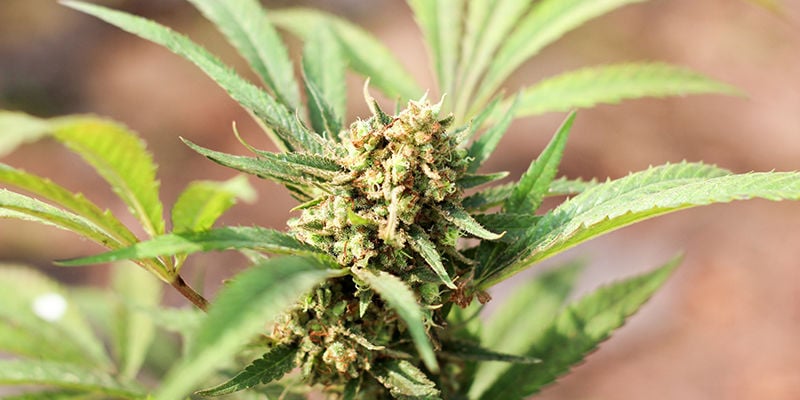 The main limitations of topping and fimming have to do with timing and recovery. As mentioned, both methods must be performed during the veg stage only, once plants have developed a sufficient root system and aboveground growth. If you plan to top or FIM just once, plan to extend the veg stage by about two weeks from what you would do without high-stress intervention. And whatever you do, don't top or FIM during bloom.
Another watch-out has to do with your specific cultivar(s). Make sure the specimens you choose respond well to such treatment. Generally, it's advised not to top or FIM autoflowers, as you cannot extend their vegetative stage, which can make it hard for them to recover before entering bloom. Some growers contest this, but, by and large, relative beginners to cultivation should only top or FIM feminized photoperiod strains—those whose life cycles are determined by light exposure.
Lastly, note that, especially with fimming, your plants can become quite top-heavy, and will require some staking to stop them from tumbling over in your grow-op.
Firm on fimming or taken by topping?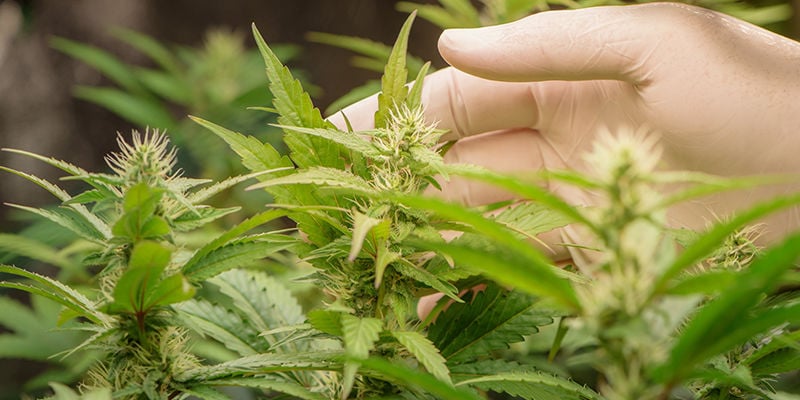 As you can see, there's plenty to get out of both high-stress pruning practices. That's not to say they don't come with their risks, but with the potential to substantially increase yield, you can see why they're hugely popular methods among weed growers. So if you're thinking of giving fimming or topping a try, just take your time, cut with confidence, and enjoy the fruits of your labour when the time comes!