Blog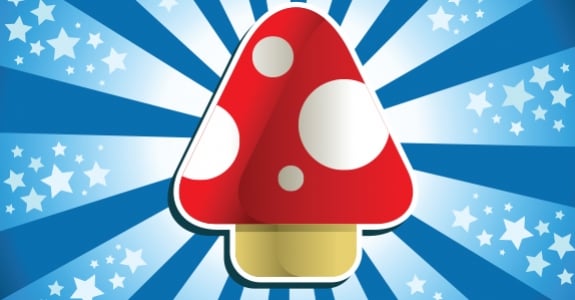 2 min
5 Mind Blowing Facts About Magic Mushrooms

2 min
Take a deeper look at magic mushrooms, they hold a plethora of secrets just waiting to be discovered.
For those looking kick back and get lost in the depths of their mind, a trip on magic mushrooms can be the ultimate answer. However, the talents of this mind bending fungus go well beyond simple recreational use! They are a powerful tool that can be harnessed in many different ways. So here are 5 mind blowing facts you may not have realised about magic mushrooms.
1. MAGIC MUSHROOMS HYPER CONNECT THE BRAIN
Ever wonder why magic mushrooms make you feel like you are operating on another level? Because they are. Research using fMRI imaging found that when subjected to psilocybin -- the main psychoactive compound of magic mushrooms -- areas of the brain that would not normally communicate with each other establish long range connections, synchronising themselves with each other. It creates a temporary hyper connected brain, allowing it to operate on a level never seen before.
2. PSILOCYBIN MAY PROMOTE BRAIN CELL GROWTH
Taking the brain even further, there is evidence to suggest that frequent exposure to psilocybin could cause neurogenesis – the growth of new brain cells – especially in the hippocampus. This means magic mushrooms could have real and useful applications in learning and memory.
3. MAGIC MUSHROOMS CREATE LASTING PERSONALITY CHANGES
By this we do not necessarily mean instant and drastic changes to character, mushrooms are unlikely to change you completely as a person. However, they have the real ability to show us the good and bad within ourselves, allowing us to explore our soul and mind, coming to terms with who we are. As a result, people often find magic mushrooms to be a very profound and spiritual experience – one of them most powerful of their lives. With these truths, people can become a lot more honest with themselves, and thus become more level and balanced people as a whole.
Research also backs this up, with personality test analysis from before and after participants took psilocybin finding that generally, people were calmer, happier, kinder, and more open minded for a long time after taking their trip. One scientist, who participated as a test subject, described psilocybin as an "anti-inflammatory for ego" and he is not far off.
4. MAGIC MUSHROOMS HAVE BEEN SHOWN TO FIGHT DEPRESSION
Scientists have long theorised that magic mushrooms weaken the way the brain processes negative thoughts, ensuring they do not impact us with a crippling severity. This has been backed up by actual research, which found that the amygdala, a part of the brain associated with processing negative emotion, decreased in activity when high on mushrooms.
Furthermore, the magic mushrooms experience has a great deal of spirituality to it, taking the potential benefits even further. This lasting profound of the experince can help reconnect us with life in a way that goes beyond the simple action and reaction of hard science. Whilst depression can have a very physical and treatable manifestation within the brain, it is often the symptom of an underlying cause, such as being despondent and disconnected with life – mushrooms may have the potential to address this.
5. MAGIC MUSHROOMS HAVE BEEN WITH US FROM THE BEGINNING
Magic mushrooms have shaped humanity right from its conception. It has been an integral part of cultures across the globe, and even worshiped for the spirituality, peace, and vision they can inspire. Without a doubt, the human race would not be what it is today without magic mushrooms. It is only within the last 100 years or so that we have seen their use supressed – a tragedy of our time, that is locking away both the freedom and potential growth we have as a people.
This isn't to say that the influence of magic mushrooms has been completely stamped out though. Psychedelics as a whole continue to inspire and innovate creation. You only need look at the relationship between LSD and the late Steve Jobs, as well psychedelics and the visionaries that continue to change the world of art and technology for the better.
Magic mushrooms, and the psychedelic experience as a whole, are ingrained in human nature. Our relationship with them is ongoing, and the knowledge they unlock within us shall continue to be a source of inspiration for millennia to come.
---