Blog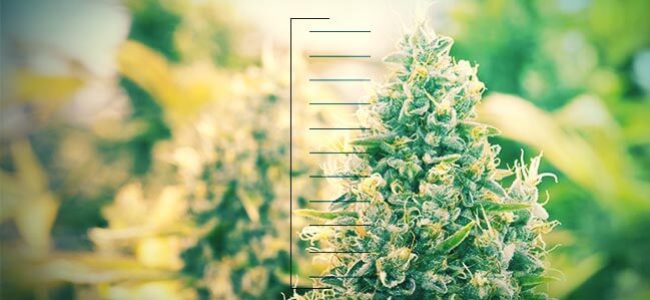 4 min
Top 10 Compact Cannabis Plants
4 min
Covert cannabis plants are the smart option for most growers. Whether you grow your marijuana indoors or outdoors, it pays to cultivate quietly. Keep reading to discover the top 10 compact cannabis strains that can produce a large payload of loud weed without drawing attention. Let's talk discreet dankness.
WHY SHORTER CANNABIS PLANTS MAY WORK BETTER FOR YOU
Compact cannabis plants are usually the best option for most ordinary decent home growers. However, that doesn't mean you need to compromise and make do with a modest harvest. The best short stuff is still capable of producing some of the biggest buds. Indicas and autos are the obvious choices. Although, there are a few sativa-influenced strains featured in our top 10 too.
Sure, size matters. But only when it comes to the size of the buds. In this blog, we've compiled the top 10 cannabis strains that provide gourmet greenery—without having to worry about drawing unwanted attention. Even if you haven't quite mastered all the tricks to keep cannabis plants smaller than usual, our picks will grow squatter than most. If you want sinsemilla that doesn't dominate the scenery, these are the dank selections to consider.
PHOTOPERIOD OPTIONS
MOSCOW BLUEBERRY BY KALASHNIKOV SEEDS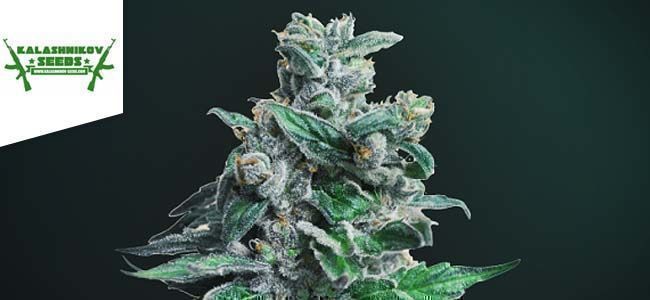 Easy to grow and easy on the eyes, Moscow Blueberry is an indica-dominant hybrid that's some really tasty medicine. This little beauty is an exotic blend of original Blueberry, a mystery beast from the East, and AK-47. Mature plants will rarely exceed 1m in height.
As an added bonus, her flowers tend to acquire purple tones late in bloom. 8–9 weeks of flowering is all that's required to harvest approximately 500g/m². Outdoors, even in cooler climates, yields can be impressive. Boasting 18% THC and 5% CBD, sweet, fruity nugs and relaxing effects will appeal to both medicinal and recreational growers.
FAST CARAMEL BY ZAMNESIA SEEDS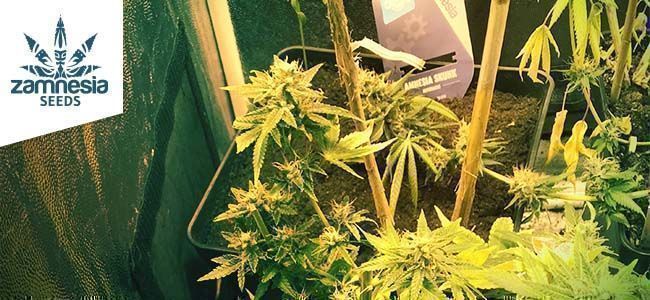 Heavy-duty indica genetics are what you need if you really want to get the most from a small grow space. Fast Caramel is a unique triple threat of old-school indica legends BlueBlack, Maple Leaf Indica, and White Rhino. This classy cannabis bush will peak around the 1m mark and pack on so much bud in just 7 weeks of standard 12/12 you would be a fool not to clone your favourite specimen.
Some variation between phenos is to be expected, but you won't have to worry about any stretchy sativa throwbacks emerging. If there's a quicker way to crop 500g/m² indoors or comparable per plant yields outdoors, we haven't found it.
BLACK BOMB BY PHILOSOPHER SEEDS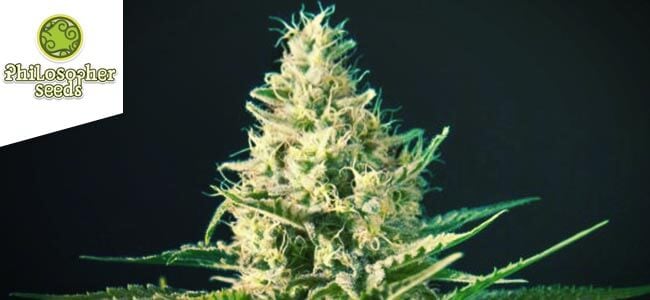 As an indica-dominant strain, Black Bomb has the tight internodes and rapid-flowering hybrid vigour that growers desire. Blooming fast and packing on the bud weight, this cross of bud rockstar Black Domina and sweet Tropimango will complete bloom in just 8–9 weeks and still touch 500g/m² indoors. Outdoors in warmer climates, similar per plant yields are possible.
Even with a relatively brief 3–4 weeks of vegetative growth, these plants will explode with buds in no time once they transition to bloom. But don't fret, the stretch during the flowering period is minimal. Seldom will she rise above 1m tall. Black Bomb is renowned for her pleasantly sedative stoned effect. This variety is also a great choice for hash-makers and fans of concentrates as resin production is tremendous.
SUPER BUD BY GREEN HOUSE SEEDS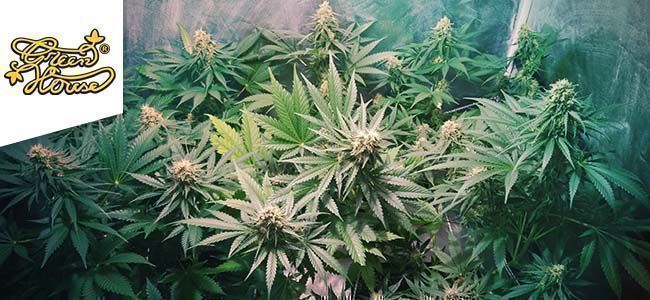 Aptly named and a wonderful little weed with monster potential, Super Bud is the squat sinsemilla superhero that you've been searching for. Big Bud and Skunk come together in a small package ideally suited to the SOG method. 8 weeks of flowering will take you to the promised land of scale-tipping harvests. Close to 1kg of premium herb could be on the table with a pack of these beans.
After a few tokes, an initial uplifting sativa kick takes you high, followed by a near-narcotic secondary effect. All this strain needs is basic grower TLC. She consistently delivers a bulbous cola and chunky side-branch buds.
AUTOFLOWERING OPTIONS
ROYAL DWARF BY ROYAL QUEEN SEEDS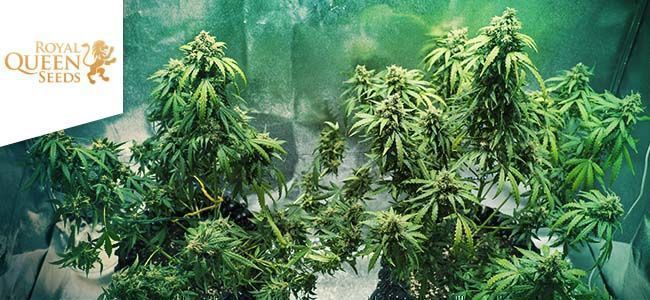 Royal Dwarf is as pint-sized a sativa-leaning auto as you can get. This regal reefer is a blend of Easy Bud and Skunk that stays low and displays most of her sativa influence in her flowers. 60cm is the average height, whether she is cultivated indoors or outdoors. Hardy ruderalis genetics enable this strain to race to the finish line in just 8–9 weeks post-germination. From the very first toke, there is no mistaking that familiar cerebral buzz. Definitely not too racy and overpowering, but still packing a punch with 15% THC.
CRITICAL KUSH AUTO BY BARNEY'S FARM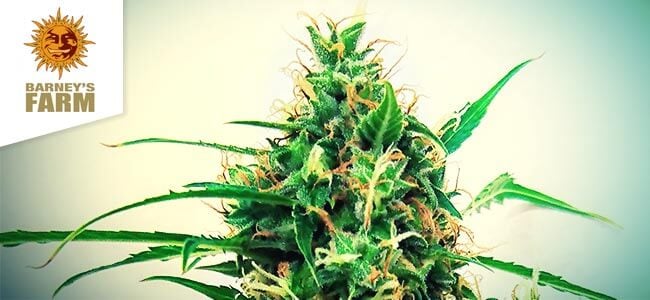 Critical Kush Auto is the sticky green definition of a pocket rocket. This uber-productive next-gen auto can rival classic indicas. With her OG Kush, Critical Mass, and ruderalis genetics, you can't lose. Even a novice can take their harvest weight into 550g/m² territory without plants exceeding 1m in height.
10–11 weeks is the total duration of her lifecycle. So if you haven't quite got the space or the green-fingered finesse for her photoperiod parents, this lil bud factory is a fantastic alternative. Rich, earthy kush flavours and fat, frosty nugs can still be yours with this strain in the garden.
AUTO BLACKBERRY KUSH BY DUTCH PASSION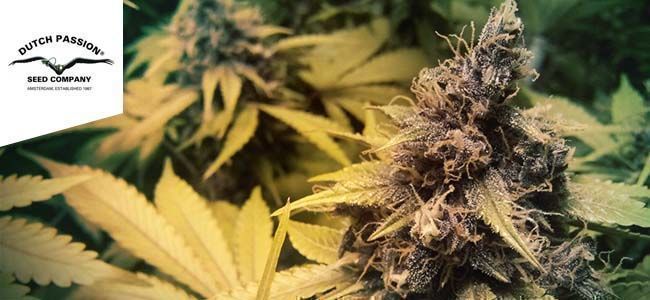 For the cannabis connoisseur that wants to keep the crop on the down-low and still have a stash that's guaranteed to turn heads, accept no substitutes. It's gotta be Auto Blackberry Kush. Blueberry, Hash Plant, and ruderalis collide in this modern classic. Juicy, fruity flavours, pungent kush aromas, and vibrant lavender colours will burst forth from these awesome buds.
The whole cultivation experience will last just 10 weeks, but this is one strain you certainly won't forget. If you've only got room for one small plant in the closet or outside on the balcony during summer, make sure it's this delicious chill-out stash.
AUTO ANESTHESIA BY PYRAMID SEEDS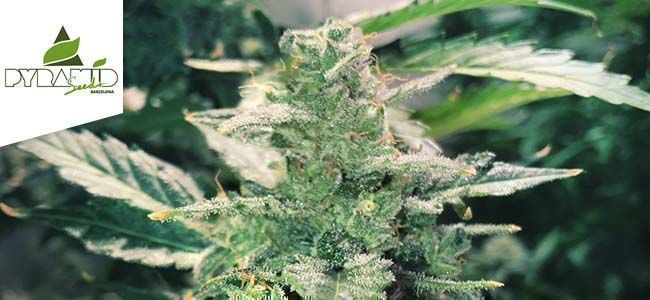 Auto Anesthesia is a compact couchlock queen bred from arguably the dankest duo of indica legends Black Domina and Northern Lights (with a slice of ruderalis). If you have a taste for the classics and want some dreamland stash in a hurry, this is the strain for you. 9 weeks from seed to harvest and still packing 17% THC, mature plants will peak well under 1m tall and look like frosty sticks of pure old-school dankness.
Lime green nugs smattered with orange hairs will swell in the final few weeks of flowering, and positively glisten with trichs. This little gem will even win over veterans who previously eschewed autos.
LEMON WONDER AUTOMATIC BY ZAMNESIA SEEDS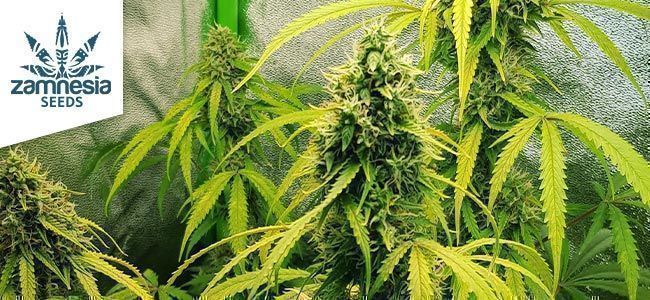 Lemon Wonder Automatic is the result of a potent pairing between Lowryder and Lemon OG. This autoflowering strain delivers in every respect; from superb flavours and effects to an easily manageable grow cycle, it's the perfect compact autoflower to grow at home.
Reliable and robust, Lemon Wonder Automatic takes just 8–9 weeks to flower, providing some decent yields in the region of 250–300g/m² indoors and up to 150g/plant outside. Not bad for a plant that maxes out at 80cm in height. Her buds showcase flavourful sweet lemon notes, as well as a high that is perfect for unwinding no matter where you are.
SWEET SKUNK AUTO BY SWEET SEEDS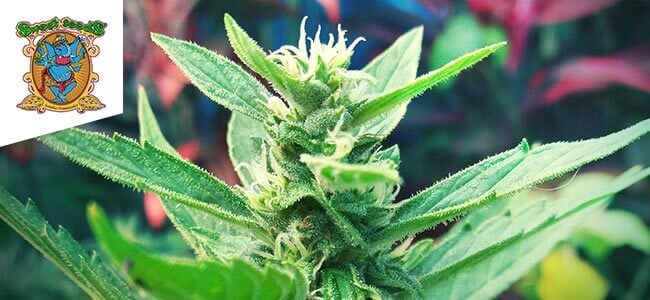 No top 10 countdown would be complete without at least one Skunk strain. And for the grand finale, we saved a genuinely sweet specimen. Allow us to present Sweet Skunk Auto, a cultivar with universal appeal to growers of all levels. This sweet little stick of bud is a cannabis cocktail of Early Skunk and Auto Critical Mass that will blow you away with how easy she is to grow.
She may not be the most potent variety on the list, but for those that enjoy a good old-fashioned head-body high, you can't go wrong with this compact cannabis strain. Ready for harvest in record time. Treat her right, and a great smoke at any time of day or night is the reward in about 8 weeks.