The Complete Beginners Guide To Different Cannabis Plant Training Techniques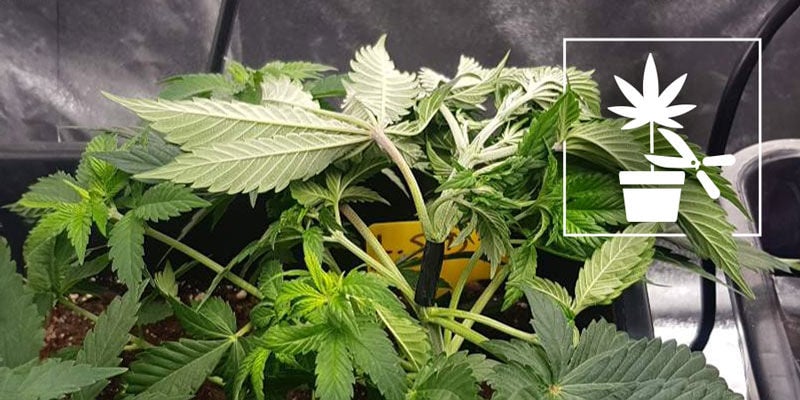 When we talk about training your cannabis plants, we don't mean putting a sweatband around them and getting them to pump iron! No, cannabis training encompasses a series of methods that, while putting your plants under stress, are a means of producing larger yields and overall much more resilient and robust plants. Learn all about the methods here.
From massive feminized photoperiod monsters to autoflowers that pretty much take care of themselves, when it comes to cannabis strains, we're simply spoiled for choice. Other than occasional maintenance and upkeep, not much else is required from growers to get their plants to produce decent yields of quality buds. However, by taking things a step further and implementing certain methods, not only can you push yields to the max, but you can improve the resilience of your plants while also controlling how they grow. Known as training techniques, there are a range of low and high-stress methods primed to make the most of your cannabis crop. Allow us to take you through everything you need to know.
Why people train their cannabis plants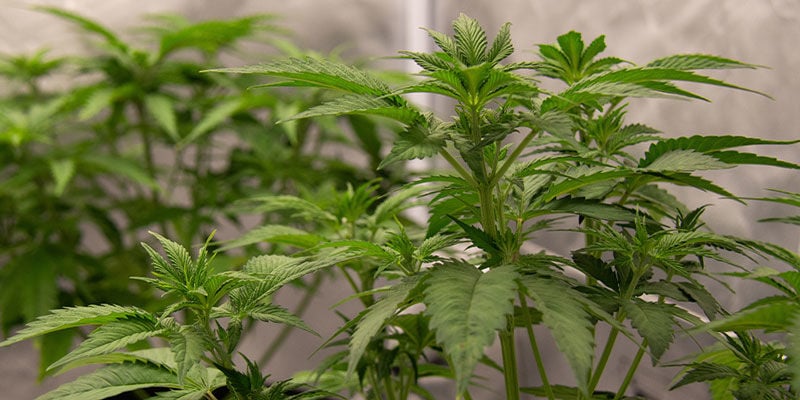 Inflicting stress on your weed plants might sound counterintuitive, but like with most things in life, timing is everything—and waiting until your plants are able to handle such methods is key. Though there is some variation among specific techniques, in general, training is conducted during the vegetative stage, when plants are producing new foliage. In order to strike at the right time, it's advised to wait until plants develop at least three sets of true leaves. Earlier, and you could kill your young plants; later, and they may not have time to recover before moving into the flowering stage.
Whether you're cultivating inside or out, there are many reasons to train them. Arguably the most common reason is to increase the quality and quantity of your buds. Certain training methods allow you to maximise resources toward bud development, eking every last nug out of a cultivar. Resilience is also critical, and various training methods have the potential to bolster your plants, allowing them to be much more robust when cultivated outside. Also, if your growing area is a little short on space, training could be the key to taming your otherwise monster plants to exhibit a more manageable and contained size.
A note on autoflowers: Because autoflowers move into their flowering stage based on age, many of the training techniques mentioned below are not suitable for this type of cannabis. However, LST, light defoliation, and SOG are known to work with autoflowering specimens if utilised correctly.
Beginner techniques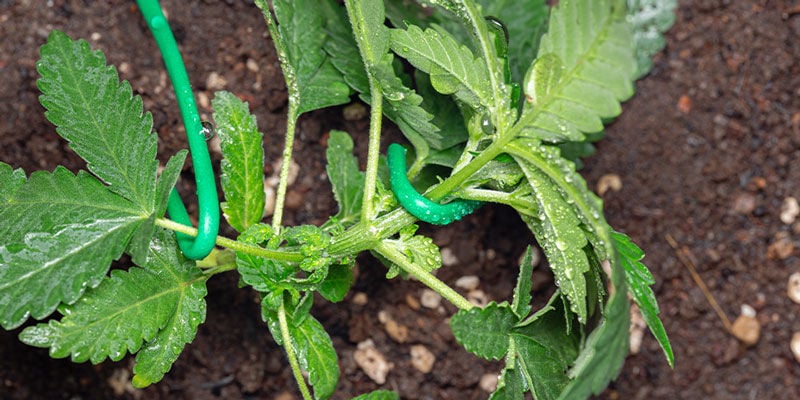 If you've been wanting to try training out for yourself, you're in luck. Training marijuana plants isn't just reserved for experts; you might be surprised to learn that there are techniques that are perfect for newcomers. With that in mind, let's take a look at some of the beginner training techniques first.
Defoliation
Defoliation is a technique by which leaves are tactically removed from the plant, allowing for an increase in airflow and light penetration. While not as stress-inducing as some other training methods, defoliation is an easy first step into raising your game as a cannabis grower. Removing leaves from your prized plant might seem like a bad idea, but it will only result in larger yields and higher-quality buds. The reason why defoliation works so well is not entirely understood, but as long as you don't leave your plant bare (remember, plants use leaves for photosynthesis), you'll find this an accessible option to start training. Unlike most of the other methods mentioned here, defoliation is typically carried out later in the vegetative stage, sometimes even into the flowering stage.
LST
LST, otherwise known as low-stress training, involves tying and bending the stems and branches. However, this isn't some plant-based bondage method; this process allows for much more efficient and productive growth from your plants. Instead of cutting away the leaves, LST acts to increase lateral growth, resulting in increased light exposure to areas of the plant that would otherwise be shrouded in darkness. The result is multiple viable bud sites compared to one large central cola, which will improve the overall quality, and potentially quantity, of the buds. This practice doesn't take long to master and works well with both feminized photoperiod and autoflowering cultivars.
Honourable mention: ScrOG & SOG
Now we're getting into the good stuff; any casual cannabis grower is bound to recognise ScrOG and SOG (or screen of green and sea of green, respectively). These two techniques are primed to make the most of your plants and your growing setup.
ScrOG, as the name might suggest, utilises a grid screen through which cannabis shoots are trained to grow. This setup keeps things low to the ground and allows for effortless cultivation. SOG, on the other hand, forces numerous plants to flower much earlier than they normally would. As such, plants remain small and form one huge, even canopy—a sea of green. While it might seem strange to limit plant height, SOG is all about maximising yields per metre squared, rather than per plant.
Intermediate techniques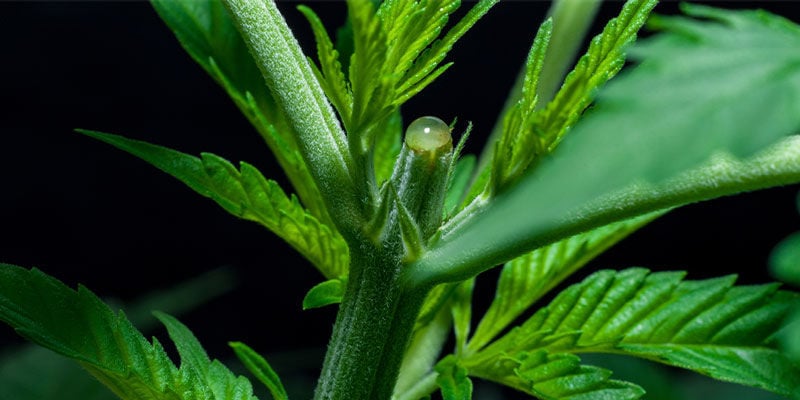 If you think of yourself as a bit of a dab hand in the grow room, some intermediate training techniques could very well be the ticket. These methods are a little more hands-on and require some skill, but don't let that put you off—there are some serious results to reap. Have some patience, and you're sure to be rewarded.
Topping
Topping is the process of cutting off the growing tip of your plant during the vegetative stage. It might sound cruel, but topping actually encourages the plant to redistribute growth hormones and develop two new main growing tips, resulting in the formation of two dominant colas during the flowering stage. This can result in significantly larger yields and shorter, bushier plants.
Moreover, that process can be repeated a few times to encourage the development of even more colas. That said, plants need time to recover (a week or so) after this high-stress training (HST) technique, so most growers only top their plants 1–3 times. Although the act of topping isn't necessarily a complicated one, timing is essential. Acting too soon can be catastrophic to the plant's development, and too late will result in diminished returns come harvest time. However, when done right, bountiful yields will be your reward.
Fimming
FIM (or "fuck, I missed") is a similar method to topping, only it involves a slightly different approach. This method was discovered by accident when a grower botched topping their plant. The goal here is to pinch off about 75% of the plant's growing tip, rather than the whole thing. This results in the production of up to four new main shoots, significantly increasing bud development as a result. Like many other training methods, fimming is best utilised during the plant's vegetative stage. While some growers prefer to FIM during the seedling stage, many others will wait until the plant has three sets of true leaves and is around 30cm in height. Like with topping, it's important to allow the plant to rest for about a week or two in between fimming to give them time to recover.
Lollipopping
While our training techniques up to this point have relied on taking your scissors to the top part of your plant, lollipopping takes aim at the bottom. By removing the lower bud sites of the plant, it will be stimulated to put its energy into producing higher-quality buds toward the top. It might make your plant look a little bare, but believe us; the end does justify the means when it comes to lollipopping. Using pruning scissors and/or your hands, the bud sites can be removed easily. However, it does take a keen eye and a steady hand, so go easy if tackling this method.
Advanced techniques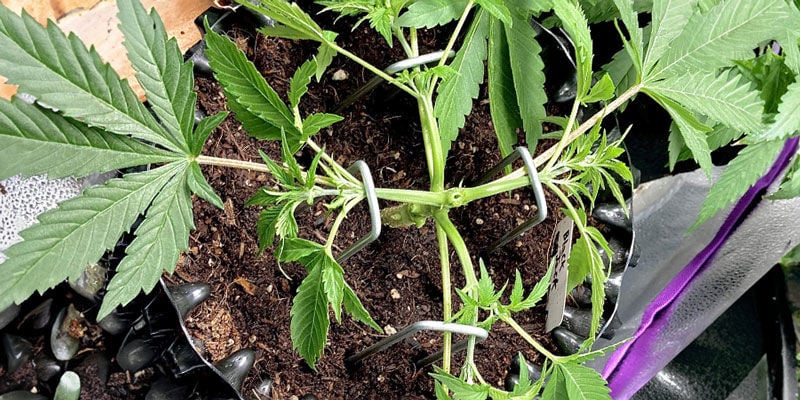 Following on from the intermediate techniques, these advanced training methods definitely require some prior experience. Consisting of main-lining and trellising, advanced techniques can seriously boost yield potential if performed correctly. As with the previously mentioned techniques, patience and caution is key, so take your time.
Main-lining
Main-lining, otherwise known as creating a manifold, is a technique that has gained plenty of traction among modern cultivators. It's a great way to maximise yields and is perfect for smaller spaces. Main-lining is essentially a combination of topping, ScrOG, and LST that forces the plant to grow outward instead of upward. This results in the development of several colas.
Main-lining is achieved by removing all of the vegetation below the 3rd node. This will leave you with two opposite-facing branches, creating a Y-shape. By tying these branches down, the plant will split its nutrients and other resources between the two branches, and will eventually sprout several colas that will soon be flourishing and full of bud.
Trellising
Ideal for plants that love to grow to dizzying heights, trellising is typically reserved for outdoor projects. However, it can also be done indoors if you have the room! Now, you might be thinking that trellising requires bulky wooden support structures. While that was true for more traditional and ornate gardening projects, cannabis cultivation tells a different story. Through the use of lightweight netting and a wire plastic frame, a much sleeker trellising option is available to all that want to give it a shot.
The idea is to support the growth of your plants so that not only is bud production maximised, but air circulation is greatly improved, as is the use of space in your grow-op. By bending and weaving shoots through a trellis, plants will exhibit plenty of bushy growth and the production of multiple colas. It might take a little while to get the hang of the process, but there's no denying that trellising has a place in the cannabis training world.
Expert techniques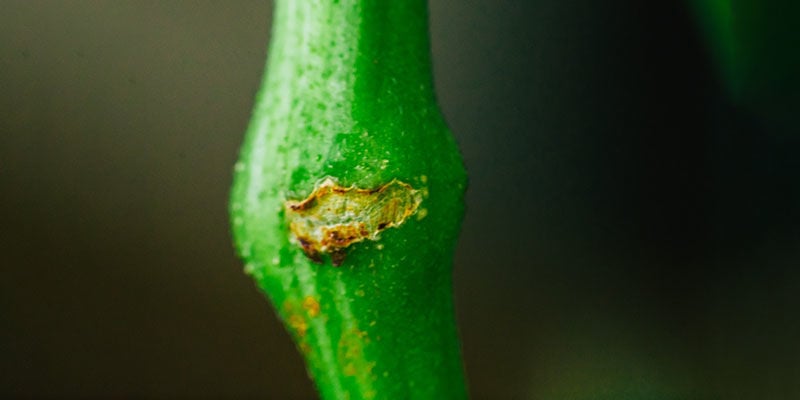 Lastly, we have our expert techniques. While they might not be for the faint of heart, some growers claim that the rewards are well worth the risks. So if you're looking to really flex your training skills, look no further than the following three processes.
Super cropping
Super cropping is harsh, but it's brutally effective! Ultimately, super cropping is the process of causing a large amount of stress to your plant to provoke a defensive reaction. This hormonal reaction results in bushier plants bursting with buds. The stress is caused by carefully bending branches to damage their inner tissue, without snapping or breaking them. It sounds like a fine art, because it is. Apply too much pressure, and you'll be left with a very unhappy plant. Of course, like other techniques, it's best to wait until plants have three sets of leaves/nodes before you start super cropping.
Monster cropping
Ever wanted to create your very own cannabis clones from home? Well, through the use of monster cropping, you can. This technique is achieved by taking a cutting from a mother plant during the flowering stage and then re-vegging the clones. The clones will then take root and become plants of their own. This can be a complicated process, but can, in fact, pay dividends when it comes to overall yields. However, this technique can't be used with autoflowers, and can be a little finicky even for intermediate growers.
Splitting stems
Finally on our list of training techniques is a controversial one. Splitting stems is a process accredited to Colombian cannabis growers back in the 1960s and 70s, where a knife was used to "ring" cannabis stems a couple of weeks before that all-important harvest date. So, why would you want to interfere with a plant that's so close to giving up the good stuff? It's thought that splitting the main stem about 7–10 days before harvest results in the plant producing more resin and terpenes, making for potentially higher-quality bud.
However, if executed too early, your plant can react extremely negativey to the applied stress. If you consider yourself an expert grower and want to potentially increase the flavour and potency of your buds, this could be the method for you. Otherwise, it's best to stick to one of the aforementioned methods.
Ready to try your hand at training?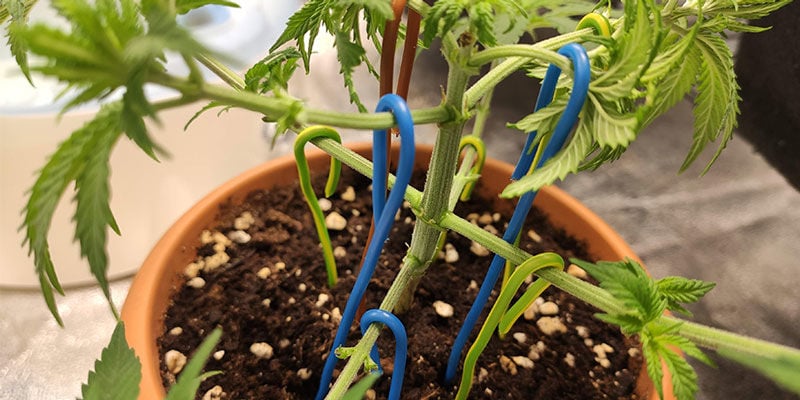 Now you're clued up on a vast range of different training techniques ranging from beginner to intermediate, advanced, and expert. All that's left to do is try the technique(s) that speaks to you and open yourself up to a whole new world of cannabis cultivation. Not only will you be rewarded with a bevy of buds, but you'll also increase your skill as a grower, allowing you to be much more confident when undertaking future cultivation projects. But which strain (or strains) should you try your hand at? Well, that's simple; head over to the Zamnesia Seedshop and get your pick of the finest seeds around.